On Saturday, I had the urge to can. The urge would not be denied despite the lack of a whole lot of options to can. In the end, I decided to raid my neighbor's rhubarb patch (she gave me permission years ago to take whatever I want). Rhubarb jam would scratch my canning itch and give me some yummy goods for upcoming food trades.
As usual I wanted to something a little different and consulted my copy of The Flavor Bible and found that rhubarb and mint are good compliments. It wasn't a flavor combination that came immediately to my mind, but I did have mint in our herb bed and decided to give it a whirl. The resulting Rhubarb Mint Jam is quite good.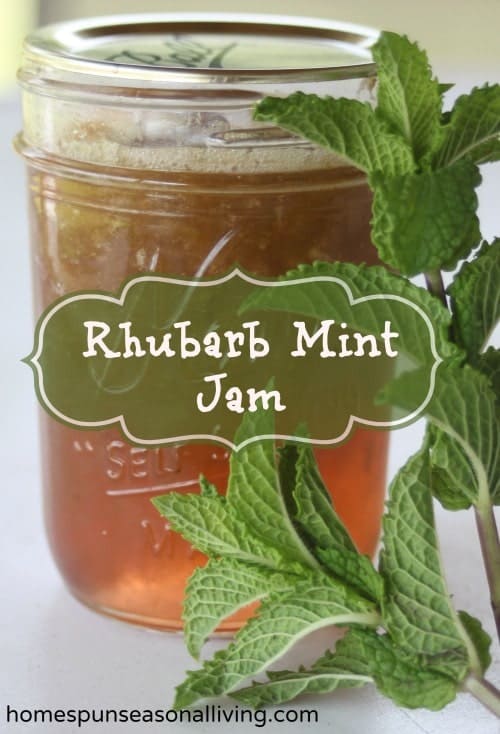 Rhubarb Mint Jam
Ingredients
2 1/4 Pounds Rhubarb, chopped
6 1/2 Cups Sugar
1/2 Cup Mint Leaves, loosely packed
1 Cup Water
1 Package of Powdered Pectin
Instructions
In a small saucepan combine 1 cup of the sugar, mint leaves and water.  Simmer for 10 minutes.  Cover and remove from heat.  Allow to steep for 30 minutes.  Strain, reserving the mint sugar syrup.
In a jam pot, combine the chopped rhubarb and mint sugar syrup.  Cook until the rhubarb is soft.  Stir well and add the pectin.  Boil, stirring constantly for 2 minutes.  Pour in the remaining 5 1/2 cups sugar all at once and boil for another 1 minute.
Pour into sterilized jars and seal.  Process in a water bath for 10 minutes.

Disclaimer: I may receive compensation for products mentioned in this post. All opinions expressed are my own. I am not a doctor, always seek trained medical advice. No statements should be considered approved by the FDA or as a diagnosis or treatment for any illness. See my Full Disclaimer Here.