I have a fondness for wood cooking utensils. Whenever we hit the thrift stores, I always do a quick jaunt through the kitchen section to see if I can spot any unusual or fun wood spoons, bowls, etc. Caring for wooden kitchen utensils, especially thrifted ones is a little different than metal utensils, but it's an exercise in beauty and utility worth undertaking.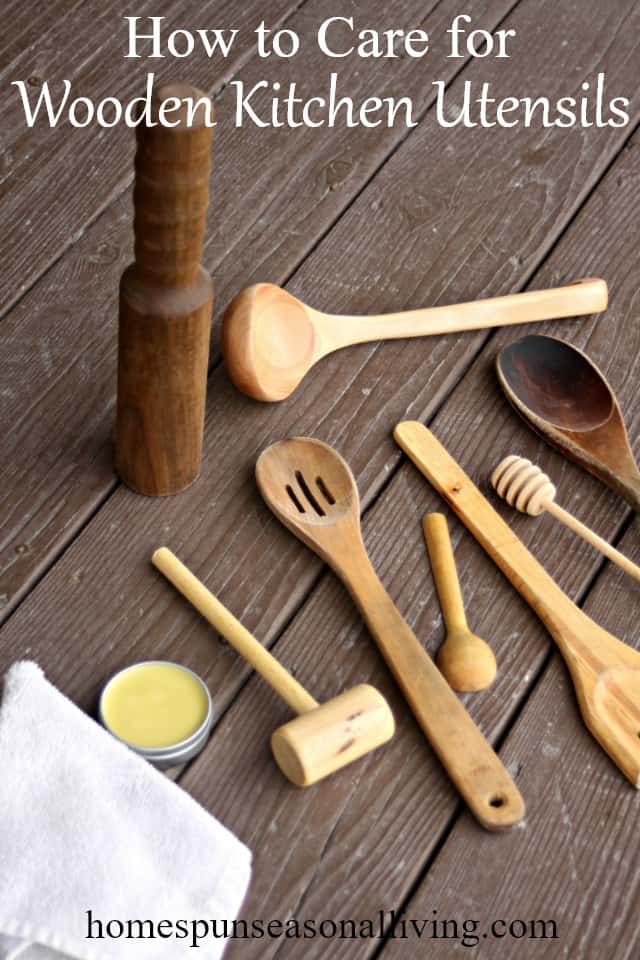 Because wood is porous and can contain all kinds of things I don't necessarily want in my kitchen, I take care of it a bit differently when bringing home items from the thrift store:
Step 1: Sand
Give everything a gentle sanding, just to smooth out any rough edges and remove any stains that might be there. Use a fine grit sandpaper here, it's unlikely that you'll need to use the coarse stuff.
Step 2: Wash
After sanding, everything gets a bath in hot soapy water. Give the utensils a good wash then let everything sit in the dish drainer until it's good & dry. Wooden kitchen utensils can warp in the dishwasher, so do this by hand to be on the safe side.
Step 3: Oil
When dry, give the wood a good, nourishing oil. You can buy products to do this but a homemade wood spoon oil is easy to whip up.
How to Make Wooden Spoon Oil:
Put the beeswax and walnut oil in the top of double boiler. Heat slowly and stir gently until the beeswax is completely melted.
Pour into a jar or tin. Allow the oil to cool and harden.
Put a lid on the container after cool and hard.
To use, coat the utensils liberally with the wood spoon oil and spread everything out onto a clean, dry rag for the night. Also, the wood spoon oil softens the skin, so it's a bit of an extra bonus.
Step 4: Buff
In the morning, give everything a good buffing. Simply use a clean cotton rag (an old t-shirt works great, too) and remove any remaining oil from the surface and buff the wood before storing.
Simple as that. The natural variations, the grain, the colors all pop more once the oil has been applied and while that might not make any difference in their usefulness, sometimes pretty is reason enough. The oil coating will also help your wooden items last longer, keep them from splitting, etc. I reapply the oil to spoons, bowls, etc. already in my collection about twice a year on average.