I love a good peanut butter cookie. Okay, I love peanut butter in any shape or form, but cookies hold a very special place in my sweet-tooth heart. These Peanut Butter & Jelly Thumbprint Cookies are full of that peanut butter goodness while also giving some filling nutrition.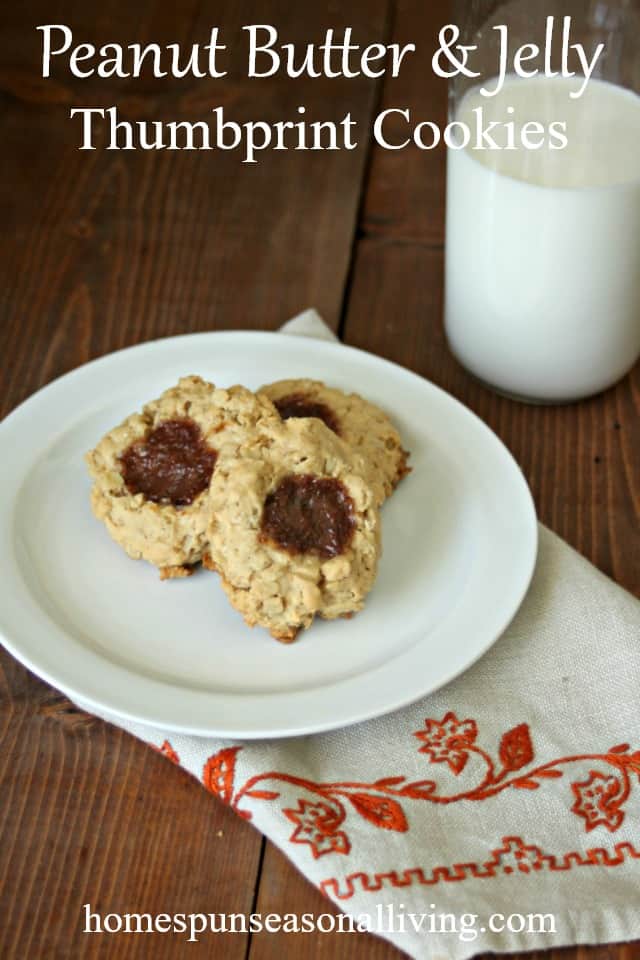 Filling & Satisfying
These cookies happen to be made without refined sugar, meaning they're slightly healthier than regular peanut butter cookies. The filling oats and protein packed peanut butter mean these are treat that can also be quite filling on a busy day. Make a double batch and freeze some for sticking into lunch boxes later.
Gluten-Free & Vegan Options
Use gluten-free oats, of course. I've used sorghum flour in place of the all-purpose flour with great results in these cookies. Any gluten-free flour blend would also work. I've used a flax seed egg in place of regular chicken eggs and the cookies have turned out great.
Use Any Nut Butter
If peanut allergies are a concern any nut (or seed) butter would work well in these cookies. Choose your favorite and go with it.
Highlight Good Jam
These cookies are a great way to share homemade jam outside of giving a jar. Use a good quality and flavorful jam or jelly here. Don't have homemade? Use the best quality, all-natural jam you can afford.
Optional Decorating Idea
Want to give these as a gift or have them dress up some kind of party table? Drizzle the cooled cookies with some melted chocolate for some nice looking stripes.
Yield: 24 Cookies
Peanut Butter & Jelly Thumbprint Cookies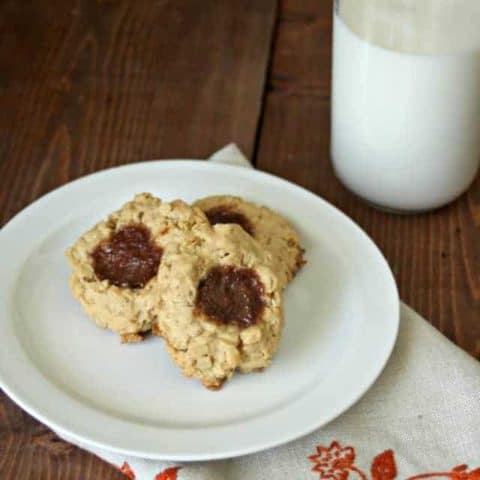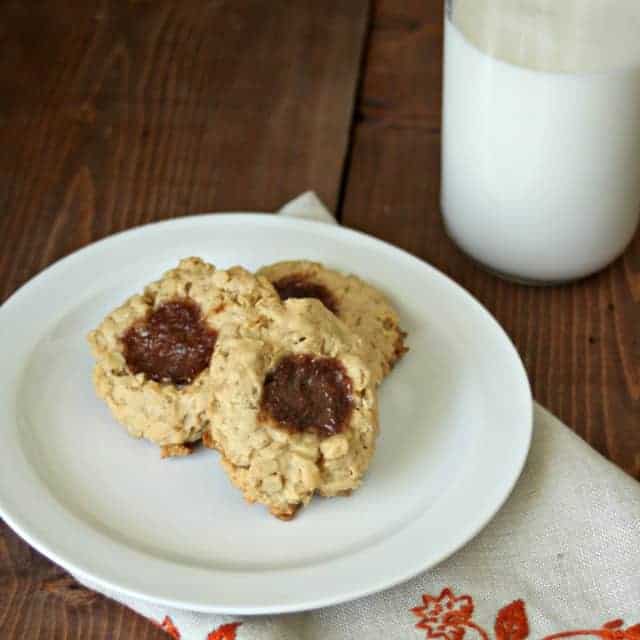 Ingredients
2 Cups Oats
1 Cup All Purpose Flour
½ teaspoon Salt
1 teaspoon Baking Powder
½ Cup Maple Syrup
½ Cup Peanut Butter
1 Egg
¼ Cup Olive Oil
Jam / Jelly of Choice for Filling
Instructions
Preheat oven to 350 degrees. Line a cookie sheet with parchment paper.
Whisk together the oats, flour, baking powder, and salt. Set aside.
Whisk together the maple syrup, olive oil, ground flax seed, and peanut butter until well combined. Pour this into the oat mixture and stir well.
Drop the dough onto a greased baking sheet. Flatten slightly with the palm of your hand or a glass. Using your thumb make divot into the middle of each cookie. Fill this thumbprint with a dab of jam or jelly.
Bake in the preheated oven for 20 minutes. Cool on wire rack before devouring.