We all need a little snack now and then. Preferably something filling and healthy. Something that won't make us feel worse later. If it's homemade and easy even better. These no-bake peanut butter cookies are all of that homemade bites full of healthy fat and protein while skipping the refined sugar.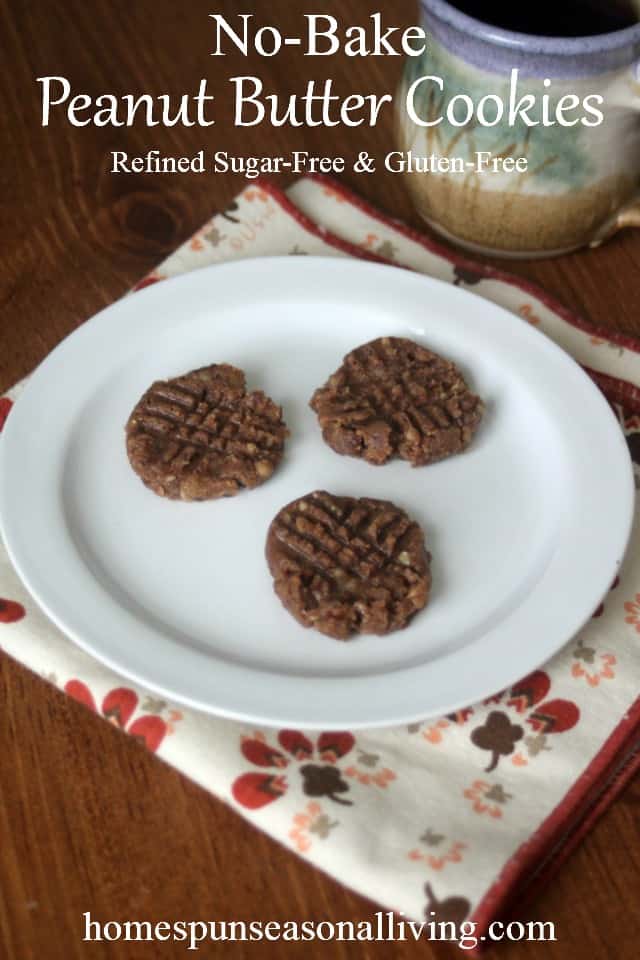 Naturally Sweet
The dates provide plenty of sweet to these treats. There's no need for additional sugar. Use an unsweetened peanut butter too.
A Fine Grind
These cookies have the best soft texture when the nuts and dates are ground fine. A food processor will work but a meat grinder works as well. I use the meat grinder attachment for my KitchenAid Mixer.
Options to Customize
Because we all like to switch things up based on our own tastes or ingredients on hand, here are a few options to consider with these cookies:
I haven't tested it but imagine that raisins would work instead of dates, simply weigh out 4 ounces.
Use any nut on hand – almonds, pecans, etc.
Allergic to peanut butter? Use almond or any other nut butter.
Seeds like sesame or sunflower would probably work
Substitute carob powder for cocoa powder
Keep Cool
For best results, keep these cookies cool. Refrigerate up to a week or freeze for 6 months. These are really great frozen on a hot day.
Yield: 24 Cookies
No-Bake Peanut Butter Cookies
These no-bake peanut butter cookies are naturally gluten-free, refined sugar-free, and vegan. Full of protein and healthy fats they are a fulfilling and sweet treat perfect for dessert or afternoon snack.
Ingredients
4 ounces Pitted Dates
4 ounces Walnuts
½ Cup Peanut Butter
1 Tablespoon Cocoa Powder
Pinch of salt if your peanut butter is unsalted
Instructions
Grind the dates and walnuts together. Use a food processor or meat grinder. Set aside.
In a small saucepan, combine the peanut butter and cocoa powder and heat just until everything is loose and combined. Remove from heat and stir in the ground nuts and dates until thoroughly combined.
Portion dough into small ball and place onto wax paper lined baking sheet. Press with the tines of a fork as you would for a peanut butter cookie. Refrigerate until firm and enjoy. Keep uneaten cookies in the fridge.