I'm a fan of all things peanut butter. I like it slathered on my rice cakes, spread on slices of apples, filling cookies, I could go on but you get the point. Surprisingly, I'm getting a little burnt on my typical breakfast of a rice cake with peanut butter and homemade jam. It was the rice cake not the peanut butter, you see, and so I had to come up with a new way to get my peanut butter breakfast fix.
Peanut butter granola was born to satisfy these breakfast urges. I made up a batch and have been eating it on top of oranges lightly sauteed in a bit of coconut oil and a drop of honey (just cooked long enough to warm it all up). I know it probably sounds strange but the warm, slightly sticky, and soft oranges contrast nicely with the crunchy and slightly rich granola.
If the oranges don't sound like your thing – a traditional bowl of granola with milk would be incredible, tossing some on yogurt would be equally impressive. Use your imagination or simply just munch by the handful.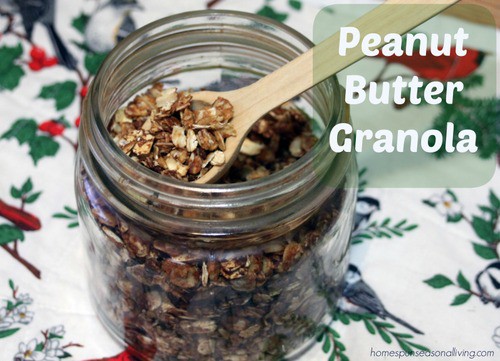 Peanut Butter Granola
A quick and easy recipe for Peanut Butter Granola.
Ingredients
1/4 Cup Creamy, Unsweetened Peanut Butter
3 Tablespoons Honey
1 teaspoon Coconut or Olive Oil
1/4 teaspoon Salt
2 Cups Oats
Instructions
Preheat oven to 325 degrees.
In a small saucepan, combine the peanut butter, honey, oil, and salt. Cook on low and stir just until everything melts and combines.
Pour the melted peanut butter over the oats and stir until the oats are moistened.
Spread the oats onto a jelly roll pan in an even layer. Bake in the preheated oven 15 to 20 minutes, stirring occasionally. Remove from oven when the oats achieve an evenly browned color. Allow to cool on baking sheet, break apart any clumps and store in an airtight container.