Most of us jam and jelly makers, give copious jars away to loved ones. Those jars are amazing gifts but we can share the flavor and amazing delight of those preserves by going beyond the jar, too. This year consider giving homemade jam gifts in the form of delicious food treats.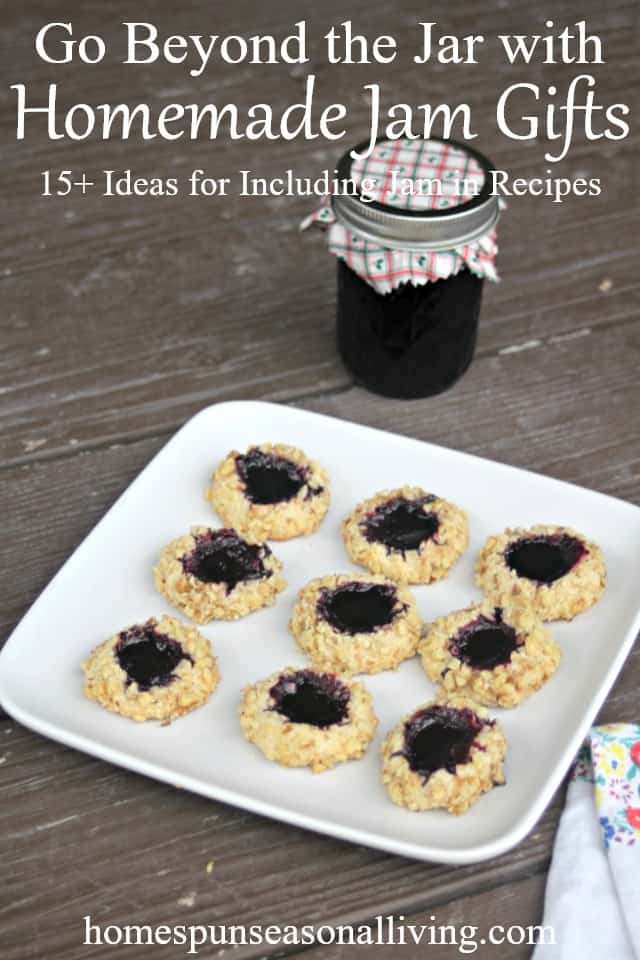 Thumbprint Cookies
Probably the most common way to give jam gifts outside of the jar is the thumbprint cookie. They can take on a number of forms and pack deliciously and easily into tins.
This apricot version includes rosemary for an herbal touch while the dusting sugar gives it extra sparkle.
A baker can't go wrong with raspberry and lemon cookies that include a drizzle of almond glaze.
Keep it gluten-free and add peanut butter with this super easy cookie recipe.
Don't forget the vegans on your list with a version that includes coconut for a tropical twist.
Jam & Jelly Cookies
Beyond thumbprints homemade jams and jellies work in a number of different types of cookies.
Sandwich that jam between crispy cookies and decorate with frosting and coconut, like these snow cookies.
Bow tie cookies are elegant for gifts and yet still easy to create during busy times.
Keep it traditional with buttery and beautiful linzer cookies.
Spread homemade jam on large sheets of cookie dough and cut it into pinwheel shapes.
Tuck jam inside these snowball cookies for a delightful surprise.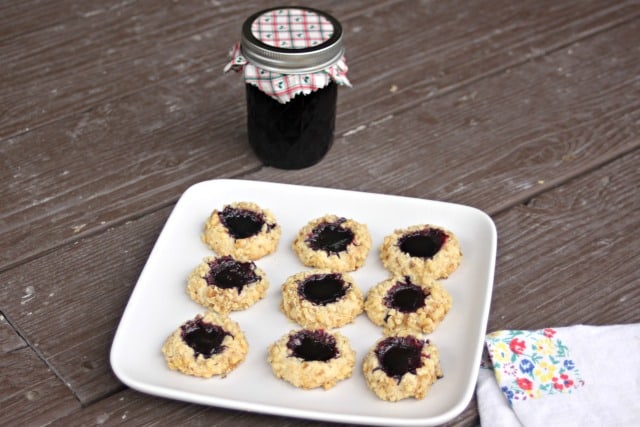 Bar Cookies
Bar cookies can be made in big batches that are then cut and divided up among cookie trays for gift giving. These tend to be great ways to spread large bits of jam into one recipe for great flavor.
Jam bars come in a variety of styles, this version includes almond flour and coconut for lots of flavor.
Oatmeal jam bars are the favorite around here.
Never forget the chocolate lover on your list, these jam bars include chocolate chips.
Breads
Bread and jam just naturally go together. A gift basket full of homemade bread and jam is always an excellent idea but we can also fill our muffins, scones, and more with jam:
Jam filled muffins are great hostess gifts.
Scones served with jam is traditional and this version bakes the jam right on top.
Mix jam in quick bread batter in mini loaves for great gifts.
Go fancy with a yeasted bread dough spread with jam and then twisted into a star shape.
While no one is ever likely to turn down a jar of homemade preserves, it can be fun to switch it up a little now and then. Homemade jam gifts like these are also lighter and less breakable making them ideal for shipping.