Apple butter cookies are a soft and sweet treat perfect for using up your preserves.
Fall season flavors abound in these easy to make cookies ideal for sharing with loved ones near and far.
Get your apple butter in cookie form with this simple delicious recipe.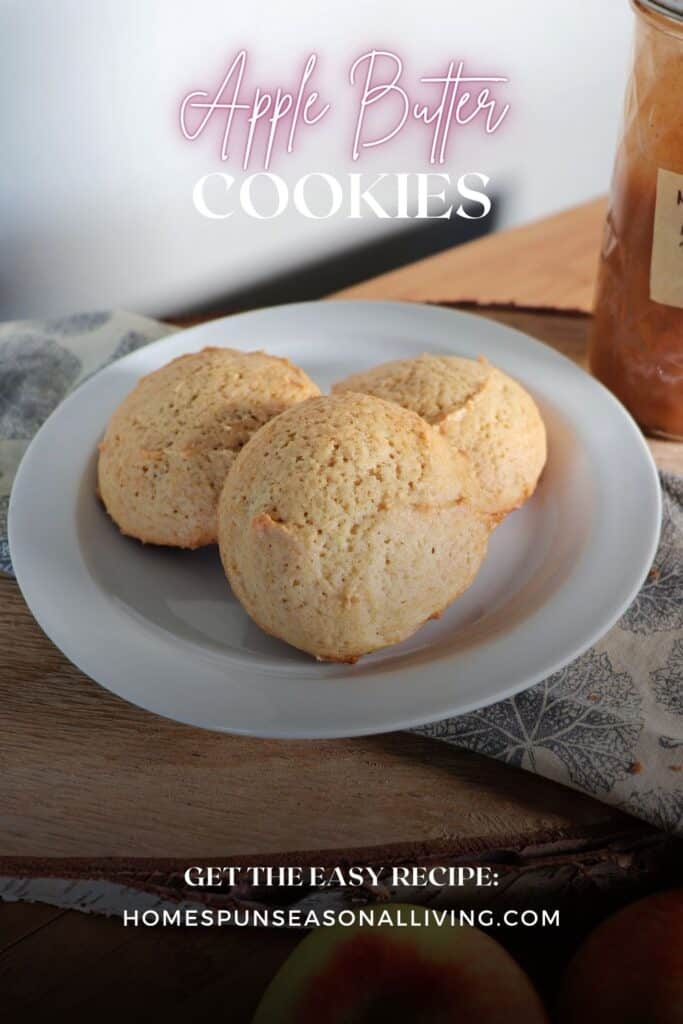 Apple Butter is the Star
Use flavorful apple butter for the most delicious end result. Something that you would eat on toast, something that is tasty all by itself.
I used my homemade maple apple butter recipe. Sharing cookies from things I've canned has become favorite way to use homemade preserves in something different. It's also a great recipe for using up preserves that may be getting close to losing their shelf life.
If you don't have any of your own apple butter on hand, something from the grocery store will work but I recommend choosing something basic and full of flavor. The apple butter flavor comes through in the final cookie so make sure it's something you love before using it here.
Optional Additions
These soft cookies are amazing plain, in my opinion, and don't need much else but if you'd like to switch it up, here are a few ideas:
Add up to 1 cup of peeled and diced fresh apples to the batter for even more apple flavor.
The spice from the apple butter is muted a bit in the final recipe add another 1/2 teaspoon of ground cinnamon, apple pie spice, or other favorite spice, if desired.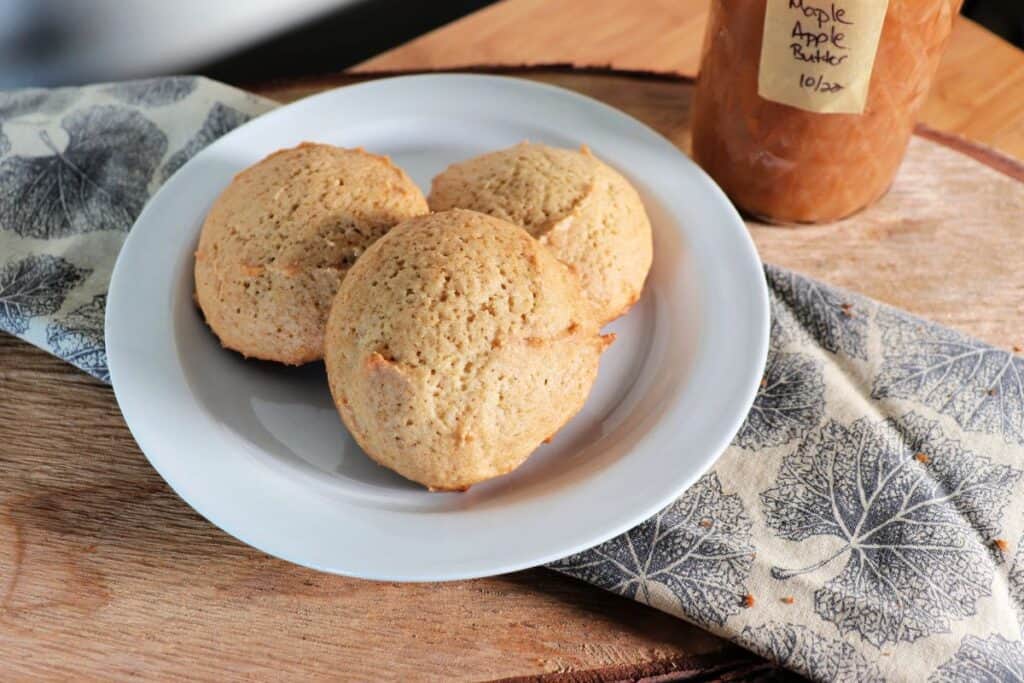 Stir in up to 1 cup of raisins or dried cranberries will add some chewy texture.
A cup of chopped walnuts or pecans (or most any nut you prefer) would also be delicious and add some crunch.
Increase the cinnamon flavor by adding candy cinnamon chips.
Topping Ideas
If you'd like to make these a more substantial dessert or fancy them up for a bake sale presentation, it's pretty easy to do.
Top each individual cookie with some frosting. A plain vanilla would work but something spiced or even cream cheese would be divine.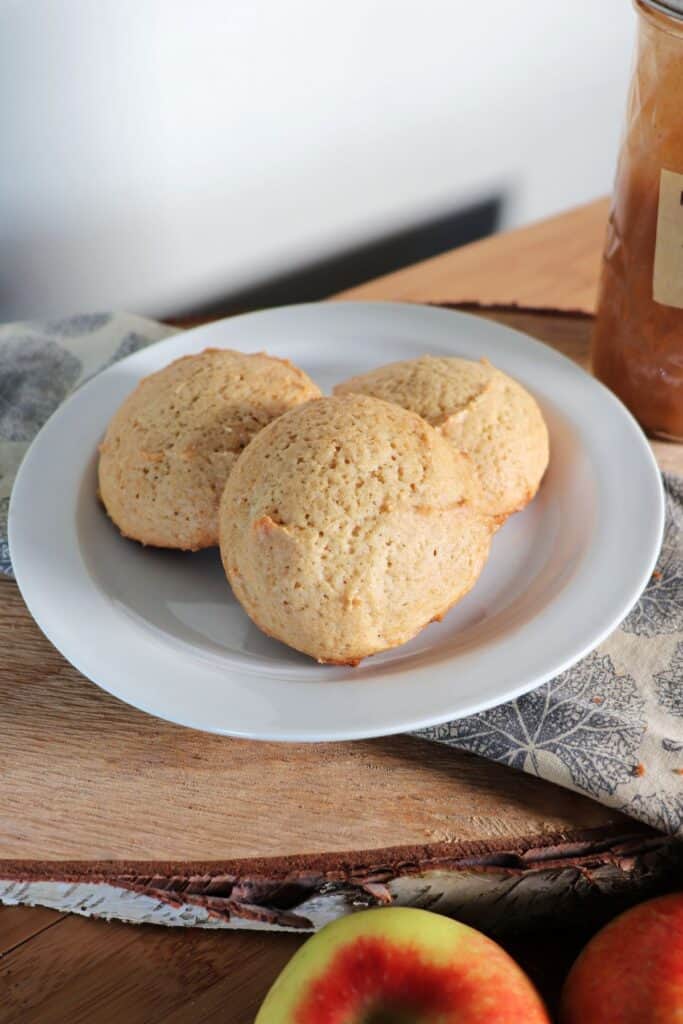 Alternatively, make sandwich cookies by putting the frosting between two cookies as a kind of apple butter whoopie pie.
Drizzle the cookies with just a bit vanilla or caramel glaze.
How to Serve
Keep it simple and serve these like you would any of your favorite regular cookies. A glass milk or favorite beverage on the side is more than enough for most of us.
Put some on top of a bowl of ice cream for a cool, creamy treat.
How to Gift
This is an ideal way to give someone your homemade apple butter without actually giving them a jar.
They are soft and moist so they're great for shipping to loved ones far away, making them a great addition to care packages and lighter than a jar to keep costs down.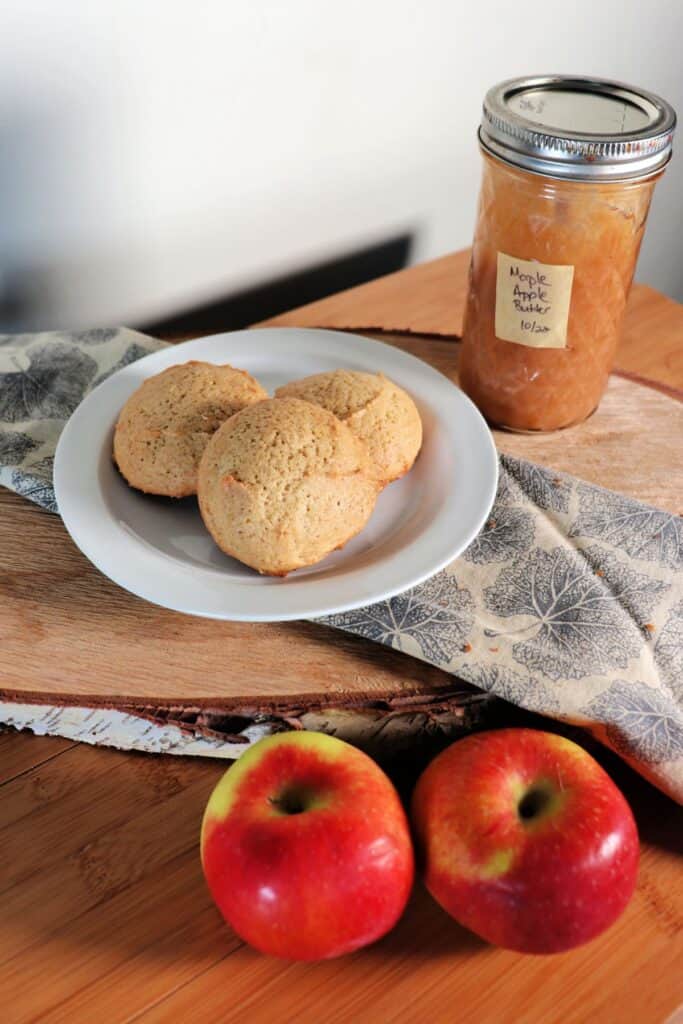 Put some in a gift basket or box with a jar of apple butter for neighbors or co-workers.
For the apple lovers in your life, tuck some cookies into an apple themed gift box with fresh apples and some apple cider, too.
It's a perfect cookie to tuck some into cookie trays or boxes for the holidays.
Homemade is heart-made! Check out 60 fresh ideas for gifts from the kitchen to honor every occasion. Sharing is caring!
How to Store
Put the baked and cooled cookies into an airtight container, where they should stay fresh for up to 5 days.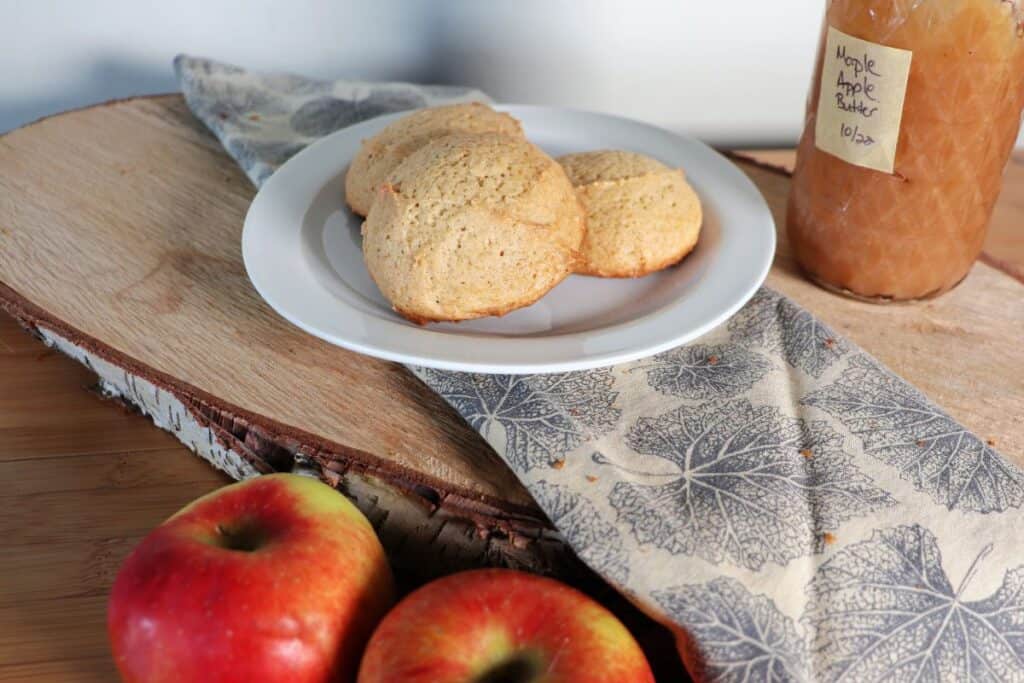 To store them for a long time, place the baked and cooled cookies into freezer bags or containers and freezer. They do freeze delightfully so make a double batch of these cookies and as a great way to have dessert quickly and easily later.
Let frozen cookies thaw at room temperature before serving. Use up any frozen cookies within 6 months for best flavor.
Yield: 3 Dozen
Apple Butter Cookies Recipe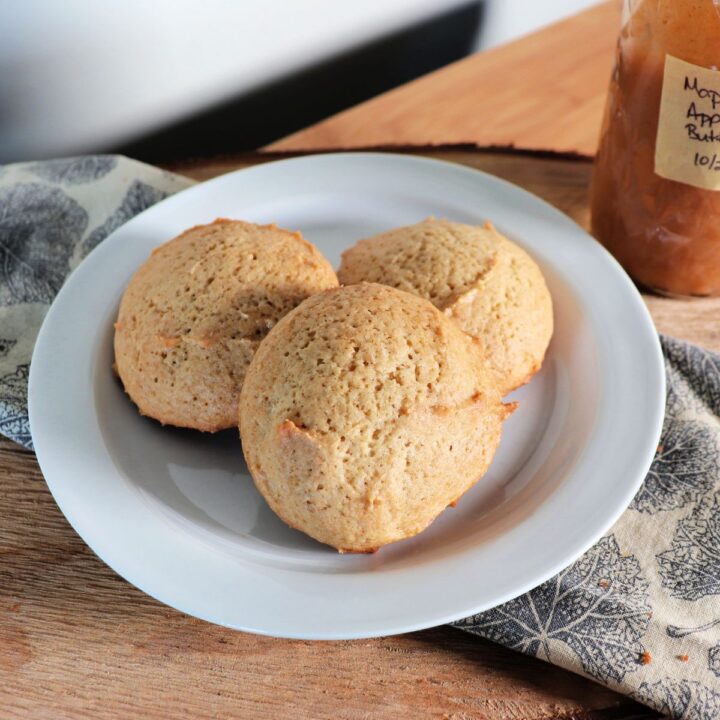 Make apple butter cookies from your preserves for apple cookies full of fall flavors any time of year.
Ingredients
3 Cups Unbleached, All-Purpose Flour
1 teaspoon Baking Soda
1/2 Cup Salted Butter, softened to room temperature
1 Cup Sugar
1/2 Cup Apple Butter
2 Eggs
2 teaspoons Vanilla Extract
Instructions
Preheat oven to 350 degrees Fahrenheit.
Grease cookie sheet or line with parchment paper / silicone baking mat.
In a medium bowl, whisk together flour and baking soda. Set aside.
In a mixing bowl, cream butter and sugar until soft and fluffy.
Add the apple butter to the sugar mixture and beat well.
Add the eggs and vanilla to the wet ingredients and beat until thoroughly combined.
Slowly add the dry ingredients, mixing until everything is completely combined.
Drop the dough by Tablespoons full , or use a cookie scoop, onto prepared baking sheets.
Bake in the preheated oven for 10 to 14 minutes. The cookies will be golden brown and set when done.
Remove from cookie sheets to cool completely on a wire rack.
Nutrition Information:
Yield:
36
Serving Size:
1
Amount Per Serving:
Calories:

93
Total Fat:

3g
Saturated Fat:

2g
Trans Fat:

0g
Unsaturated Fat:

1g
Cholesterol:

17mg
Sodium:

60mg
Carbohydrates:

15g
Fiber:

0g
Sugar:

7g
Protein:

1g
We try our best but cannot guarantee that nutrition information is 100% accurate.