Use this applesauce pie recipe for a smooth and delicious treat perfect for any time of year.
The easy recipe can be made in two different but no less delicious ways – plain or with a brown sugar crumble topping.
Applesauce pie is a great and easy way to make pies for holiday gatherings from the applesauce you preserved in the fall!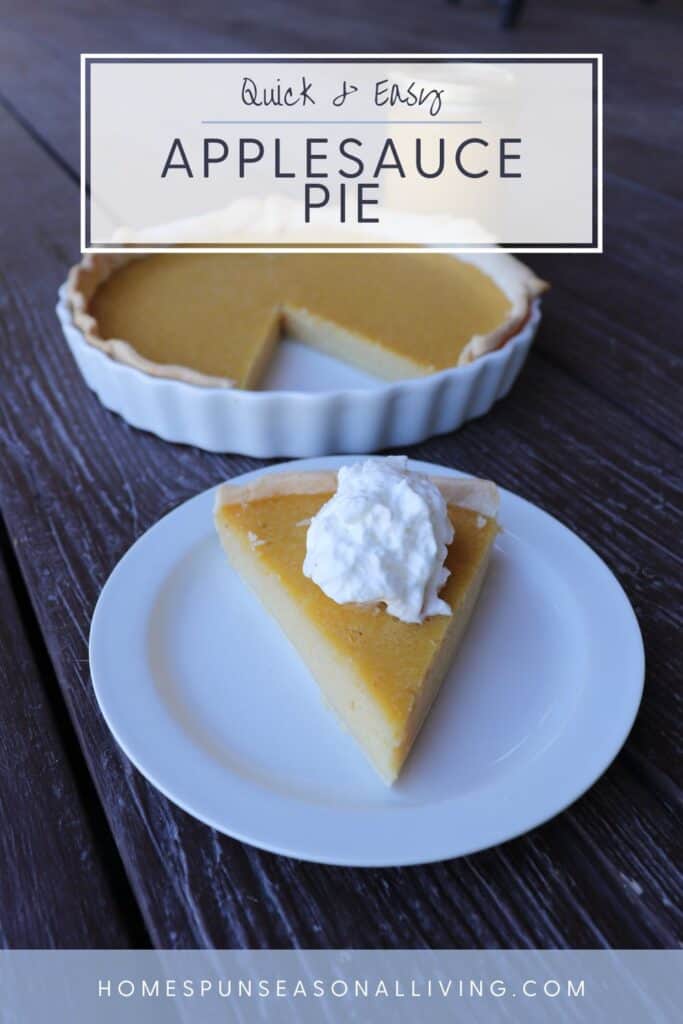 The Applesauce
It's best to go with unsweetened applesauce for the pie as there is sugar added. Use homemade applesauce or something purchased from the store. If going with something from the store, be sure to pick something natural and the best possible quality – the applesauce is the star of this recipe.
I went with plain, unspiced applesauce here but one could use a spiced version if desired.
If, like me, you have canned chunky applesauce in the pantry, I would recommend pureeing it in the blender first and then proceeding with the recipe. This intended to be a smooth pie not one with chunks of apple and the recipe was tested with a smooth sauce.
Optional Spice
I didn't add any spice to the recipe choosing to keep the apple flavor front and center.
However, you could easily add 1/2 teaspoon ground cinnamon or apple pie spice to the topping or the pie itself if you wanted spice.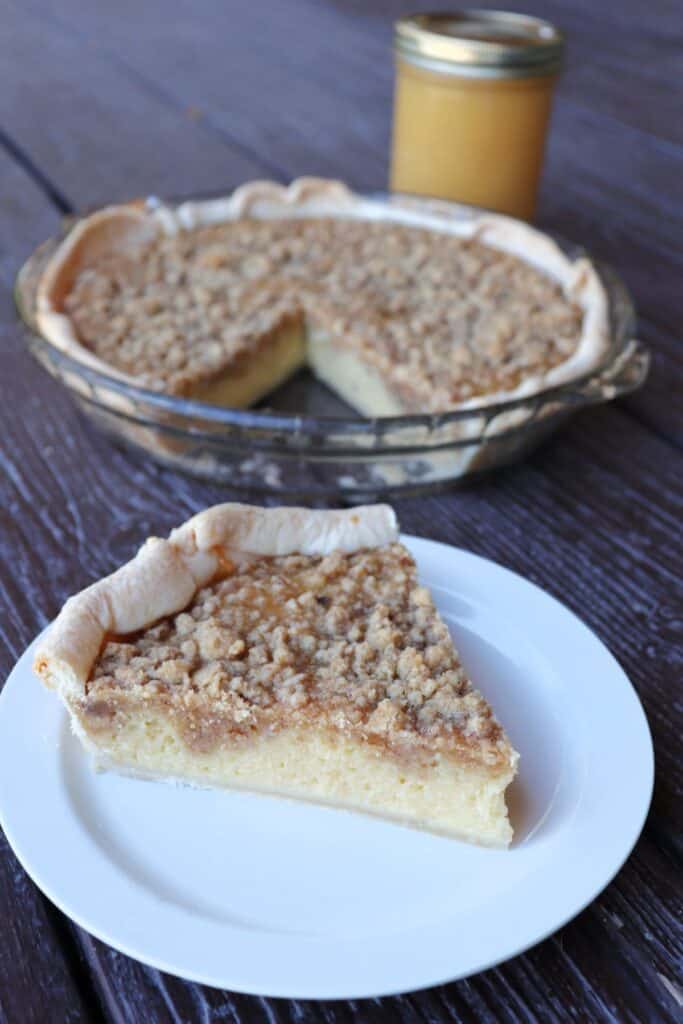 How to Serve
This delicious recipe is versatile and can easily be a simple dessert for the family or served at holiday feasts and parties.
Serve cold slices of the pie with whipped cream for a simple but lovely dessert.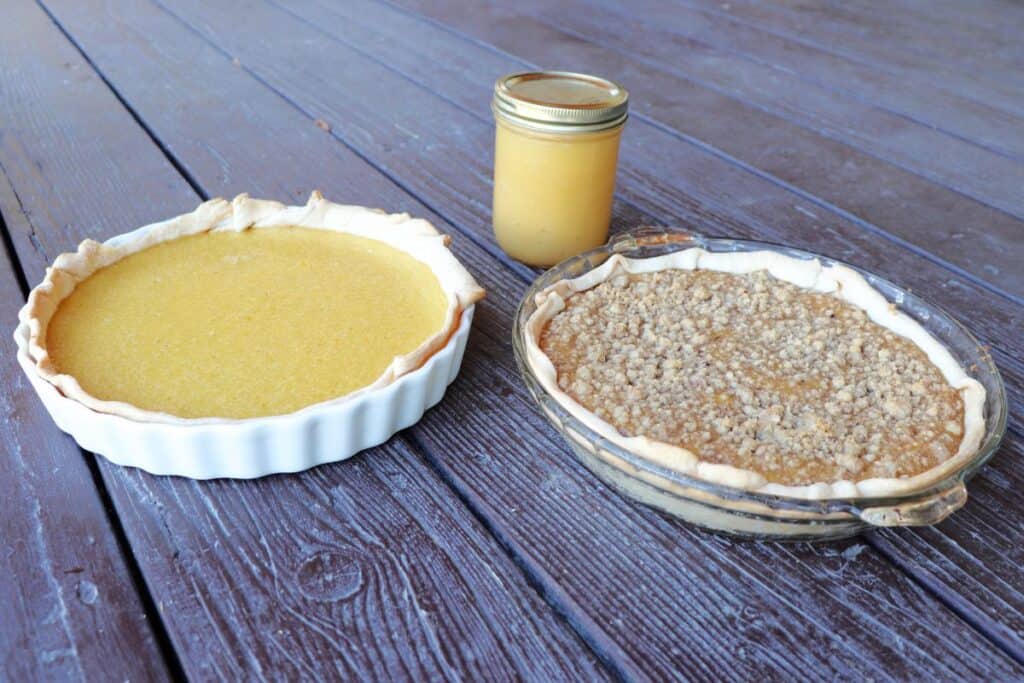 A drizzle of caramel sauce on top of each slice just before serving is also beautiful and delicious.
Keep it simple, a plain slice unadorned served with a hot beverage is a great and simple snack most everyone will enjoy.
For parties or gatherings, consider making a double batch and making one pie with the crumble and one without.
How to Store Leftovers
Keep leftover pie in an airtight container for up to 3 days. You could also wrap the pie plate in aluminum foil or plastic wrap before refrigerating. Serve it cold for best flavor.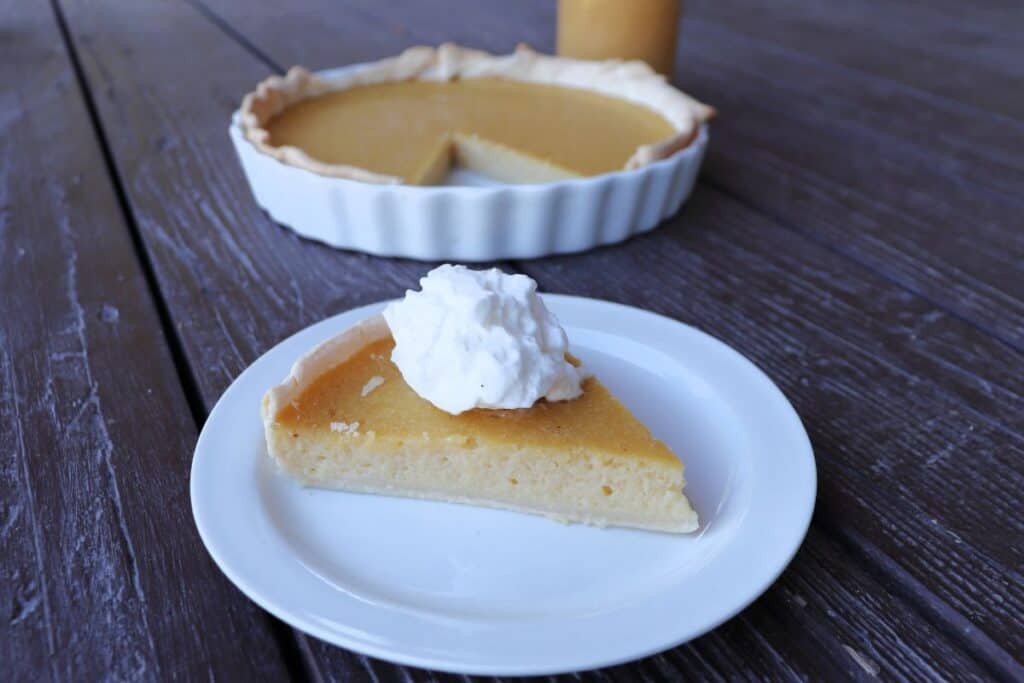 For longer term storage, the baked and cooled pie can be frozen. I did this by slicing and placing into freezer bags. This way we could just thaw a slice or two at a time for dessert.
Let frozen pie, thaw in the fridge prior to serving. Use up any frozen pie within 6 months for best flavor and to prevent freezer burn.
An apple a day is easy to achieve with these 12 sweet & savory recipes that incorporate applesauce to help you make the most of your harvest!
Have apple butter but not applesauce? Check out my recipe for apple butter pie with crumble topping.
Yield: 8 Servings
Applesauce Pie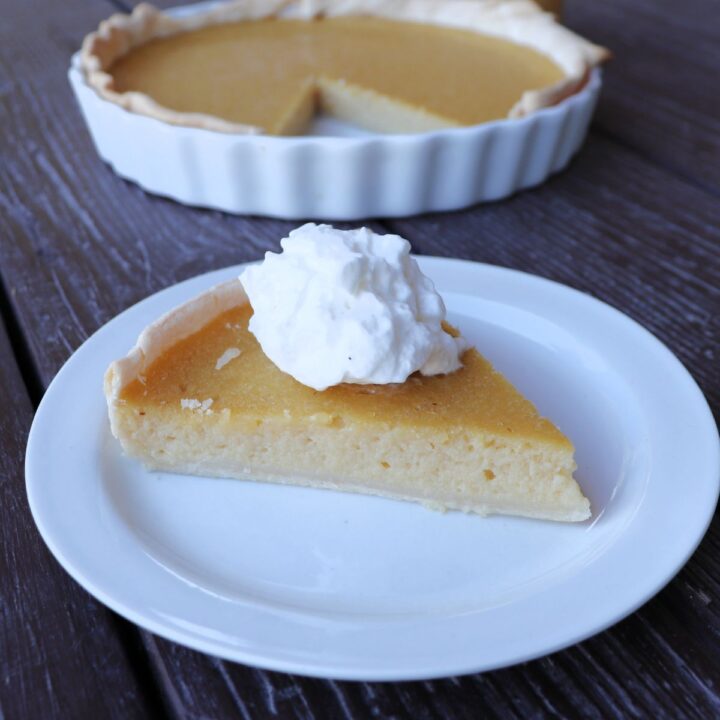 This is a simple, sweet recipe that gives new life to those jars of applesauce in the pantry. The crumble topping adds some crunch and spice but can easily be skipped and still have a great pie.
Total Time
1 hour
5 minutes
Ingredients
Optional Crumble Topping
1 Cup Unbleached, All-Purpose Flour
⅓ Cup Salted Butter, Melted
⅓ Cup Brown Sugar
Pie
Pastry for Single Crust 9" Pie
3 Eggs
½ Cup White Sugar
1 ½ Cup Applesauce
¼ Cup Unbleached, All-Purpose Flour
Pinch of Salt
Instructions
Preheat the oven to 350 degrees Fahrenheit.
Make the Crumb Topping:
Combine all the ingredients in a small mixing bowl and mix until crumbly. Set aside.
Make the pie:
Line pie pan with pie crust. Set aside.
Combine eggs, sugar, applesauce, flour, and salt in a large mixing bowl. Whisk until everything is well combined. Alternatively, put everything in a blender or food processor and blend until smooth.
Pour mixture into the pie shell.
If using the topping, simply sprinkle the crumbs over the top of the pie, some will sink, that's okay.
Bake in the preheated oven for about 45 minutes. The pie will be set, the crust a bit golden brown. An inserted toothpick will come out of the pie clean when done.
Cool completely on a wire rack and refrigerate before serving. It truly is best when cold, not room temperature.
Nutrition Information:
Yield:
8
Serving Size:
1
Amount Per Serving:
Calories:

644
Total Fat:

27g
Saturated Fat:

12g
Trans Fat:

0g
Unsaturated Fat:

13g
Cholesterol:

95mg
Sodium:

426mg
Carbohydrates:

95g
Fiber:

4g
Sugar:

50g
Protein:

8g
We try our best but cannot guarantee that nutrition information is 100% accurate.