This applesauce chicken recipe is a great and quick way to use up leftovers for a simple, yet hearty meal.
While the idea of combining applesauce with chicken may seem unusual, there is only a subtle flavor of apple in the finished recipe that is quite well balanced and tasty.
The great thing about this easy recipe is that you likely have everything on hand and can whip it up quickly to feed just yourself or a crowd. It easily works for weeknight meals or big batches for game days, potlucks, and more.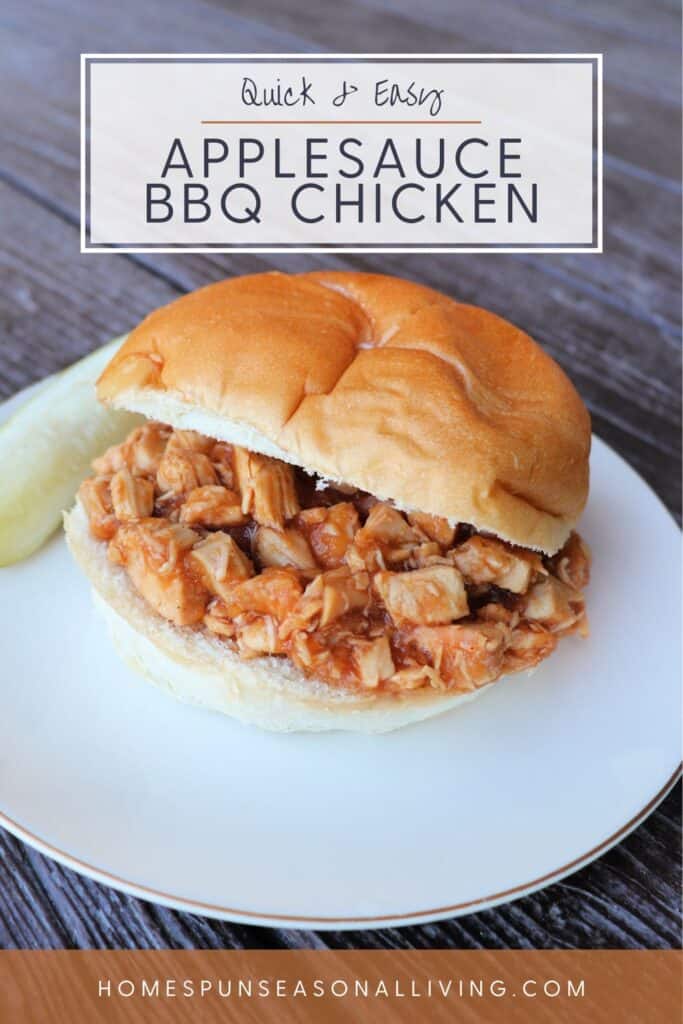 The Chicken
One could cook skinless boneless chicken breasts, just to make this recipe if desired. And if you decide to make a large batch for serving at a party, that's definitely an easy way to go.
However, this is a great recipe to use up bits of leftover roast whole chicken (or even turkey), those rotisserie chickens from the grocery store, truly any bits of chicken you have and it could easily be light meat, dark meat, or some combination of both.
Chop the chicken with a knife or consider pulling or shredding for a more barbecue like take on the finished dish.
The Applesauce
Unsweetened and unspiced applesauce is going to best in this recipe. Use homemade applesauce or something from the grocery store.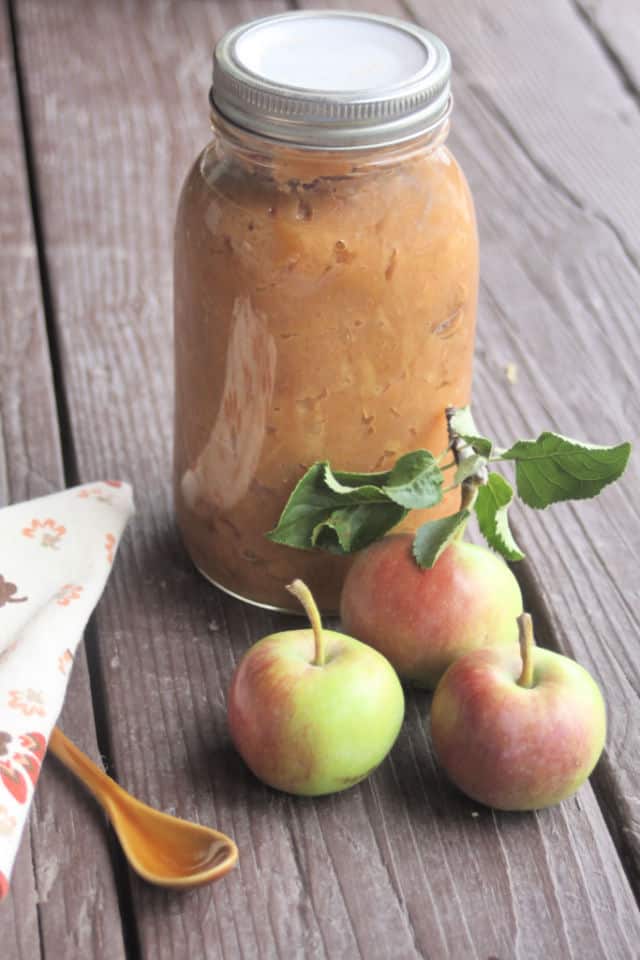 If, like me, you can chunky applesauce you may want to puree it first so that it's smooth. I personally preferred the smooth, not chunky, texture in this savory recipe but if you like the chunks feel free to leave them.
An apple a day is easy to achieve with these 12 sweet & savory recipes that incorporate applesauce to help you make the most of your harvest!
Spice
A little paprika adds a lot of flavor. A little hot paprika adds some more flavor. You could easily switch it up according to your own tastes.
Add some garlic powder or onion powder for more savory flavor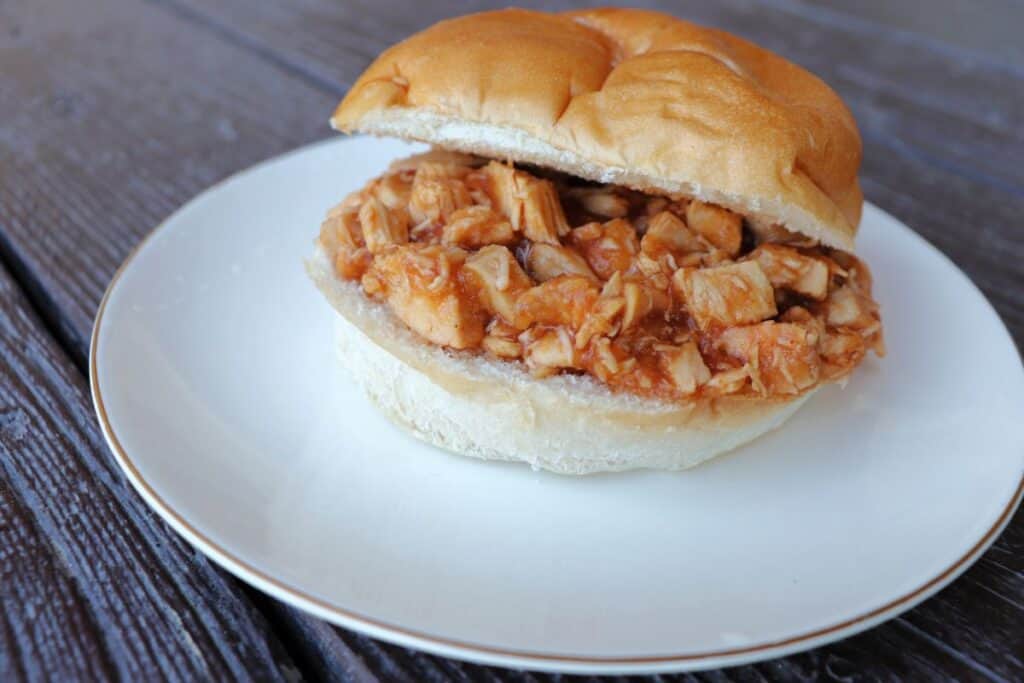 A small pinch of red pepper flakes could add some heat.
Black pepper and salt could also be added but may depend on the barbecue sauce – taste before adding too much of those.
Barbecue Sauce
Use whatever you prefer here, whatever is easily on hand will be perfect and amazing.
A spicy barbecue sauce can definitely change the flavor profile and tone done the natural sweetness of the apple sauce if that's a concern.
Again, just use whatever bbq sauce is your favorite.
Options for Heating
Because the recipe uses cooked chicken, it's really just a matter of heating the ingredients together until hot. I prefer to do this on the stove top in a saucepan. It takes 10-15 minutes this way and is super quick and easy.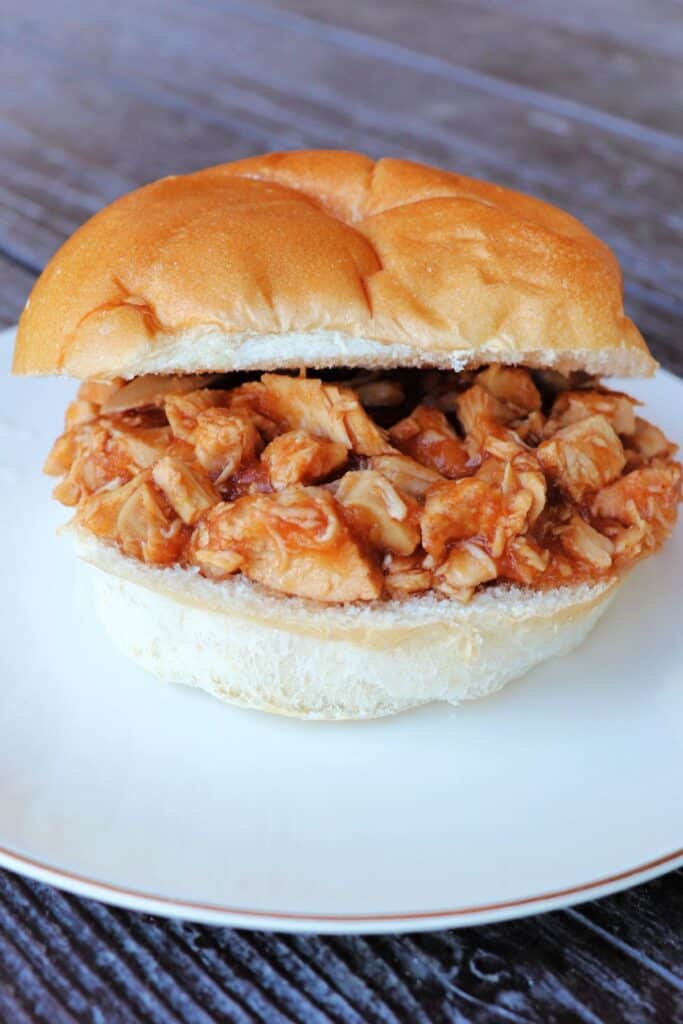 However, if you wanted to make a double, triple, or even larger batch to serve a crowd, cook in the slow cooker for 4-5 hours or until heated through.
How to Serve
This is a great dinner time sandwich meal. Serve simply on buns, open-face or as a sandwich with 2 slices of bread.
It could easily be served on top of brown rice if gluten is a concern.
Serve with simple side dishes like fries and pickles. My apple sauerkraut casserole goes alongside the open faced sandwiches quite well.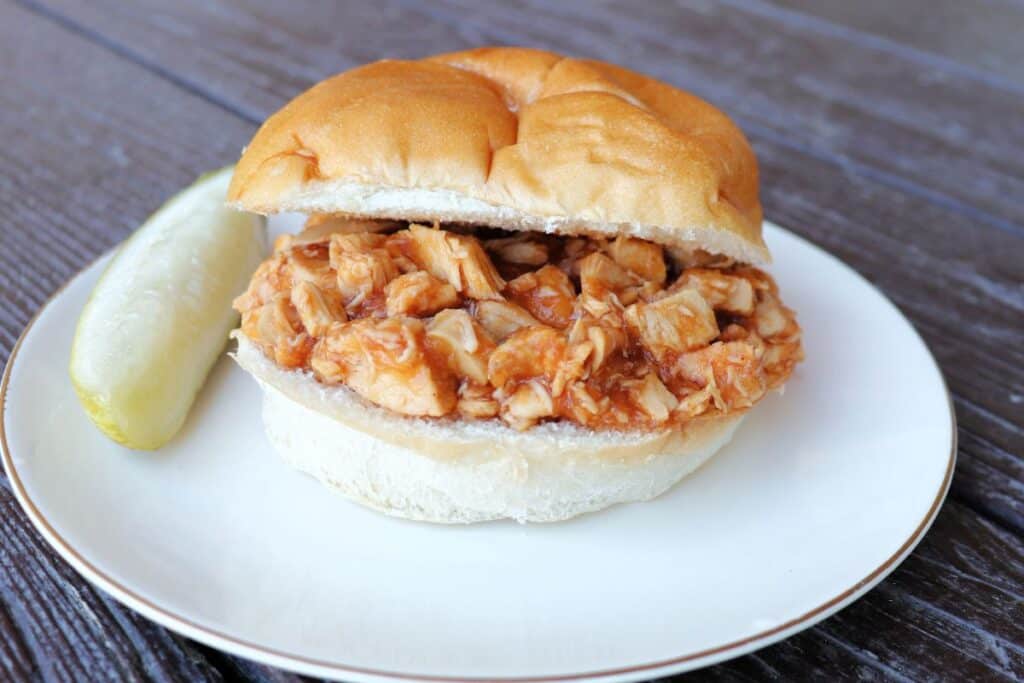 Keep the barbecue theme going by serving it with baked beans. Macaroni and cheese is a lovely side as well.
How to Store Leftovers
If you have any leftovers, simply keep refrigerated in an air-tight container.
Use up leftovers within 3 days and simply reheat on the stove before serving.
For longer term storage, place leftovers in freezer safe containers and freeze. Thaw in the fridge or dump into a pot to cook until warm and enjoy.
Use up the frozen meal within 6 months for best flavor.
Yield: 4 Servings
Applesauce Barbecue Chicken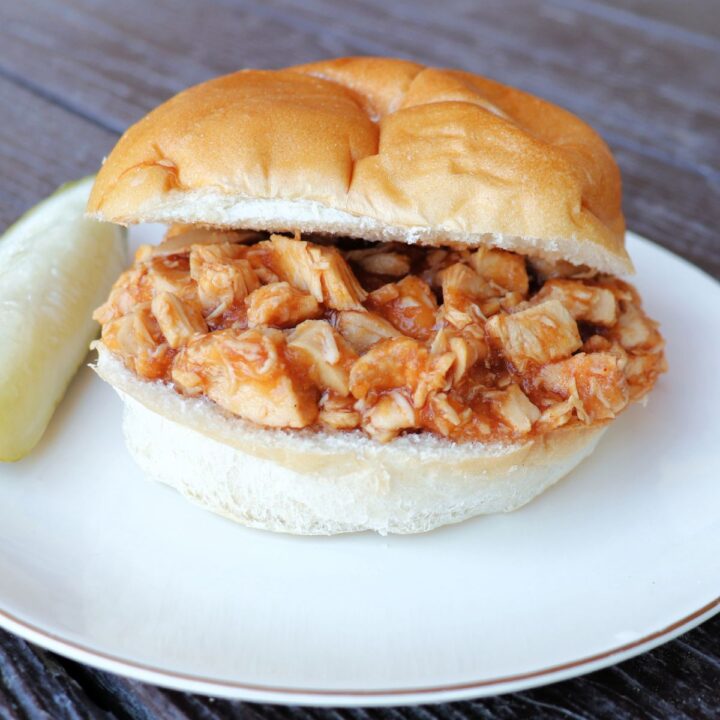 Make this easy savory dish as a way to use up pantry staples and leftovers for a hearty and delicious meal.
Ingredients
2⁄3 Cup Applesauce
2⁄3 Cup Barbecue Sauce
1⁄2 teaspoon Paprika, (optional)
1 Pound Cooked Chicken, chopped (approximately 3 packed cups)
Instructions
In a small bowl, whisk together the applesauce, barbecue sauce, and paprika.
Place chicken in a saucepan, pour the sauce over top and stir everything to combine well.
Cover the pan with a lid and heat gently over medium-low heat until the chicken is warmed through. Stir occasionally.
Nutrition Information:
Yield:
4
Serving Size:
1
Amount Per Serving:
Calories:

360
Total Fat:

15g
Saturated Fat:

4g
Trans Fat:

0g
Unsaturated Fat:

9g
Cholesterol:

107mg
Sodium:

567mg
Carbohydrates:

27g
Fiber:

1g
Sugar:

22g
Protein:

28g
We try our best but cannot guarantee that nutrition information is 100% accurate.