Highlight all the flavors of fall in this quick and easy to bake apple streusel coffee cake recipe.
This delicious apple cake comes complete with bits of fresh apples, cinnamon streusel, and sweet apple cider for something truly special.
Rich and sweet like all the best apple coffee cakes, this recipe is easy to make and amazing to serve for breakfast or dessert.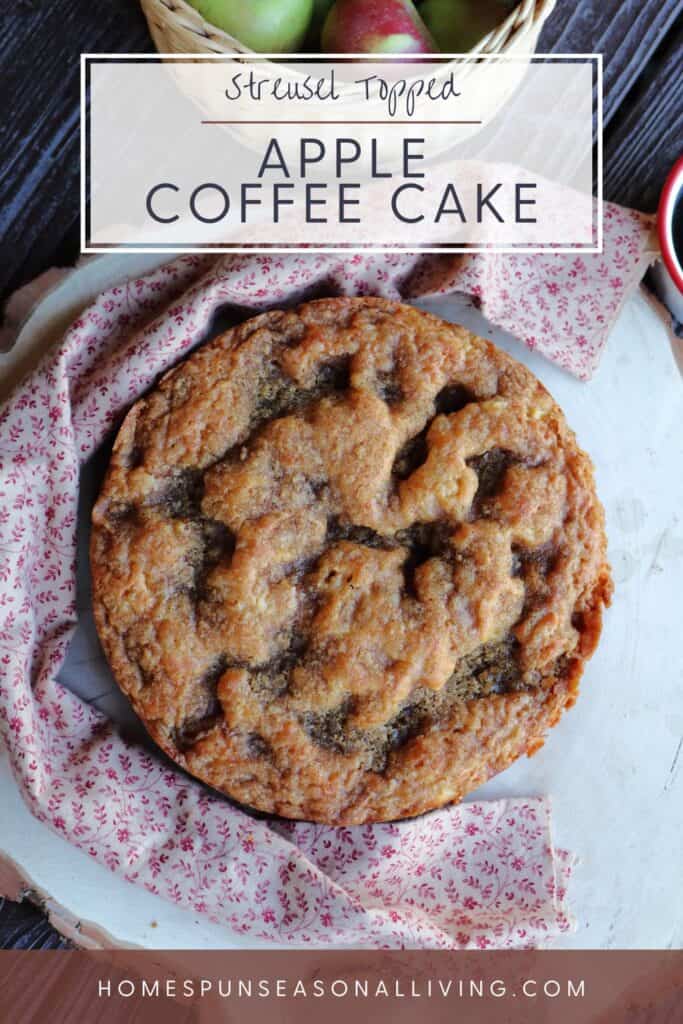 The Apples
I am going to say, worry less about which apple varieties are good for baking and focus more on what apples are fresh, local, and flavorful. Use whatever you have growing in your yard, can forage, or find at a local orchard. It's a great way to feature homegrown or local fruit with loved ones.
Tart apples obviously provide a nice balance to the sweetness but celebrate the apple season by using what is close at hand.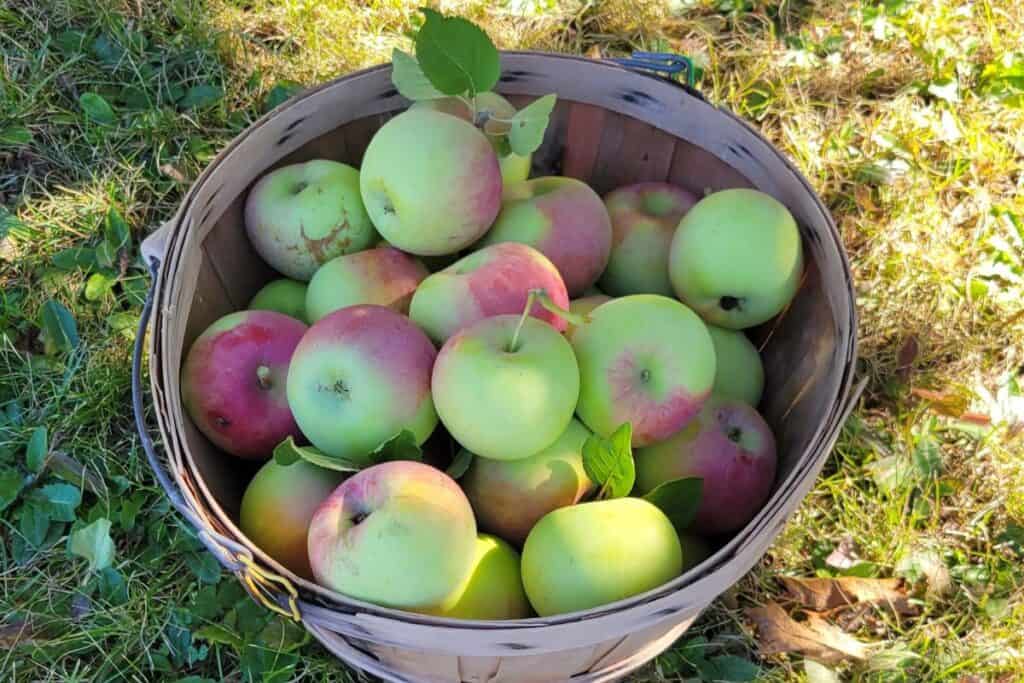 I will often skip peeling fruit when I'm baking for us – the peels don't often matter to us so I leave them. However, in this recipe, I do recommend peeling. The cake has a wonderful light texture and the peels get in the way of that. It doesn't ruin the flavor in anyway should you want to keep the peels, the only difference is the texture.
Dicing the apples means more apple chunks get spread throughout the cake in small bites. However, apple slices could also be used for a different presentation.
The Cider
Again, I suggest focusing on local first. If you can find some flavorful local cider, use that here. Fresh pressed cider can be expensive, but the recipe uses just half a cup.
If you're using something from the bottled from the grocery store, that will work too. You can pump up that flavor some by boiling down the cider a bit first to concentrate the flavor but that isn't required.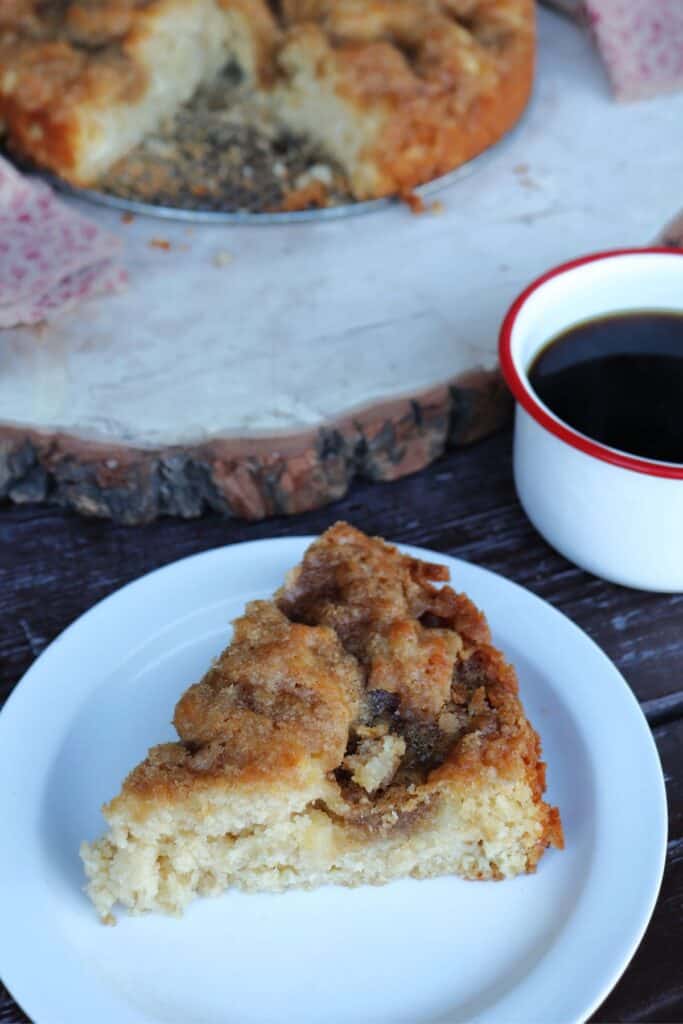 Substitute a half cup milk (or milk alternative) for the cider if you don't have any on hand. It changes the flavor slightly but still results in a delicious, tender cake.
Spice
I only include a touch of cinnamon in the crumb topping because I wanted it to be more apple than spice. However, the comforting flavors of spice and apples combined cannot be dines. To that end, feel free to add up to 1 teaspoon of cinnamon or apple pie spice to make it more of an apple cinnamon coffee cake.
Consider using ginger, cardamom, or any other spice or blend you prefer to cinnamon, if desired.
The Pan
I chose a springform pan to bake this coffee cake in because I think it makes it easy for serving. The ring easily comes off, which shows off the brown sugar streusel beauty while making it easy to slice.
However, a 9″ square pan or regular round cake pan will also work. Use what ever is most convenient for you.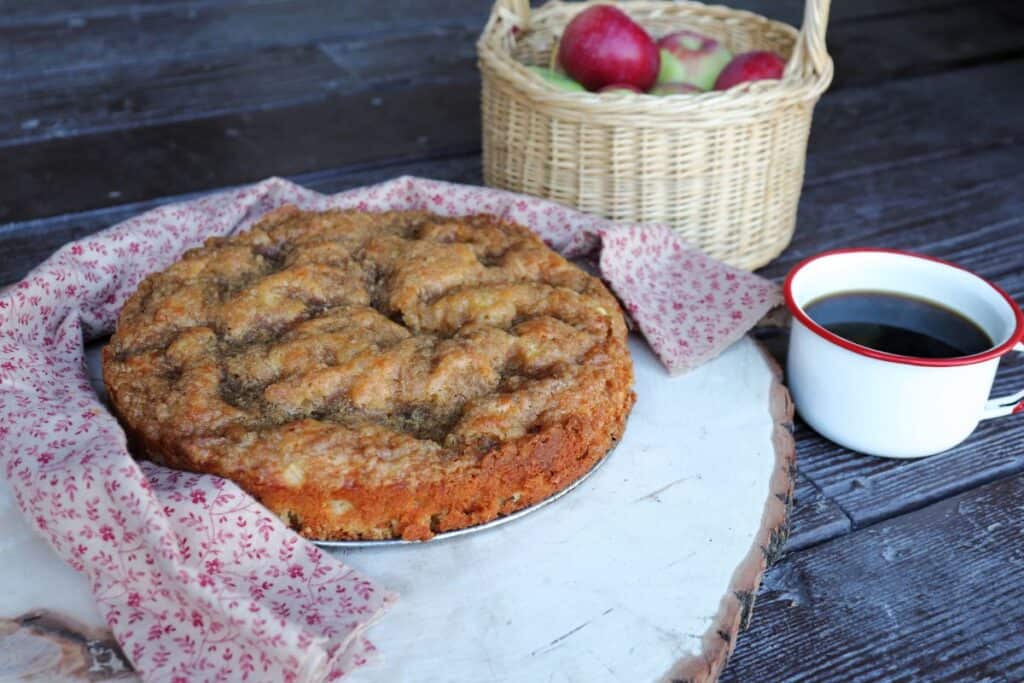 Easy to Make
There's no need to pull out a mixer of any sort here. Everything easily pulls together with a whisk, fork, and spatula. The lack of equipment saves on mess and noise should you want to pull it together for a quick weekday morning breakfast.
How to Serve
Use this as a special breakfast or part of brunch by serving it with fresh fruit, eggs, and hot drinks.
It makes a great, simple snack served with a cup of coffee or tea in the mid-afternoon, too.
This is also sweet enough to serve as a perfect dessert for the autumn season – consider topping it with some whipped cream or vanilla ice cream. You could also drizzle the baked and cooled cake with just a bit of vanilla glaze for a beautiful touch.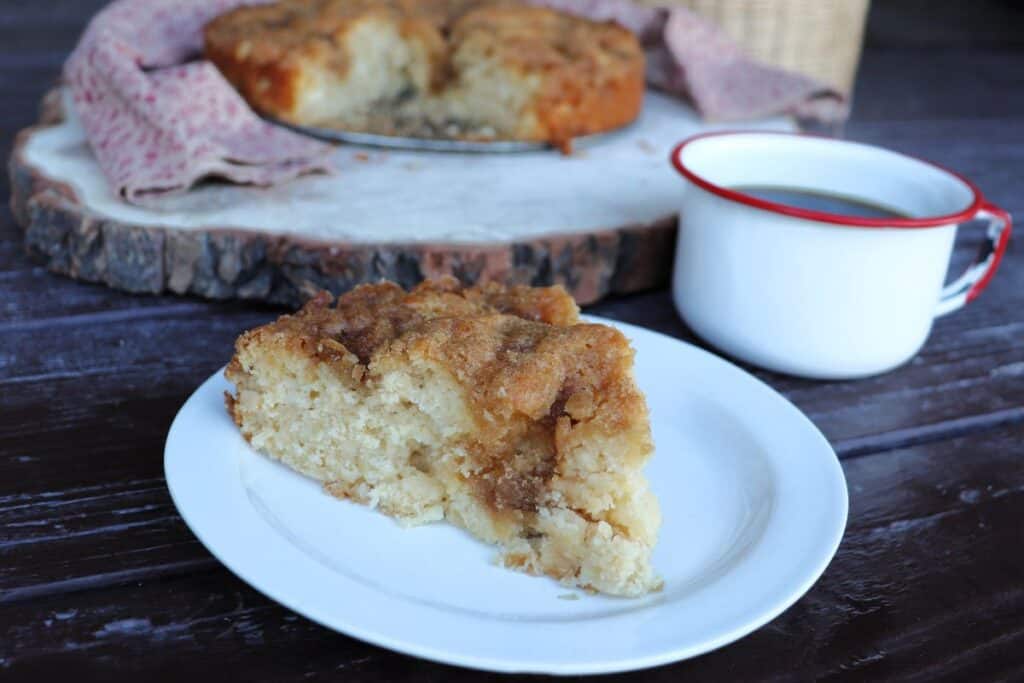 The recipe is easy to double and great for potlucks or fall harvest celebrations and parties. Bake in a 9×13 inch pan for an easy to double and transport cake.
How to Store
Keep the leftover apple crumb cake in an airtight container at room temperature and it should last about 4 days.
Homemade is heart-made! Check out 60 fresh ideas for gifts from the kitchen to honor every occasion. Sharing is caring!
For longer term storage, wrap tightly and freeze. Use up frozen cake within 6 months for optimum flavor and to prevent freezer burn.
Looking for more fall themed coffee cake recipes? Try my applesauce coffee cake.
Yield: 6 Servings
Apple Streusel Coffee Cake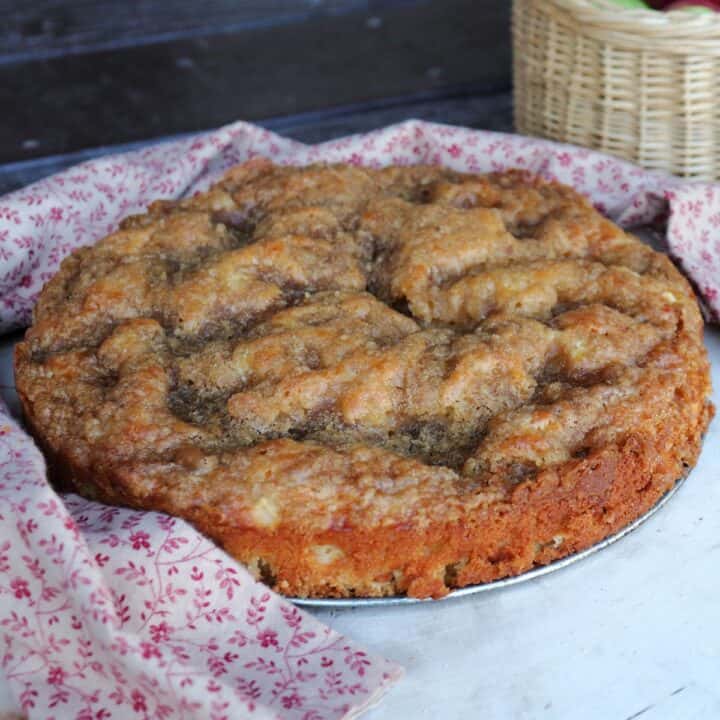 A rich and delicate apple coffee cake topped with cinnamon streusel is the perfect fall brunch or breakfast!
Ingredients
Apple Coffee Cake Batter:
1 1/2 Cups Unbleached, All-Purpose Flour
2 1/2 teaspoons Baking Powder
1 Egg
3/4 Cups Sugar
1/4 Cup Salted Butter, melted
1/2 Cup Apple Cider
1 1/2 Cups Peeled & Diced Apple
Streusel Topping
1/2 Cup Brown Sugar
3 Tablespoons Salted Butter, softened
3 Tablespoons Unbleached, All-Purpose Flour
1/2 teaspoon Ground Cinnamon
Instructions
Pre-heat oven to 375 degrees Fahrenheit.
Grease a 9" Springform pan.
Make the Streusel Topping:
In a medium bowl, combine all the ingredients. Use a pastry blender, fork, or your fingers to mix the ingredients into coarse crumbs.
Set aside.
Make the Cake Batter:
In a large bowl, whisk together the flour and baking powder. Set aside.
In a separate bowl, whisk together the egg, sugar, melted butter, and apple cider until completely emulsified.
Pour the wet ingredients into the dry ingredients and mix until almost combined.
Fold in the diced apples and mix completely.
Pour batter into the prepared pan and spread evenly.
Sprinkle the prepared streusel over the top of the batter.
Bake in the preheated oven for 25 to 30 minutes or until an inserted tester comes out clean.
Cool in pan on a wire rack for 10 minutes before running a knife around the edge and removing the pan ring.
Nutrition Information:
Yield:
6
Serving Size:
1
Amount Per Serving:
Calories:

434
Total Fat:

15g
Saturated Fat:

9g
Trans Fat:

1g
Unsaturated Fat:

5g
Cholesterol:

67mg
Sodium:

328mg
Carbohydrates:

73g
Fiber:

2g
Sugar:

44g
Protein:

5g
We try our best but cannot guarantee that nutrition information is 100% accurate.