Make this moist and delicious applesauce coffee cake topped with a sweet streusel for a perfect brunch treat.
You won't even need to pull out a mixer to whip up this easy apple coffee cake recipe! It truly comes together with just a spatula.
Made from simple ingredients and flavorful applesauce this easy coffee cake is great any time of year.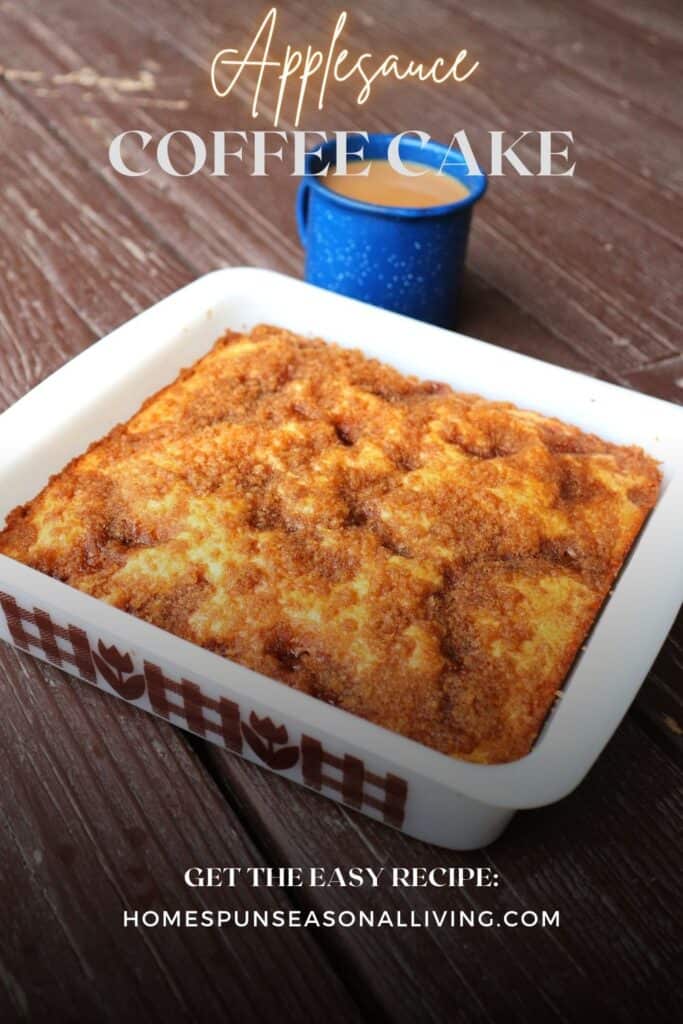 Applesauce
This is a great way to use up any homemade applesauce you may have sitting in the pantry. It's also a great way to use up any that doesn't quite fit into a jar during apple season canning sessions.
Store bought will work, just fine, as well. Do use something unsweetened and unspiced for best results.
If all you have around is already sweetened consider using less sugar in the recipe below.
If the applesauce is already spiced, consider using less or skipping the spice in the streusel as it may get too overpowering.
Want it Whole Grain?
Substitute some or all of the all-purpose flour with whole wheat flour for some whole grain goodness.
The texture will be denser but will still result in a delicious sweet cake.
Spice
I kept it simple with just a bit of cinnamon in the streusel. I wanted the spice to complement the flavors not become the main flavor.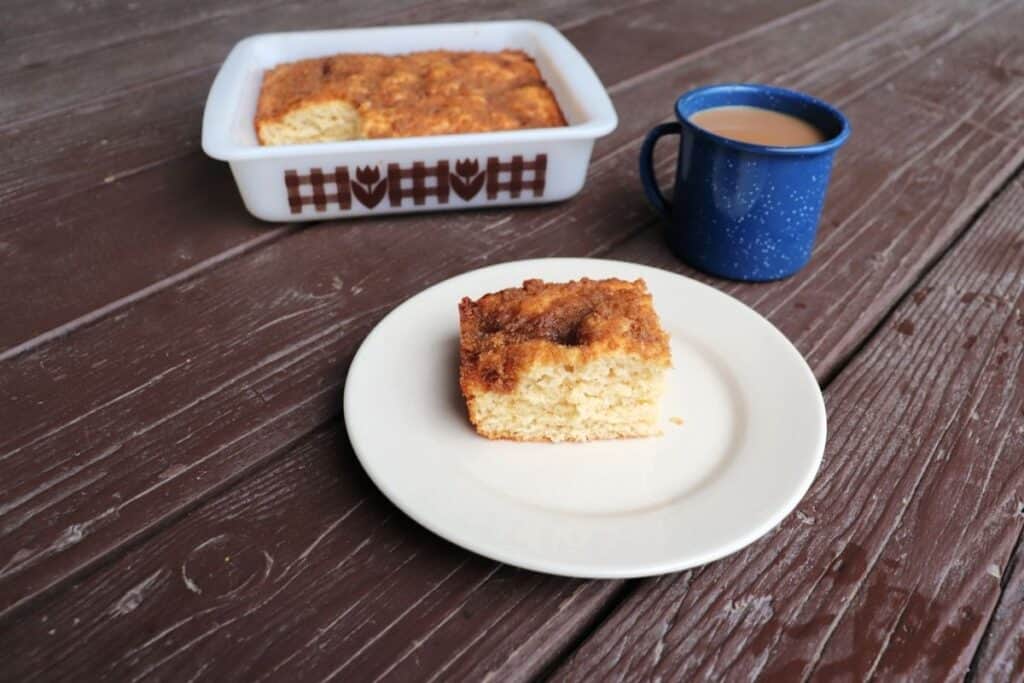 You can use any of the warm spices you prefer. Cardamom, ginger, apple pie spice, etc. would all be great choices.
Feel free to skip the spice if desired. It's a good cake even without spice for folks that simply don't like spice.
Optional Additions
This is a great recipe just as written but if you want to make it a bit heartier, consider adding some of the following:
Make it an apple cake by adding a cup of peeled and diced fresh apple.
Up to 1 cup of dried fruit like raisins or dried cranberries.
Add 1 cup of chopped nuts to the cake or 1/2 cup of finely chopped nuts to the streusel.
Stir in some cinnamon chips or chocolate chips, if desired.
How to Serve
This is a lightly sweet cake with a tender crumb, perfect for having with your morning coffee or cup of tea.
It can easily serve as dessert, especially if served with a scoop of vanilla ice cream.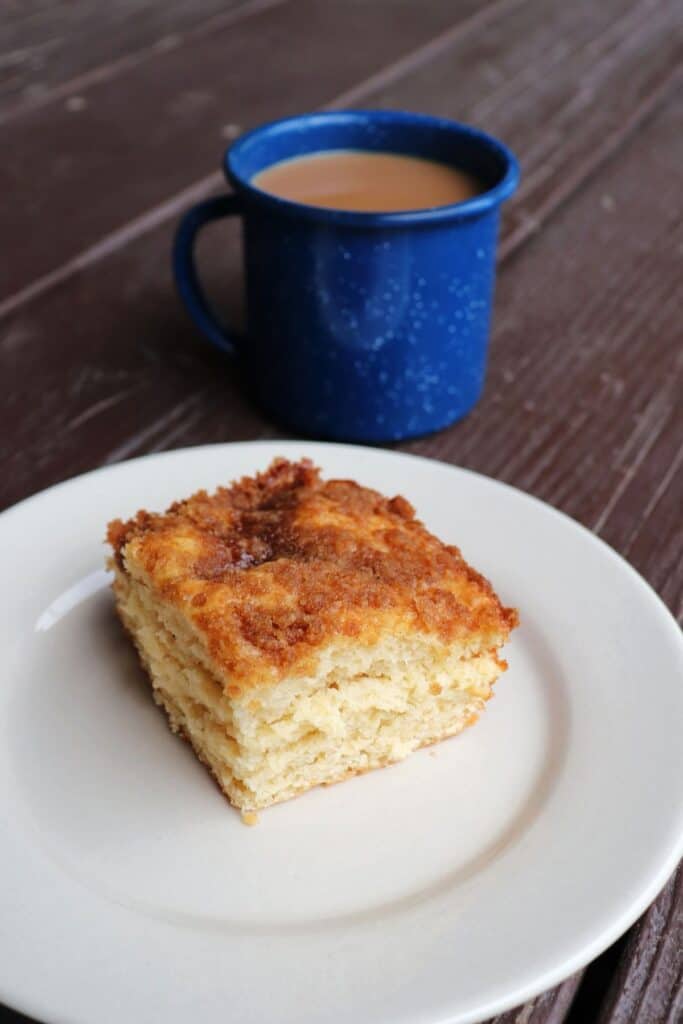 Pour some warm caramel sauce over the cake just prior to serving for a very special treat.
Cut smaller pieces and keep on a brunch buffet with a selection bacon, eggs, fresh fruit, etc.
How to Store
This is a moist cake which helps it stay fresh for a long time. Wrap up any leftover cake with plastic wrap or store in an airtight container. At room temperature the cake should be good for about 5 days.
It does freeze delightfully for longer term storage. Simply put the entire baked and cooled cake into a freezer container and freeze.
An apple a day is easy to achieve with these 12 sweet & savory recipes that incorporate applesauce to help you make the most of your harvest!
Alternatively, cut the cake and put pieces in freezer containers to freeze. Individual slices can easily be tucked into lunch boxes in the morning and be thaw by lunch time.
Use up any frozen cake within 6 months for optimum flavor and freshness.
Want recipes for more applesauce cakes?
Yield: 9 Servings
Applesauce Coffee Cake Recipe
Make this moist and sweet apple cinnamon coffee cake with a spicy crumb topping for a delicious fall season brunch!
Ingredients
Streusel Topping
1/4 Cup Brown Sugar, lightly packed
2 Tablespoons Unbleached, All-Purpose Flour
1 teaspoon Ground Cinnamon
2 Tablespoons Cold, Salted Butter
Applesauce Coffee Cake Batter
1 1/2 Cups Unbleached, All-Purpose Flour
2 1/2 teaspoons Baking Powder
1/2 teaspoon Salt
1 Egg
2/3 Cup Sugar
1/2 Cup Unsweetened Applesauce
1/4 Cup Milk
Instructions
Preheat the oven to 375 degrees Fahrenheit.
Grease a 9" square baking pan.
Make the Streusel Topping:
In a small bowl, combine all the ingredients.
Use two knives or a pastry blender to mix until it all resembles a coarse meal.
Set aside.
Make the cake batter:
In a large bowl, whisk together the flour, baking powder, and salt. Set aside.
In a medium bowl, whisk together the egg, sugar, applesauce, and milk until completely incorporated.
Pour the wet ingredients into the dry ingredients and mix completely.
Pour batter into the prepared pan and spread evenly.
Sprinkle streusel over the top of the batter, spreading it evenly on the surface.
Bake in the preheated oven for 25 to 30 minutes, or until an inserted cake tester comes out clean.
Cool pan on wire rack.
Nutrition Information:
Yield:
9
Serving Size:
1
Amount Per Serving:
Calories:

200
Total Fat:

3g
Saturated Fat:

2g
Trans Fat:

0g
Unsaturated Fat:

1g
Cholesterol:

28mg
Sodium:

287mg
Carbohydrates:

40g
Fiber:

1g
Sugar:

21g
Protein:

3g
We try our best but cannot guarantee that nutrition information is 100% accurate.