Make old-fashioned rhubarb cake for a quick and easy dessert this spring & summer!
This is a snacking cake recipe rather than a fancier layer cake for ease but make no mistake it is a perfect dessert for rhubarb season.
The simple cake has sweet flavor with plenty tangy rhubarb for contrast, the creamy caramel frosting only adds more decadence.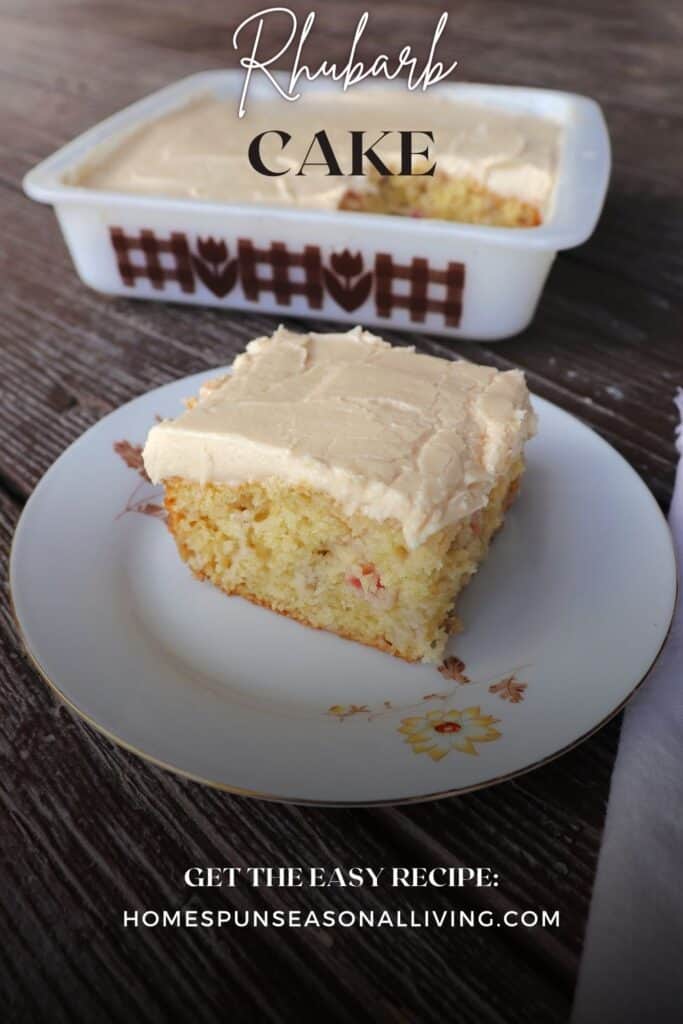 Simple to Make
This is an incredibly easy rhubarb cake recipe, there's nothing fancy in terms of ingredients or technique. This is intentional so that you can have a dessert the entire family will love but also allow you to get outside and enjoy the season.
Rhubarb
Rhubarb is one of the spring seasonal foods that most everyone recognizes. It is definitely one those of us in the north cherish as it's the first bit of fresh fruit after a long winter – that is until we get tired of it.
This recipe was tested with fresh rhubarb, however; frozen well drained rhubarb would likely work.
Do use chopped or diced rhubarb instead of sliced for best overall results. This way the rhubarb's tartness will be throughout the cake and not so overpowering in certain bites.
If you need a great way to use up even more rhubarb, double the recipe and bake in a 9X13″ pan – making it a perfect thing to take to potlucks or picnics to feed a crowd.
Buttermilk
Buttermilk is the only ingredient that might be a bit special – something many of us may not always keep on hand.
If you don't have buttermilk but don't want to run to the store, make some sour milk instead. Simply mix 1/2 cup regular milk with 1/2 Tablespoon of vinegar and let it sit for 10 minutes before proceeding with your recipe.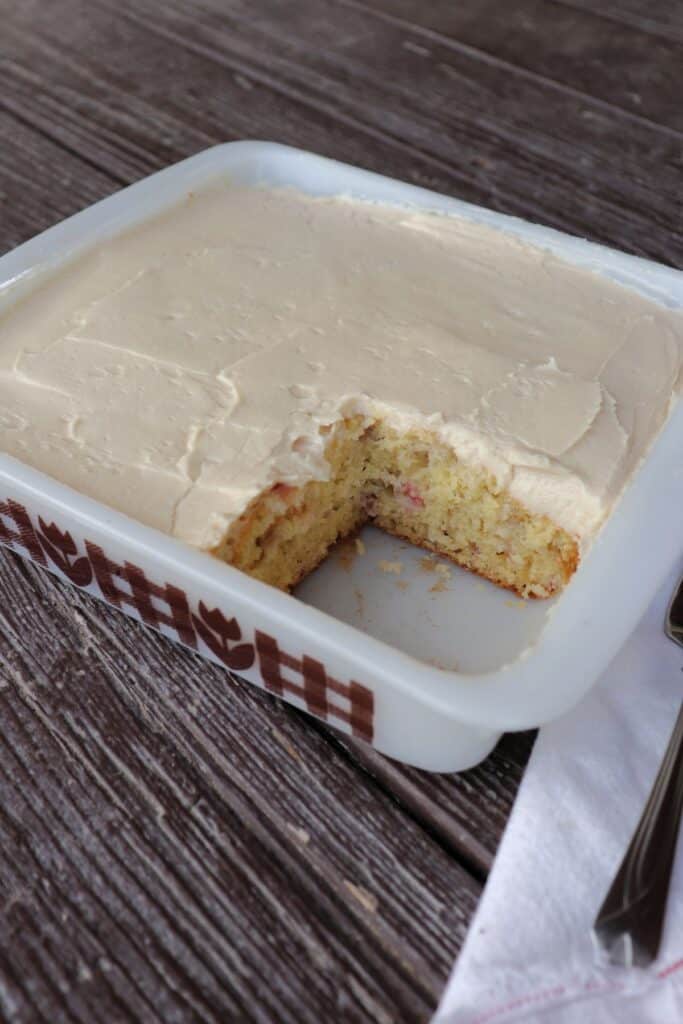 The powdered buttermilk sold in the baking aisle of most grocery stores will work wonderfully, in this recipe.
Use plain milk or plant milk alternative if desired. The flavor will be slightly different but you'll still end up with a wonderful, moist cake.
Salted Butter
I used salted butter simply because I always have it on hand. If you prefer to use unsalted butter, add 1/2 teaspoon salt to the flour mixture and proceed with the original recipe.
Frosting Options
I've included a recipe for caramel frosting that I thought was quite delightful. It's the same frosting, I recommend for my rhubarb cookies recipe. However, it isn't your only option.
Certainly use any favorite frosting – vanilla, chocolate, even cream cheese would be quite nice.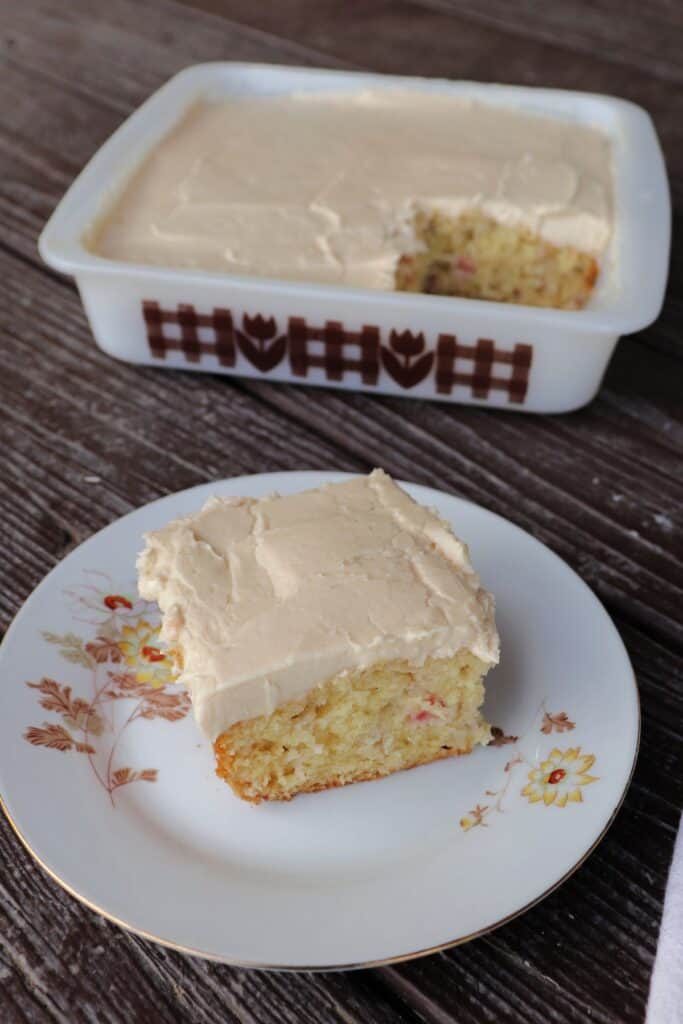 A simple vanilla glaze would also work and make the cake even easier to whip up.
It is a sweet cake, so feel free to skip the frosting and simply dust with powdered sugar prior to serving, if desired.
How to Serve
This is one of those great recipes that don't need much to serve and enjoy.
Keep it simple and serve pieces with your favorite beverages.
One can never go wrong by pairing the cake with a scoop of vanilla ice cream in the early summer.
If you opted to skip the frosting, consider serving it topped with whipped cream and a spoonful of stewed rhubarb, for an extra special touch.
How to Store
Generally, I keep the leftover cake right in the pan, covered with aluminum foil to keep it airtight. Plastic wrap would also work.
Feel free to move leftovers into an airtight container of your choice. Store leftovers in the fridge, where they should keep for up to 4 days.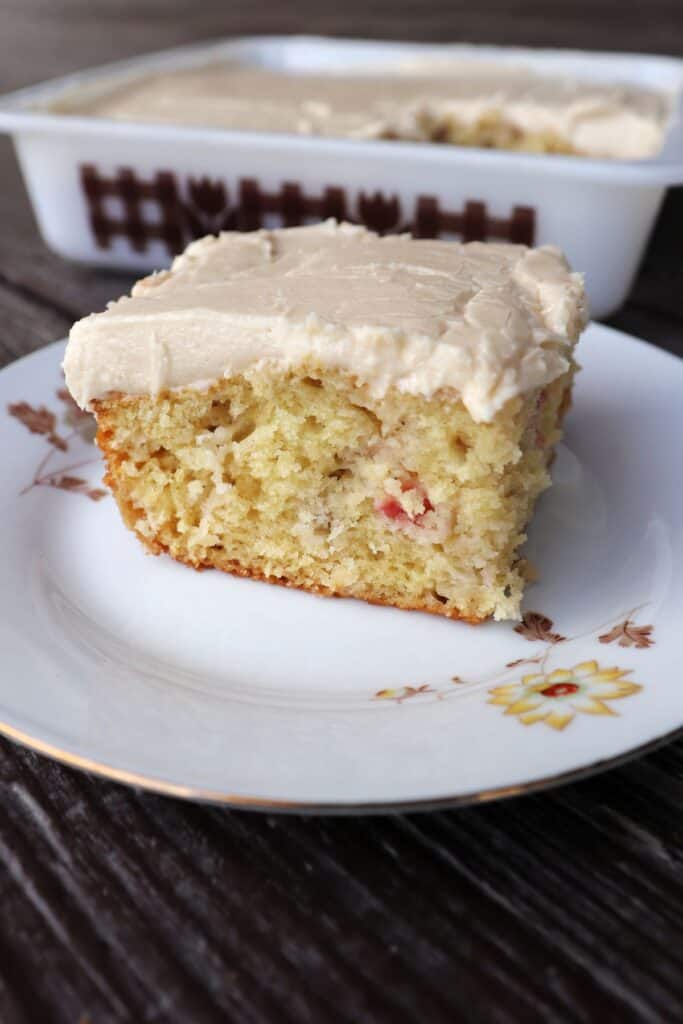 The cake also freezes quite well. Store the leftover baked and cooled (frosted or unfrosted) cake in a freezer bag and freeze.
Use up any frozen cake within 6 months for optimum flavor and freshness.
Simply thaw frozen cake in the fridge prior to serving.
Homemade is heart-made! Check out 60 fresh ideas for gifts from the kitchen to honor every occasion. Sharing is caring!
Looking for other rhubarb recipes?
Try these rhubarb muffins a sweet way to start the day.
Or use up your rhubarb by canning it up into an easy pie filling for winter baking.
Yield: 9 Servings
Rhubarb Cake Recipe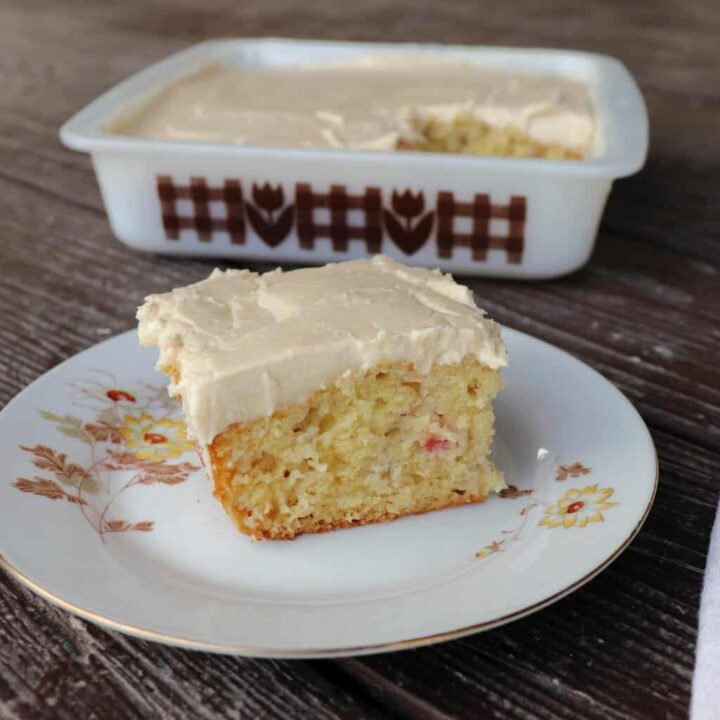 Fluffy and sweet with bits of juicy fresh fruit, this rhubarb cake is perfect for spring and summer dessert.
Ingredients
Rhubarb Cake Batter
1 1/2 Cups Unbleached, All-Purpose Flour
2/3 Cup Sugar
1/2 teaspoon Baking Soda
1 Egg
1/2 Cup Salted Butter, melted
1/2 Cup Buttermilk
1 teaspoon Vanilla Extract
1 1/2 Cups Chopped Rhubarb
Caramel Frosting:
1/4 Cup Salted Butter, softened to room temperature
2 Tablespoons Caramel Sauce
2 Tablespoons Heavy Cream
1 1/2 Cups Powdered Sugar
Instructions
Make the Cake:
Grease a square 9-inch pan.
Preheat oven to 350 degrees Fahrenheit.
In a large bowl, using a whisk combine flour, sugar, and baking soda. Set aside.
In a medium bowl, whisk together the egg, melted butter, buttermilk, and vanilla extract until thoroughly combined.
Pour the wet ingredients into the dry ingredients and stir until almost combined.
Fold in the chopped rhubarb and mix completely.
Pour the batter into the prepared cake pan and spread evenly.
Bake in the preheated oven for 28 to 30 minutes. The edges will be a golden brown and an inserted cake tester will come out clean.
Cool completely on a wire rack before frosting as desired.
Make the Frosting:
In a large mixing bowl, combine the butter and caramel sauce beating until combined.
Add 1/2 cup of powdered sugar at a time, beating well after each addition.
Add the cream and beat until combined.
Spread onto cooled cake as desired.
Nutrition Information:
Yield:
9
Serving Size:
1
Amount Per Serving:
Calories:

381
Total Fat:

17g
Saturated Fat:

11g
Trans Fat:

1g
Unsaturated Fat:

5g
Cholesterol:

66mg
Sodium:

244mg
Carbohydrates:

53g
Fiber:

1g
Sugar:

37g
Protein:

4g
We try our best but cannot guarantee that nutrition information is 100% accurate.