Canning stewed rhubarb is an easy and incredibly worthwhile preservation project. It is delicious and a great way to use up an abundant harvest.
This is one of those easy rhubarb recipes that you'll be so glad is in your back pocket and one you'll likely repeat year after year for its versatility.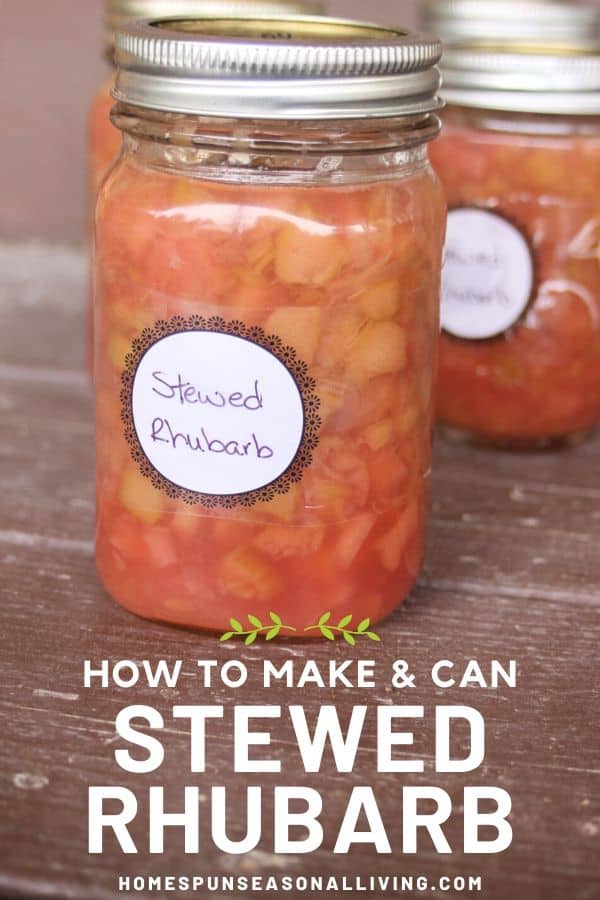 Let's face it there's only so much rhubarb pie a person can eat, saving some for later feels like a prudent thing. This recipe will put an end to all that wondering about what to do with rhubarb every spring season.
[mailerlite_form form_id=3]
Is Rhubarb a fruit or vegetable?
Rhubarb is technically a vegetable. However it is a vegetable that we eat like a fruit and a high acid vegetable, at that, making it safe for water bath canning.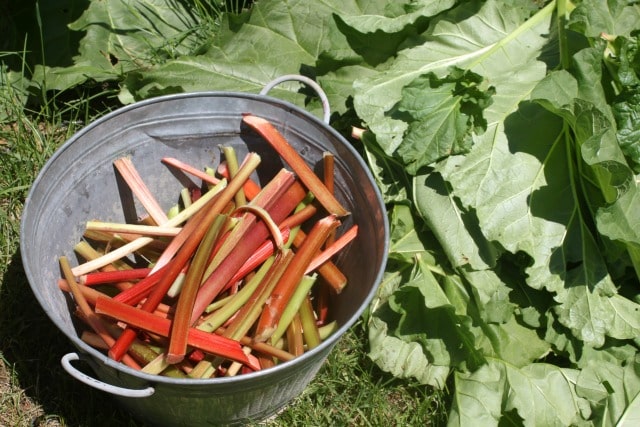 It's also a vegetable that we treat like a fruit in that we most often combine it with other fruits and use like a fruit in most recipes.
An Easy Preserve
Stewed rhubarb is simply sliced rhubarb mixed with sugar and gently boiled.
That mixture of sugar, rhubarb, and juice is then put into jars and canned.
It doesn't get much easier, no making of sugar syrup, no need to worry about gel stage, etc.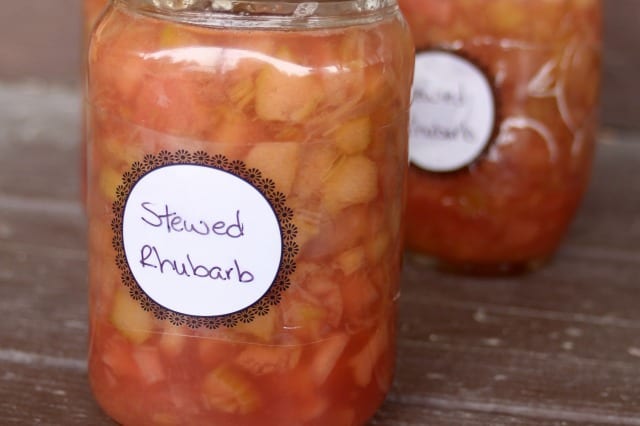 It's also easy to double or triple, if desired. Make lots to give away to friends and family who will appreciate it come winter.
How to Prepare Rhubarb
Once the rhubarb is pulled from the plant, remove the leaves. The leaves are poisonous and should not be eaten.
Then simply wash the stalks. A rinse under cool water is generally enough to remove any surface dirt. Some stems might need a light scrub with a brush to remove any stubborn bits of dirt or mud.
After the wash simply shake off any moisture and proceed with the recipe.
How to Cut Rhubarb
You will have most success with a very sharp knife. Rhubarb can be kind of stringy, this isn't a problem at all but you can reduce the instances of those stringy bits essentially peeling your stalks by making sure to use a sharp knife.
Place the rhubarb onto your cutting board with the flatter edge down. Cut the rhubarb into one inch pieces for this recipe by simply slicing with your sharp knife. Make quick work of it by lining up two or three stalks to cut through at once.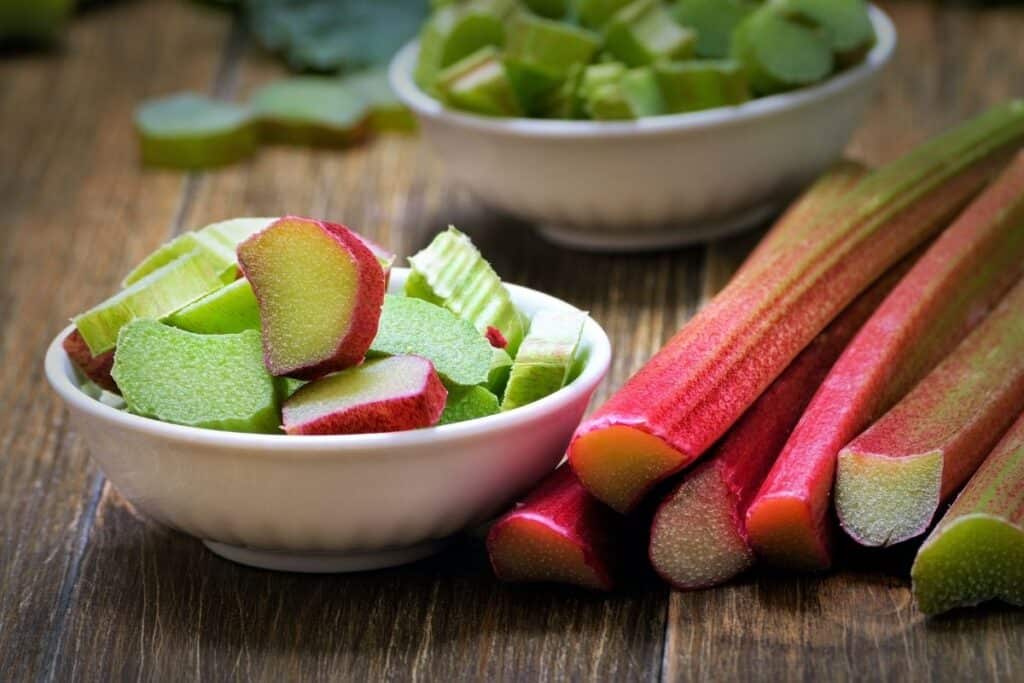 Ways to Use Stewed Rhubarb
These beautiful jars are a simple addition to many meals in winter:
Use as a pancake / waffle topping instead of syrups
Mix in with oatmeal and other hot cereals for a flavorful, fruity punch
Top ice cream, poundcake, or sweet shortcake biscuits for an easy dessert
Dumplings! Put a jar or two into a pot and heat, add dumpling batter and cook until the dumplings are cooked and fluffy.
Stir into homemade yogurt
Pour a jar or two into the bottom of a pie plate and top with oats and melted butter for a crisp-style dessert.
Yield: 7 Half Pints
Canning Stewed Rhubarb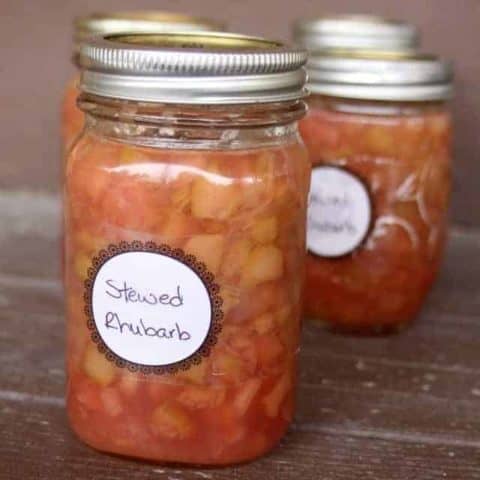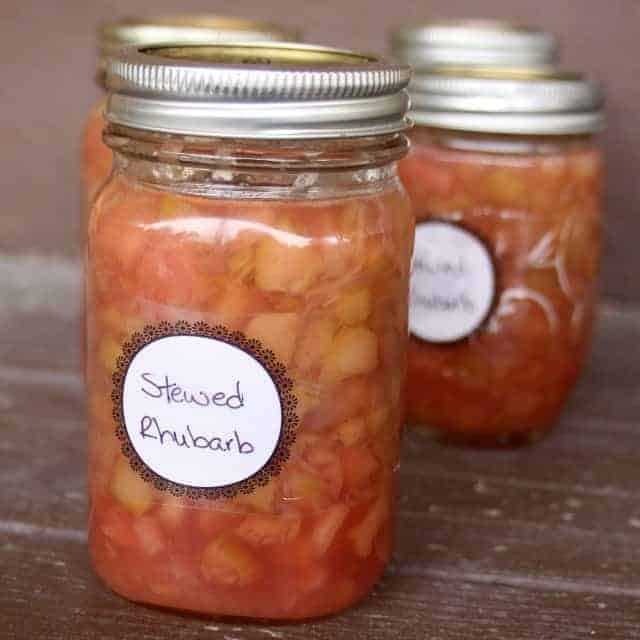 Canning stewed rhubarb is a super easy and tasty way to preserve rhubarb for winter while giving the home cook multiple ways to use it up later in the year when everyone is ready to enjoy the tart flavor again.
Ingredients
12 Cups Sliced Rhubarb
1 ½ Cups Sugar
Instructions
In a large pot combine the rhubarb and sugar, mixing well. Cover and let stand until juice begins to release from the fruit.
While the fruit stands, get the boiling water canner going and get jars, lids, and rings ready.
Once some water has started to release from the rhubarb, bring it to a gentle boil, stirring to prevent scorching. Ladle the stewed rhubarb into hot jars leaving 1/2" headspace. Clean rims, put on lids and rings.
Process in a boiling water bath canner for 15 minutes, adjusting for elevation.
Notes
Scale the recipe up or down by figuring 1/2 Cup sugar for every 4 Cups of chopped rhubarb
Recommended Products
As an Amazon Associate and member of other affiliate programs, I earn from qualifying purchases.
Nutrition Information:
Yield:
14
Serving Size:
1/2 Cup
Amount Per Serving:
Calories:

105
Total Fat:

0g
Saturated Fat:

0g
Trans Fat:

0g
Unsaturated Fat:

0g
Cholesterol:

0mg
Sodium:

4mg
Carbohydrates:

26g
Fiber:

2g
Sugar:

23g
Protein:

1g
We try our best but cannot guarantee that nutrition information is 100% accurate.