I teach canning classes and at the beginning of each class a student will mention being intimidated by the process, the thought of botulism, etc. I understand, I do, proper technique is important however canning is rewarding and perfectly safe when done correctly. As we approach the preservation season use these tips to keep canning safe and fun.
I admit when canning is done poorly with disregard for proven techniques, etc. it can be a very scary thing that can make people dangerously ill. Though with a few good books, the right equipment, and if at all possible a good teacher it's a very rewarding method of self-sufficiency and in my case gift-giving.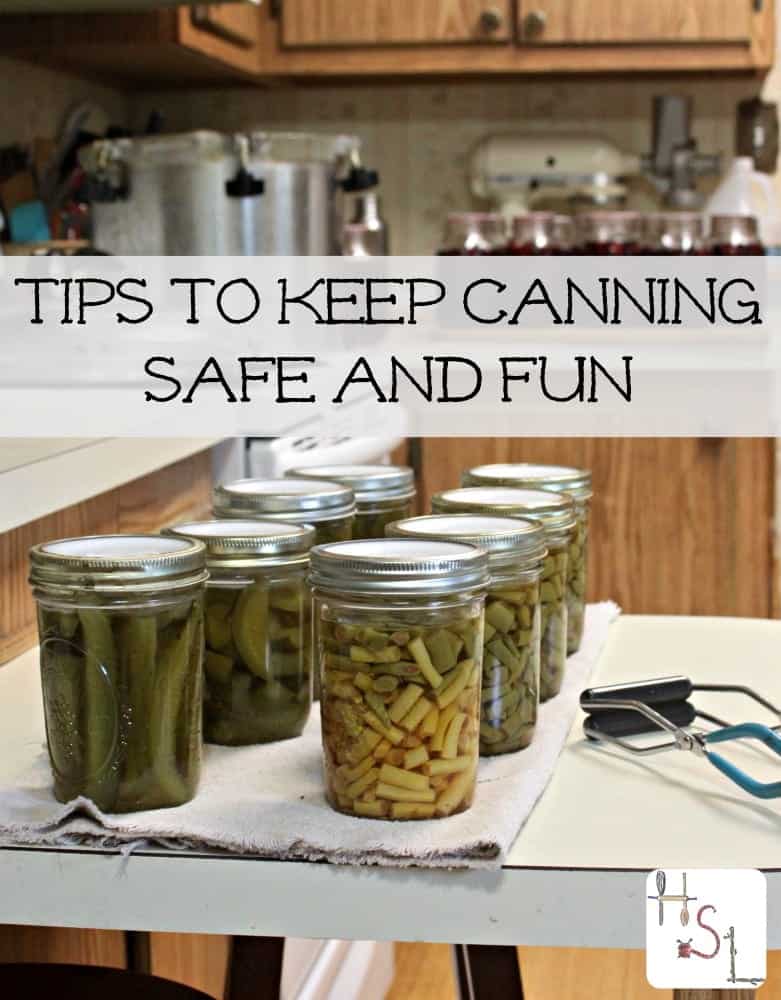 1. Build a Good Canning Library
The internet is an amazing place but do build a library of trusted books to have on hand so that processing times and methods can be double checked.
As for internet resources, bookmark The National Center for Home Food Preservation and check them out for free, tested, and amazing information.
2. Use the Right Method
The most important thing about home canning is to process food according to the right technique (water canner or pressure canner) for the right amount of time for your elevation.
High Acid Foods : Fruits, pickles, jams go in the water bath
Low Acid Foods : Vegetables, meats go in the pressure canner
Remember to know your elevation so that you can add time for the water bath canner or pounds of pressure for the pressure canner.
3. Take a Class / Find a Mentor
I was blessed with grandmothers that canned so I've never been afraid of just diving in and trying it. However, I know that's not everyone's experience. Take a class or find a mentor in your area to go through the process with you a few times. After teaching years of classes, I know it's easier to gain confidence when someone walks you through the process once or twice first.
So my words of advice are this – try it! Start with a boiling water canner (which can be just a big soup pot with a towel placed along the bottom as long as it's deep enough to cover your jars by at least 2 inches) and do something simple and fun like brandied fruits, or whole fruits in juice and work your way up to jams, jellies, pickles, and pressure canning if you like. You may be surprised at how rewarding it is and if you find out that you don't like it that's okay too, at least you tried it.
[sc:Useadsenselarge ]