The green and wax beans are producing like crazy this year. It's a good thing don't get me wrong. The garden, in general, is doing very well and we're eating like kings. We've eaten some green beans fresh but the majority of the beans get canned for winter use. We like canned beans and other things like rutabagas and cabbage are better fresh than preserved for us. Like everyone else, I imagine, I've got lots going on and look for shortcuts or ways to make things easier whenever possible. Canning beans is one of the things that can be broken up into smaller tasks over several days and still put out a mighty tasty product. Here's my method of canning beans for the time crunched.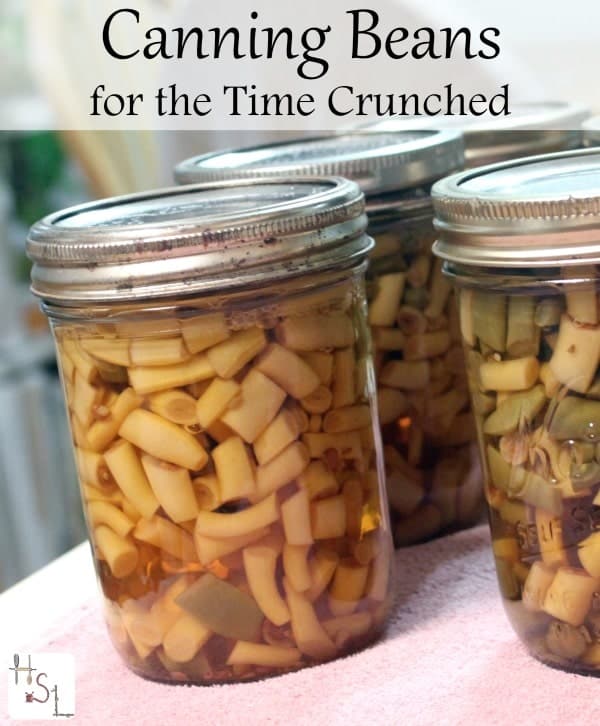 Day 1: Harvest Beans
I pick beans, usually every other day during the height of their production. I then put the beans into bags or containers and leave them in the fridge for a day maybe even two.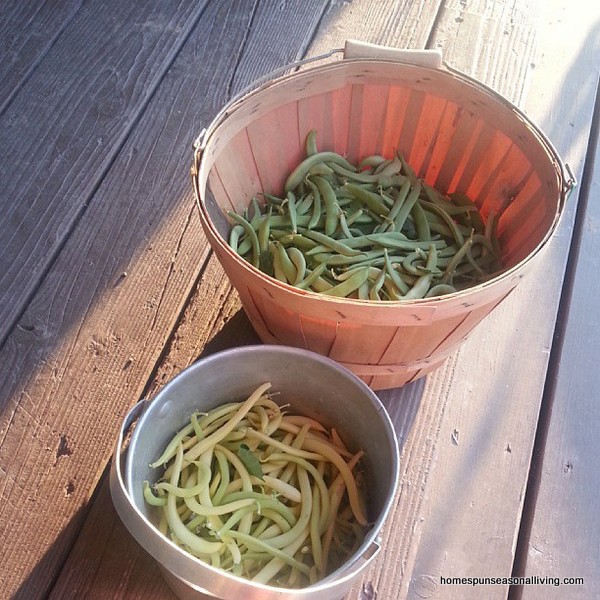 Day 2: Trim & Snap
Generally on a quiet evening after dinner, I sit at the breakfast bar on a stool and trim all those beans into 1 inch pieces. Those pieces go back into bags and into the refrigerator for another day maybe two, but generally speaking just another 24 hours.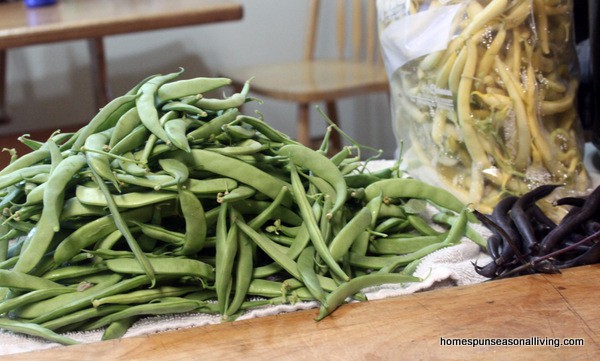 Day 3: Into Jars
The next day, I put all those pieces in a colander and rinse the beans well. This is the night they get canned. I get my jars and lids ready, boil some water, and get the pressure canner ready. I mix the green, wax, and purple beans together most of the time. Sometimes I will keep them separate but we don't much care and in a time crunch one less step seems prudent. I never add salt to my jars of pressure canned veggies, I prefer to season when I cook with them later on and so leave them without seasoning here (salt isn't needed as a preservative, the canning process does the preserving). The beans then get put into the canner and voila jars of gorgeous veggies for the pantry shelves. Note: for detailed and accurate instructions on how to pressure can green beans, please see Simply Canning (I couldn't see why I should try to re-do what she's already done so very beautifully).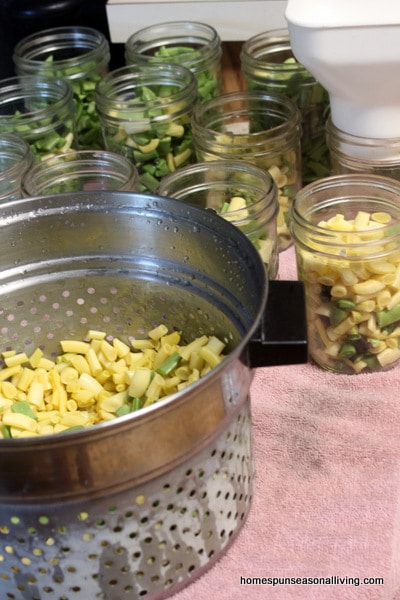 The breaking it up over several days and into smaller tasks just seems to help take the pressure off my shoulders in a season where there is just so very much to do. I'll share how I break up other canning tasks in the near future. How do you break up your food preservation tasks when feeling time crunched?