Winter has officially arrived and for many of us that means food choices can be slim or confusing. In our modern society, we can go to the grocery store and buy most any fresh fruit or vegetable our hearts desire but they're often shipped in from far off lands. Seasonal living means doing our best to eat seasonal foods and when approached correctly isn't at all about deprivation. Winter season food is full of delicious choices and options that can be as gourmet or as simple as the cook desires.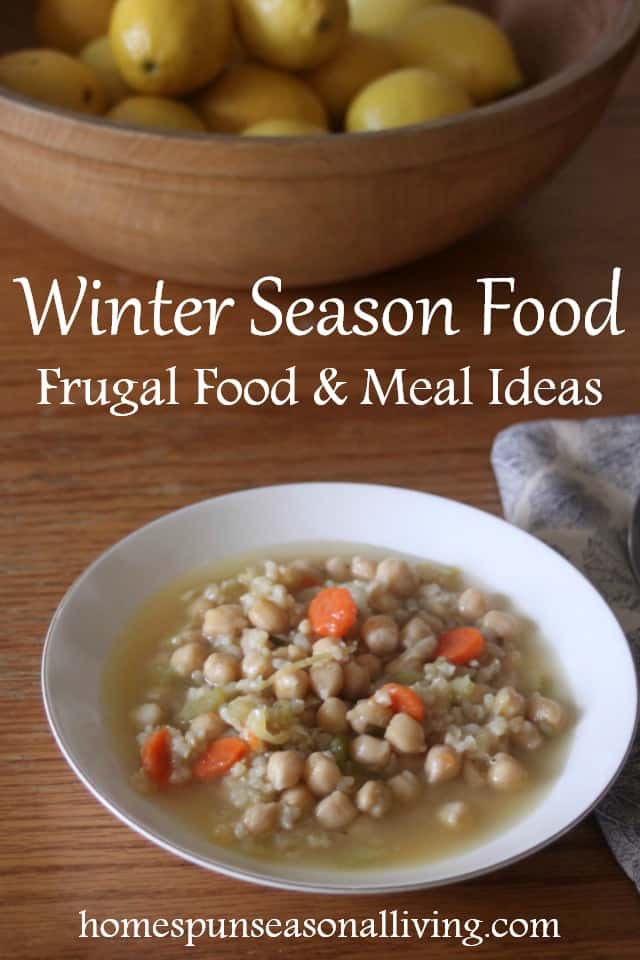 Winter Foods
Like every season winter has its own specialties. Seasonal foods vary based on location but here are some general guidelines of what is in season during these winter months.
Citrus Fruits – Citrus is most definitely in season right now but, if like me you live in the north, citrus isn't local.  Do I eat non-local citrus fruit?  Yes, but in very limited quantities.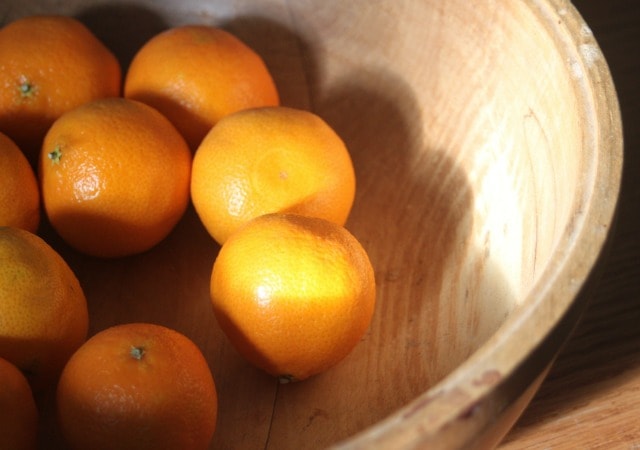 Root Veggies – Potatoes, carrots, beets, turnips, etc. can often be found anywhere any time of year and store incredibly well.
Frozen, Local Meats – Buy meat from local farmers. We buy in large quantities – a whole hog, half a cow, a case of whole chickens. These are large outlays of cash at one time but each purchase only happens once a year and we make it last. Whenever possible choose this option – realistically we all have to answer to our budgets first.
Home Preserved Goods – This winter season is exactly why all that canning, dehydrating, and freezing over the summer was done. That exhausting preservation work means we're eating like kings now in relaxed comfort.
Hardy Greens, Sprouts, & Micro-Greens – In warmer climates local and/or homegrown greens might still be available. Things like kale, chard, and cabbage might be easy to find. In the colder locations grow sprouts or micro-greens for fresh and nutrient dense fresh greens.
Winter Squash – These are generally easy to find and store well for most of us. Take advantage of local and homegrown varieties.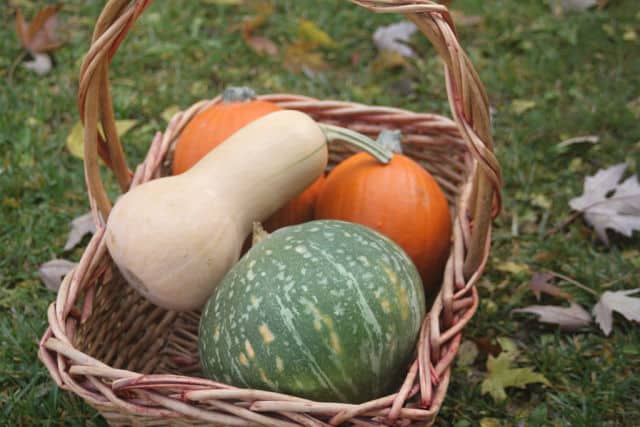 Dried Beans – Whether local or purchased in bulk, legumes are frugal, hearty, and nutritious.
Winter Meal Planning
Despite being a lean season, winter still provides plenty of food for creative and easy cookery. Don't let the idea of seasonal cooking become a sticking point. Simply cook familiar foods from the list above in favorite ways. Some simple ideas include:
Soups & Stews
These one pot meals tend to be warming and filling on cold winter days. Use combinations of root vegetables with meats, home-preserved vegetables, dried beans, and grains. These can often be whipped up in a hurry on the stove top or cooked all day in a slow cooker. Soups may be humble in nature but they can be bowls packed with comforting nutrition.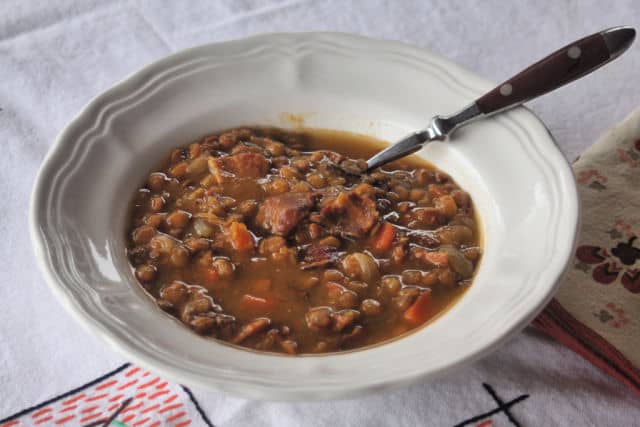 Simple Courses
Meals don't have to be time intensive affairs. Keep it simple – broil a pork chop and serve it with some canned green beans and homemade rolls. Roast a whole chicken and bake potatoes at the same time. The long cooking time will help warm up a house too. Pack lunches with small salads of micro-greens, canned pickles, dried fruit, and some granola. A breakfast of broiled grapefruit and toast is always nice with some tea or coffee. Put a whole roast in the crockpot with carrots and rutabagas. Nothing complicated or very time consuming but all delicious and nutritious.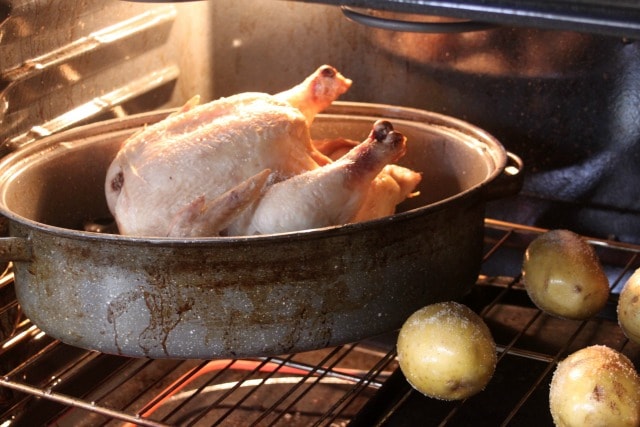 Casseroles
Winter does tend to be a time of richer, denser food as our bodies try to keep warm. This does not mean we have to eat dishes laden with canned cream of mushroom soup. Make homemade casseroles from pasta, sauce, meats, and veggies. Layer taco seasoned meat or beans with salsa and tortillas for a tex-mex style lasagna. Bake winter squash with noodles and cheese for a healthier twist on the standard macaroni and cheese.
Pizza
I'm not sure that pizza ever goes out of season but it definitely has a place in the winter season meal rotation. Sprouts and sauerkraut make excellent pizza topping as do that bits of local meats and other vegetables. Pizza is almost always welcome, makes a fun family movie night dish, and is even great for casual company. It's an easy way to introduce seasonal eating to skeptics, too.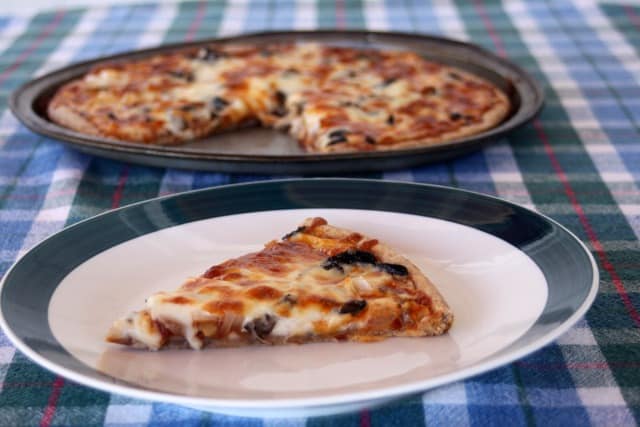 Recipe Inspiration
Find inspiration and specific recipes for winter cooking in these resources:
Recipes from the Root Cellar by Andrea Chesman – This cookbook is one of my absolute favorites and will give you tons of ideas for all those winter vegetables.
Bean by Bean by Crescent Dragonwagon – Dried beans can be boring if we fall into a rut. This book will give you so many ideas.
Full Moon Feast by Jessica Prentice – This book covers more than just winter but the focus on seasonal living with appropriate recipe inspiration make it a consistent favorite of mine.
Celebrating Winter Seasonal Eating
The thing with seasonal living and eating is that isn't about deprivation or denial at all. Rather, seasonal eating is all about enjoying each bit of produce in its particular time and enjoying what we were able to put in other seasons. Enjoy with delight the oranges. Eat winter squash in every imaginable form from savory to sweet. Instead of missing the glory of summer fresh tomato celebrate with the glee the micro-greens on the windowsill.