Shaving is hard on the skin. Everyone has personal reasons for doing it – men and women alike. The act tends to dry out skin, often makes us itchy, can cause red bumps, and much more. Still, most of us continue to do it for a number of reasons. I am one of those people, too, there's no judgment here. We can take better care of our skin, however; by making a simple and nourishing aftershave balm.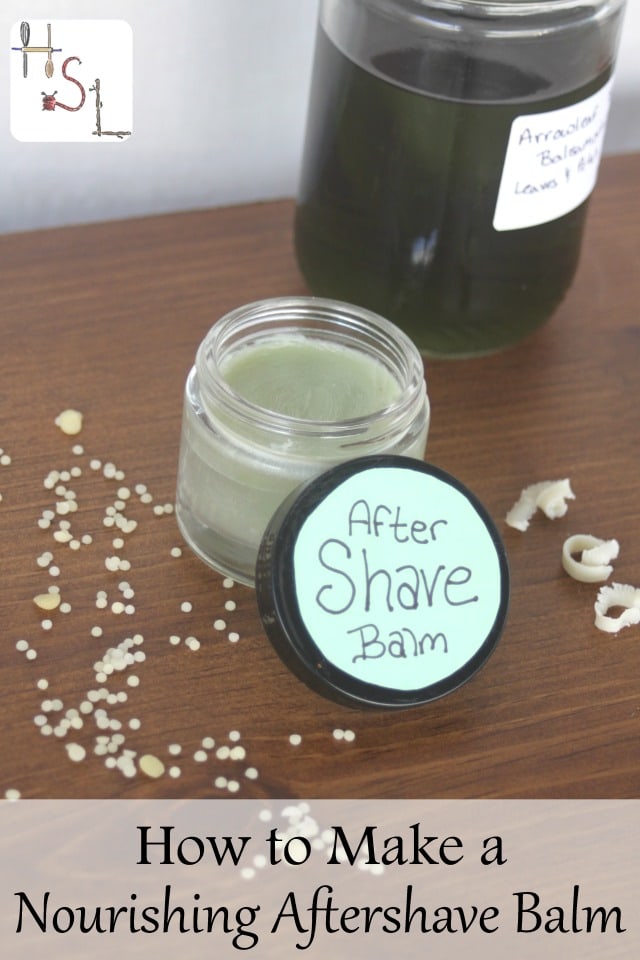 Sunflower Petal Infused Oil
Sunflower petals are full of skin softening power and may even have some anti-inflammatory benefits. For this balm, I used balsamroot petals from the Broadleaf Balsamroot that grows wild here in northwest Montana. They're in the same family as sunflowers, so feel free to use any sunflower petals you have access too. You can buy dried petals if you don't have any on hand.
To make a sunflower infused oil:
I used a solar infusion that I had made over the summer but if you want to make one quickly use this double boiler method:
1/4 Cup Oil (olive, grapeseed, almond, etc.)
1 Tablespoon Dried Sunflower Petals
Bring an inch of water to boil in the bottom of a double boiler. Mix the sunflower petals and oil together in the top of a double boiler. Turn the heat down so that the water is just simmering. Put the herb and oil mixture on top of the double boiler and allow to steep for 30 minutes. The oil should stay warm but not simmering or frying the herbs.
Strain the herbs from the oil through a fine-mesh sieve lined with cheesecloth. Give the petals a good squeeze to extract as much oil as possible.
Allergy Note: If allergic to plants in the ragweed family (asteraceae) skip sunflowers too. Substitute calendula or even rose petals instead of sunflower petals to avoid allergic reactions.
Shea Butter
Shea butter is nourishing fat that smooths onto the skin easily without leaving the skin feeling greasy. It also enhances collagen production to rejuvenate the skin. The fact that it is also non-comedogenic means that it won't clog pores and makes it ideal for the face as well. It even has a natural SPF giving those men another layer of protection after they shave and head out into the sun.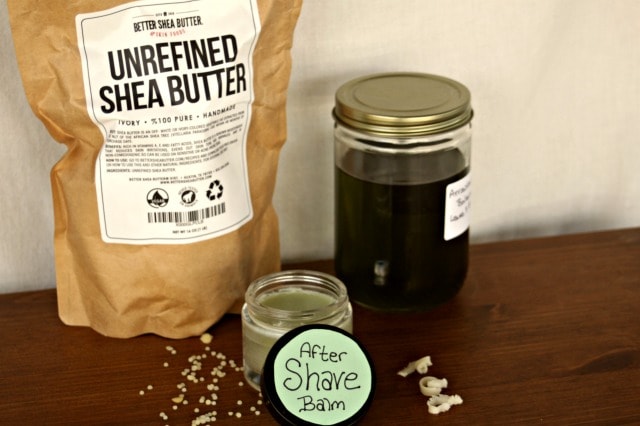 Beeswax
Beeswax is a common ingredient in DIY salves and balms. It helps thicken up and harden oils but has a ton of skin nourishing benefits on its own. Beeswax helps lock in the skin's natural moisture while also providing a protective and breathable barrier. It too is anti-inflammatory and antibacterial to help with all kinds of skin ailments.
How to Make Aftershave Balm
3/4 ounce (by weight) Shea butter
3/4 ounce (by weight) Sunflower Infused Oil
1 1/2 teaspoons Beeswax Pastilles
20 Drops Essential Oil (Optional, Scent as desired)
Put an inch of water in the bottom of a double boiler. Bring to a boil.
Combine the shea butter, infused oil, and beeswax in the top of a double boiler. Place the top over the boiling water. Heat until the beeswax and shea butter are completely melted. Stir well.
Remove from heat. Stir in the essential oil if using.
Pour into a container and let sit until solidified.
A note about color: The green color in the pictured aftershave balm is from using grapeseed oil to infuse the sunflower petals. Different colored oils will result in different colored balm.
How to Use Aftershave Balm
After shaving and lightly drying the skin off, spread the balm onto skin to seal in moisture. This can be used on the face or legs and works just as well for men as it does women.
Take care of that skin naturally (and make some amazing gifts) with this easy and nourishing aftershave balm.