Cookies are one of my favorite things to bake and give. They are little indulgent packages of homemade and tasty love. Easily made in small batches to suit individual favorites, cookies ship well, and fill gift baskets even easier. These chocolate cheesecake cookies are ideal for the chocoholic on the gift list.
Options to Customize
These soft cookies are rich and indulgent. They are perfect. However, further customization is possible:
Add a cup of chocolate chips to the dough
Fold in a cup of chopped nuts
Stir in a cup of dried cherries for a playful chocolate cherry cheesecake twist
Drizzle the cooled cookies with melted chocolate
Spread cooled cookies with cream cheese frosting
Make them sandwich cookies with a caramel filling
Chocolate Cheesecake Cookies
Ingredients
1/2 Cup Salted Butter, softened
8 ounces cream cheese, softened
1 Cup Brown Sugar, lightly packed
2 Eggs
2 teaspoons Vanilla Extract
1 Cup Unbleached, All Purpose Flour
1/2 teaspoon Baking Powder
1/2 teaspoon Baking Soda
1/2 Cup Cocoa Powder
Instructions
Preheat oven to 350 degrees. Line cookie sheets with parchment paper or silicone baking mat.
Sift together flour, cocoa powder, baking powder, baking soda. Set aside.
Cream together the butter and cream cheese. Add sugar and cream until fluffy.
Beat in the eggs and vanilla until thoroughly combined. Slowly add the flour mixture until combined.
Drop by heaping tablespoonfuls onto cookie sheets (I used a #40 cookie scoop).
Bake in preheated oven for 15 to 18 minutes. Cool on wire racks.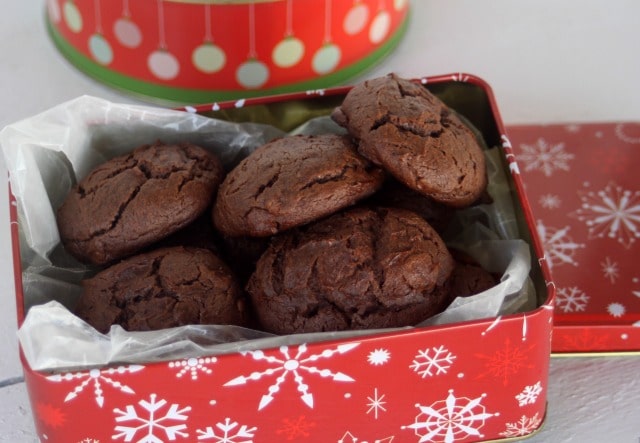 Disclaimer: I may receive compensation for products mentioned in this post. All opinions expressed are my own. I am not a doctor, always seek trained medical advice. No statements should be considered approved by the FDA or as a diagnosis or treatment for any illness. See my Full Disclaimer Here.