Pumpkin whoopie pies are heaven in a sandwich cookie. It's a combination of pillowy soft cookie with chocolate bits surrounding a creamy, flavorful filling that is sure to be a hit!
This pumpkin whoopie pie recipe is one you'll find yourself making again and again for every kind of occasion from weeknight dessert to birthday celebrations and more.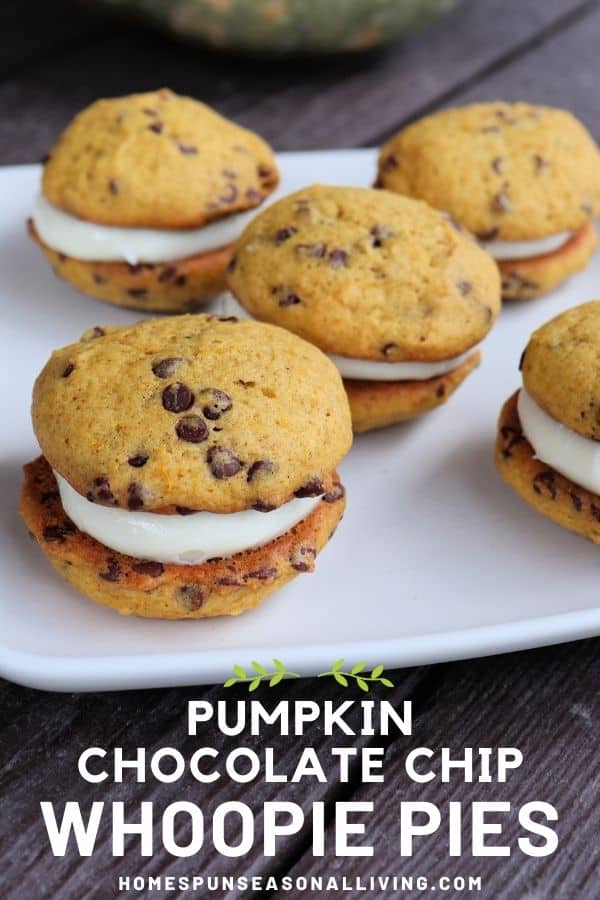 Simple Ingredients
The ingredients here are simple, there's nothing super fancy or exotic but there is a delicate balance to maintain so let's cover those.
Do make sure to use good quality ingredients here because each part really does make up the whole.
Winter Squash
Canned pumpkin puree works perfectly, go with that if it's what you have in the pantry.
However, if you have some leftover roasted butternut, acorn, Hubbard, or any other winter squash feel free to use it here. If you're using something like that do strain it through a cheesecloth lined sieve first. Let the excess water drain off so that it's thick much like canned pumpkin puree.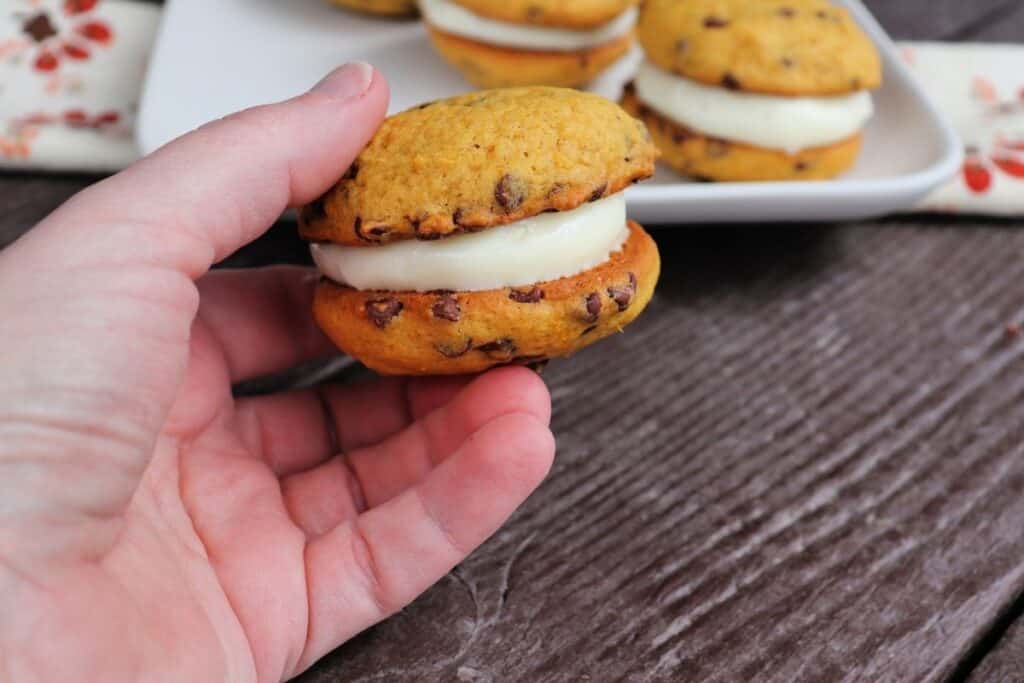 Mini Chocolate Chips
Obviously these are pumpkin chocolate chip whoopie pies but they don't have to be. Feel free to skip the chocolate chips if desired for a plain pumpkin cookie that is still quite wonderful and delicious.
I tested the recipe with regular sized chocolate chips and found that for best texture, the mini worked best. The cookies are quite soft and the bigger chips are a bit too thick in my opinion for the pillowy cookies.
Feel free to try it with regular chips if that's your preference. It won't end in disaster by any means just be different.
Cream Cheese Filling
Go for the full fat, regular cream cheese here. This is dessert, an occasional indulgence there's no reason to skimp.
Uniform Cookies
Be sure to scoop out uniform bits of dough to bake the cookies. This way it's easier to pair up for your final whoopie pies, because you want each sandwich to be roughly the same size and shape.
A cookie scoop makes short and easy work of this task. But a measuring cup or regular tablespoon can also work; just do your best to keep them roughly the same size and shape.
Some Other Optional Touches
Want to make the whoopie pies a bit fancier?
Try drizzling some melted chocolate over the tops of the finished whoopie pies.
Make sure to put enough filling to get to the edges of the whoopie pie and roll them in more mini chips or chocolate sprinkles.
How to Serve Whoopie Pies
You can serve these like any cookie. Put them on a platter serve with coffee and tea for dessert.
They are a bit like a cupcake, so feel free to use whoopie pies instead of cupcakes. Put a bunch on a platter and stick some birthday candles in a few, for a twist on birthday cake.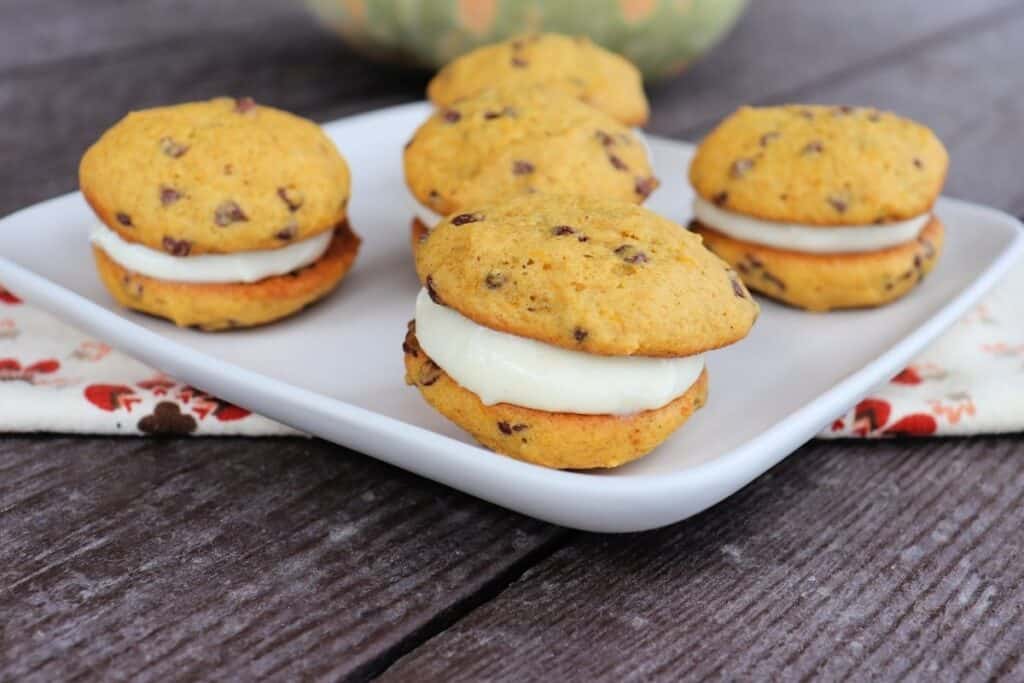 Can You Freeze Whoopie Pies?
Yes and you have options here.
You can make the whoopies in their entirety, filling and all then place into freezer containers and freeze. Let thaw at room temperature or in the refrigerator to serve. Use them up within 6 months for best flavor.
Or you can just make the cookies and fill them later. Make and cool the pumpkin cookies completely. Then place the cookies into freezer bags and store. When ready to serve and fill, let the cookies thaw and proceed.
Looking for More Pumpkin Recipes?
Yield: 18 Filled Cookies
Pumpkin Whoopie Pie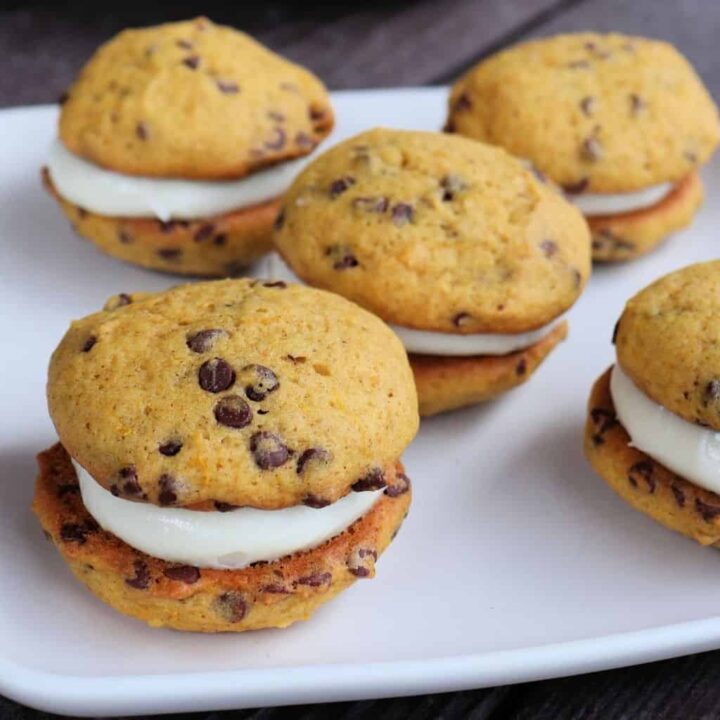 Pumpkin cookies loaded with mini chocolate chips surround a cream cheese filling for an amazing twist on the traditional whoopie pie.
Ingredients
Pumpkin Cookies
2 1/2 Cups Unbleached, All-Purpose Flour
1 teaspoon Baking Soda
1 teaspoon Baking Powder
1 teaspoon Ground Cinnamon
1 Cup Sugar
1/2 Cup Salted Butter, softened
1 Cup Pumpkin Puree
1 Egg
1 teaspoon Vanilla Extract
1 Cup Mini Chocolate Chips
Cream Cheese Filling
8 ounces Cream Cheese, softened
2 Tablespoons Cream
1 teaspoon Vanilla Extract
3 Cups Powdered Sugar
Instructions
Make the Cookies
Preheat oven to 350 degrees Fahrenheit.
Grease cookie sheets or line with parchment paper / silicone baking sheets.
Whisk together the flour, baking soda, baking powder, and cinnamon. Set aside.
Cream together the sugar and butter, until light and fluffy.
Add the egg, pumpkin puree, and vanilla extract. Beat until everything is thoroughly combined.
Slowly add in the flour mixture. Mix until almost completely combined.
Add in the chocolate chips and mix thoroughly.
Drop the dough by large tablespoons full onto prepared baking sheets. Leaving about 2 inches between each cookie.
Bake in the preheated oven for 15 to 18 minutes or until set and edges are golden brown.
Remove from sheets to cool completely on wire racks.
Make the Filling
Combine cream cheese and 1 Tablespoon of cream in a mixing bowl and mix until soft and smooth.
Add the vanilla extract and powdered sugar. Mix until well combined, add the Tablespoon of cream a bit at a time until the filling is smooth and creamy.
Assemble the Whoopie Pies
Place a large spoonful of the filling onto the bottom of a cookie.
Top the filling with another pumpkin cookie and press just slightly so that it all sticks together in one lovely sandwich cookie.
Repeat until all the cookies are used up.
Recommended Products
As an Amazon Associate and member of other affiliate programs, I earn from qualifying purchases.
Nutrition Information:
Yield:
18
Serving Size:
1 Whoopie Pie
Amount Per Serving:
Calories:

329
Total Fat:

13g
Saturated Fat:

8g
Trans Fat:

0g
Unsaturated Fat:

4g
Cholesterol:

38mg
Sodium:

184mg
Carbohydrates:

51g
Fiber:

2g
Sugar:

35g
Protein:

4g
We try our best but cannot guarantee that nutrition information is 100% accurate.