Gather those gorgeous yellow blossoms for this dandelion tea recipe that is a nourishing and refreshing springtime drink.
This is a simple tea that makes use of all those dandelion flowers in spring. It is definitely best made with fresh flowers making it a true seasonal speciality.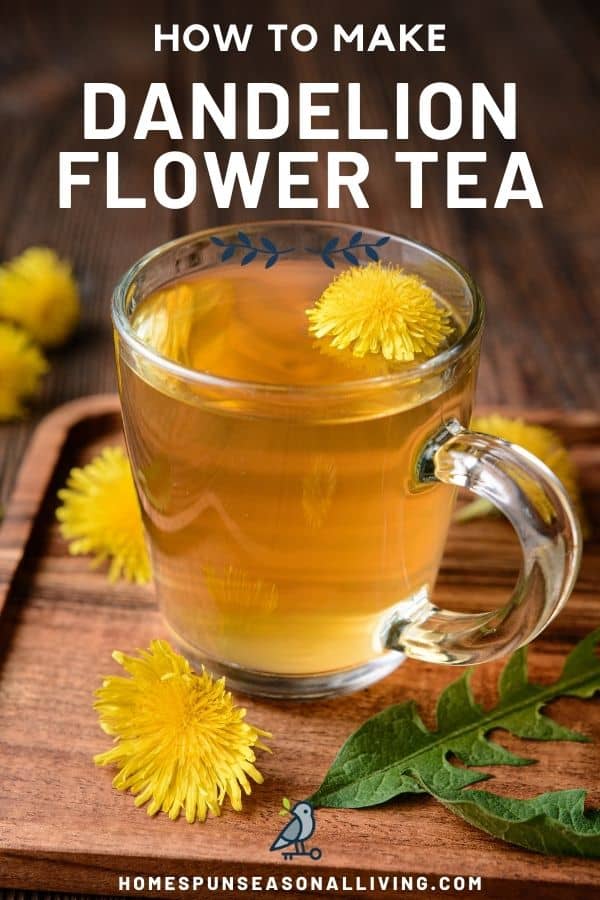 Health Benefits of Dandelion Tea
You might be asking just what is dandelion tea good for? Dandelion is a nourishing spring tonic. The plant itself is full of vitamins and minerals that nourish and refresh our bodies.
The flowers have a slightly bitter quality that stimulates digestion making it ideal for soothing upset stomachs or overly full bellies.
Dandelion is also a diuretic meaning it helps flush the liver and kidneys. This can help detoxify the body slightly.
How to Make Dandelion Tea
For the most flavorful drink, use just the petals of the dandelion flower.
The green bits of the flower head are not poisonous by any means just bitter and less palatable overall.
This means cutting the entire head from the plant. Bring those flower heads inside and cut or pull the petals from the green base.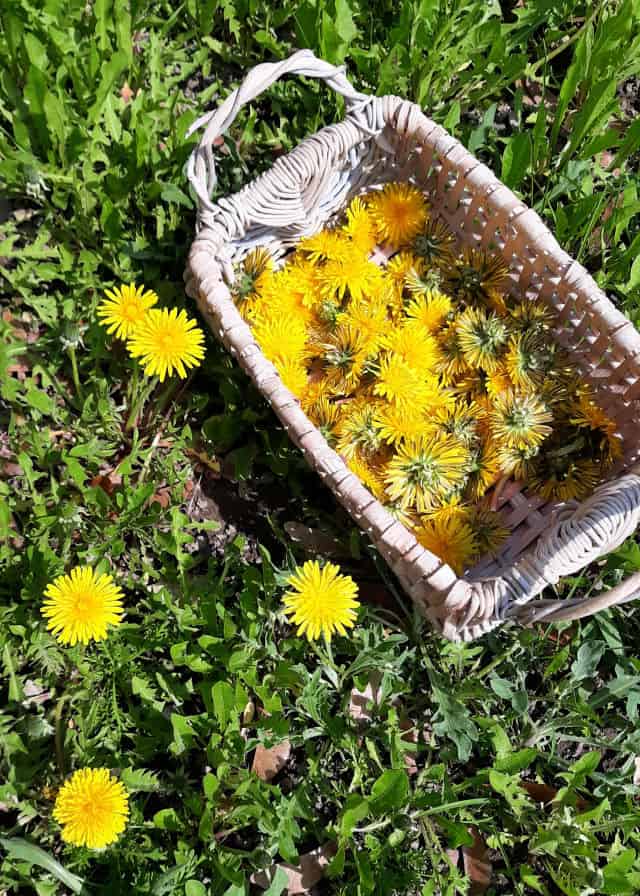 Be sure to rinse those petals in cool water to remove any dirt or insects.
You want about 1/2 cup, loosely packed, of dandelion petals for every cup of dandelion tea.
Place your petals into a tea ball and put in a heat proof cup.
Pour 8 ounces of boiling water over the tea ball and let steep for about 10 minutes. Sweeten, if desired and enjoy.
Make a large batch by infusing 2 cups of dandelion petals in a quart of boiling water. Let steep about 20 minutes and strain.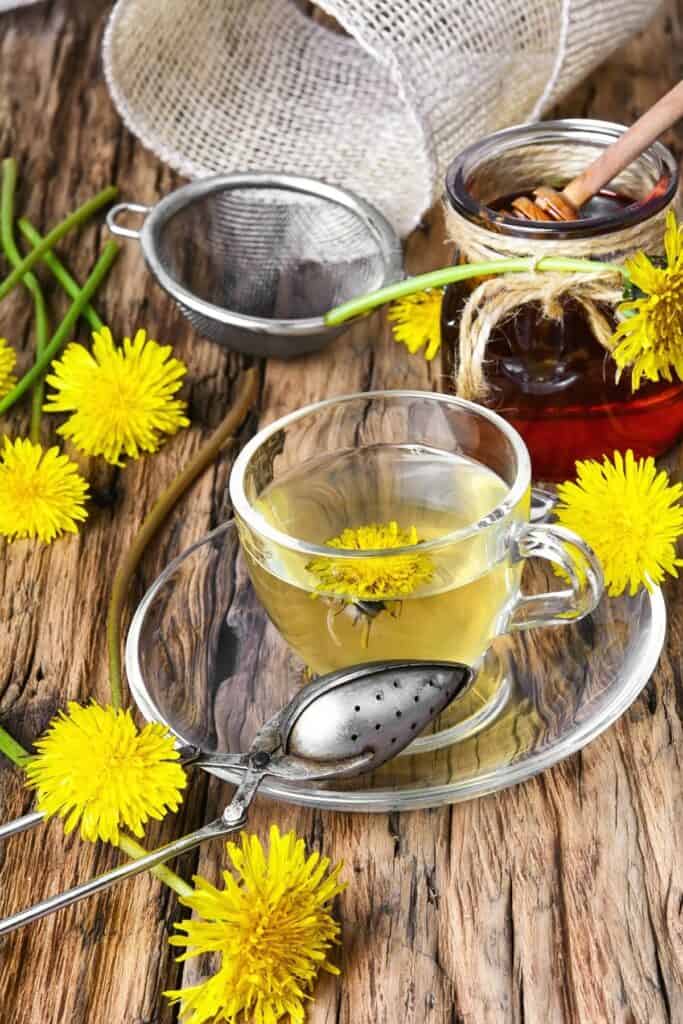 Refrigerate the dandelion tea and drink as desired. Use up within 3 days.
The larger batch method is a great way to have it on hand daily without having to harvest and clean petals each day.
Dandelion petals are notoriously hard to dry. They often go to seed before actually drying. Those dried bits tend to be on the bitter side. It is for these reasons that dandelion flower tea should be made with fresh flowers only.
Mild Flavor
Dandelion flower tea has a mild, lightly sweet flavor. You can add honey, sugar, stevia, maple syrup, etc. to sweeten it as desired.
Dandelion root infused honey is a great way to sweeten the tea and increase some of the health benefits.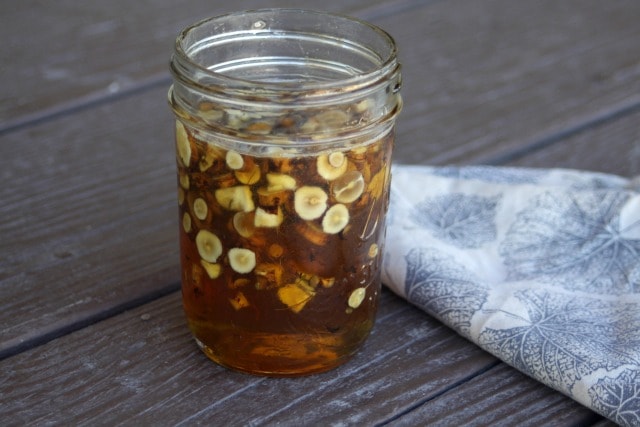 For added flavor add some lemon or lime juice or zest.
Add other herbs for flavor and additional healing qualities. Simply steep some fresh or dried herb leaves with the dandelion petals.
Consider adding mint or chamomile for more digestive benefits.
Raspberry leaf will add a slight berry flavor and is great for PMS and uterine health.
Anise Hyssop will provide some black licorice / anise flavoring while also helping with mucus and coughs.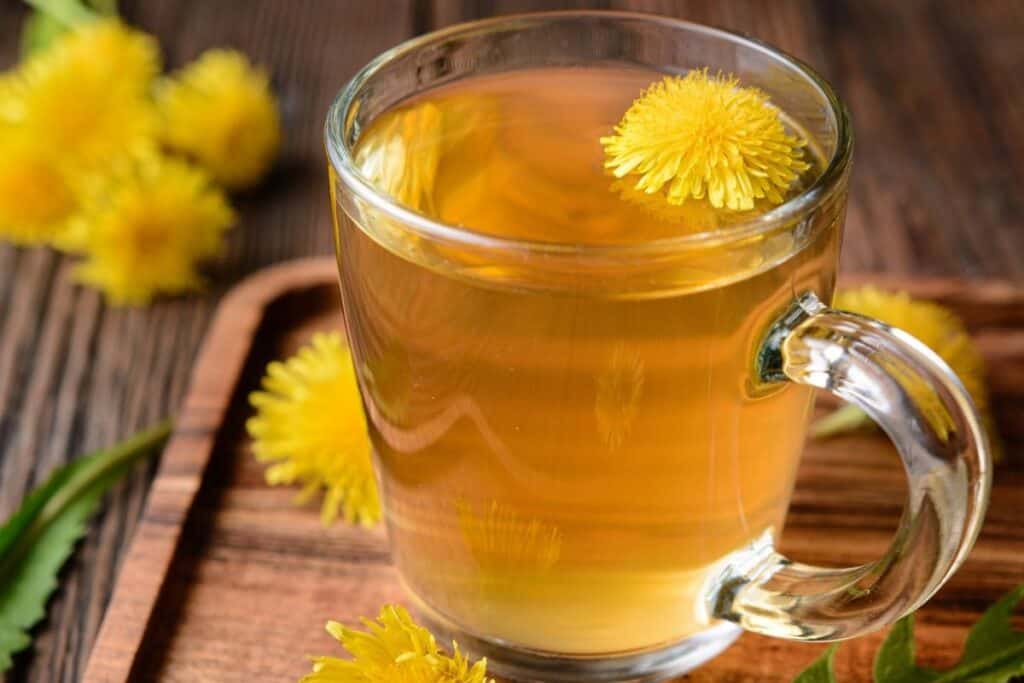 Lemon balm provides some citrus flavor alongside some herbal stress relief.
There's absolutely no reason why you couldn't make a mixed tea by using some green or black tea alongside the dandelion for a bit of caffeine in your cup.
Truly the herb and flavor combinations are endless, use your favorites.
Want to make your dandelion tea hot toddy style? Add a shot of dandelion infused brandy.
Yield: 1 Cup
Dandelion Tea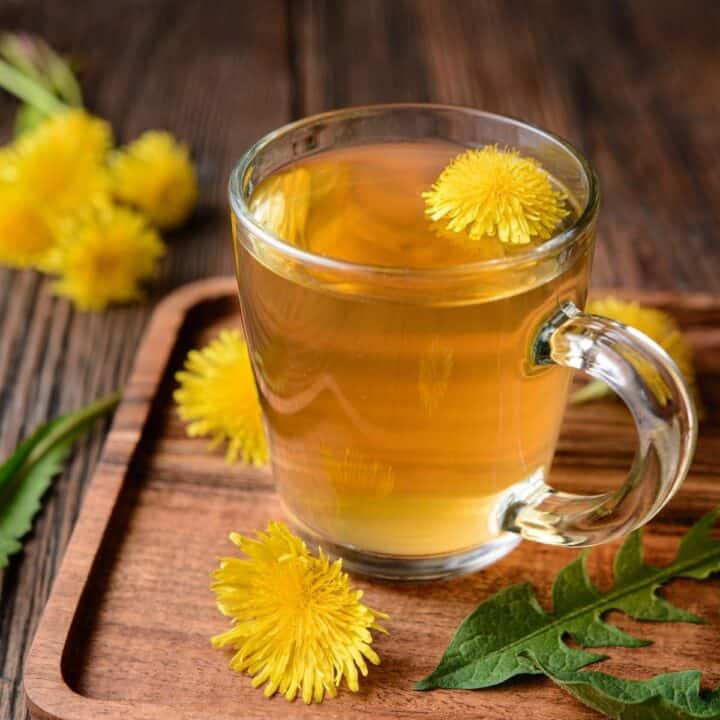 A simple and nourishing spring tea.
Ingredients
1/2 Cup Dandelion Petals, loosely packed
1 Cup Boiling Water
Instructions
Put the dandelion petals into a cup.
Pour boiling water over petals.
Let steep 5-10 minutes.
Strain. Sweeten, if desired. Sip slowly.
Recommended Products
As an Amazon Associate and member of other affiliate programs, I earn from qualifying purchases.
Nutrition Information:
Yield:
1
Serving Size:
1
Amount Per Serving:
Calories:

0
Total Fat:

0g
Saturated Fat:

0g
Trans Fat:

0g
Unsaturated Fat:

0g
Cholesterol:

0mg
Sodium:

9mg
Carbohydrates:

0g
Fiber:

0g
Sugar:

0g
Protein:

0g
We try our best but cannot guarantee that nutrition information is 100% accurate.