Cucumbers can be a very abundant garden harvest. We eat them fresh by the bushel and can up dozens of quart jars of pickles and yet there are still so very many. Cucumber mint jam is a fun, tasty, and unusual way to use a few up.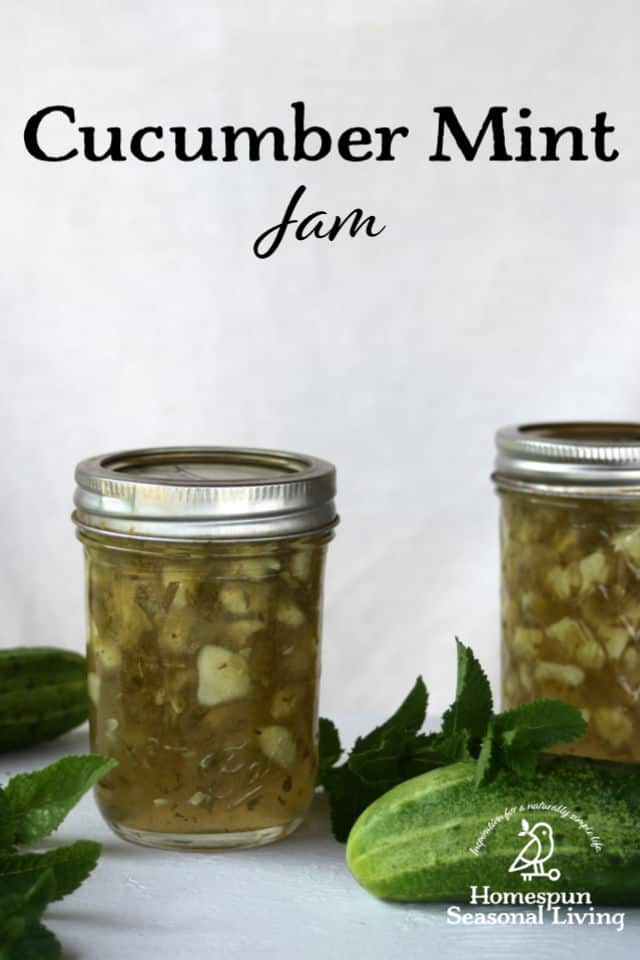 A Quick-Cook Jam
Use pectin in this recipe instead of cooking until gel point is reached. A long cooking to reach gel stage is going to cook the cucumbers to death and likely leave a watery final product. Keep it quick with the addition of commercial pectin.
Sugar & Vinegar
Cucumbers are a low-acid vegetable. The addition of sugar and vinegar is key to raise the acidity level for canning. As much as I prefer a low-sugar jam, this is not the place for it.
The vinegar helps with acidity and mellows out the sweetness giving the final jam a great sweet and savory combination.
Pickling Versus Slicing Cucumbers
Pickling cucumbers tend to have less water than the slicing/salad types. It is for this drier texture that I choose to go with pickling cucumbers in this jam. One could try using slicing cucumbers but the additional water might make the final product a little less firm than a traditional jam.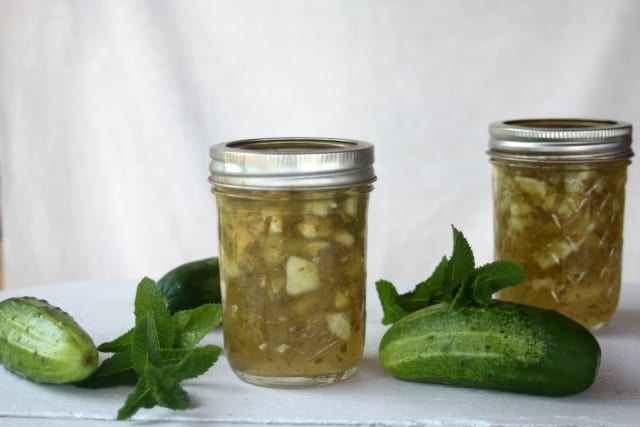 How to Use Cucumber Mint Jam
This isn't a jam, that a person is likely to slather on a peanut butter sandwich. It is a jam, however; that would:
make an excellent sandwich with some goat cheese and / or turkey
go wonderfully with some cheese and crackers
be delightful mixed in with some plain yogurt for a sweet / savory and filling lunch or snack
mix up well in this vinaigrette recipe (just swap out the strawberry jam for the cucumber mint)
Before all those summer cucumbers fade away consider whipping up some jam with this easy and quick recipe.
Yield: 6 Half Pints
Cucumber Mint Jam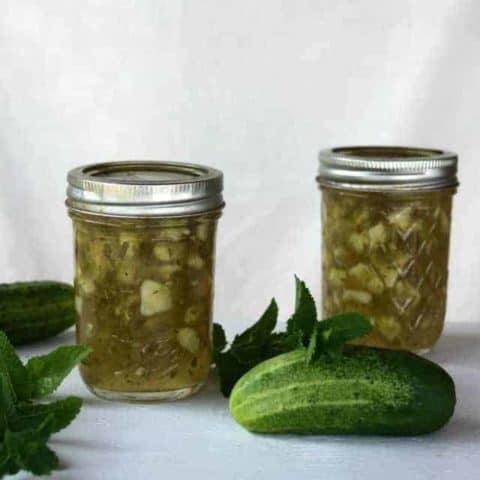 Make the most of an abundant cucumber harvest with this deliciously unusual and oh-so-easy- cucumber mint jam recipe with canning instructions included.
Ingredients
4 Cups Chopped Cucumber, peeled & seeded
½ Cup Lemon Juice
½ Cup Apple Cider Vinegar
4 Cups Sugar
3 Tablespoons Finely Chopped Mint
Instructions
In a large pot, combine cucumbers, lemon juice, apple cider vinegar, and pectin. Bring to boil, mashing slightly with a spoon. Keep at a rolling boil for 1 minute.
Add the sugar, all at once and bring to a boil again. Boil for 1 minute.
Remove from heat, skim off foam. Stir in mint.
Pour into jars, leaving 1/4" headspace. Process for 10 minutes (adjusting for elevation) in a boiling water bath.
Nutrition Information:
Yield:
96
Serving Size:
1 Tablespoon
Amount Per Serving:
Calories:

37
Total Fat:

0g
Saturated Fat:

0g
Trans Fat:

0g
Unsaturated Fat:

0g
Cholesterol:

0mg
Sodium:

2mg
Carbohydrates:

9g
Fiber:

0g
Sugar:

9g
Protein:

0g
We try our best but cannot guarantee that nutrition information is 100% accurate.