This recipe for Zesty Bread & Butter Pickles has become the favorite in our house. They're sweet and sour like all bread and butter pickles but also have this bit of zesty spice that go well with hamburgers and more.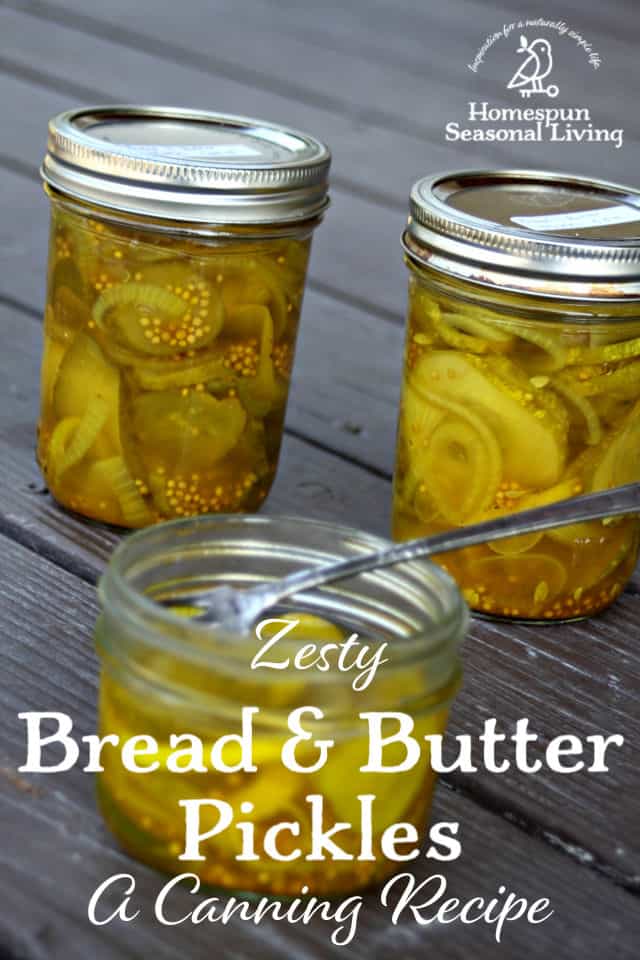 Not Your Usual Bread & Butter Pickle
This recipe has all the basics you'd expect in a bread and butter pickle. It has onions, though less than most recipes, it's sweet and sour, but it also has a hint of spice that isn't always common in the American version.
As you work your way through your cucumber harvest be sure to put up a few of these zesty bread & butter pickles for your winter pantry.
Uniform Slices
If at all possible use a mandolin slicer instead of a knife for this recipe. The slicing will go so much faster that way. And keeping the thickness uniform makes for better texture overall in these pickles.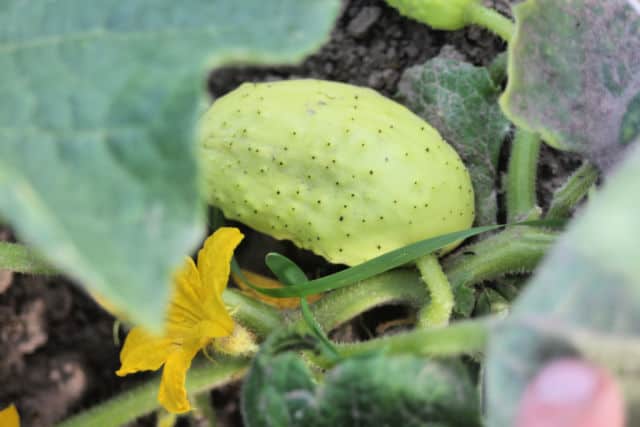 Don't Skip the Salt Water Soak
Yes, soak the pickles in salt water for 2 hours. No, don't be tempted to short cut this step. This salt water bath does a lot for the texture, especially when put through the hot water bath of the canning process.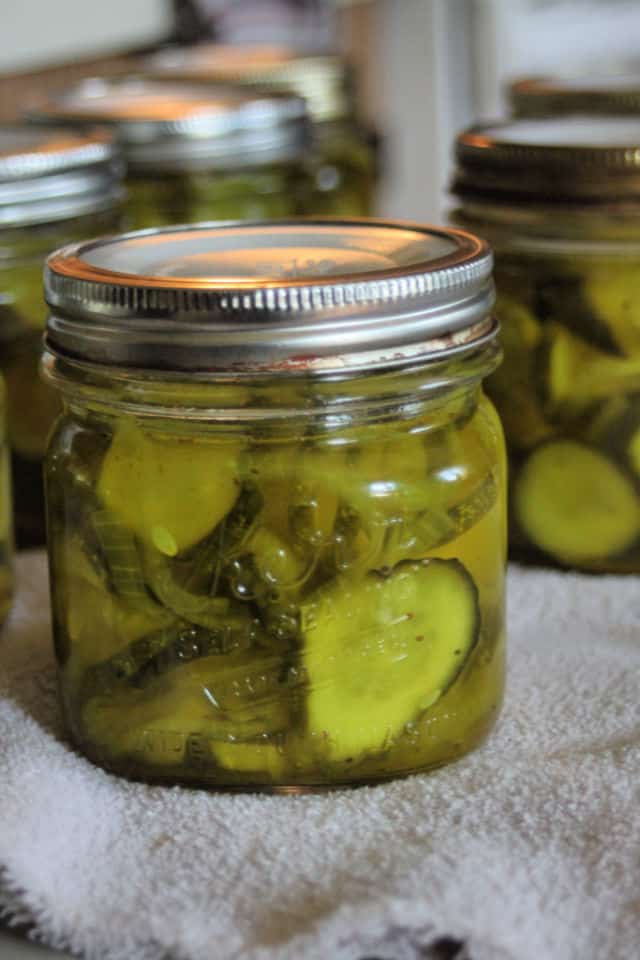 For Refrigerator Pickles
Follow all the steps but skip the canning step. You could put the pickles in bigger jars and just refrigerate. Let sit in the refrigerator for at least a week for optimum flavor.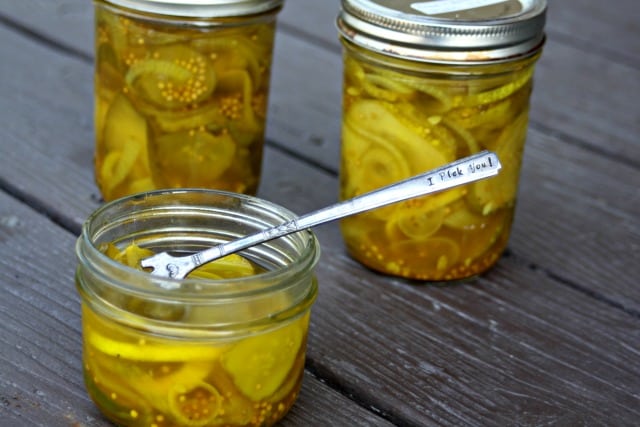 Amazing Gifts
Be sure to make up an extra batch or two of these bread and butter pickles for gifts. Tuck them into care packages, hostess gifts, and more for a special gift from the garden most anyone will enjoy.
Yield: 6 Pints
Zesty Bread & Butter Pickles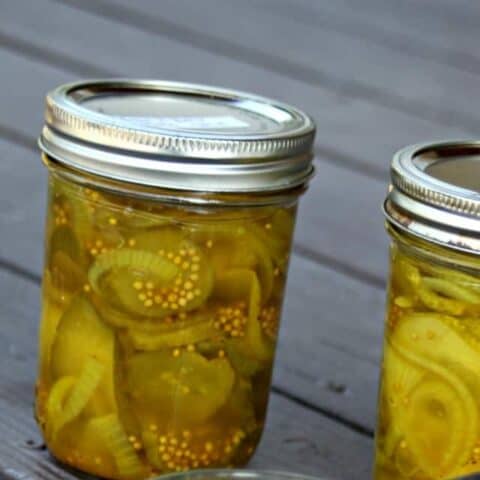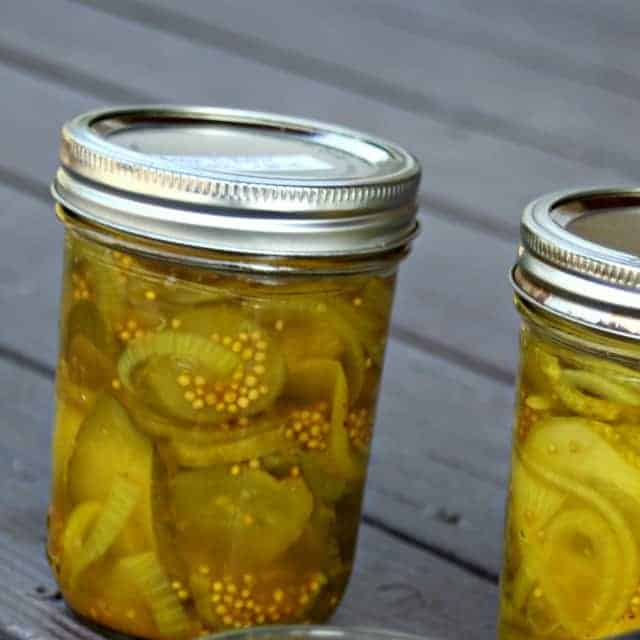 Put up the abundant cucumber harvest by canning up these easy and tasty zesty bread & butter pickles that are a perfect balance of sweet, sour, & spice.
Total Time
2 hours
30 minutes
Ingredients
10 Cups Sliced Cucumbers, slice them about 1/4" thick
2 Medium Onions, sliced about 1/4" thick
3 Cups Apple Cider Vinegar
2 Cups Brown Sugar, packed
2 Tablespoons Grated, Fresh Ginger
Instructions
Put onions and cumbers into a very large bowl. Sprinkle with salt and toss everything together well. Cover with cold water. Let sit for 2 hours.
Drain and rinse well to remove the salt.
Combine the vinegar, sugar, mustard seeds, ginger, and turmeric in a saucepan. Bring to a boil, stir in the cucumbers and onions, mix well. Bring to a boil.
Remove from heat and pour into jars. Put veggies in jar first, then pour liquid over it. Leave 1/2 inch headspace in jars. Remove air bubbles and wipe rims. Put lids and rings on jars.
Process in water bath for 10 minutes (adjusting for elevation).
Nutrition Information:
Yield:
192
Serving Size:
2 Tablespoons
Amount Per Serving:
Calories:

10
Total Fat:

0g
Saturated Fat:

0g
Trans Fat:

0g
Unsaturated Fat:

0g
Cholesterol:

0mg
Sodium:

4mg
Carbohydrates:

2g
Fiber:

0g
Sugar:

2g
Protein:

0g
We try our best but cannot guarantee that nutrition information is 100% accurate.