It is officially spring and with that comes a special kind of food abundance. Spring seasonal eating means less eating from the preserved pantry and more enjoyment direct from the ground to our kitchen.
The arrival of spring means we can add a variety of fruits and seasonal vegetables to our diets that may have gone missing during the long winter months.
This is the time of year when we start to embrace the first fresh bits of greenery from the garden and local farms. The thing about seasonal eating is that it is very local – what is in-season for me in northwest Montana isn't necessarily the same thing as what's in season in south Florida.
Spring Foods
Always look to your local area first and eat what's local and in-season whenever possible. This list is meant to be a seasonal produce guide for your path, not a hard and fast rule. Most of these foods are going to be in-season in Spring for most everyone, but remember strawberries are going to be earlier in the south and later in the north.
Hit your local farmer's market to see what the folks who are growing food in your area have available – this is the surest way to eat seasonal food.
This is usually the season of tender greens, herbs, and hardy small vegetables, things that only last for a short season before the hotter weather sets in.
Leafy Greens
There's a reason they're called 'spring greens.' These are the first bits of vegetables to pop up from the frozen ground much of the time. There are, of course, cultivated greens like spinach, collard greens, kale, etc.
But don't forget to forage and check the (unsprayed) yard, parks, and forests for things like dandelion, sorrel, chickweed, violets, fiddlehead ferns, nettles, and more. Always be 100% sure of your identification before touching or ingesting wild foods.
Radishes
If you've only ever tried the hot red, round type from the grocery store and didn't like them – please give radishes another try.
There are so many different types with varying levels of heat and layers of flavor. Something else may tickle your fancy. Look for local types and experiment to find the ones you like best. Eat them raw or roast them for a different but delicious side dish.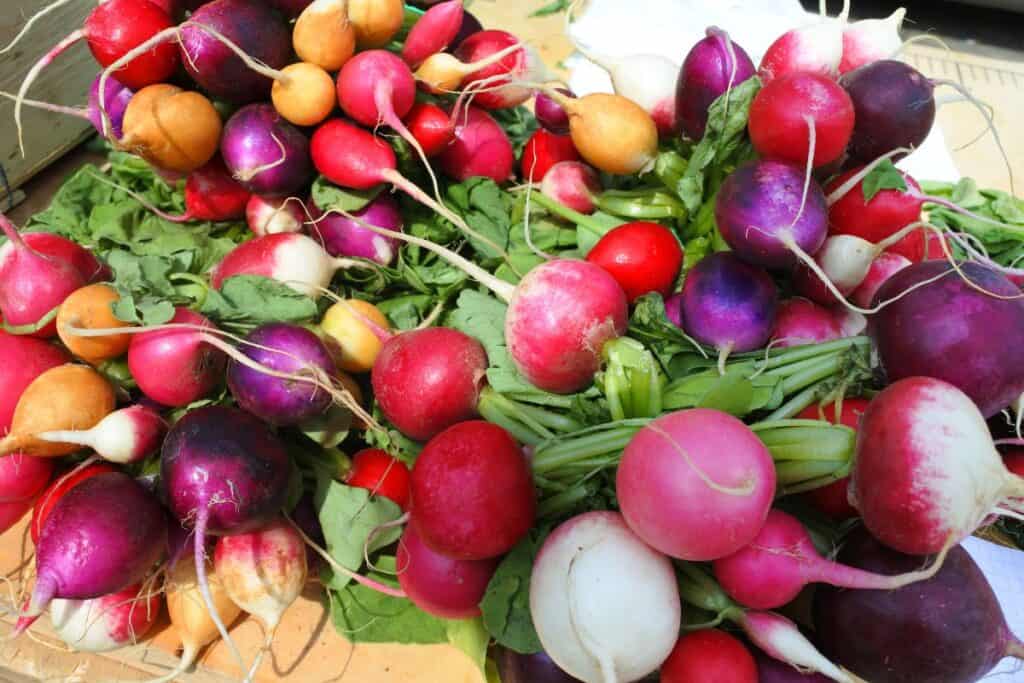 Peas
Whether you like the edible pod or the shelling kind. These are abundant in the spring and delicious for soups, stir-fry, steamed side dishes, and more. These spring veggies are truly only great for a short time because they prefer the cooler weather to the hot summer temperatures.
Asparagus
Not everyone's favorite, I know. But if you like it make the most of it in during this season. Eat asparagus roasted, steamed, pureed in soup, tossed into stir-fry, mixed into quiches, and more.
Potatoes
Granted these vegetables store well and are often available all winter long, however; the fresh new potatoes are something special and very different than the storage types most often found in stores and in other seasons of the year. Find local farmers and eat these up in abundance in your favorite ways.
Herbs
This is prime time for fresh herbs like mint, chives, lovage, lemon balm, and more. These fragrant and flavorful bits pop up from the earth with the first greens each spring. Toss them raw into salads, add things like mint & lemon balm to smoothies and heavily season those spring potatoes and soups with all the fresh herbal flavors.
Spring garlic and onions too abound. These tend to be immature versions of the produce you're used to seeing in the grocery store. They have subtle amazing flavor and can likely be found in abundance at your local markets.
Rhubarb
For folks in the north, this tends to be the first fresh fruit of the season. It's tart to be sure but makes for excellent crisps and pies all by itself or mixed with strawberries. Look for new and different ways to prepare rhubarb and savor it as a tart, wonderful gift from the earth.
Strawberries
These beautiful berries are often the first sweet seasonal fruits available to us after a long winter.
Eat them fresh, toss them in with oatmeal for breakfast, mix them with rhubarb for a compote on top of pancakes, dip them in chocolate for dessert. Simply eat them fresh for as long as are in peak season for flavor and sweetness unlike anything else.
Wild Mushrooms
Morels and chanterelles are often available in the spring. If you're not comfortable with foraging themself (safety & proper identification first!) find locals who pick and sell them. It will likely be expensive but a few now and then can make a meal special.
Eggs
Local eggs might be more prevalent as longer daylight hours take hold, use them up in every meal of the day. Make them scrambled, turn them into quiches, even use them up in sauces for pasta.
Spring Meal Planning
Spring meals tend to become lighter in nature than the rich comfort foods of winter. We move away gradually from hearty soups and thick casseroles to salads and simple preparations.
Use the variety of produce fresh from the earth in easy ways to allow for more time outside and in the garden. This isn't usually the time for long, slow cooked meals but rather raw or quickly cooked items to let natural flavors shine through.
Salads
Greens tend to be earlier in the garden and in the wild than most anything else. Big green salads with some slices of radishes, raw peas, and torn bits of fresh herbs are a great start.
Put a little homemade dressing on there and call it a side. Add some bits of protein (meat, cheese, nuts, legumes) and call it the main dish. Keep greens washed and chopped in the fridge for quick meal prep. Invest in a salad spinner to remove excess moisture – the greens will last so much longer this way.
Egg Dishes
Take advantage of the abundance of local eggs. Make quiches, frittatas, and more by mixing local greens with the eggs for added frugal nutrition.
Learn how to bring yourself into the rhythm of the seasons with 12 weeks of lessons that help you slow down and bring intention to your days. Enjoy 50% off the Seasonal Living Planner with your purchase. Get the Seasonal Living Guide Here.
These tend to be protein packed and filling. A couple hard boiled eggs, tossed into a salad, with a few pickles left from last year's canning efforts is an easy, filling, and delicious packed lunch.
Brothy Soups
The air is still cool many days especially in the early spring, making these days a great time for warm and tasty soup.
In the spring, move away from heavier cream soups and eat soups with lots of broth and fresh vegetables, like those spring onions and english peas. Puree simple ingredients (peas, broth, onions, garlic, spices) for thinner but still filling soups that are great with some homemade bread.
Pesto
Take advantage of all the fresh greens and herbs of spring by making up large batches of pesto. Pesto is delicious served over pasta, of course, but is also great on salads, baked potatoes, rice, and more.
Use pesto instead of tomato sauce on a pizza, thin it out with a little more olive oil and it makes an amazing salad dressing. It freezes extremely well making it a great addition to winter pantry stores easily made now.
Quick & Easy
For many of us, the outdoors beckon strongly in the spring more than any other time of the year. We want to eat food that fuels our activities and can be prepared quickly. Think quickly steamed peas and pan-fried meats as a simple but delicious dinner that can be done in less than 15 minutes. Keep greens and other veggies chopped in the fridge to toss together quick salads.
Desserts
Whirl the strawberries in the blender with some ice and yogurt for a creamy, cool dessert or snack. Mix rhubarb with berries in pies or crisps. Top cakes and ice cream with the fresh fruits and bits of herbs to truly bask in the glow of the season's sweet treats.
Preserve Spring for Later
Spring is a season of abundance make the most of it by enjoying every bit of it now and also by saving some for later. Make jams from the strawberries and rhubarb. Freeze the pesto. Dehydrate the herbs.
Do as much or as little as you're inclined but you won't regret having that mint dried in the pantry for winter tea or having the pesto to toss into a winter casserole.
Forget all the hype and trendiness of local, seasonal eating. Rather, welcome spring by simply get out in the yard and local community to bring the freshness into your own kitchen. It's easy to make the most of this fresh produce by eating up old and creating new favorite recipes.