Care packages are almost a lost art in this day and age of online ordering. And while gifts ordered online do indeed get the job done, they can often be cold. Those boxes shipped straight from the store or manufacturer are often devoid of soul and personality.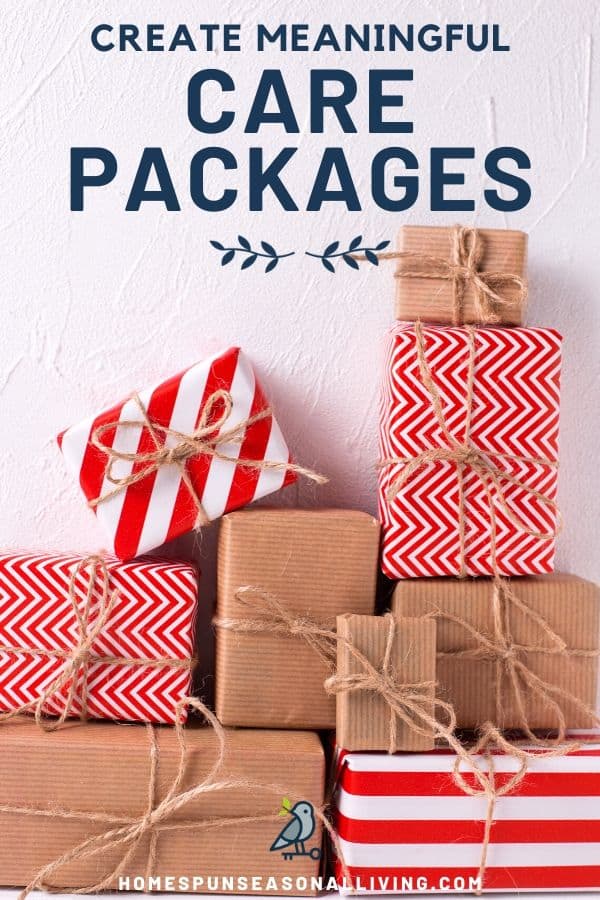 We can fill boxes in creative and easy ways that express love, share home, give health, and more. Care package ideas that are full of meaning and warmth can easily be created and inexpensively, too.
These boxes of love made physical are truly amazing to receive but they are also a joy to create, making it an ideal way to connect and share with important people.
Meaningful Care Packages
Sending someone a box is a wonderful thing but it must be special and meaningful to them in order to truly be a gift. There's no sense in sending someone a box full of stuff they don't need or want.
[mailerlite_form form_id=12]
Before assembling any care package, think about the recipient. What is it that they need and want? How can you share your home with them in a way that will make them feel loved?
There's no right or wrong answer. Some folks will welcome a giant box of homemade cookies, others will be delighted with some books, still others will love a box of homemade bath salts and candles.
Give what is most needed, wanted, and important to the receiver.
Homemade Food
There really is no better way to share home and love than with homemade food (at least in my opinion). And truly, there are so many options for mailing homemade food.

Cookies are a natural care package filler and there aren't many people who turn their noses up at homemade cookies. Package sturdy cookies, oatmeal and chocolate chip are always good, in plastic or cellophane bags and tuck them between softer items to prevent breakage.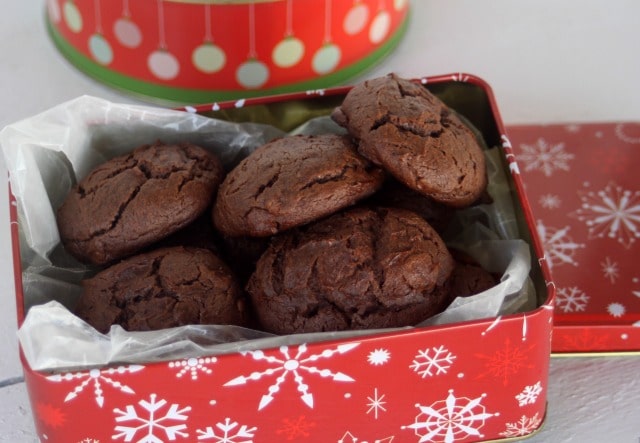 Homemade granola, roasted seeds/nuts, even well wrapped homemade jams are all excellent care package food items. Dried fruits and vegetables are light and easy to send as well.
Many gift-in-a-jar type foods are ideal for mailing as well. To keep the packages lighter and less likely to break, package the food items in plastic bags instead of jars.
Homegrown & Handmade Gifts
If you're a gardener or a crafter, care packages are great ways to share your hard and loving work with others.
Send other gardeners packages of saved seed from your garden. If you pressed flowers, send bookmarks and other crafts made from them.
Make herbal dream pillows from your homegrown (or purchased) herbs.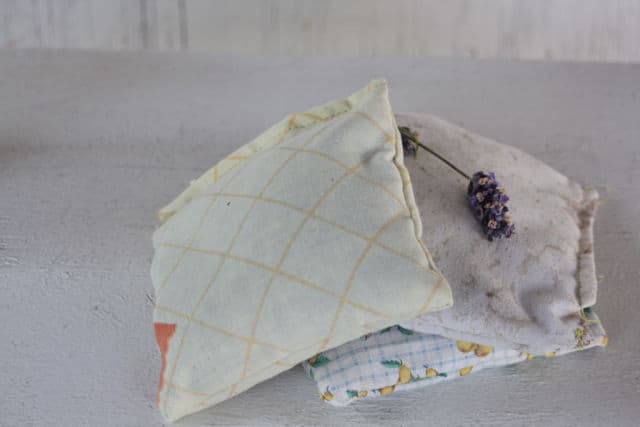 Send knitted hats, crocheted scarves, sewn pouches and bags. Anything you like to craft (and that would be welcome by the receiver) tuck into boxes.
Tuck those homemade bath salts, healing salves, soaps, and more in there too.
This is as much about giving something physical that is special as it is giving of yourself. These bits are quite literally sending your heart and home. Sending these things allow us to include folks far away into our home lives and that is always an exercise in love.
Store Bought Items
Start with small, easy items. Tuck in books, movies, music and other large items that are meaningful to the recipient. Maybe it's practical items like socks or gloves or completely fanciful like scented candles. What's important is not the item but the meaning the item has for the recipient.
Keep It Frugal
Hit the thrift store for used books. There's nothing wrong with sending someone used books. Send them books you loved but don't feel the need to keep. Let them know why you loved the book or why you chose that particular book for them.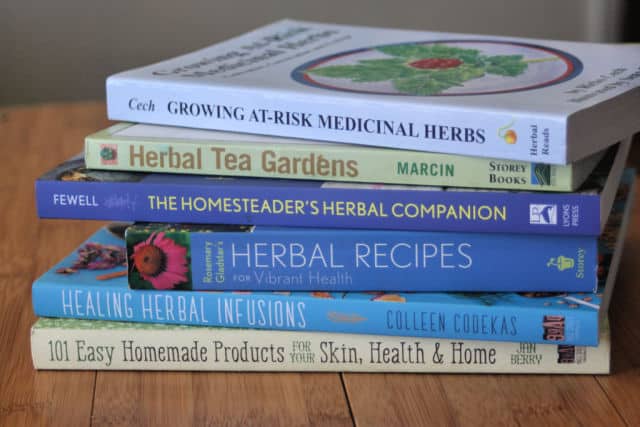 Include stickers or pencils from the dollar store, etc. Care packages do not need to be filled with expensive items. The aim is to fill the box to the brim with items the recipient will appreciate.
Use those flat rate boxes and fill them up for the most cost effective (usually) shipping method, plus the speed of that means fresh baked goods will arrive still fresh.
Packing it Up
Wrap the individual gifts for the recipient. It doesn't have to be fancy paper, use the comics from the newspaper, small bits of tissue paper, even the black and white pages from the newspaper. This is about allowing the recipient extra joy in opening things individually extending their chances to savor each and every thing.
Plan for Safe Arrival
Make sure to fill the box with newspaper or other bits of stuffing material to keep items stable and prevent breakage. If you have the room, save bits of packing material you receive from online orders and more throughout the year, reuse these bits for your care package mailings.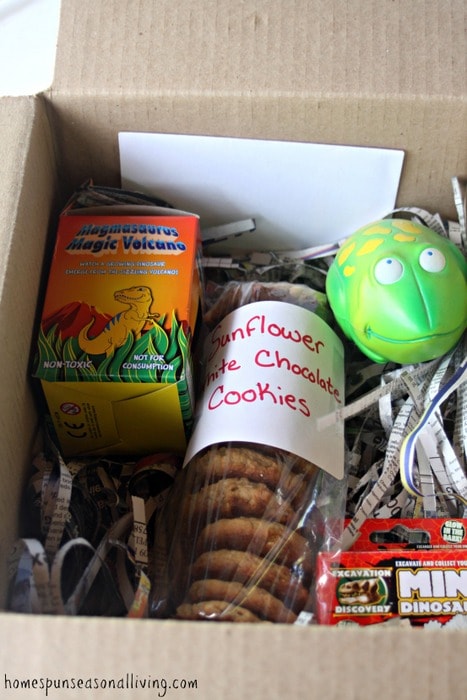 Seal the box with good packaging tape and use a label or print one that is clearly legible. Double check that address so that there are no delays.
Think Beyond Birthdays & Holidays
Birthdays and holidays are natural times to send care packages and worth doing. However, there are other reasons and days to send gifts.
Send them because you made some cookies that you know that person loves and wanted to share. Put together a box for the military service member far away so they can feel connected to home. Send nourishing snacks to the college student studying for finals. Mail your aunt a book that you just finished and know she'll love.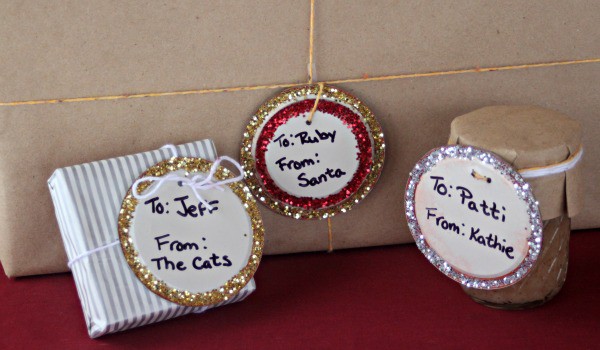 Postage can be expensive and so it's unlikely you can send multiple boxes every week but do it when you can and remember to keep it light and frugal – boxes don't have to be huge or stuffed. Don't forget you can always send a simple card or letter, too.