Using rose hips for food and medicine has been part of human history for generations. They're easy to harvest, prepare, and preserve in our modern homes too.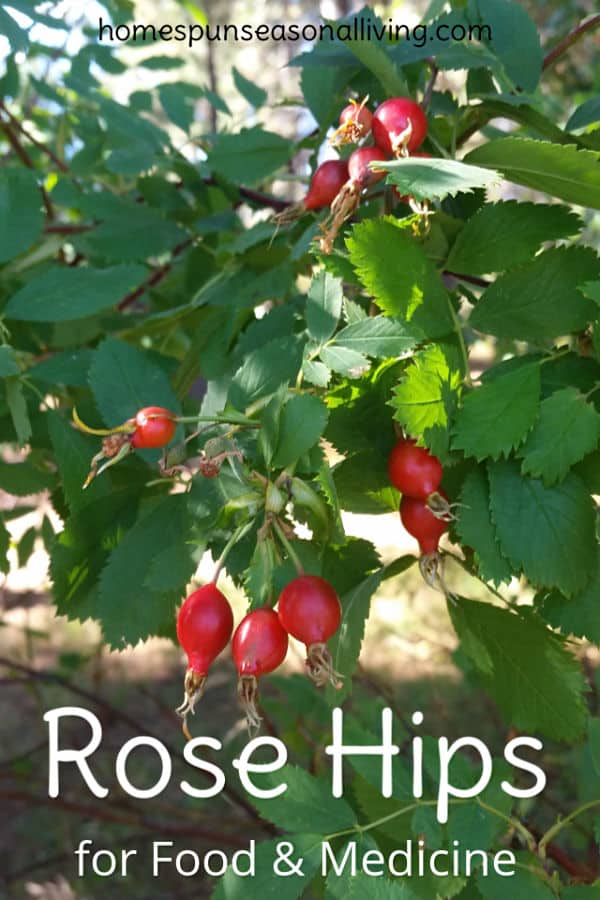 Harvesting Rose Hips
Harvest after the first frost for best flavor. Choose the plump and firm hips from the plant, leaving the withered and soft ones behind as a food source for wild animals. As always avoid rosehips that have been sprayed with chemicals or are very near busy roadways. If doubt, leave it be and look for another source.
Preparing Rose Hips
First, remove both ends of the rose hips. The inside of the rose hips contain the seeds and fine hairs that can be irritating to the skin and the stomach. Slice rosehips in half and remove the seeds and hairs. Just scoop the seeds and hairs with a small spoon or wear gloves and use the fingers. The rose hips are now ready for preservation or fresh use.
Skip the seed and hair removal if planning to leave the rose hips whole in tea drinking for example.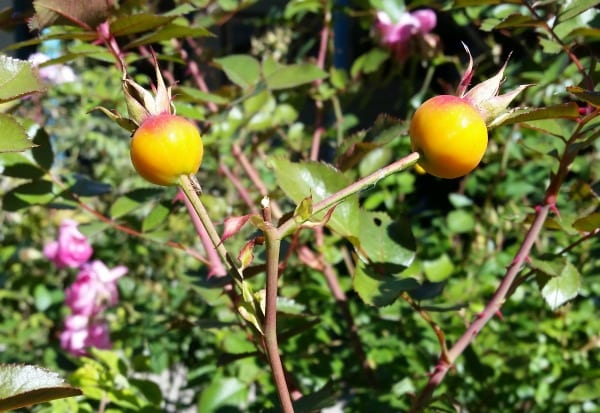 Dehydrating Rose Hips
Spread the rose hips out on a tray or screen and let dry at room temperature. Alternatively, dry on low in a dehydrator. They are done when completely dry and crispy. Store the dried rosehips in an airtight jar out of direct sunlight.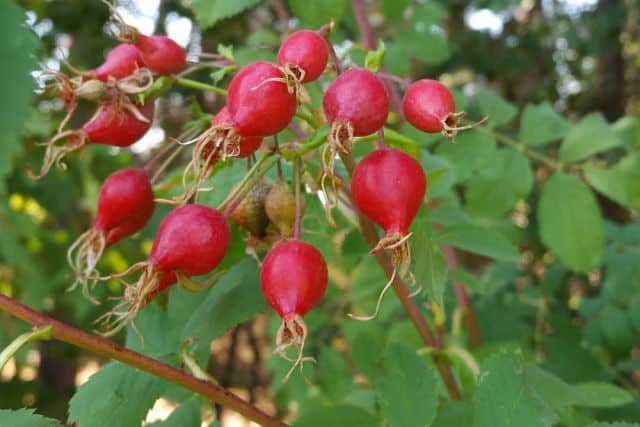 Rose Hips as Food
Rose hips have a tart flavor and make a bright flavorful tea. Make rosehip tea by covering 2 teaspoons of dried rosehips with 1 cup of boiling water. Let stand for 15 minutes before straining. Sweeten if desired and sip slowly.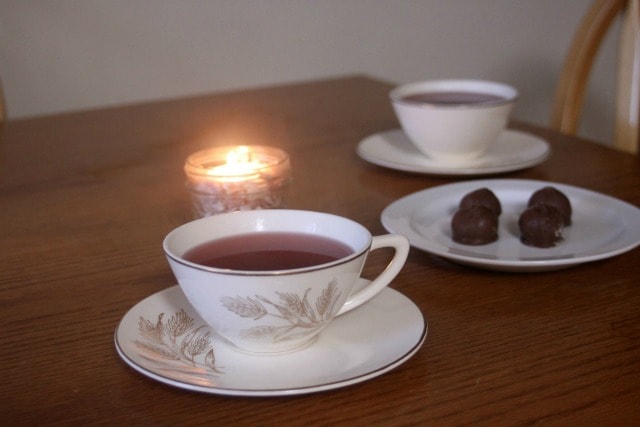 Rose hips can also be turned into delicious jelly. When looking to make adult drinks and wonderful gifts consider this rose hip whiskey smash or brew some rose hip wine. Combine rose hips with cranberries and spices for a delicious change to the traditional cranberry sauce this coming holiday season.
Rose Hips as Medicine
Taking rose hips as medicine is as easy as brewing that cup of tea above. It's a tasty and convenient package that requires no other special preparation – no need for tincture making or infusing oils.
Naturally high in Vitamin C (containing as much 50% more Vitamin C than oranges), rose hips are a natural way to boost the immune system and prevent scurvy. If drinking a cup of tea isn't a person's favorite thing, get the same benefit by making a sweet and concentrated rosehip syrup.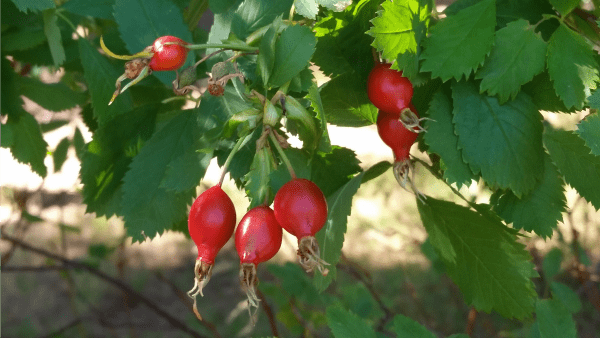 Rose hips are a mild diuretic and laxative and can help treat urinary tract infections.
A natural anti-inflammatory, rose hips are being studied for the positive effect on arthritis without the side effects of prescription medications.
As the fall season begins to descend upon us, get ready for that first frost and get out there to harvest rose hips. A jar of these beautiful floral fruits can serve the house well and keep everyone running well and healthfully all winter long.