August is National Peach Month. Peaches also happen to be one of my most favorite home-canned foods. They truly are summer in a jar. And while peaches in an extra light sugar syrup or jam are fantastic and I do plenty of each, I also take time to make up a batch or three of these Spiced Brandied Peaches every single summer. These are a great gift as the peaches are magnificent over poundcake or ice cream and the leftover liquid is great over ice and seltzer water for a decidedly adult take on an Italian soda.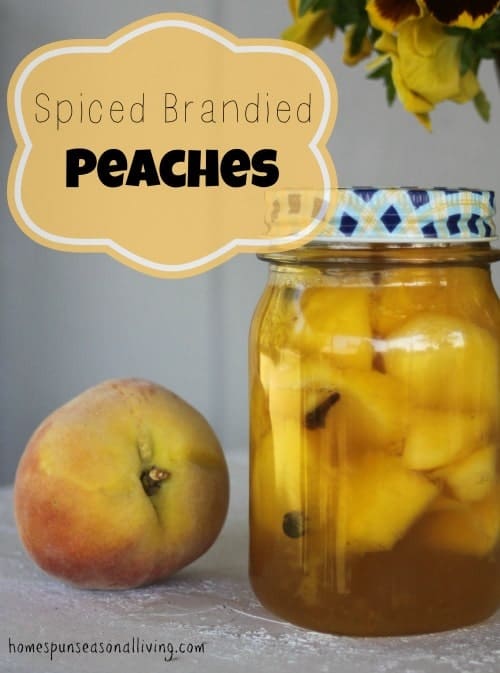 Spice Brandied Peaches
Can up some spiced brandied peaches for an adult treat that preserves the goodness of summer all year long.
Ingredients
10 Pounds Peaches, peeled, pitted, and quartered
1 ¼ Cups Honey
4 Cups Water
7 Cups Brandy
14 Whole Cloves
7 Whole Allspice Berries
7 Cinnamon Sticks - 1" Long Pieces
Instructions
In a saucepan, combine honey and water. Bring to a boil.
Using 7 pint jars, place 2 whole cloves, 1 cinnamon stick, and 1 allspice berry in each jar.
Fill each jar with prepared peaches leaving 1/2" headspace.
Add about 1cup of brandy to each jar (more or less to taste).
Top off each jar with the boiling honey syrup maintaining the 1/2" headspace.
Remove air bubbles, wipe rims, place lids and rings.
Process jars in boiling water bath for 20 minutes, adjusting for elevation.
Notes
These get better with age, certainly let them sit for at least a week before eating, several months in a cool, dark cabinet is even better.
[sc:Useadsenselarge ]