I love a good bowl of soup. There's something so filling and comforting about a good homemade soup. Soups are generally easy to whip up, make the most of what's already in the pantry and garden while also providing something tasty and nourishing. Soups for lunch are a particular favorite of mine and when I'm working outside the home a bottle full of homemade soup in my lunch bag helps rejuvenate the body and soul. This spicy carrot sunflower soup is a pureed soup meaning it packs easily and delightfully in a large travel bottle and its simple ingredients and no muss, no fuss preparation makes it a perfect busy week meal.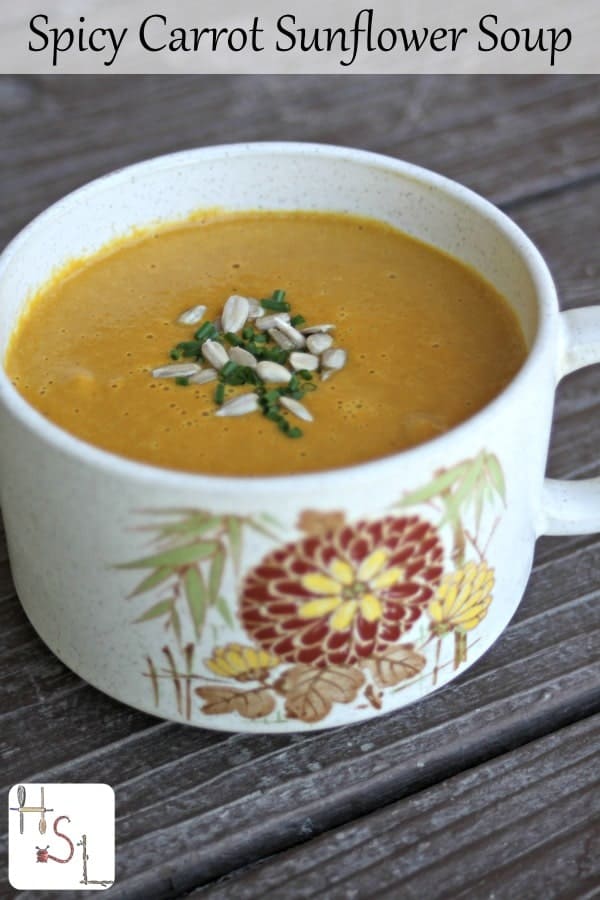 We've taken this soup in thermal bottles during hiking trips and find that it's a great way to warm up and re-energize while walking through the woods of northwest Montana. We always take along plenty of extra sunflowers for munching with the soup as well.
Some options for customizing this soup for your family's tastes:
Substitute peanut butter for the sunflower seed butter (and garnish with chopped peanuts instead of sunflower seeds) – probably any nut butter would work in this soup. So feel free to experiment and find what you like best.
Sweet potatoes and /or yams work instead of carrots though you might need more broth because of the starchiness.
Spicy Carrot Sunflower Soup
Easy and delicious this spicy carrot sunflower soup whips up in a hurry and packs delightfully in a travel bottle for lunches and road trips.
Ingredients
2 Cups Carrots, peeled and diced
⅓ Cup Celery, diced
⅓ Cup Onion, diced
¼ Cup Sweet Pepper, diced
1 Small Jalapeno, seeded and diced (optional, depending on heat preference)
2 Cloves Garlic, minced
2 Cups Vegetable or Chicken Broth
⅓ Cup Sunflower Seed Butter
½ teaspoon Red Pepper Flakes (optional, more or less depending on heat preference)
Salt & Pepper to Taste
Instructions
In a soup pot, combine carrots, celery, onion, peppers, garlic, and broth. Bring to a simmer over medium heat and cover. Simmering until vegetables are tender, about 15 minutes.
Remove from heat and puree in a blender or food processor. Pour the soup back into the pot and stir in the sunflower seed butter and red pepper flakes. Reheat gently, seasoning with salt and pepper to taste.
Serve in individual bowls, topped with chives, cilantro, and sunflower seed kernels for garnish, if desired.