I take my lunch to work and I've been looking for something new and a bit different. I've found just the right thing for fall with this yummy squash millet bake. This recipe was inspired by Mark Bittman's Autumn Millet Bake, I changed a good bit of the recipe but wanted to share the original as it sounds particularly delish, too. My changes were more or less based on what I had on hand and personal taste – I do think cranberries would be awesome and when I get some, I might try that instead of the apples.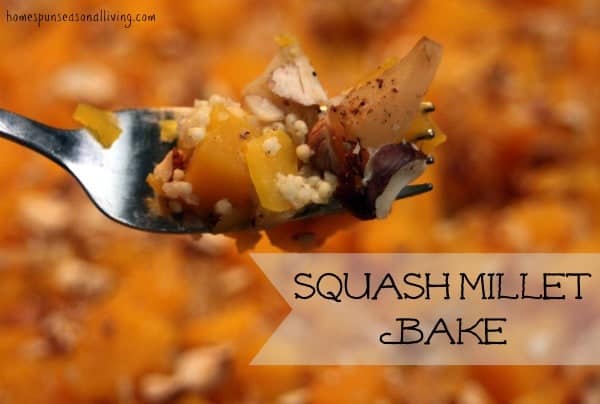 Squash Millet Bake
Make the most of fall flavors and ingredients with this squash millet bake.
Ingredients
3 Pounds of Winter Squash, peeled, seeded, & cut into 1" chunks
1 Cup Apple, peeled, cored, & coarsely chopped
¾ Cup Millet, Rinsed & Drained
1 teaspoon Ground Nutmeg
Salt & Pepper to taste
2 Tablespoons Maple Syrup
½ Cup Milk
½ Cup Chicken Stock
¼ Cup Hazelnuts, roughly chopped
Instructions
Preheat oven to 375 degrees. Oil a 9 X 13 pan.
Combine the chicken stock & milk in a small saucepan and warm it up slightly.
Spread the millet on the bottom of the pan. Sprinkle the millet with squash & apple chunks. Sprinkle nutmeg, salt, & pepper over the squash. Drizzle everything with maple syrup. Pour the warmed stock / milk mixture over everything. Cover pan, tightly. Bake in preheated oven for 45 minutes.
Turn oven up to 400 degrees. Remove the cover from the pan, sprinkle with the chopped hazelnuts. Bake for an additional 10 minutes.
Notes
I used a homegrown lower salmon river squash but pumpkin, butternut, buttercup and I'm sure plenty of others would work great. Use what you have. I used 1/2 cup raw goat's milk, but I imagine any milk would be just fine. You could easily use all stock and vegetable stock if you want to keep it vegetarian. I used our homegrown apples, which are kind of tart and I think you want tart more than sweet in this recipe, but that might be a personal taste.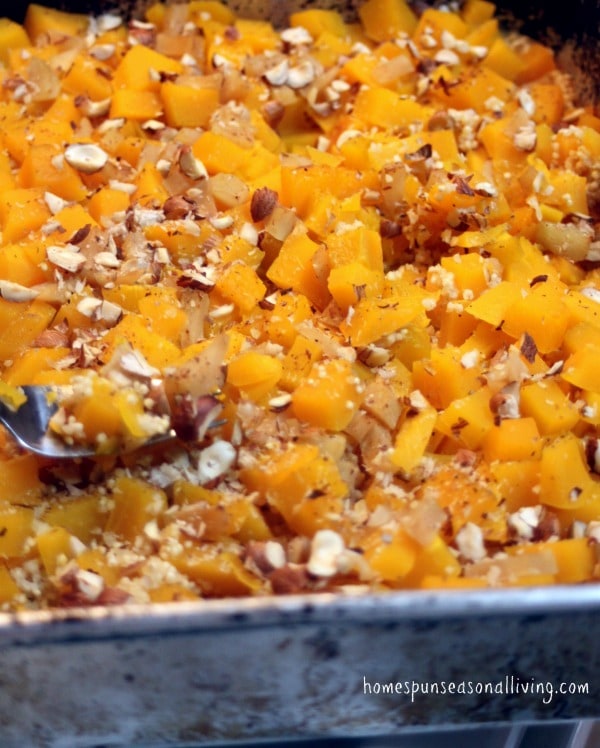 [sc:Useadsenselarge ]