Make the most of autumn with a fresh apple cake covered in homemade caramel sauce.
Caramel apple cake comes together quickly and easily for a weeknight dessert or potluck offering while also being lovely enough for a special occasion.
Use this easy recipe to highlight the fresh apples from your backyard or local apple orchard for a perfect fall treat!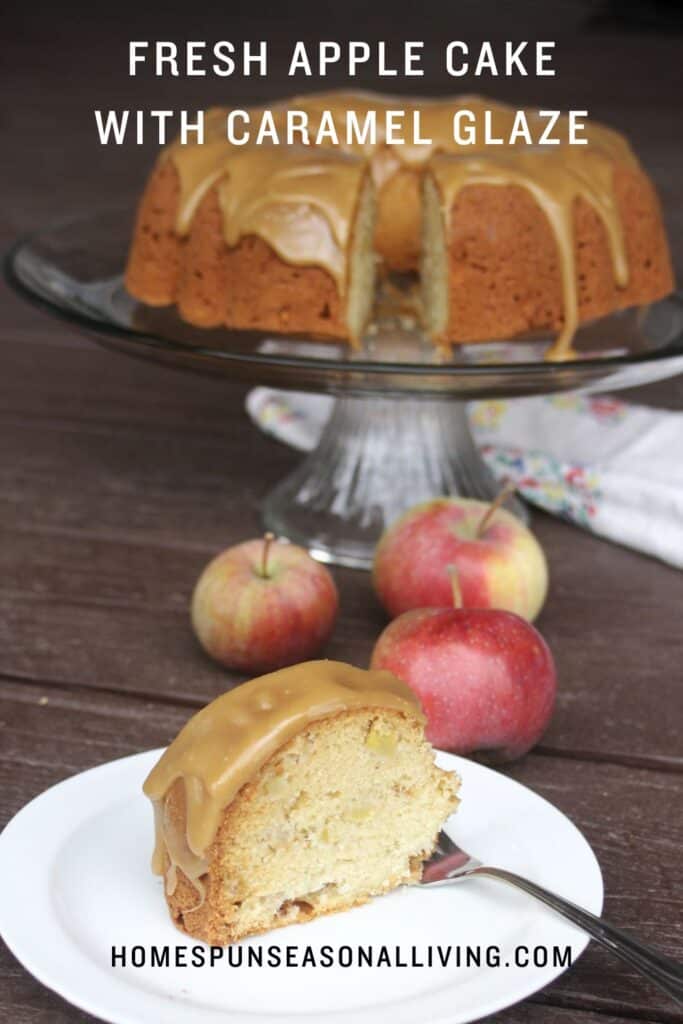 No Fuss
This cake uses melted butter meaning no need to worry about time for softening. The ingredients are already likely on hand in your pantry, too.
It takes a while to bake, but that is obviously hands-off time.
The caramel icing, too, is cooked for ease and as it is simply poured there's no need to worry about frosting cake layers or making it too fancy.
Apple Type
I know all the experts will say there are better apples for baking versus eating but I generally don't worry about it too much. I use what grows in my yard and leave it at that.
Use whatever you have on hand. Granny smith will obviously give you a more tart flavor than say the sweet fuji. Still whatever kind of apples you have growing or can find locally will be perfect.
Peeling, Optional
If I'm making this cake for just having at home I generally skip the peeling but chop the apples fairly small.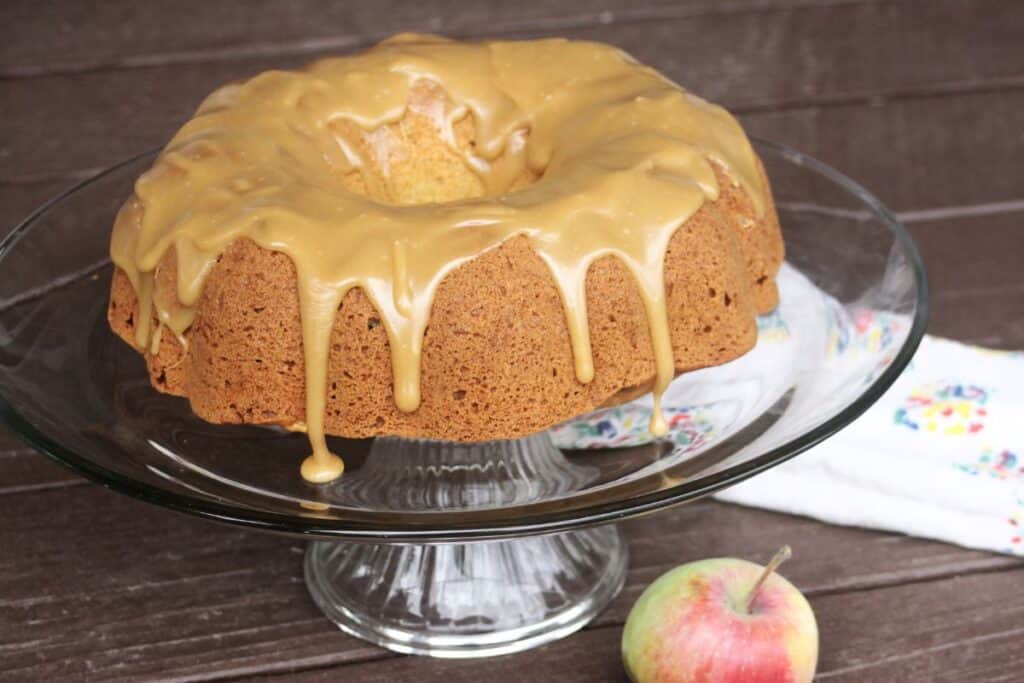 If I'm making to serve for guests or giving as a gift, I peel and leave larger chunks of apple in the cake.
Both are delicious, neither are right or wrong, it's just a matter of preference. Feel free to do whatever works for you without apology.
Spice or Not
This cake is delightful without the spice. I personally prefer an apple spice cake but have a few family members who do not like spice. So I've made it both ways and it's excellent, though different, with or without.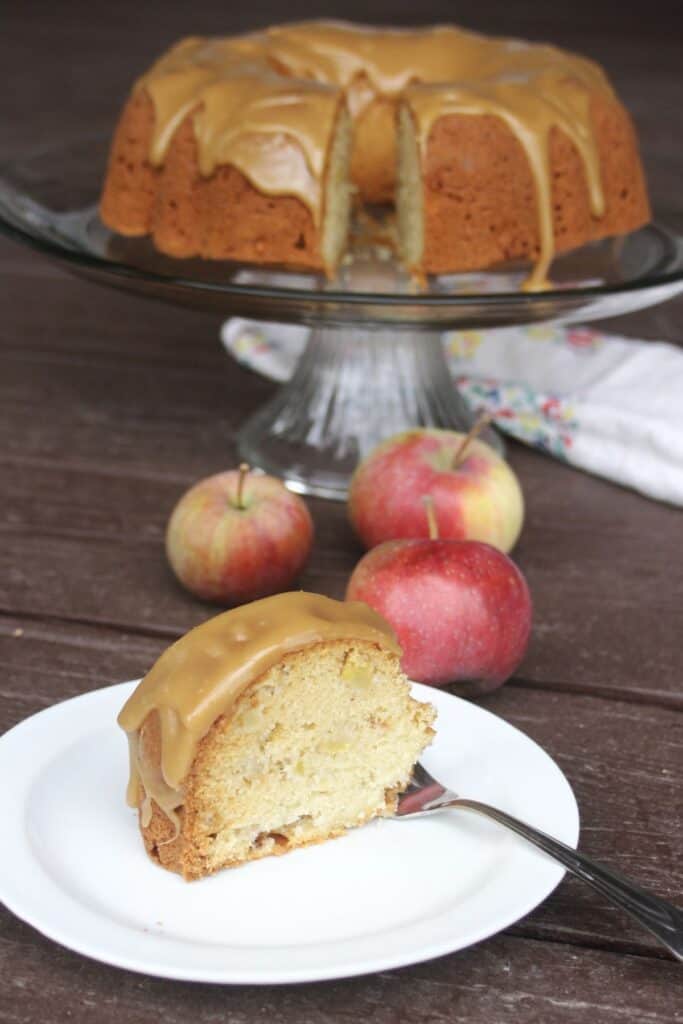 Feel free to switch up the warm spices as desired. Simply use apple pie spice instead of the mix listed in the original recipe below. Use cardamom or ginger or instead of the ones I used. Honestly, you can't go wrong.
Whole Grain Option
Substitute up to 1 cup of the unbleached all-purpose flour with whole wheat flour. This gives this cake a delightful whole grain crunch and flavor perfect for cool fall nights. I don't know that it truly makes it healthier but it is flavorful.
Glaze Ideas
The caramel topping is really delightful on this moist apple cake. The salted butter gives it a slightly salty mix to the sweet that is delicious. Use unsalted butter for less salty flavor, if desired.
You could skip the glaze if desired or even switch it up to chocolate or vanilla.
How to Serve
This is a great dessert because you can keep it as simple or make it as fancy as you'd like.
Serve slices with your favorite hot drink for an easy sweet treat sure to please most anyone.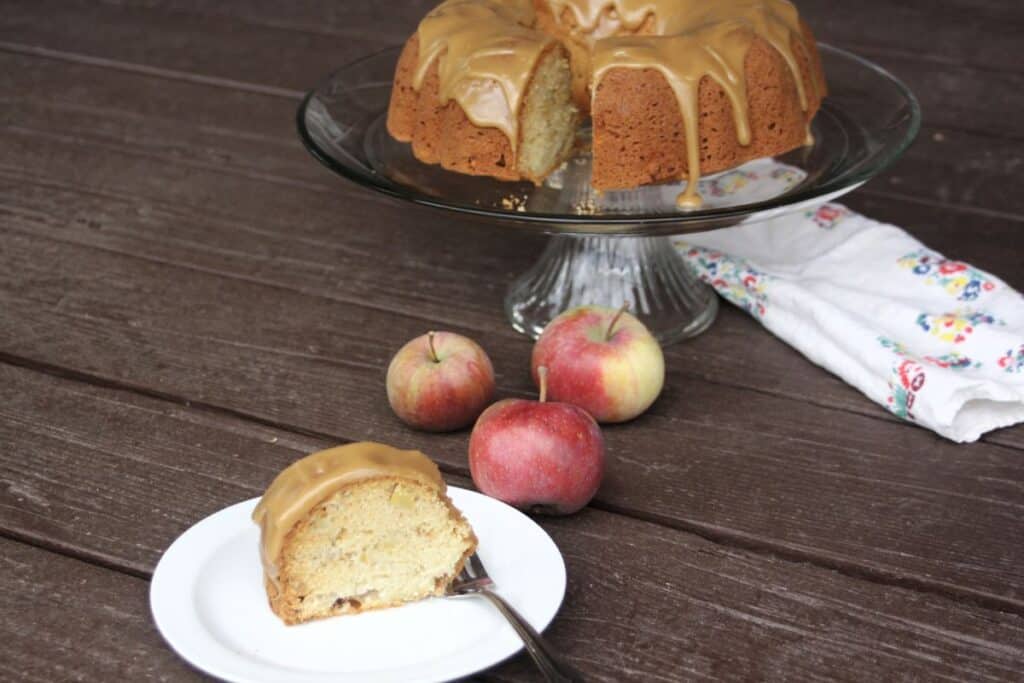 Add a scoop of vanilla ice cream to make it slightly more decadent.
Make it even more over the top by serving with some fresh whipped cream and bits of caramel apple chunks.
How to Store
Keep leftover cake in an airtight container where it should stay fresh for up to 4 days.
For longer term storage, put the cake or slices into freezer containers, wrap in plastic wrap, or place into freezer bags and freeze. Let frozen cake thaw at room temperature prior to serving. Eat up frozen cake within 6 months for best flavor.
Homemade is heart-made! Check out 60 fresh ideas for gifts from the kitchen to honor every occasion. Sharing is caring!
Looking for more delicious recipes to make the most of apple season?
Yield: 12 Servings
Fresh Apple Cake with Caramel Frosting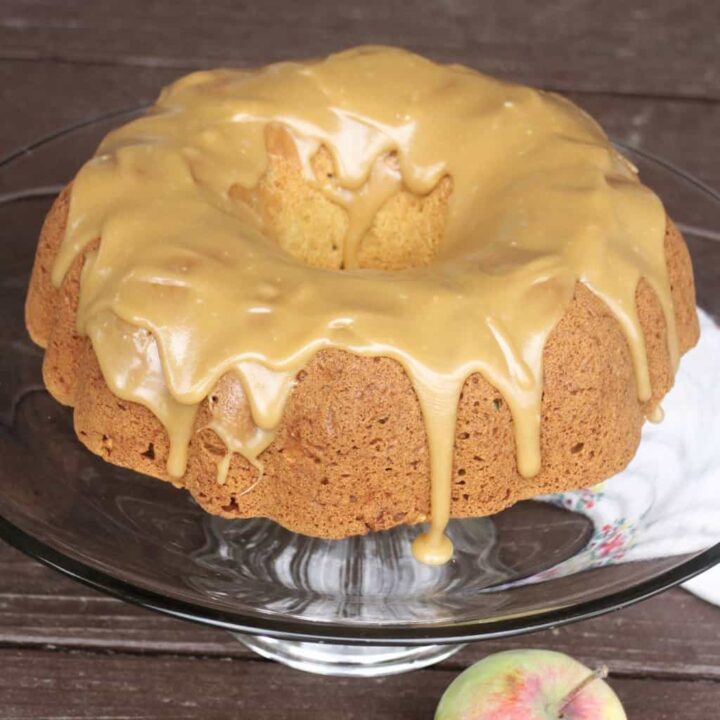 Moist, sweet, and full of fall spice this homemade apple cake is sure to be a hit at all the fall harvest festivals.
Total Time
2 hours
25 minutes
Ingredients
Apple Cake
2 Cups Peeled & Chopped Apples
1 Cup Sugar
3 Eggs
1/4 Cup Apple Juice
2/3 Cup Salted Butter, Melted
3 Cups Unbleached, All Purpose Flour
1 1/2 teaspoons Baking Soda
1 teaspoon Ground Cinnamon, optional
1 teaspoon Ground Nutmeg, optional
1/2 teaspoon Ground Cloves, optional
Caramel Glaze
1/3 Cup Brown Sugar, packed
1/3 Cup Salted Butter
1 Tablespoon Milk
2 Tablespoons Powdered Sugar
Instructions
Preheat oven to 325 degrees. Butter and flour a bundt pan.
Sift together the flours, spices, and baking soda. Set aside.
In a large bowl, whisk together the melted butter, apple juice, eggs, and sugar until creamy.
Fold the dry ingredients into the wet ingredients and mix well, the batter will be a little stiff. Fold in the apples.
Pour cake batter into prepared pan and bake 1 hour to 1 hour 15 minutes or until a toothpick inserted in the center of the cake comes out clean.
Allow to cool in pan on a wire rack for 15 minutes before turning out onto a cake plate.
Allow to cool completely.
Caramel Glaze
Combine brown sugar, milk, and butter in a large saucepan and bring to a boil over medium heat.
Stir to prevent scorching and ensure that the sugar melts completely.
Remove from heat and whisk in the powdered sugar. Whisk until smooth. It will get thicker.
Pour over the top of the cake, allowing it to run down the sides a bit.
Nutrition Information:
Yield:
12
Serving Size:
1 Slice
Amount Per Serving:
Calories:

371
Total Fat:

17g
Saturated Fat:

10g
Trans Fat:

1g
Unsaturated Fat:

5g
Cholesterol:

87mg
Sodium:

300mg
Carbohydrates:

50g
Fiber:

2g
Sugar:

25g
Protein:

5g
We try our best but cannot guarantee that nutrition information is 100% accurate.