Make yourself an impressive and yet easy Autumn-inspired dessert with this whole grain take on a traditional apple kuchen.
Kuchen is simply the German word for cake – don't let that throw you or dissuade you from making this in any way. Buttery and rich, this great recipe is similar to a coffee cake loaded with fresh apples.
It's good looking too, the top of the cake can be decorated with apple slices for a simple, decorative touch.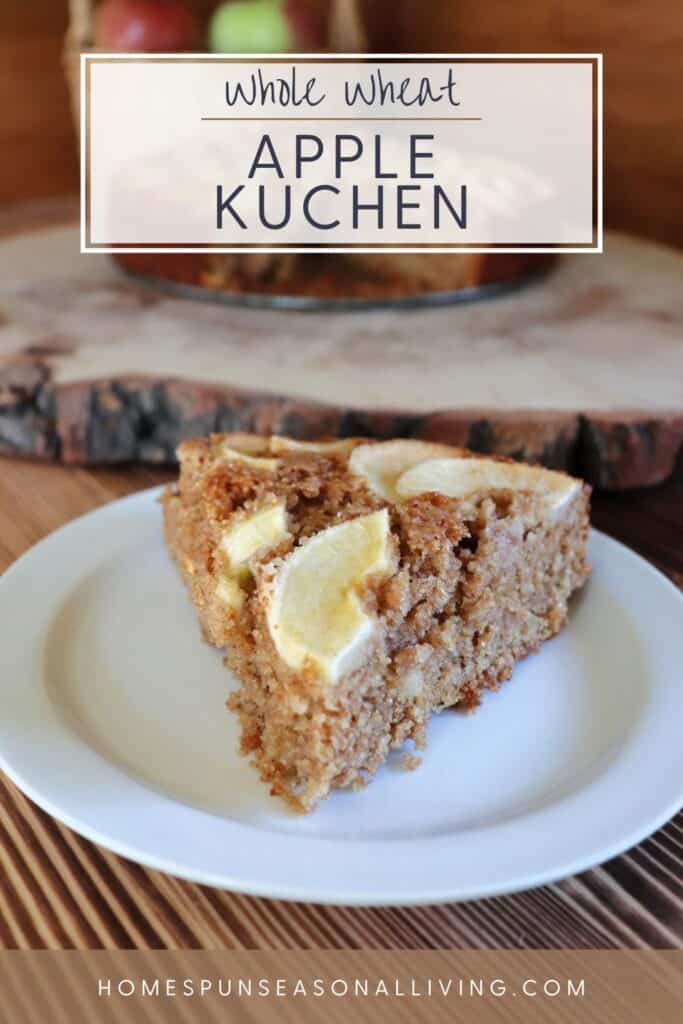 Simple Pantry Ingredients
The great thing about this recipe is that there's nothing fancy – it's very basic, flavorful ingredients combined for a tender, sweet cake. There are, of course, a few different ways to switch it up if you want to make it slightly differently.
Flour Choices
The original recipe is 50% whole wheat and 50% all-purpose flour. You could use 100% all-purpose flour, if desired. 100% whole wheat would also likely work but be a bit drier.
I didn't test other flours but I don't see why something like whole wheat pastry flour wouldn't work delightfully.
Spices
Cinnamon and ginger are simply my favorite spices to combine with apples but you can feel free to switch it up based on your own preferences. A basic apple pie spice would work perfectly. Switch out the spices for things like cardamom, nutmeg, cloves, etc. Use what you like best or even feel free to skip the spice all together if it isn't your thing.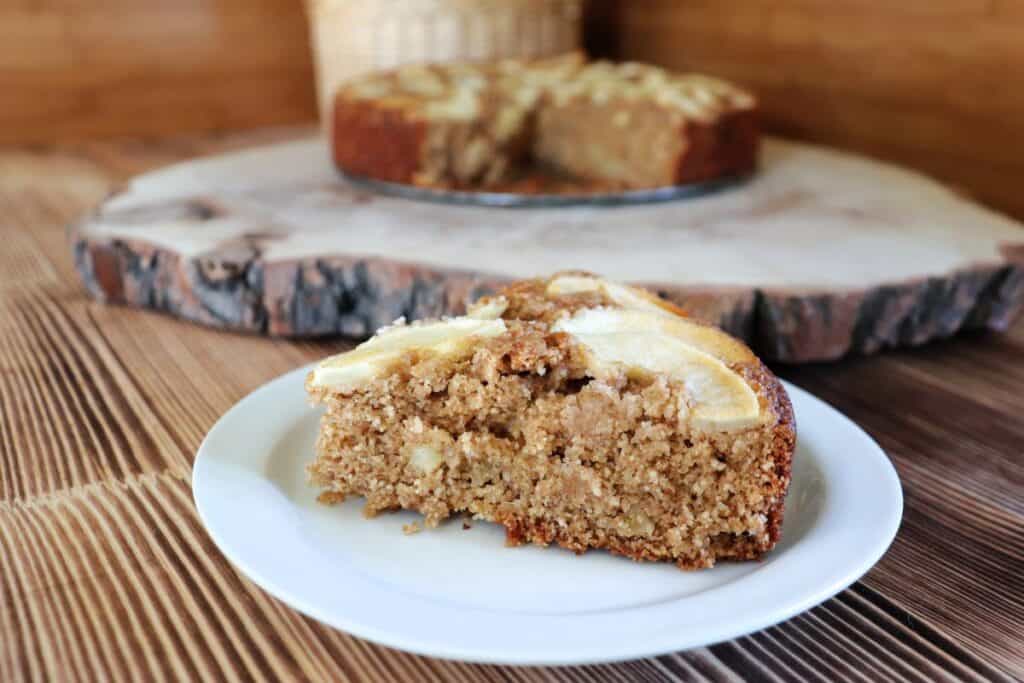 You could skip the spice in the cake and sprinkle the top with cinnamon sugar instead of plain granulated sugar as written in the recipe card below.
Apples
There are all kinds of guides to tell you which type of apples to use for baking versus canning versus eating, etc. I don't worry about that so much. I just use whatever I have available from the tree in my backyard. Something tart like granny smith apples would provide a more tart flavor. However, I always suggest finding something local for the freshest, sweetest flavor.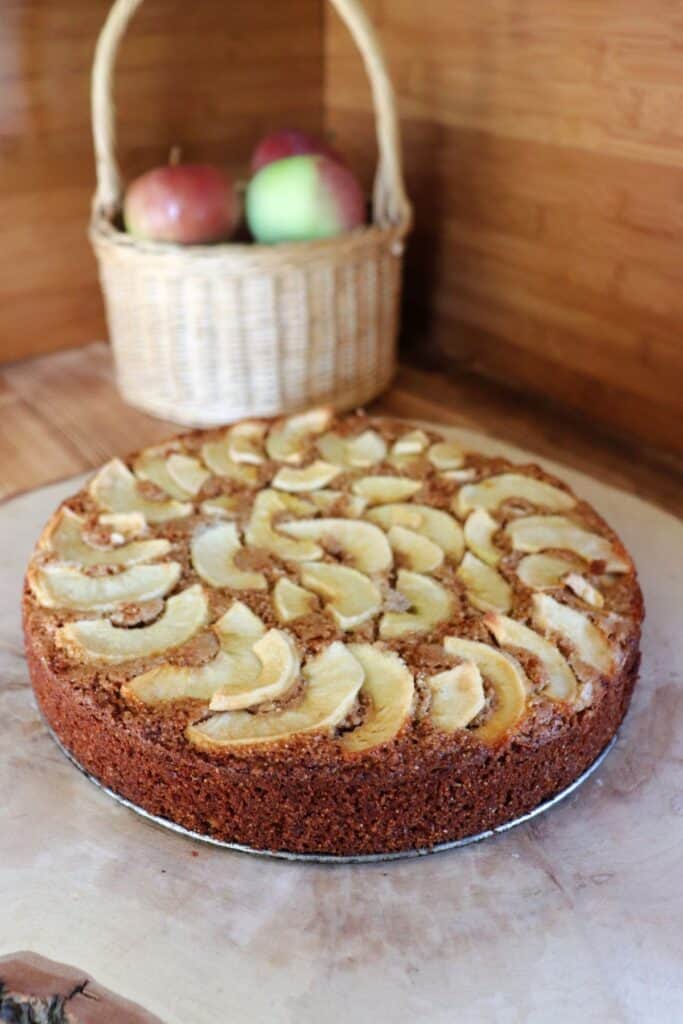 I used an all-in-one apple peeler, corer, slicer that is a hand crank machine for the cake but you can feel free to do it by hand or even the peels on if desired. For the topping feel free to slice apples as thick or thin as desired.
For the top of the cake, feel free to place apples in whatever pattern you desire – make it simple or fancy.
Treat For Browning
You'll need chopped apples for the cake base and sliced apples for the top of the cake. If desired, you can treat them to prevent browning as you get everything else ready.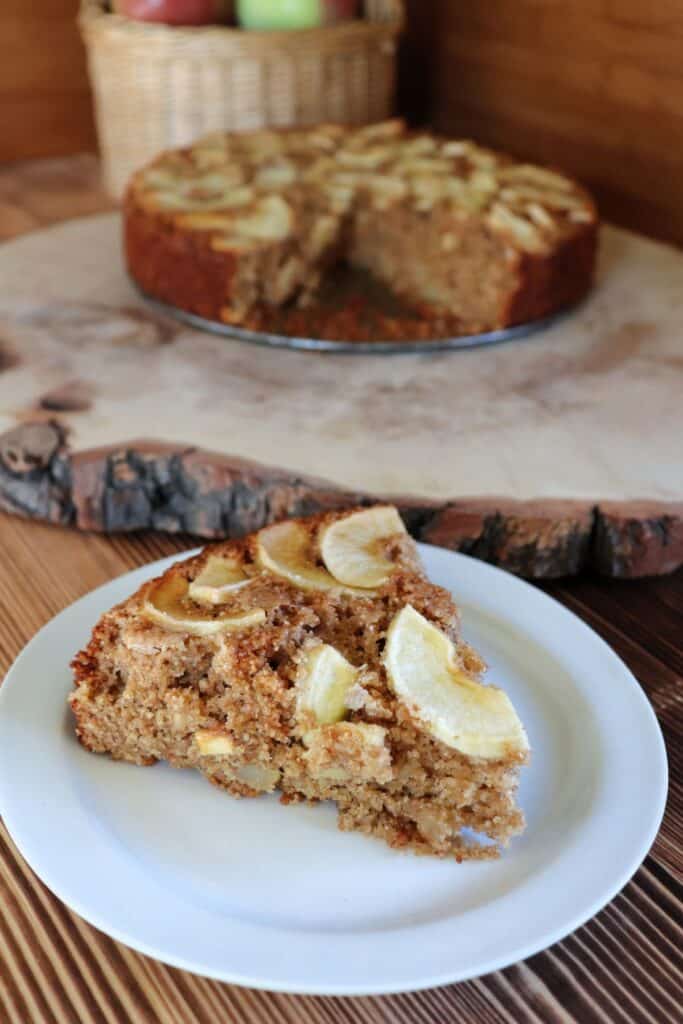 Simply combine 2 Tablespoons of lemon juice with 2 Cups of water in a large bowl. Place your chopped and sliced apples in the water and let them soak for 5 minutes. Drain well and proceed with the recipe.
This isn't necessary for the flavor of the cake but will keep the apples brighter if that's important.
How to Serve
Honestly, this cake doesn't need much of anything at all to make it an elegant apple dessert. Serve with a cup of coffee, hot cocoa, or tea for a simple after dinner treat.
A scoop of vanilla ice cream would be delightful. Top each slice with a dollop of whipped cream just before serving.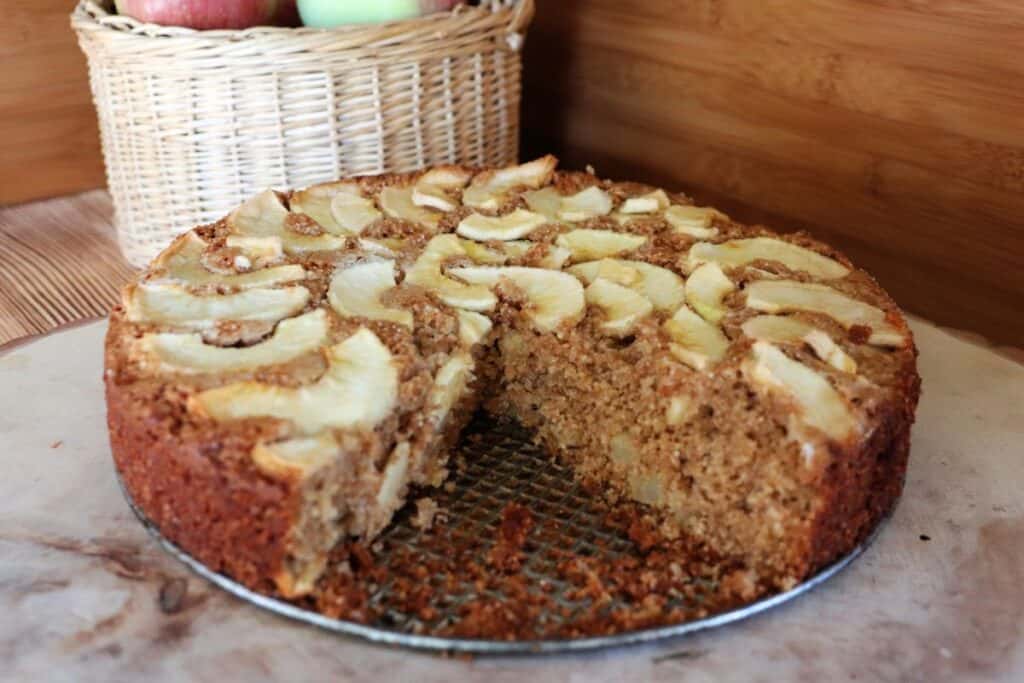 Dust the entire cake or slices with powdered sugar just prior to serving.
How to Store
Place any leftover cake in an airtight container where it should stay fresh for up to 4 days.
For longer term storage, you can freeze by wrapping in plastic wrap or storing in freezer safe bags or containers. Let frozen cake thaw at room temperature. Use up frozen cake within 6 months for best flavor.
Looking for more new recipes featuring crisp apples? Try these favorites from our archives:
Homemade is heart-made! Check out 60 fresh ideas for gifts from the kitchen to honor every occasion. Sharing is caring!
Yield: Serves 8-10
Apple Kuchen Recipe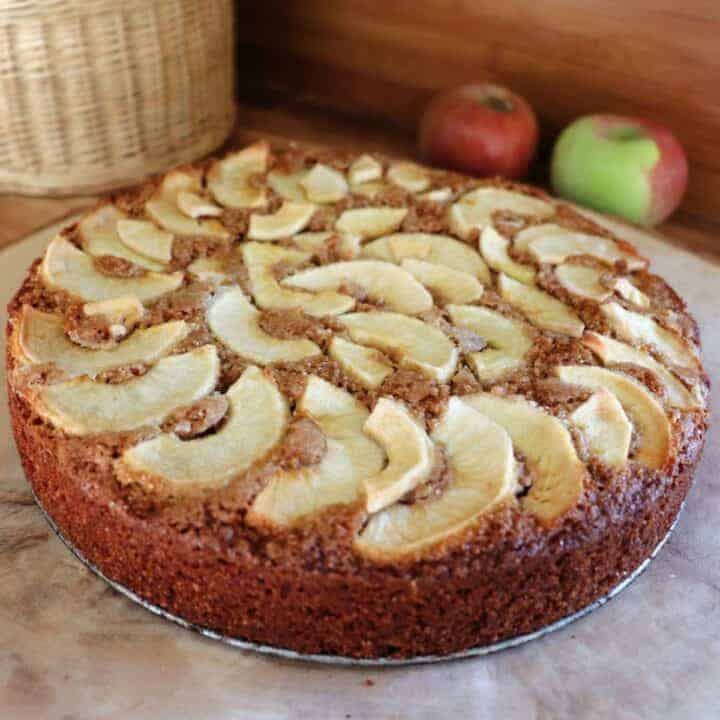 Try this easy whole wheat take on a traditional German apple cake recipe for a delightful fall dessert that is sure to please!
Total Time
1 hour
25 minutes
Ingredients
1 1/3 Cups Unbleached, All-Purpose Flour
1 1/3 Cups Whole Wheat Flour
1 Tablespoon Baking Powder
1 teaspoon Ground Cinnamon
1 teaspoon Ground Ginger
1/2 Cup Salted Butter, softened
1 Cup Brown Sugar, lightly packed
2 Eggs
1/4 Cup Milk
1 1/3 Cup Peeled & Chopped Apple
Topping
2 Cups Peeled Apple Slices
2 Tablespoons Sugar
Instructions
Preheat oven to 350 degrees Fahrenheit.
Grease a 9" springform pan.
In a medium bowl, combine the flours, baking powder, and cinnamon. Set aside.
In a large mixing bowl, cream together the butter and brown sugar until light and fluffy.
Add the eggs and milk and mix until thoroughly combined.
Slowly add the flour mixture to the butter mixture and beat until almost completely combined.
Fold the chopped apples into the cake batter and mix completely.
Spread the batter into the prepared pan evenly.
Place the apple slices on top of the batter in any pattern desired.
Sprinkle the top of the apples with the sugar evenly.
Bake in the preheated oven for 50 minutes to 1 hour or until inserted cake tester comes out clean.
Place pan on a wire rack and let cool for 10 minutes.
Run a knife around the outer edge of the cake and then loosen the springform rim.
Let the cake cool to room temperature prior to serving.
Nutrition Information:
Yield:
10
Serving Size:
1
Amount Per Serving:
Calories:

313
Total Fat:

11g
Saturated Fat:

6g
Trans Fat:

0g
Unsaturated Fat:

4g
Cholesterol:

62mg
Sodium:

243mg
Carbohydrates:

51g
Fiber:

3g
Sugar:

24g
Protein:

6g
We try our best but cannot guarantee that nutrition information is 100% accurate.