White chocolate lavender cookies are the perfect afternoon tea or after dinner dessert cookies.
These are lightly sweet and layered with floral and buttery flavor that is sure to delight.
Because these cookies can be made with fresh flowers or dried lavender, it's a great recipe to feature your edible flowers in any season.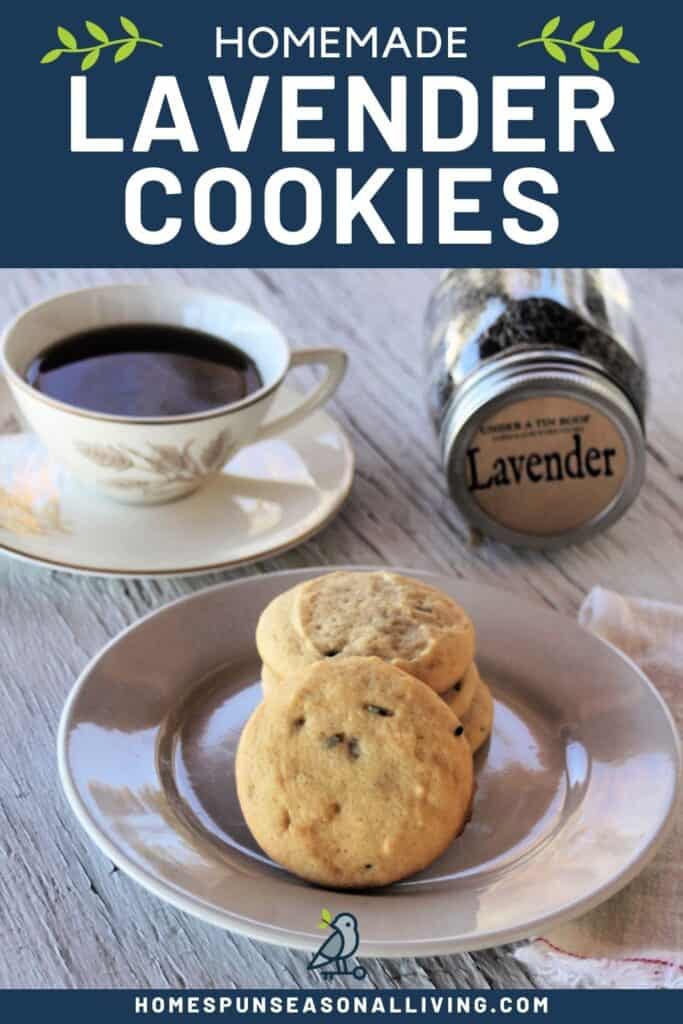 Layers of Lavender
The thing about lavender is that a little goes a long way. There's just enough here to give the cookies amazing floral flavors without overpowering the white chocolate.
The 'trick' to these homemade cookies is the layering of lavender taste throughout. While one could probably just toss some lavender buds into the dough and get flavorful results, the lavender flavor is more intense with some light infusing.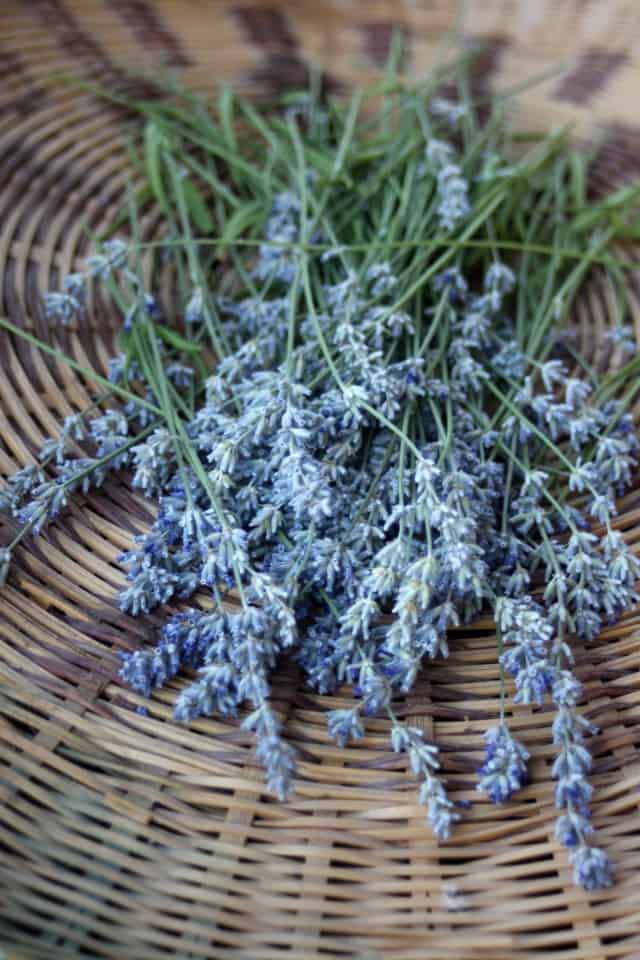 If you've got lavender plants growing in your garden, just go ahead and use that in these cookies. Don't stress about variety or type, use what you have on hand.
In the summer, use 3 Tablespoons of fresh lavender flowers for the 1 Tablespoon of dried called for in the original recipe.
If you're buying lavender look for something labeled culinary lavender in spice shops or health food stores as it will have the best flavor.
Additionally, add only 1 teaspoon of lavender buds to the creaming of the sugar, instead of the whole Tablespoon of lavender buds called for in the recipe.
Homemade Lavender Ingredients
If you happen to have some homemade lavender infused honey and/or infused lavender sugar. This is a great place to use those homemade pantry items.
Use lavender infused honey and skip the infusing of the lavender buds in plain honey called for in the recipe.
Substitute lavender infused sugar for the plain sugar.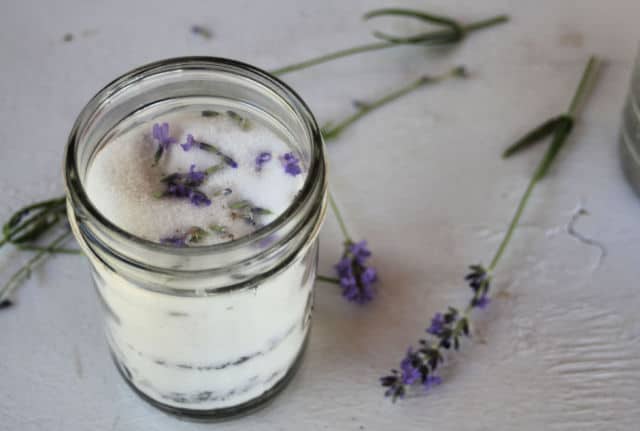 Additionally, add only 1 teaspoon of lavender buds to the creaming of the sugar, instead of the whole Tablespoon of lavender buds called for in the recipe.
Amazing Gift Idea
These white chocolate lavender cookies are an amazing gift idea. They'll tuck nicely in a basket with some tea for the friend who loves a traditional afternoon tea.
These buttery cookies are soft and the perfect addition to care packages for loved ones far away.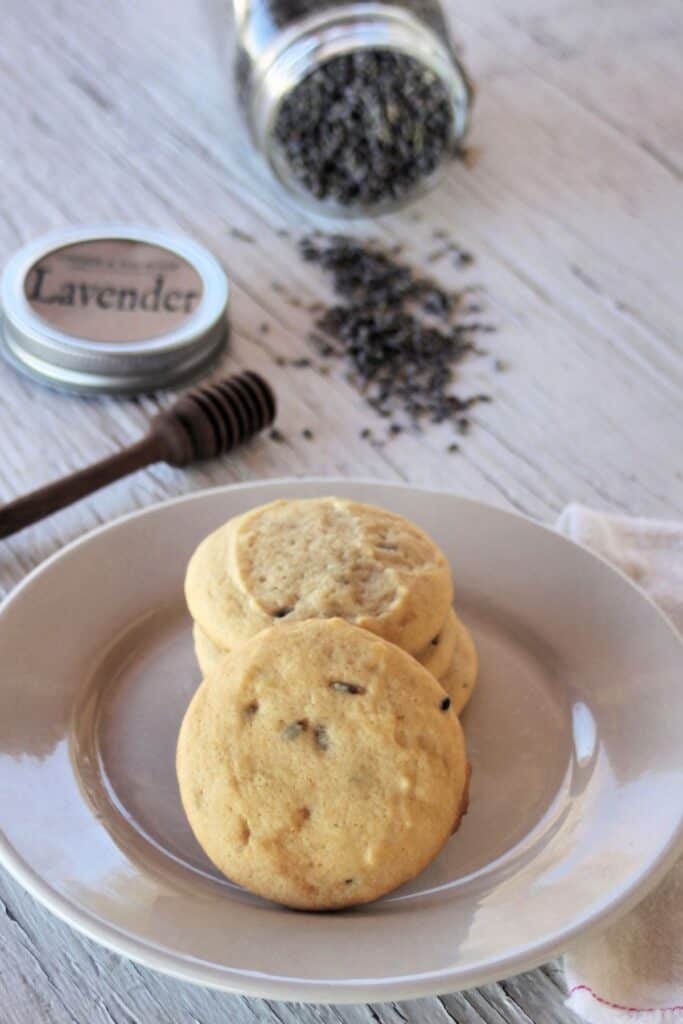 Options for Decorating
These are simple and soft cookie, perfect from the oven. However, there are some ways to 'fancy' them up if desired.
Frost the cookies with a simple chocolate or vanilla frosting. Or sandwich the cookies around the frosting.
Drizzle melted chocolate over the baked & cooled cookies.
A simple vanilla glaze sprinkled with fresh lavender buds would be lovely for immediate serving.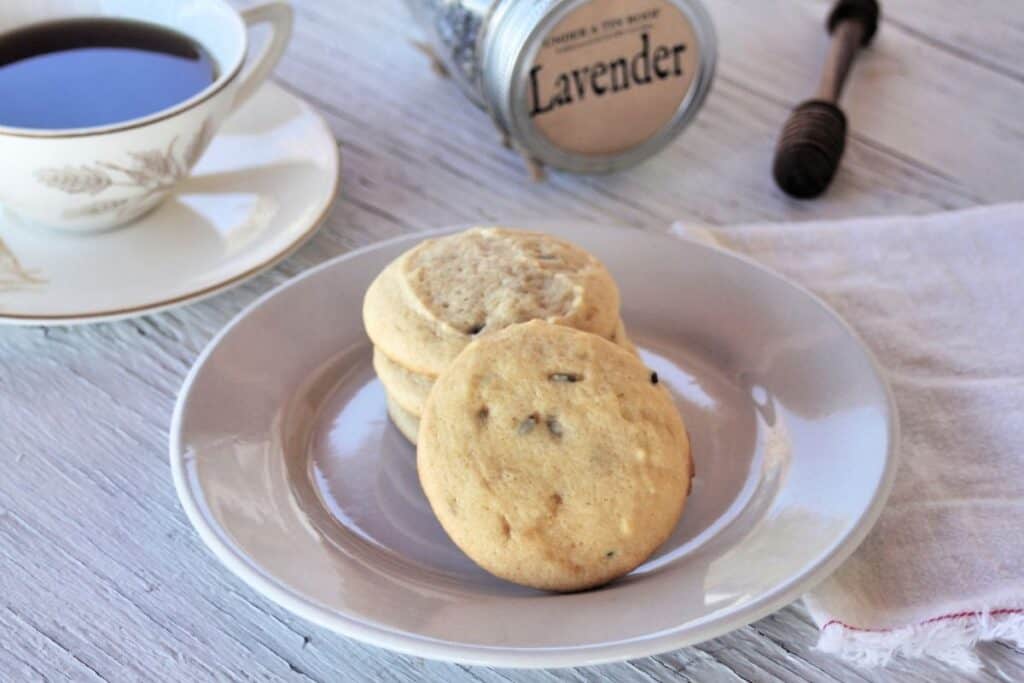 Freeze Extras
Because these cookies do freeze well, using these for ice cream sandwiches would be quite delightful.
Store baked and cooled cookies in an airtight container. Let thaw at room temperature.
Use up any frozen cookies within 6 months for best flavor.
Learn how to use homegrown herbs to take your cooking to the next level – from planning to harvesting with more than 50 original recipes to enjoy all year.
Yield: 3 1/2 Dozen
White Chocolate Lavender Cookies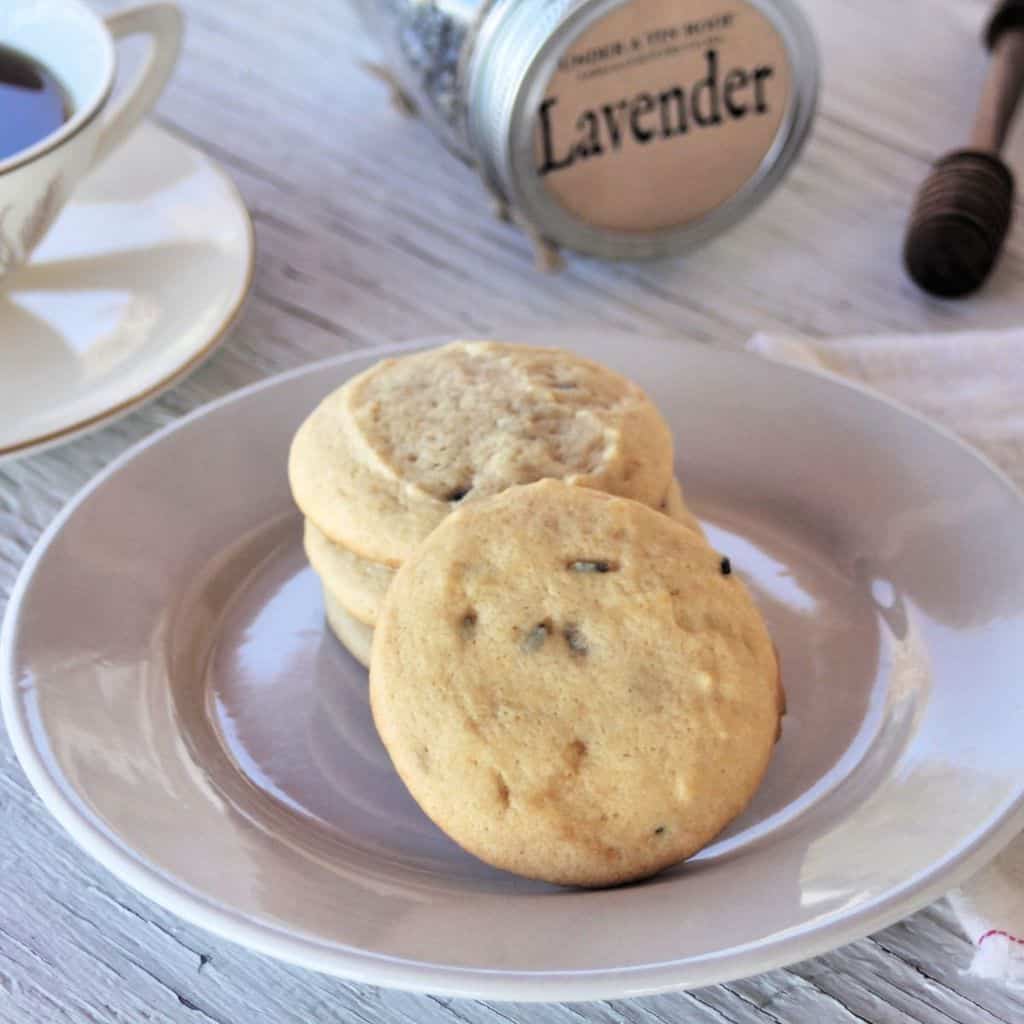 Soft and lightly sweet these white chocolate lavender cookies are perfectly at home with afternoon tea or after dinner dessert.
Ingredients
3/4 Cup Salted Butter, softened
2/3 Cup Sugar
1/3 Cup Honey
4 Ounces White Chocolate, chopped
3 Cups Unbleached All-Purpose Flour
1 teaspoon Baking Soda
3 Eggs
Instructions
Preheat oven to 325 degrees.
Line cookie sheets with parchment paper or silicone baking sheets.
In a medium bowl, whisk together the flour and baking soda. Set aside.
Put 1 inch of water in the bottom of a double boiler and bring to a boil.
In the top of the double boiler, combine 1 1/2 teaspoons of the lavender with the honey. Heat gently and stir occasionally for 10 minutes.
Add the white chocolate to the honey lavender mixture and heat until melted. Set aside.
In a large mixing bowl, cream butter, sugar, and remaining 1 1/2 teaspoons of lavender together until light and fluffy.
Add the eggs to the sugar mixture and beat well.
Pour the honey mixture into the butter mixture and mix completely.
Fold in the dry ingredients, mixing until everything is well combined.
Drop the cookie dough by tablespoons full onto prepared sheets. Give them about 2 inches between - they spread.
Bake for 10 minutes or until edges are a light brown color.
Remove to wire racks to cool completely.
Nutrition Information:
Yield:
36
Serving Size:
1 Cookie
Amount Per Serving:
Calories:

119
Total Fat:

5g
Saturated Fat:

3g
Trans Fat:

0g
Unsaturated Fat:

2g
Cholesterol:

26mg
Sodium:

75mg
Carbohydrates:

16g
Fiber:

0g
Sugar:

8g
Protein:

2g
We try our best but cannot guarantee that nutrition information is 100% accurate.