Lilacs are one of the most wonderful parts of spring. And yet, they are also so very fleeting. Thankfully, we can save them by making lilac sugar.
Lilac recipes are a great way to save those gorgeous edible blooms for later in the year. Lilacs have a delicate, floral flavor that adds dimension to many sweet treats.
This truly is as simple as laying sugar and lilac blossoms in a jar and letting it sit. It's not a complicated project and yet is so very glorious.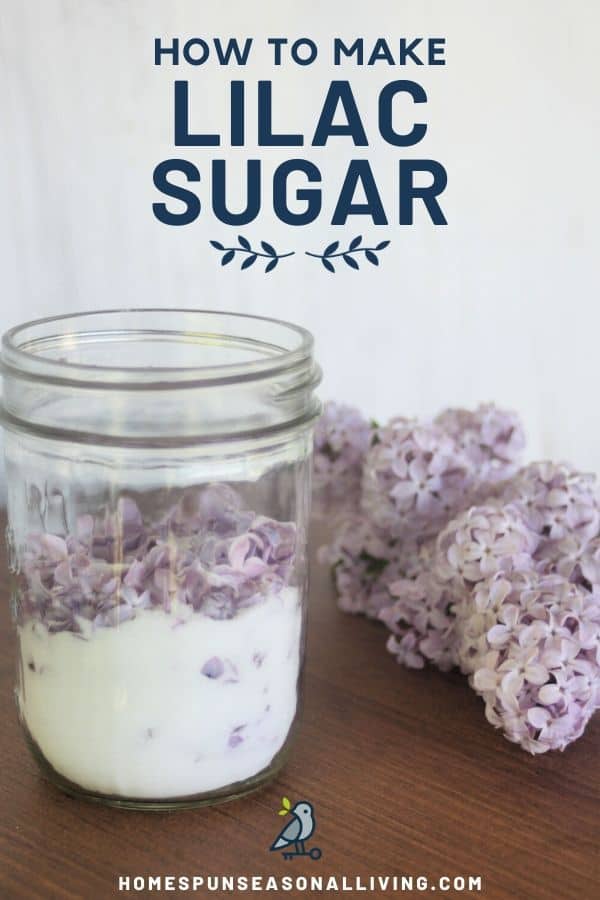 Use Only the Lilac Blossoms
The stems and leaves of lilacs tend to be tough and bitter. Use only the blossoms to make lilac sugar.
To do this, simply clip the blossoms from the stems with a pair of scissors. I simply do this standing over a bowl to catch the falling blossoms.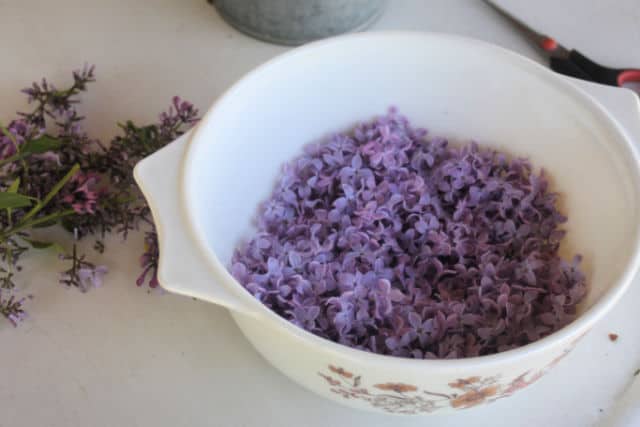 Admittedly this takes a little time but it's not hard or drudgery by any means. Do it outside on the porch and listen to the birds sing for an especially pleasant seasonal activity.
After clipping, do give the blossoms a quick rinse and spin through the salad spinner. This will remove any dirt and bugs.
After rinsing, let them sit on a towel for an hour or more to remove any surface water before proceeding. Extra water in the sugar is not a good thing so do make sure they are dry before adding the layering.
Tips for Making Lilac Sugar
Shake the jar of sugar every day for a week. Every day.
Skipping this means that the jar of sugar will likely become one solid mass as the sugar pulls the moisture from the lilac blossoms and hardens.
After the blossoms dry (usually 7 days at most), they are essentially preserved, candied. One could strain those bits of flowers from the sugar by pressing it all through a fine mesh sieve.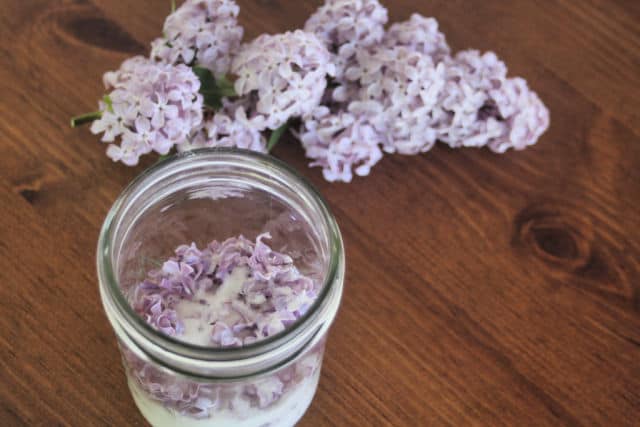 Or one could leave the blossoms in the sugar for a fun bit of color in baked goods.
Do know that the color will fade as the blossoms sit in the sugar. They will not be that vibrant purple color after a week – that doesn't mean anything bad is happening, it's just part of the natural process.
How to Use Lilac Sugar
In short, use lilac sugar anywhere you'd use plain sugar for a light lilac flavor. Simply replace granulated sugar with lilac sugar at a 1:1 ratio in baked goods like cookies or cakes.
Don't forget to add it to pancakes or waffles for a floral breakfast.
Sprinkle the lilac sugar and bits of sugared and dehydrated lilac blossoms on the tops of cookies or muffins for a floral infused sweet crunch.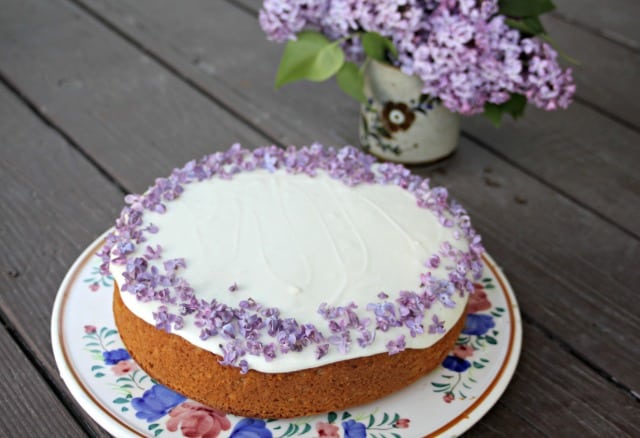 Use a little of it to sweeten tea for a floral flavor that is sure to delight.
Make lilac hot cocoa by using lilac sugar instead of plain. Trust me, this is such a delight on a winter night.
Dissolve the sugar in hot water for a simple syrup to flavor cocktails and mocktails.
An Amazing Floral Gift
Sugar lasts a long time. Which means this can easily make for a great gift.
Make a big batch of lilac sugar this spring. Then divide it all into smaller, decorative jars and give it away during the holidays or for birthdays all year long.
More Recipes with Lilac
Try these tasty recipes for more ways to eat lilacs in season:
Yield: Approximately 1 1/4 Cups
How to Make Lilac Sugar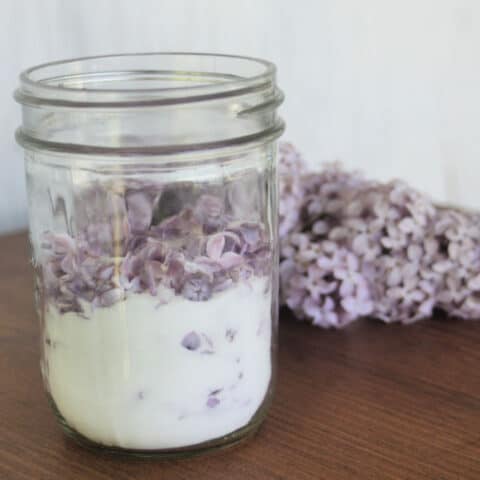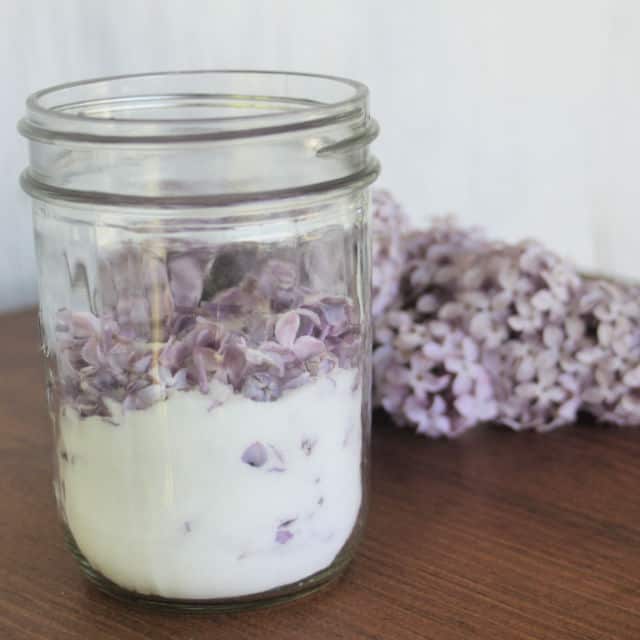 Make lilac sugar for a floral infused sweetener to add to drinks, baked goods, and more.
Ingredients
3/4 Cup Granulated Sugar
1/4 Cup Lilac Blossoms
Instructions
Put a couple of tablespoons of sugar in the bottom of a jar.
Layer a tablespoon of lilac blossoms on top of the sugar.
Repeat the layers, ending with sugar as the top layer.
Put a lid on the jar and shake the contents.
Shake the jar every day for a week.
At the end of the week the flowers should be dried and the sugar infused.
Strain the blossoms from the sugar if desired.
Recommended Products
As an Amazon Associate and member of other affiliate programs, I earn from qualifying purchases.
Nutrition Information:
Yield:
20
Serving Size:
1 Tablespoon
Amount Per Serving:
Calories:

29
Total Fat:

0g
Saturated Fat:

0g
Trans Fat:

0g
Unsaturated Fat:

0g
Cholesterol:

0mg
Sodium:

0mg
Carbohydrates:

8g
Fiber:

0g
Sugar:

7g
Protein:

0g
We try our best but cannot guarantee that nutrition information is 100% accurate.