After a long Montana winter, I get very excited for my first foraging adventures and the food that comes from them. Food like these dandelion muffins that are oh-so easy to whip up and most importantly delicious.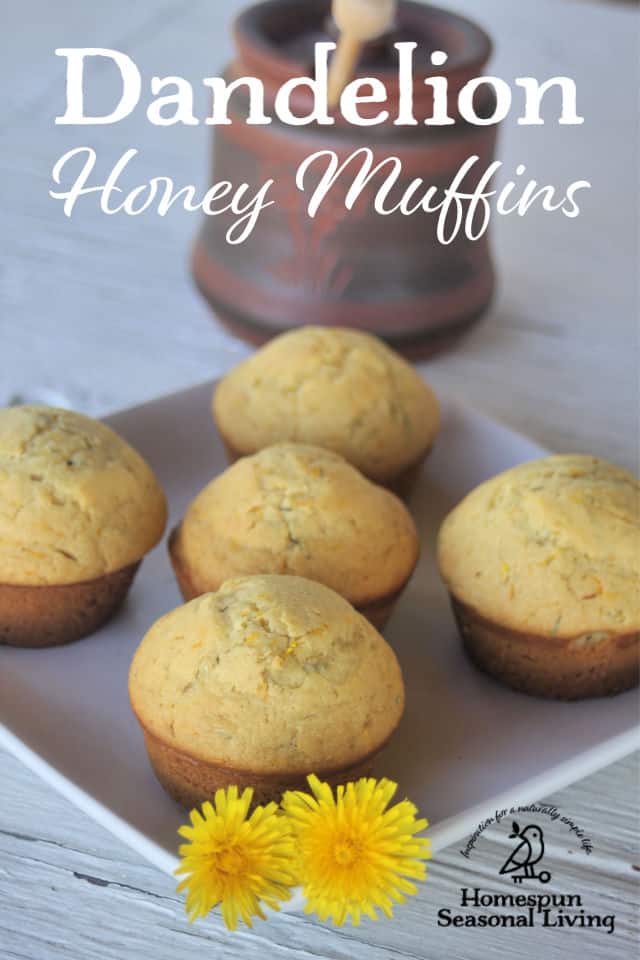 Only Dandelion Petals
For these muffins, only the dandelion petals are necessary. The bits of green can be a touch a bit. Clip the petals from the flower with a pair of scissors. A few bits of green won't hurt anything but try to keep it to a minimum.
Rinsing the Petals
Give these clipped petals a very light spray of water in a fine mesh sieve to remove any bits of dust or dirt. Then let them dry a bit before adding to the batter.
Try to use as small amount of water as possible.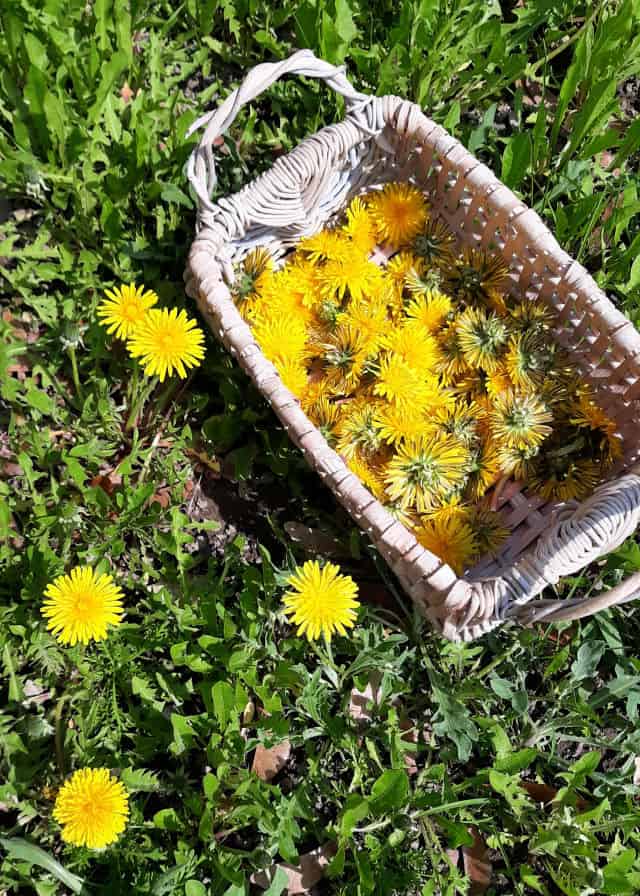 If you wash the whole flower head before snipping the petals, it is going to be a bit of a hassle to get the petals needed. Trust me, I know.
I wash my dandelion petals because I don't like dirt or bugs or perhaps cat or some other animal urine in my food. I've read about folks just putting the dandelion petals unwashed into food. It would probably be just fine, but giving them a quick rinse and dry makes me feel a little better.
Packed with Honey Flavor
Dandelion blossoms inherently taste like honey and to make sure that delicate flavor isn't lost, honey is the only sweetener added to these muffins.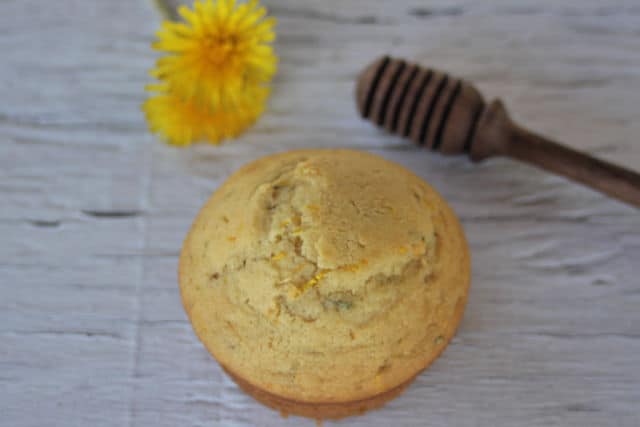 Freeze Extras
These muffins freeze extremely well. Simply put them in an airtight container after they've cooled and freeze.
They make for quick grab and go breakfasts. Pull one from the freezer in the morning and tuck into a lunchbox. It'll likely be thaw and perfect by noon.
Options for Heartier Muffins
Want to bulk up the muffins for more of meal? Consider adding some extras to the batter. Simply fold these options in with the dandelion petals.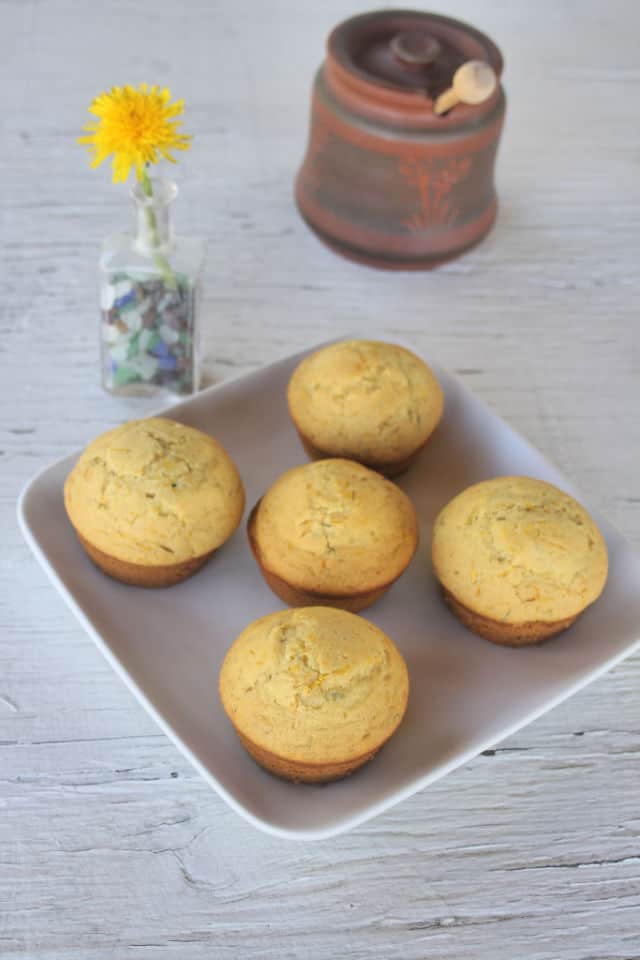 Bulking up the batter might result in slightly more than 12 muffins as well.
A cup of dried fruit, like raisins or cranberries. Chopped dates or figs would be excellent as well.
Give them an extra kick of protein by adding in a cup of chopped nuts or even seeds.
Make them a little sweeter by adding 1/2 cup of shredded, unsweetened coconut.
For the fans that simply want chocolate, toss in a cup of dark chocolate chips.
Vegan Options
Want to make these dandelion muffins for vegan friends or family? Make these changes to the recipe as written:
Maple syrup could be substituted for the honey. The flavor will be different but still delightful.
Use an egg replacement, like flax seeds.
Substitute a milk alternative for the buttermilk.
Use melted coconut oil or even olive oil for the melted butter. Heck, even applesauce would work.
Add 1/2 teaspoon salt to account for the salted butter.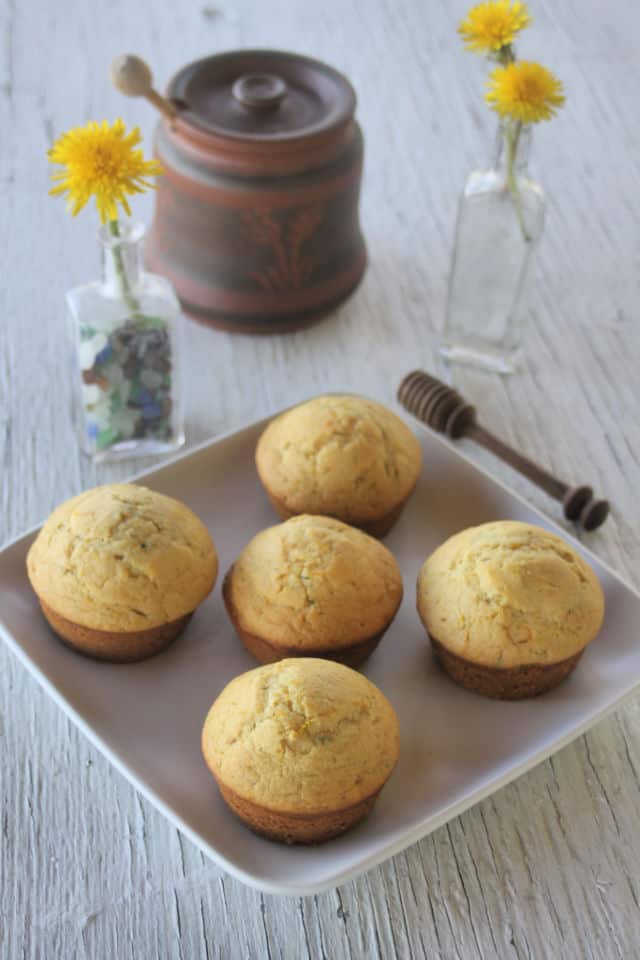 Other Dandelion Petal Recipes
Let's face it, dandelions are productive little buggers. Yes, we should leave some for the bees but they grow fast so feel free to use some up in these tasty recipes:
Dandelion bread – a yeasted bread that is lightly sweet and makes for a perfect toast to go with your homemade jam.
Dandelion cookies – these peanut butter cookies are sure to delight the kid in all of us.
Yield: 12 Muffins
Dandelion Muffins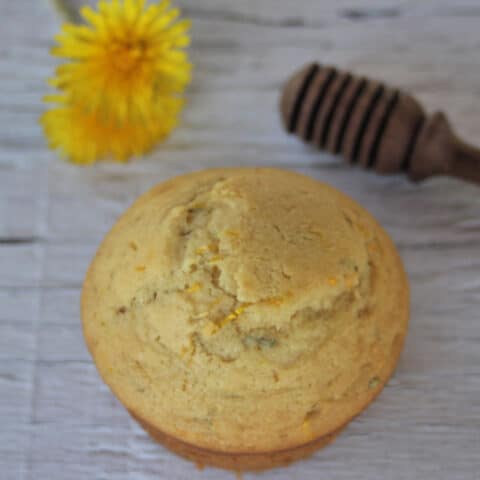 Light, airy, and full of honey flavor dandelion muffins make the most of foraged flowers and simple ingredients for an easy and delightful breakfast.
Ingredients
2 Cups Unbleached, All Purpose Flour
2 teaspoons Baking Powder
1 teaspoon Baking Soda
1 Cup Buttermilk
1/3 Cup Honey
2 Eggs
1/2 Cup Salted Butter, melted
1/2 Cup Dandelion Petals (about 1/2 ounce)
Instructions
Preheat oven to 375 degrees Fahrenheit. Grease a muffin tin.
Whisk together the flour, baking powder, and baking soda in a large bowl. Set aside.
Whisk together the honey, milk, eggs, and melted butter until emulsified.
Pour the wet ingredients into the dry and mix well.
Fold in the dandelion petals.
Divide the batter equally among 12 muffin cups. The cups will be about 2/3 full.
Bake in the preheated oven for 15 minutes. An inserted toothpick will come out clean and the edges will be browned.
Cool in pan for 5 minutes.
Remove from pan and allow to cool on wire racks.
Nutrition Information:
Yield:
12
Serving Size:
1 muffin
Amount Per Serving:
Calories:

192
Total Fat:

9g
Saturated Fat:

5g
Trans Fat:

0g
Unsaturated Fat:

3g
Cholesterol:

52mg
Sodium:

298mg
Carbohydrates:

25g
Fiber:

1g
Sugar:

9g
Protein:

4g
We try our best but cannot guarantee that nutrition information is 100% accurate.