This dandelion bread is a simple recipe and yet full of flavor and a great way to get some experience with foraged food recipes.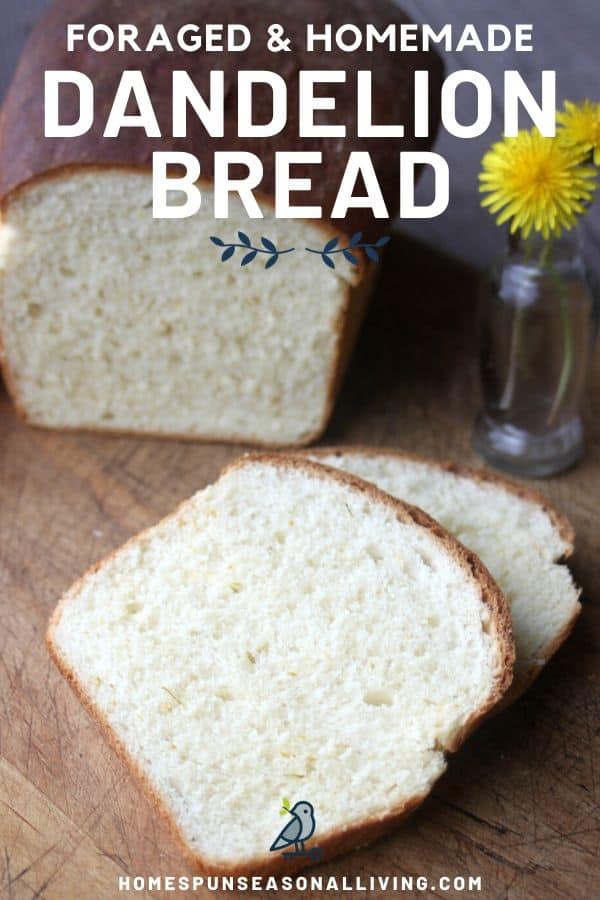 When I see a carpet of dandelions, I am immediately grateful. Grateful for the beauty, the food (for us and for the bees), and the medicine they provide our home. Their mild flavor gives the creative cook ample opportunity to experiment and play in the kitchen.
Gather Dandelions
First, forage from unsprayed areas. No need to bring herbicides into homemade bread.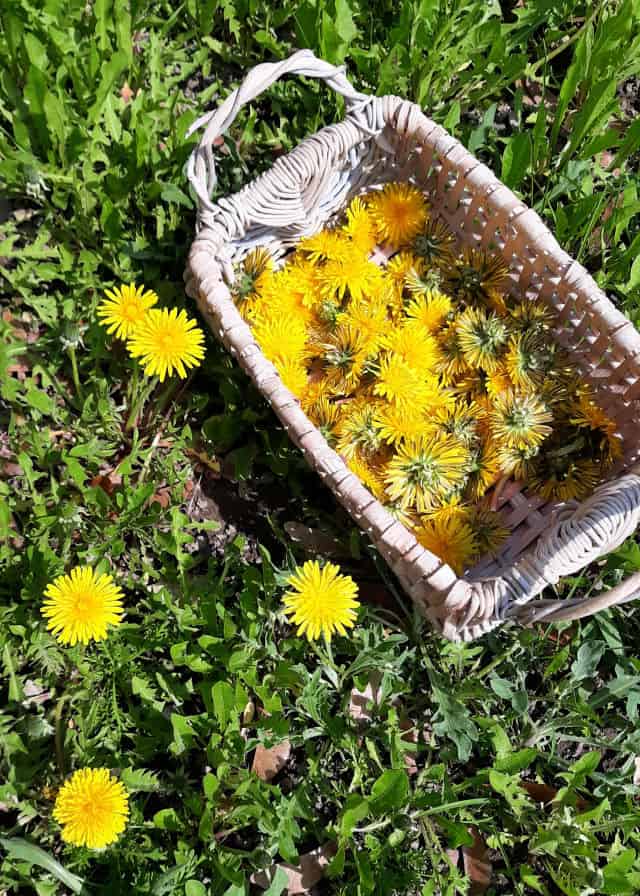 Second, harvest the blooms when they're fully and gloriously open. Then give those dandelions a wash to get rid of any grit, bugs, and other less than desirable items.
Snip the Petals
For this dandelion bread recipe, only the yellow petals are needed. Skip the green bits as they can be on the bitter side. Simply hold the dandelion by the stem and snip the petals off into a bowl. A tiny bit of the the green bits won't hurt anything but try to get mostly just the yellow petals for optimum flavor.
Mild Flavor
The dandelion petals will give the bread a mild honey flavor, which is heightened with actual honey in the dough. The petals do show in the final bread but no one is going to eat this bread and immediately guess it's made with dandelions.
Because the flavor is mild, choose a mild flavored flour. Rye, for example, will completely overpower the dandelion flavor. Honestly, go for the all-purpose or plain old, white bread flour here. It's not as healthy but this doesn't have to be a regular part of the diet, either. Consider it a treat.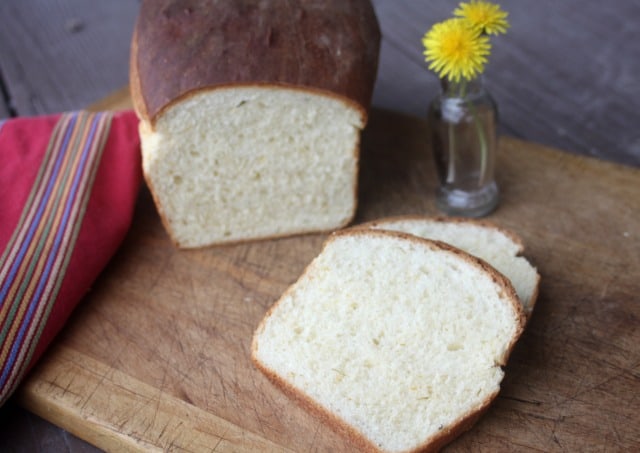 How to Use Dandelion Bread
This is a soft bread great for simple sandwiches – think peanut butter and homemade jam. It's not likely going to hold up to a hearty Reuben.
This does toast up delightfully making it ideal for breakfast with some eggs or simply slathered with butter for a quick snack.
It would also, likely make great French toast but I haven't tried it yet.
Yield: 2 Loaves
Dandelion Bread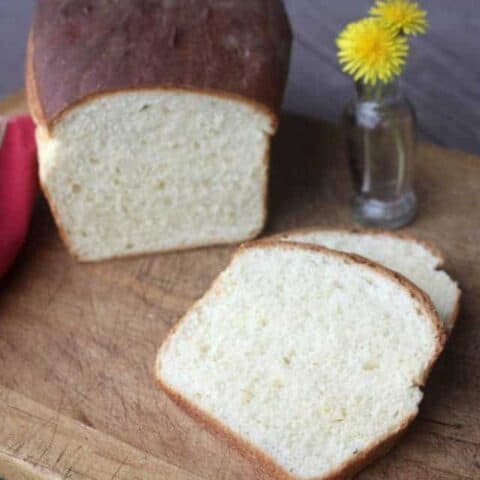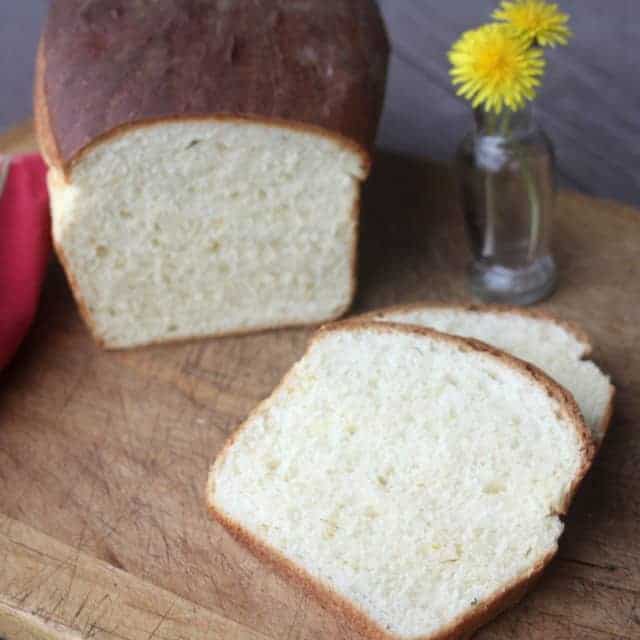 Forage the backyard weed and make some homemade dandelion bread that is perfect with breakfast eggs or in the lunch box peanut butter and jelly sandwich.
Ingredients
⅓ Cup Dandelion Petals
1 Cup Milk
1 Tablespoon Dry Active Yeast (1 packet)
½ Cup Warm Water
¼ Cup Honey
2 teaspoons Salt
½ Cup Butter, softened
2 Eggs
5 Cups All-Purpose Flour (more for kneading)
Instructions
Put the dandelion petals and milk in a small saucepan. Heat the milk just until it scalds. Remove from heat. Let cool to about 110 degrees Fahrenheit.
In a large bowl, combine the water, honey, yeast, and milk. Let sit until foamy.
Add the butter and eggs to the yeast mixture. Beat well.
Add 1 cup of flour and the salt. Continue adding flour until a soft dough forms. Turn out onto a floured counter and knead until soft and elastic.
Put in an oiled bowl and turn to coat. Cover with a towel and let rise until doubled (60-90 minutes).
Grease 2 bread pans.
Punch down dough and knead again, pushing out air bubbles.
Divide dough in half.
Form 2 loaves and place the dough into the greased bread pans.
Let rise until doubled (about 30-60 minutes).
Preheat oven to 425 degrees.
Bake bread in preheated oven for 25-30 minutes or until golden brown and sounds hollow when tapped with a knuckle.
Let cool completely on a wire rack before slicing.
Recommended Products
As an Amazon Associate and member of other affiliate programs, I earn from qualifying purchases.
Nutrition Information:
Yield:
26
Serving Size:
1 Slice
Amount Per Serving:
Calories:

141
Total Fat:

4g
Saturated Fat:

3g
Trans Fat:

0g
Unsaturated Fat:

1g
Cholesterol:

24mg
Sodium:

202mg
Carbohydrates:

22g
Fiber:

1g
Sugar:

3g
Protein:

4g
We try our best but cannot guarantee that nutrition information is 100% accurate.