The lilacs are just beginning to bloom here in northwest Montana. It's a lovely sight and smell and a welcome sign of the season's change. Those edible flowers are also permission to get creative in the kitchen. Those lovely blooms add a light floral flavor and beautiful decorative touch to cakes which is exactly how this lilac honey cake was born.
An elderly neighbor of mine took a fall during a hike, which has required surgery. She's left using a walker for the time being and well quite miserable. She loves the lilacs as much as I do, both for looking at and for eating. While I know a cake won't cure what ails her, I thought a lilac cake might just lift her spirits.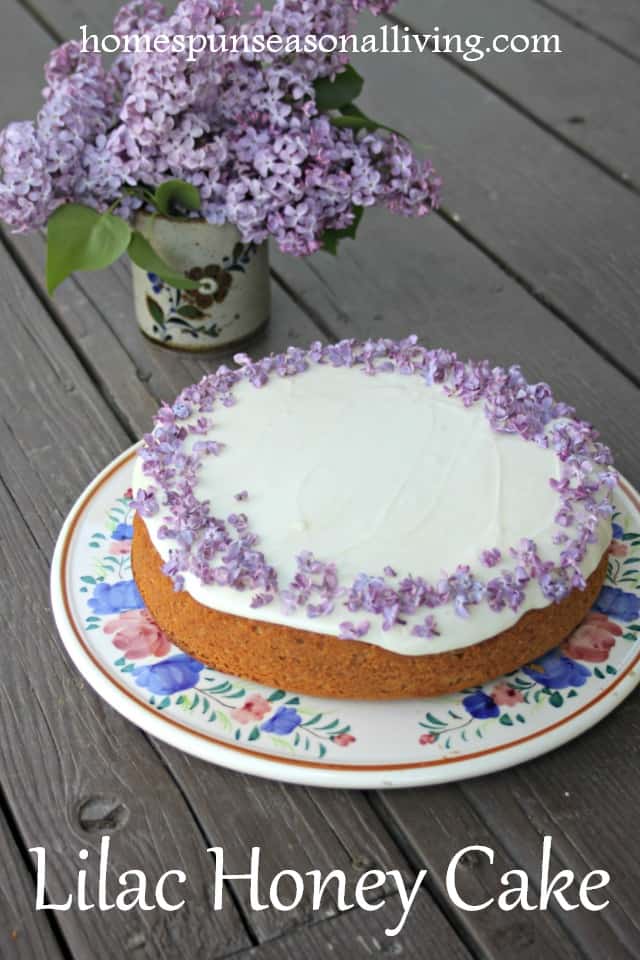 Cookbook Inspiration
In looking for inspiration, I turned to my copy of Cake Stand by Quinn Veon. This lovely cookbook features recipes using produce from the garden or farmer's market. There wasn't a specific lilac cake but I knew I could adapt something to fit my specific needs. Which is one of the greatest things about Cake Stand – don't have kale for the chocolate kale cake, substitute spinach. No blueberries, try raspberries instead. Using the garden for dessert and sharing is always a splendid idea, in my opinion. I chose the Milk & Honey Cupcakes and made just a few modifications for my lilac honey cake.
[grwebform url="https://app.getresponse.com/view_webform_v2.js?u=BsyZQ&webforms_id=16713504″ css="on" center="off" center_margin="200″/]
Simple Modifications
The milk & honey cupcakes recipe was obviously for cupcakes. I wanted to make a cake and figured I could just watch the baking time more closely. There is more sugar and honey in the original recipe. I cut both back figuring it would be more appropriate for my elderly neighbor's palate – had I been making these for someone different I would have left the original amounts. I added 1/2 cup of tightly packed lilac blossoms to the batter for flavor, the color mostly disappears in the cake itself during baking.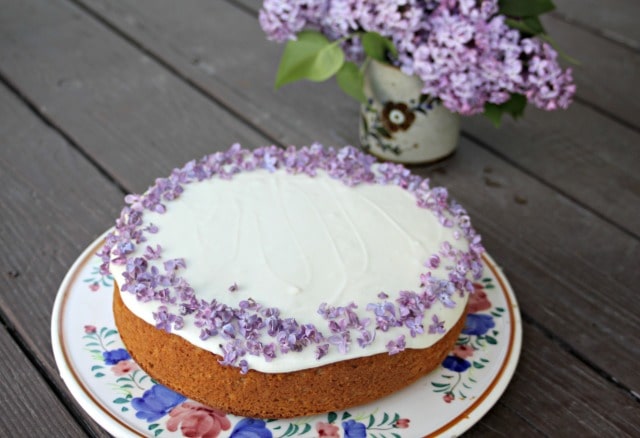 Frosting & Decorating
In Cake Stand, the cupcakes come with the suggestion of using the author's Sweet Honey Frosting. That frosting is delicious but requires cream cheese and I didn't have any around. I chose to go with a simple vanilla buttercream but most any frosting would be delicious, use your favorite. I only frosted the top for simplicity sake but frost the sides, too, if desired. For decorating, I simply sprinkled some lilac blossoms around the edge and love how it turned out.
Yield: 6 Large Servings
Lilac Honey Cake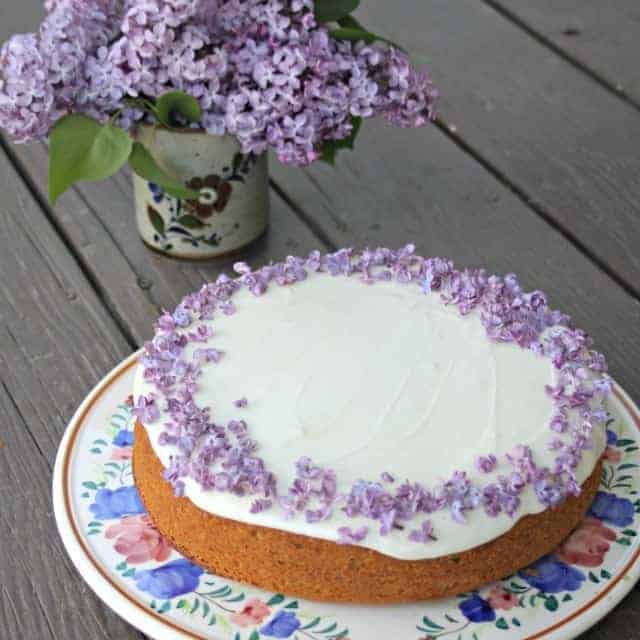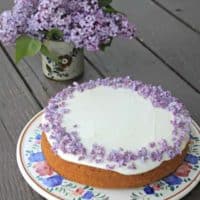 Make the most of beautiful seasonal flowers and delicious honey with this simple to bake and utterly delightful lilac honey cake.
Ingredients
½ Cup Salted Butter, softened
¼ Cup Sugar
½ Cup Lilac Blossoms, packed tightly
2 Eggs
2 teaspoons Vanilla
2 ¼ Cups Unbleached, All-Purpose Flour
1 Tablespoon Baking Powder
½ Cup Buttermilk
½ Cup Honey
Instructions
Preheat oven to 350 degrees. Grease a 9" round cake pan.
Whisk together the flour and baking powder, set aside.
Whisk together the honey and buttermilk, set aside.
Cream together the butter, sugar, and lilac blossoms until light and fluffy.
Add the eggs and vanilla extract, beating well.
Alternate adding the flour mixture with the buttermilk mixture, beating well after each addition.
Pour the batter into the prepared cake pan.
Bake in the preheated oven for 35-40 minutes or until an inserted toothpick comes out clean.
Cool in pan for 10 minutes before inverting to a cake plate to cool completely.
Frost as desired.