Canning is a big part of my homespun seasonal lifestyle. Eating healthy is also a big part of my lifestyle. Canning and healthy eating habits can go together. While some sugar is tasty and can be a part of a well-balanced diet, it doesn't have to be added to every jar in the pantry. Not only is it possible to can without added sugar, it's downright easy and tasty, too.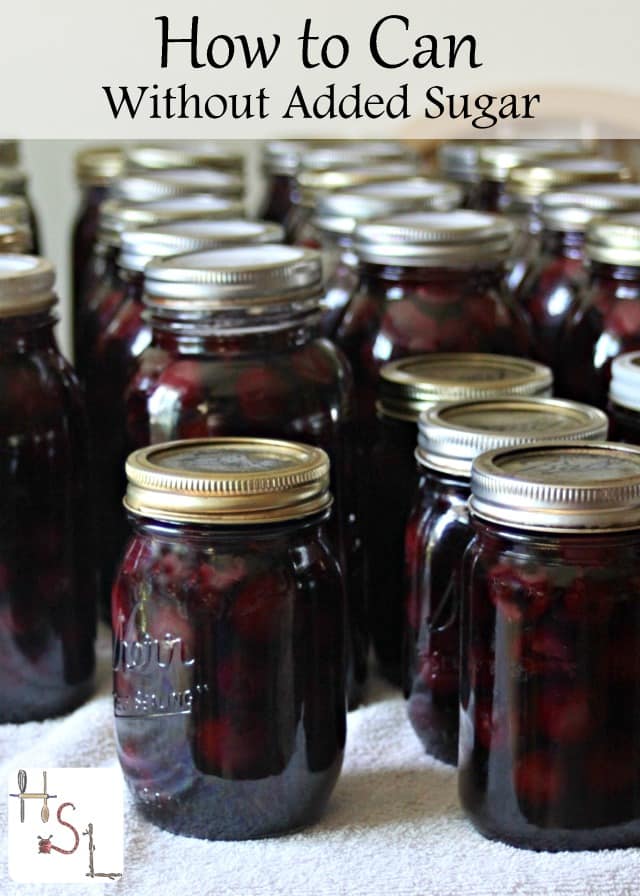 While sugar is a preservative when canning it isn't necessary. The canning process does the preservation not the sugar, so it's totally safe to skip added sugar.
No-Sugar Fruit Spreads
Every canner knows sugar helps jams and jellies gel. This is a scientific fact. However, turning fruit or fruit juices into gelled, delicious fruit spreads can be done with Pomona's Pectin. When using Pomona's Pectin follow their instructions for canning times as the lack of sugar can affect the time jams and jellies need to be in the canner.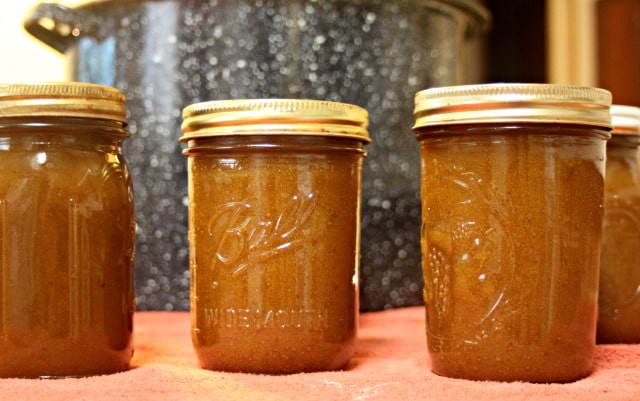 Forget worries about gel point and make fruit butters instead. Fruit butters are made from pureed fruit that is cooked slowly until thick. These are great ways to simply let the fruit flavors and natural sugars shine. For safety sake, rather than canning no-sugar fruit butters for 10 minutes (like most sugar loaded recipes suggest), can them for the length of time recommended for the particular fruit.
Can Fruit in Juice
Don't add sugar syrup to those jars sweet cherries, quartered peaches, or chopped pears. Instead, fill the jars with fruit juice as the liquid. Unsweetened apple juice works great for most fruits and is often a very frugal choice. It's not necessary to match the juice though it can be done. Follow the canning times recommended for canning the particular fruit as usual.
Can Fruit in Water
Skip the sugar syrup or fruit juice and use plain water as the canning liquid. This method can sometimes make softer fruit in my experience but it is completely doable. Follow the canning times recommended for canning the particular fruit as usual.
If you choose to do this method, you will not likely win a blue ribbon at the fair – if that's important to you.
Skip Sugar in Savory Recipes
I've never understood why pizza sauce needs to have 3 cups of sugar to 8 cups of tomato sauce. While a touch of honey can sometimes mellow out tart tomatoes, it isn't necessary. There's no reason to add sugar to your soups or stews unless it's a personal preference. Even if the tested and approved recipe has sugar, skip it but can for the appropriate time and/or pressure.
Unsweetened Fruit Sauces
Again, the sugar doesn't do the preservation work, the canning does so skip added sugar in homemade fruit sauces, like applesauce. No added sugar to the applesauce makes for a healthy snack and something that can also easily be added to many baked goods as a replacement for oil.
As the canning season kicks into high gear remember to fill that pantry with foods you'll enjoy eating and keep it healthy too. Can without added sugar and have homemade foods that you can feel good about serving and eating in the months to come.