Zucchini calzones are a great way to freeze zucchini when the freezer is already stocked with all the shreds you need for baking bread.
These simple savory pastries are a delicious and hearty vegetarian main dish.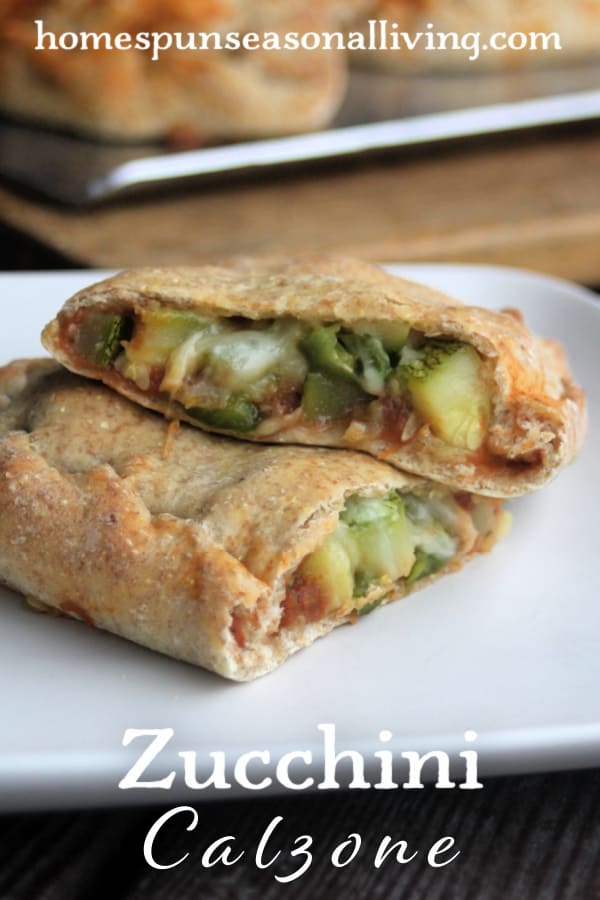 Basic Pizza Dough
I've included a rather simple, basic pizza dough in the recipe. However, feel free to use your favorite pizza dough recipe instead. You want about 1 1/2 pounds of raw dough to make 6 calzones.
Feel free to substitute all purpose flour for the bread flour if desired. Use more or less whole wheat flour if desired, just use more or less bread flour to make up for it.
Tomato Sauce
I used my roasted tomato pizza sauce in these calzones. However, most any thick tomato sauce could be used. Use whatever you have on hand.
I didn't test it here but I think pesto would also work instead of tomato sauce, if desired.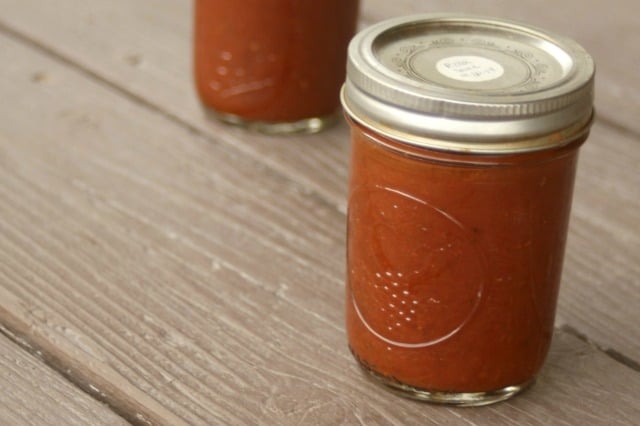 Cheese Choices
The recipe calls for mozzarella cheese. However, that isn't the only choice. Use cheddar, provolone, parmesan, etc. Truly use your favorite, or a combination of cheeses for extra flavor.
The cheese could be skipped to keep the recipe vegan, if desired.
Cooking the Zucchini
Do cook the zucchini well. The trick to avoiding soggy calzones is by cooking the zucchini long enough to cook out much of the water. Don't cheat this step.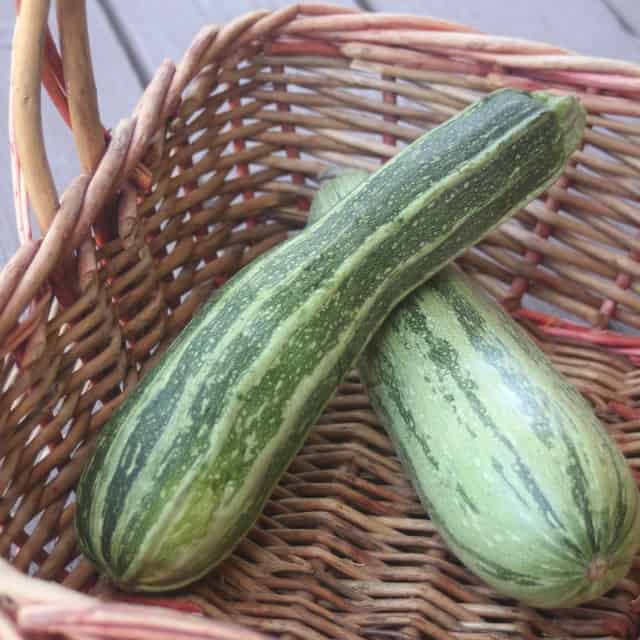 How to Serve
Use zucchini calzones as the main dish serving them alongside a green salad for a simple, flavorful meal.
You could also serve it alongside some meatballs in tomato sauce as a bigger meal for the meat eaters.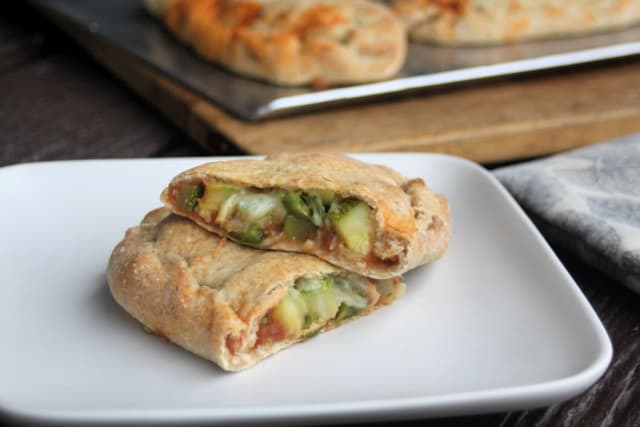 Freezing Zucchini Calzones
Once the calzones have baked and cooled completely. Wrap each calzone individually. Then stack wrapped calzones inside freezer bags.
Use up frozen calzones within 6 months for best flavor and to avoid freezer burn.
How to Reheat
Place frozen calzones onto cookie sheets. Bake in a preheated 400 degree oven for 20 to 30 minutes or until heated through.
Alternatively, let thaw for several hours before cooking on baking sheets. Again, reheat in a preheated 400 degree oven for 10 to 15 minutes or until heated through.
Yield: 6 Calzones
Zucchini Calzone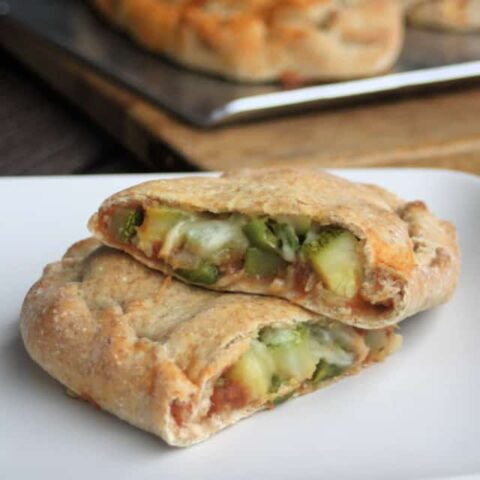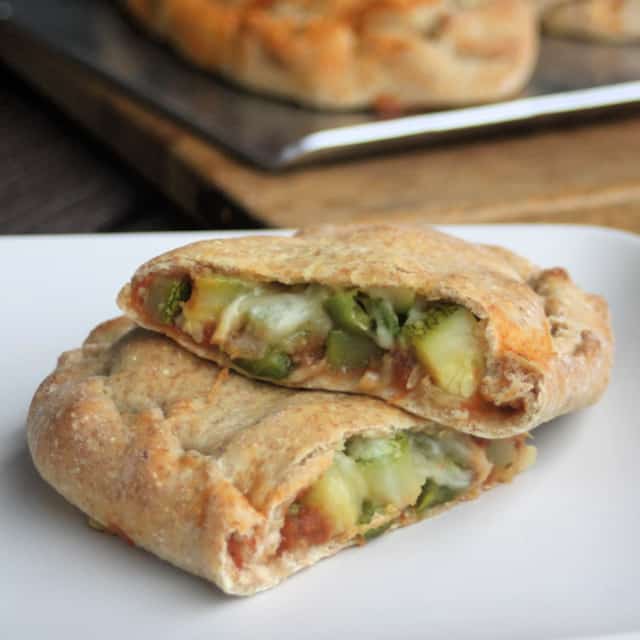 A new and tasty way to use up and freeze garden zucchini for a delicious main dish.
Total Time
1 hour
40 minutes
Ingredients
Calzone Dough
1 1/2 teaspoons Dry, Active Yeast
2 teaspoons Sugar
1 Cup Warm Water
1 Tablespoon Olive Oil
2 teaspoons Salt
1 Cup Whole Wheat Flour
1/4 Cup Cornmeal
2 Cups Bread Flour
Zucchini Filling
1 1/2 Pounds Zucchini, diced
1 Cup Bell Peppers, chopped
1 Cup Onions, Chopped
6 Cloves Garlic, Mined
1 Tablespoon Olive Oil
1 teaspoon Dried Oregano
Salt & Pepper to Taste
1 Cup Roasted Tomato Pizza Sauce
1 1/2 Cups Mozzarella Cheese, shredded
Instructions
Make the Dough
Whisk together the yeast, sugar, and warm water. Let sit until foamy about 5 minutes.
Add the olive oil, salt, cornmeal, wheat flour, and 1 1/2 cups bread flour. Mix well, until a dough begins to form. Add more bread flour if necessary.
Turn the dough out onto a floured board and knead until soft and elastic.
Grease a bowl and turn the dough around inside to coat. Cover the bowl with tea towel and let rise until doubled - about an hour.
Make the Filling
In a large skillet, heat the olive oil. Add the onions, green peppers, garlic, and zucchini. Season lightly with salt.
Saute the vegetables over medium-high heat until the zucchini starts to turn golden and has given up much of its water. You should notice that the pan looks less full as the zucchini shrinks.
Remove from heat and cool to room temperature.
Assembling & Baking
Preheat the oven to 425 degrees Fahrenheit.
Grease a baking sheet.
Divide the dough into 6 even pieces. It's easiest to way the dough on a scale to ensure the pieces are equal.
Roll each piece of dough into a circle of dough about 1/4 inch thick.
Spread half of the circle with 2-3 Tablespoons of pizza sauce, leaving 1/4 inch edge of dough.
Top the sauce with about 1/2 cup of the zucchini filling.
Sprinkle about 1/4 cup (give or take) shredded mozzarella cheese on top.
Lift the edge of the dough without any filling and pull it over the filling. Fold the dough edges together and crimp well.
Place the calzone on the prepared baking sheet.
Repeat until all the dough is used.
Prick the top of each calzone with a fork 3-4 times to let steam escape.
Bake in the preheated oven 15-20 minutes or until the dough is golden.
Let cool 5-10 minutes before serving - the filling is extremely hot!
Notes
To Freeze:
Cool calzones completely. Wrap each calzone in plastic wrap and then place them inside freezer bags. Use up within 6 months.
To Reheat:
Bake frozen calzones in 400 degree oven for 20-30 minutes or until warm.
Recommended Products
As an Amazon Associate and member of other affiliate programs, I earn from qualifying purchases.
Nutrition Information:
Yield:
6
Serving Size:
1
Amount Per Serving:
Calories:

438
Total Fat:

13g
Saturated Fat:

5g
Trans Fat:

0g
Unsaturated Fat:

7g
Cholesterol:

22mg
Sodium:

978mg
Carbohydrates:

65g
Fiber:

6g
Sugar:

7g
Protein:

18g
We try our best but cannot guarantee that nutrition information is 100% accurate.