Chives are one of those perennial herbs that seem to grow in almost every home garden. Without a doubt, it's one of the first herbs to pop up in the spring and one of the easiest to grow. However, it seems that many of us relegate chives to the role of garnish. We snip a bit on top of baked potatoes or soups, maybe toss some in a salad, but for the most part they don't play a big role in our pantries or kitchens. It grows so easily and prolifically at that, isn't it time that we started making use of chives in new and larger ways? Here are my favorite 5 ways with chives: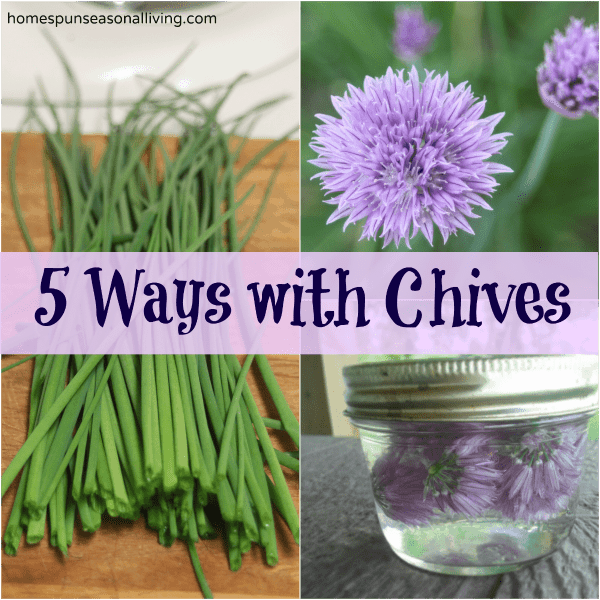 1. Infused Vinegar: Use the blossoms for this as they turn the finished product a lovely shade of lavender. Rise and dry and the blossoms. Place into a clean glass jar and submerge completely in champagne or white wine vinegar. Put a lid on the jar and place in a dark closet for a month. Give the jar a shake now and then. At the end of the month, strain the blossoms from the vinegar and store the finished product in a glass jar. Makes for yummy salad dressings, marinades, and especially yummy in Hot & Sour Soup. Great gift, too.
2. Chive Pesto : Make a large batch or three and freeze for many a winter meal.
4. Creamy Lemon Chive Dressing
5. Chive Jelly – Mighty tasty on crackers with fresh goat cheese, maybe even Brie.
Did you know that besides being tasty, chives have lots of medicinal properties? It's true, they've been studied for use in reducing high blood-pressure and in the treatment of Alzheimer's. Don't forget, chives are easy to freeze for all those winter soups and stews.
If you're new to growing chives, Storey has a great booklet full of tips for you.
What's your favorite way to use chives?