Give your homemade applesauce new and glamorous life in these delicious applesauce cupcakes!
Made with simple ingredients these moist cupcakes are full of warming spice perfect for fall and beyond.
This great recipe is sure to become part of your regular rotation for fall desserts, bake sales, and more! And heck, because it does use applesauce one could truly make them anytime of year when the baking urge hits.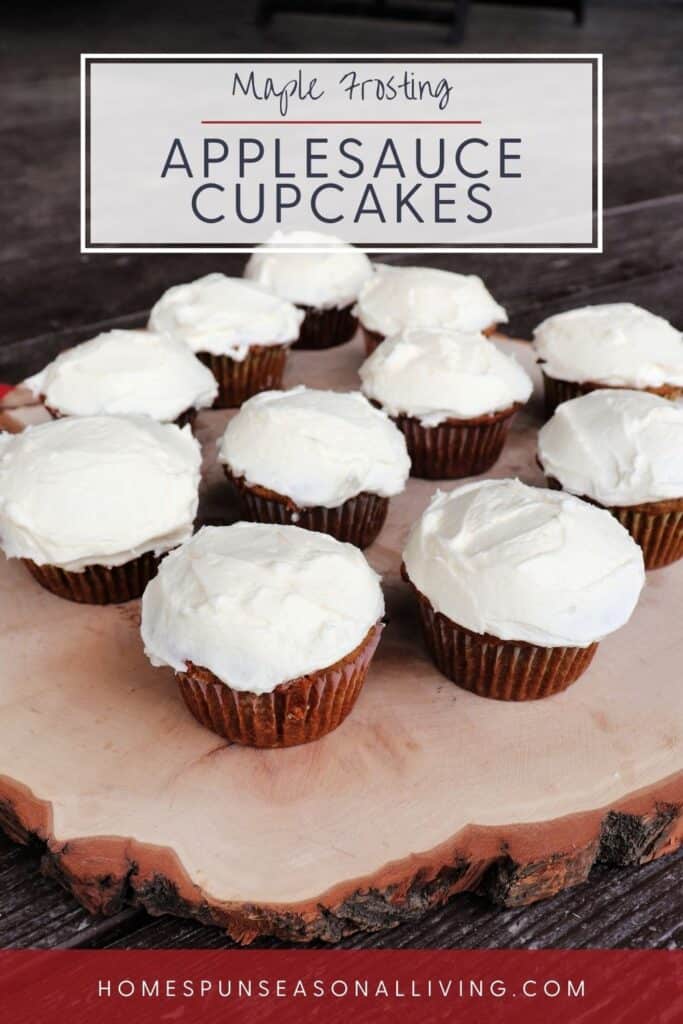 Pantry Ingredients
This is intentionally a simple recipe. Designed to take advantage of a well-stocked pantry and prevent any extra trips to the store. While they are basic, here are some things to keep to mind:
Applesauce
Start with unsweetened and plain (no spice) applesauce for this recipe.
Use the best applesauce you can find. I start with my homemade chunky applesauce and puree it until smooth in a blender and then proceed.
If you're buying applesauce from the grocery store or local market it should contain nothing but apples, water, and some kind of acid. The acid is usually lemon juice or ascorbic acid – which is simply Vitamin C. The acid is to prevent the applesauce from turning brown. There doesn't need to be anything else in the applesauce.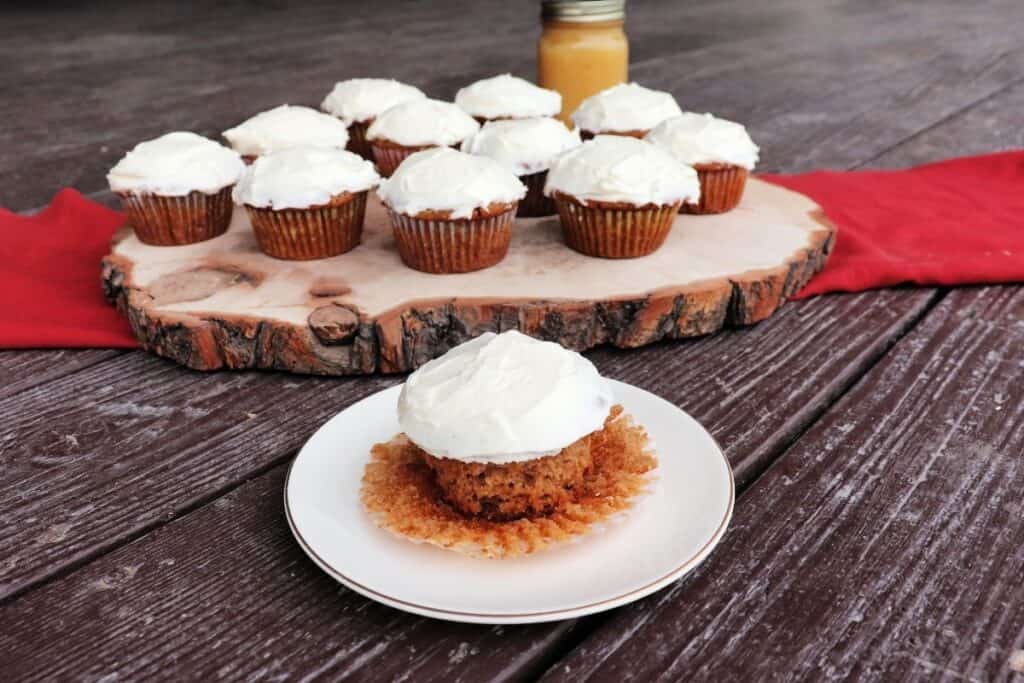 If you're starting with homemade applesauce that does contain sugar and spice, you may want to add less sugar and skip the spices in the original recipe below.
Cozy Spices
Cinnamon and clove combine for a hit of warming spice here. However, no one is locked into those choices.
Switch up the spice to personal favorites. Ginger, cardamom, allspice, nutmeg would all be tasty. Apple pie spice, gingerbread spice, any kind of sweet spice mix would also work.
Butter
Unlike many applesauce cake recipes, these rich treats include butter alongside the applesauce.
The butter does indeed add richness and make these feel more like cupcakes than say applesauce muffins.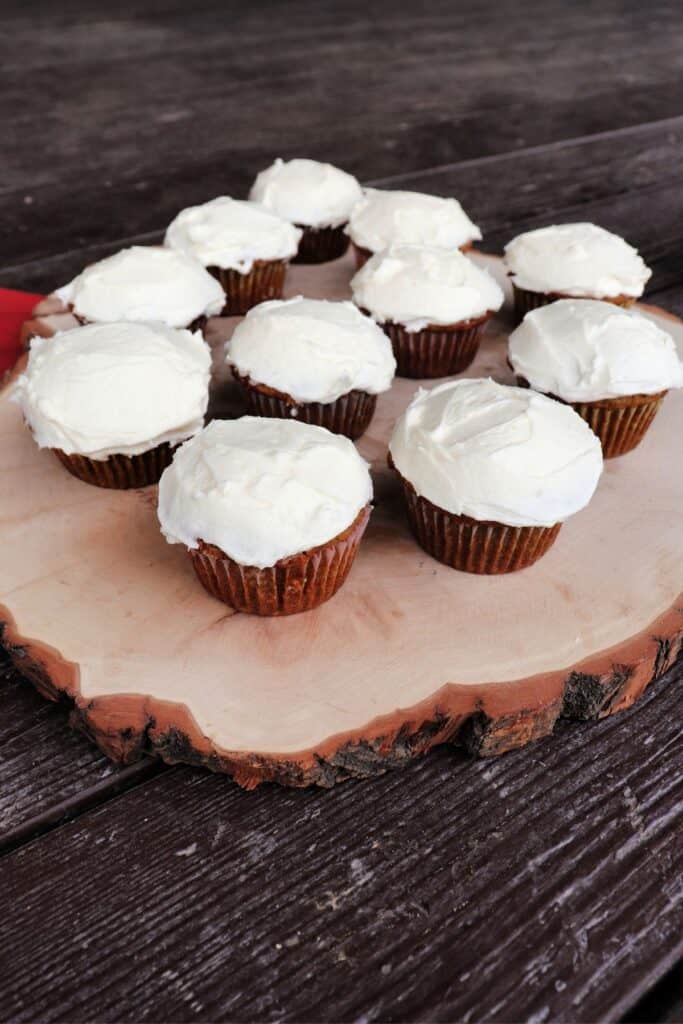 If you wanted to make them vegan or dairy-free, you could use margarine or shortening instead.
The recipe as written uses salted butter and includes no additional salt. If you use unsalted butter, add 1/2 teaspoon salt to the dry ingredients.
Flour
Basic all-purpose flour makes these easy to whip up and what most folks think of when they think of cupcakes.
However, substitute 1 cup of whole wheat flour if desired for a lovely whole grain crunch and heartiness that is quite lovely.
Maple Syrup
If you make the maple frosting, use real maple syrup. The darkest maple syrup you can find will give the best flavor.
Don't use imitation maple syrup. The flavor simply doesn't compare.
Maple syrup is expensive, I know, but it's worth using the real thing here for a special treat.
Size
The recipe is written for regular-size muffins cups, however; one could make the mini size if desired.
The mini size would be great for larger parties. Simply check for doneness much sooner if going with the smaller size.
Homemade is heart-made! Check out 60 fresh ideas for gifts from the kitchen to honor every occasion. Sharing is caring!
Optional Additions
While the cupcakes are delicious just as they are, there are additions to make them heartier if desired.
Add up to 1 cup of the following:
Peeled & Diced Apple
Dark Chocolate Chips
Chopped Nuts
Raisins or other dried fruit bits
Frosting Choices
The recipe does include a maple frosting that works wonderfully but that isn't the only choice.
Use heavy cream instead of maple syrup and add a teaspoon of vanilla extract for a simple buttercream frosting.
Cream cheese frosting would be delicious.
Caramel frosting would compliment the apple flavor wonderfully.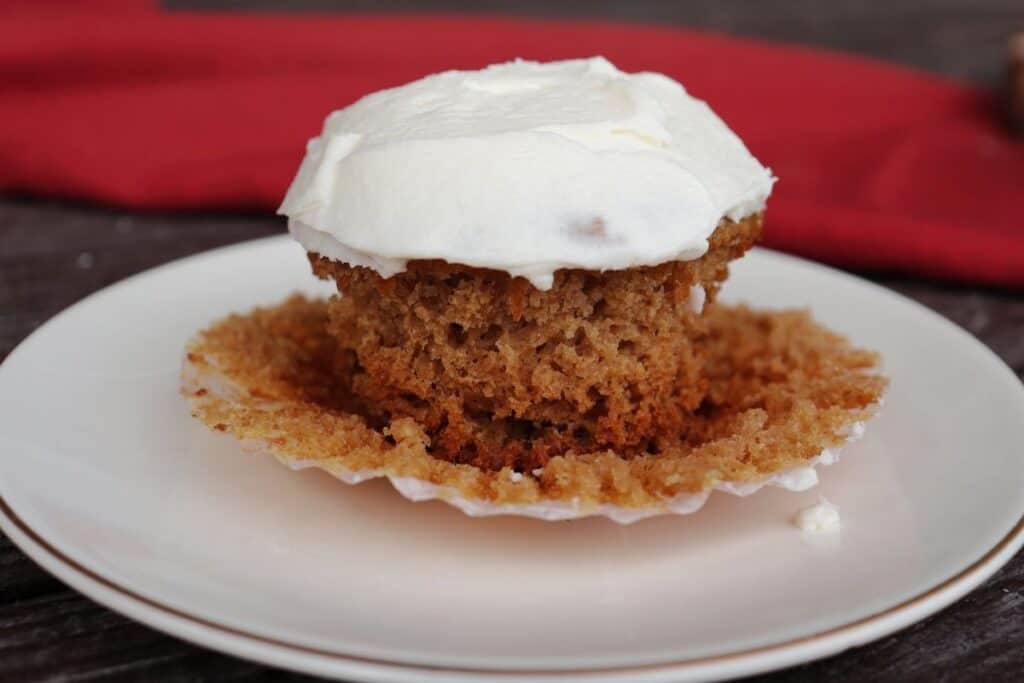 A dollop of fresh whipped cream on the top of each cupcake just before serving would be a nice switch.
Skip frosting and serve with a scoop of ice cream instead.
Decorative Touches
I always keep my decorating style a bit on the rustic, very basic side. I enjoy the look of frosting just kind of spread haphazardly with a butter knife on a cupcake. However, feel free to use a piping bag and decorative tips if desired.
To give the cupcakes a little more decorative appearance consider placing a candied walnut or pecan on the top of each frosted cupcake.
Roll the edges of the frosting in some finely chopped nuts or sprinkles for an additional decorative touch.
How to Store
Keep fresh cupcakes in an airtight container in the refrigerator for up to 4 days.
This delicious recipe freezes well, so make a double batch if time allows.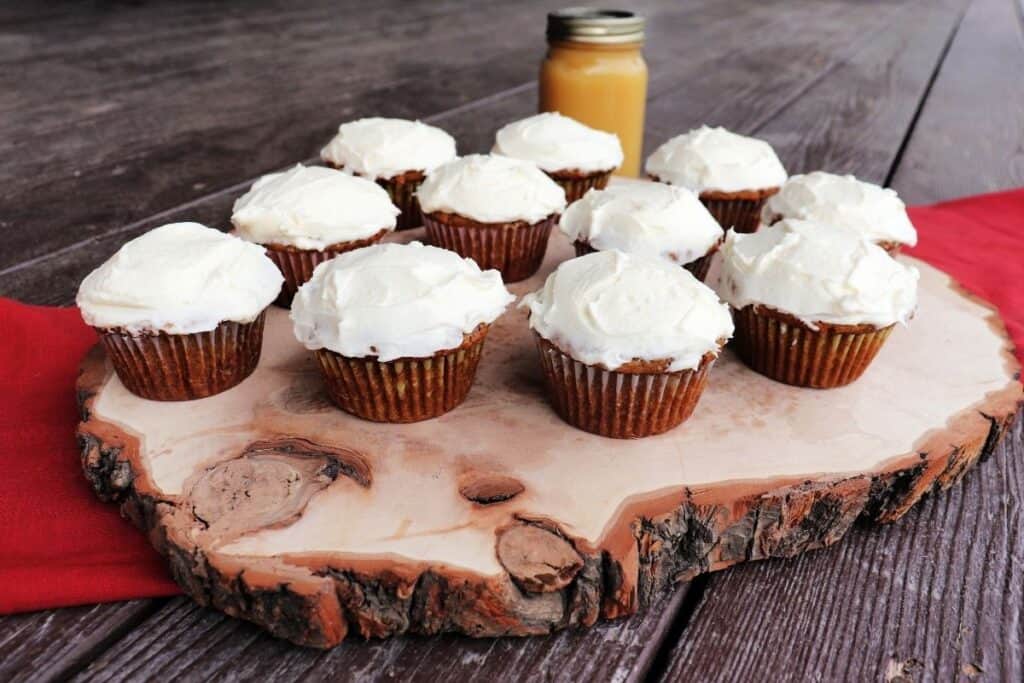 To freeze, simply put baked and cooled cupcakes into a freezer bag and freeze. You can freeze them frosted or unfrosted.
If you freeze them frosted, let them thaw overnight in the fridge prior to serving.
If you freeze them unfrosted, let thaw at room temperature and then frost just before serving.
Use up frozen cupcakes within 6 months for best flavor and to prevent freezer burn.
Yield: 12 Cupcakes
Applesauce Cupcakes Recipe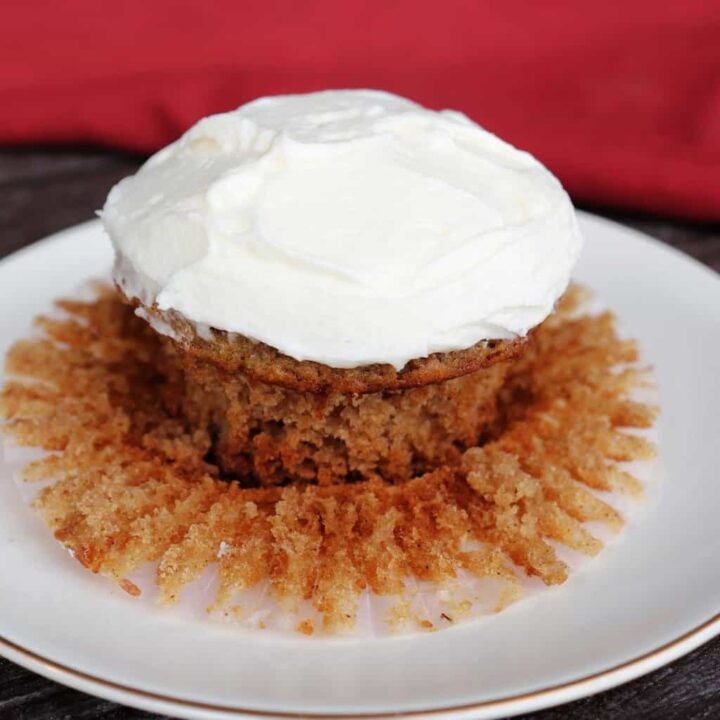 Make these moist and sweet cupcakes for a comforting and decadent treat using leftover applesauce.
Ingredients
Applesauce Cupcakes Batter:
2 Cups Unbleached, All-Purpose Flour
2 teaspoons Ground Cinnamon
1 teaspoon Ground Cloves
2 teaspoons Baking Soda
1/2 Cup Salted Butter, softened
3/4 Cup Sugar
1 1/2 Cups Unsweetened Applesauce
1 Egg
Maple Frosting
1/2 Cup Salted Butter, softened
2 1/2 Cups Powdered Sugar
1/4 Cup Maple Syrup
Instructions
Make the Cupcakes:
Preheat the oven to 350 degrees Fahrenheit.
Line a muffin tin with cupcake liners.
In a medium bowl, whisk together the flour, cinnamon, cloves, and baking soda. Set aside.
In a large mixing bowl, cream butter and sugar together the sugar until light and fluffy.
Add the applesauce and beat until combined. Add the egg and mix completely.
Pour the dry ingredients into the wet ingredients and mix until thoroughly combined.
Divide batter among the 12 muffin cups, filling each approximately 2/3 full.
Bake in the preheated oven for 22-25 minutes. The edges will be a golden brown and an inserted tester will come out clean when done.
Place pan on wire rack to cool for 10 minutes.
Remove the cupcakes from the muffin pan to cool completely on wire rack before frosting.
Make the Frosting:
Using an electric mixer, beat the butter in a large bowl until smooth.
Slowly add in 1/2 cup of powdered sugar at a time, beating thoroughly after each addition. Scrape down the sides of the bowl as necessary. Beat on a low speed for ultimate creaminess.
After all of the sugar has been added, pour in the maple syrup. Beat on a medium speed until thick, creamy, and spreadable.
Frost cooled cupcakes as desired.
Nutrition Information:
Yield:
12
Serving Size:
1
Amount Per Serving:
Calories:

387
Total Fat:

16g
Saturated Fat:

10g
Trans Fat:

1g
Unsaturated Fat:

5g
Cholesterol:

56mg
Sodium:

340mg
Carbohydrates:

60g
Fiber:

1g
Sugar:

42g
Protein:

3g
We try our best but cannot guarantee that nutrition information is 100% accurate.