I am a coffee lover. However, it seems that caffeine and I aren't as good of friends as we once were. I still have a couple of cups in the morning but no longer drink it in the afternoon as it seems that caffeine was making me anxious something I'm not prone to without chemical help. Still I crave that bit of an afternoon pick-me-up now and then. I drink herbal tea often but that craving for a little coffee-style treat still grabs me and when I can't seem to shake it off, I make this chicory mocha.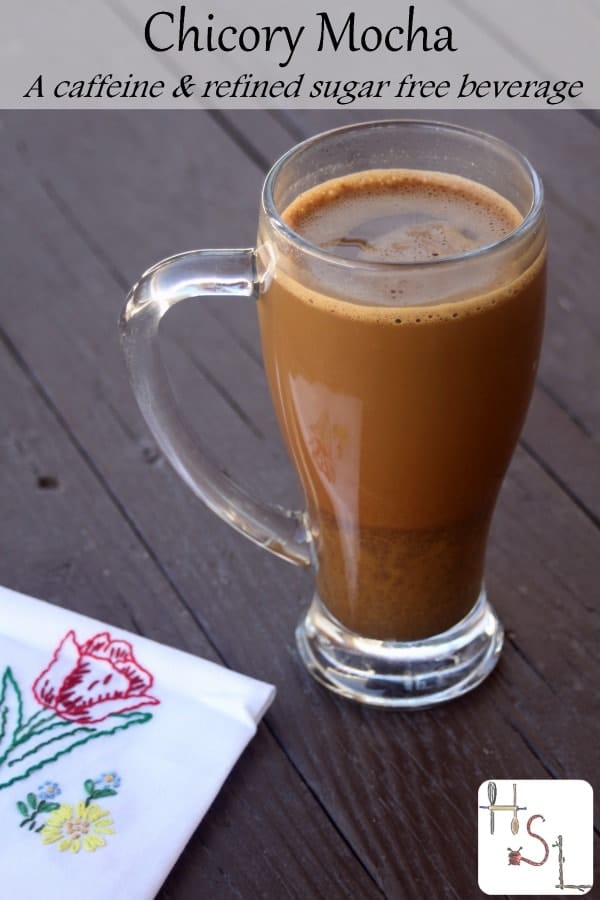 Chicory root is an herb that tastes a bit like coffee but comes without caffeine. It has the right bitter notes that most coffee lovers enjoy and even contains quite a few vitamins, essential minerals, and even some fiber. There are many places around the world that mix coffee grounds with ground chicory for a chicory coffee blend which is quite delightful but even when brewed alone chicory can help ease those coffee cravings without caffeine side effects.
I've never been a fan of sweet coffee, preferring just splash of goat milk in mine but admittedly a mocha every once in a while satisfies both those cravings for chocolate and coffee in one beautiful cup. For a chicory mocha, we're simply combining brewed chicory 'coffee' with some homemade hot cocoa for a coffee-house style treat that can easily be customized for everyone's individual preferences.
Brewing chicory root can be done in a few different ways:
Combine chicory root with water in a saucepan and simmer, covered, for 10 minutes. Strain and enjoy.
Use a French press just like you would for coffee or tea.
Use a regular drip coffee maker, placing the ground chicory root in the filter basket as you would coffee grounds.
Chicory root is brewed much like coffee – use 2 Tablespoons of chicory root for every 6 ounces of water or to desired strength.
Yield: 1 Serving
Chicory Mocha
Brew up a chicory mocha for a naturally caffeine free coffee house style treat perfect for guilt-free indulging.
Ingredients
2 Tablespoons Roasted Chicory Powder
1 Cup Water
1 Cup Milk
1 Tablespoon Cocoa Powder
1 teaspoon Maple Syrup (more or less to taste)
Instructions
In a small saucepan, combine the chicory powder and water. Bring to a boil, lower heat, cover, and simmer for 10 minutes. Strain.
In another saucepan combine the milk, cocoa powder, and maple syrup. Whisk over low heat until everything is thoroughly combined. Heat gently until the mixture begins to just simmer - don't let it boil.
Add the strained chicory root coffee to the hot chocolate and heat through.
Pour into glass and enjoy plain or topped with whipped cream.
Notes
Makes 1 serving but can easily be doubled or more to feed a crowd.
The next time the urge for a fancy coffee hits, brew up a cup or two of this chicory mocha instead. Skip the caffeine and the expensive coffeehouse drink by making it naturally at home.
Don't like chicory but still want hot sweet drink? Try my herbal hot chocolate recipe instead.