Rich and fruity, these delicious cherry chocolate cookies are perfect keeping and giving as gifts.
Chewy chocolate cookies surround dried cherries and nuts in an easy recipe perfect for every fan of chocolate!
Made with simple ingredients this cookie recipe is sure to become a family favorite for the bakers and the eaters.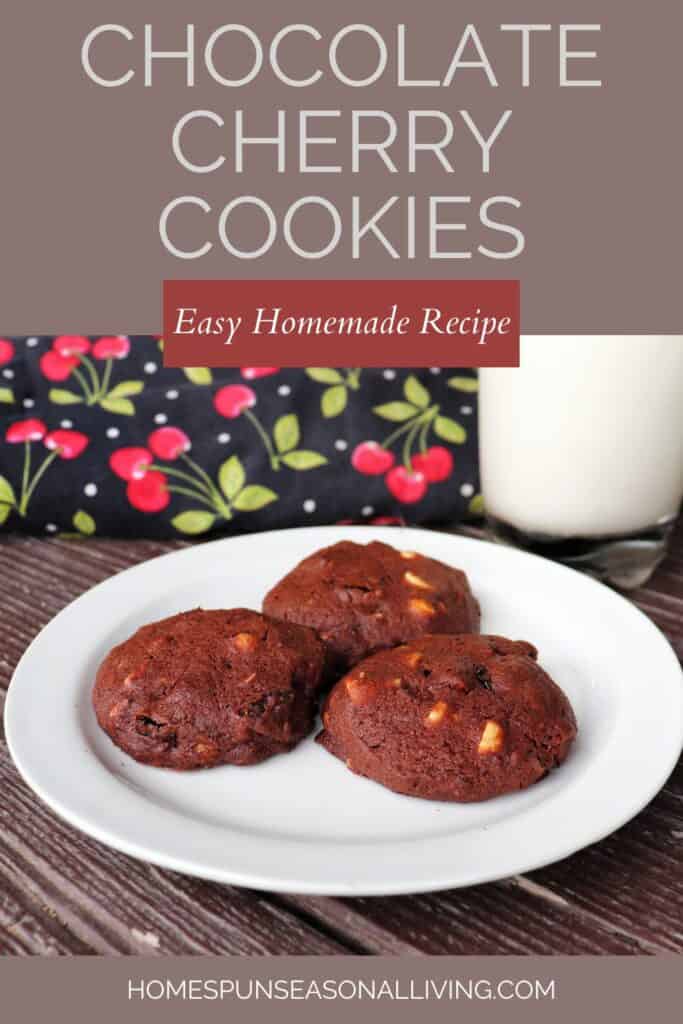 No Fuss
Like all the best cookies, these are a simple combination of ingredients that are likely already in your pantry. The only truly special ingredient is the dried cherries which can generally be found on most grocery store shelves.
Dried Cherries
Use tart or sweet cherries as you prefer. No matter which version you find or prefer, I recommend skipping the types that have additional sugar as it might just be too sweet in the final cookie recipe.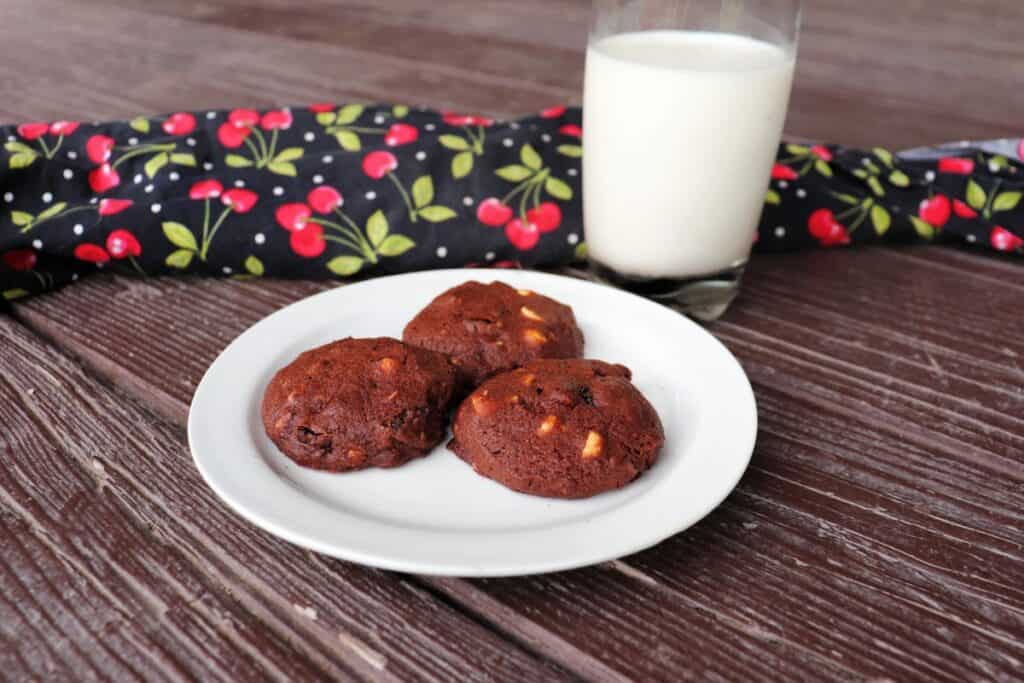 Generally speaking, dried cherries can be large and flat – chop them up roughly with a very sharp knife prior to adding them to the cookie batter.
Nut Choices
Almonds and cherries make a very tasty combination but if you don't have them or don't like them feel free to skip or add a different nut based on your prefence.
You could substitute vanilla extract for the almond if you don't use almonds in the final cookie.
Optional Additions
The cookies are perfect as the recipe is written, in my opinion, but you could dress them up even more if desired.
Add up to 1 cup of dark chocolate chunks for an even more indulgent cookie.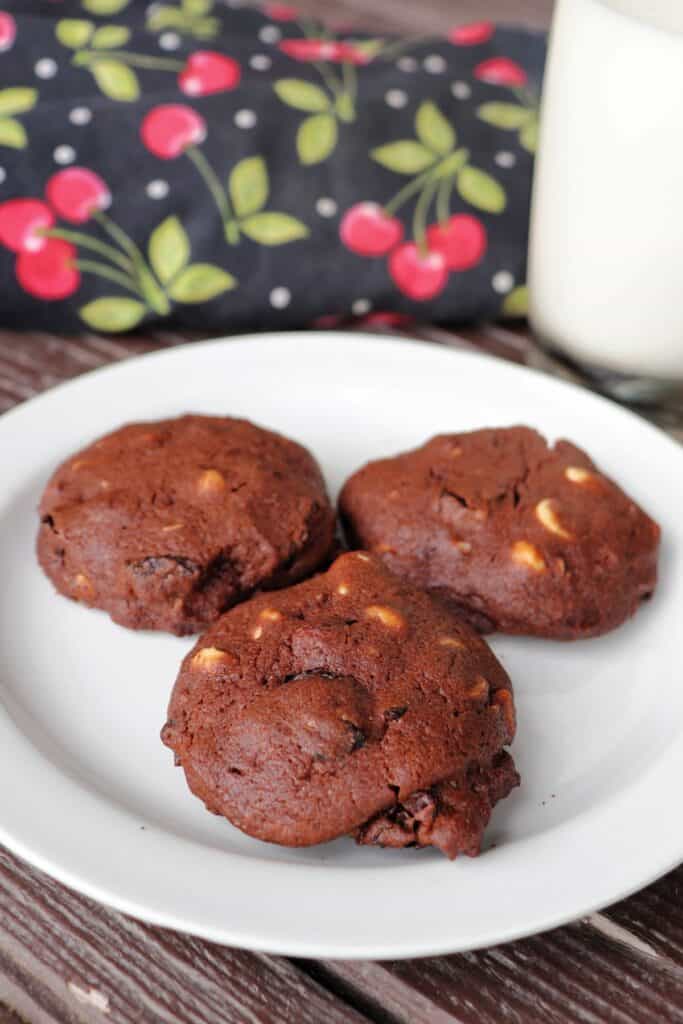 Spread the baked and cooled cookies with chocolate frosting.
Drizzle some melted chocolate over the cookies – white chocolate would add a lovely color contrast.
How to Serve or Gift
Keep it simple and serve with your favorite hot drink or milk for ease. Serving alongside a dish of chocolate or vanilla ice cream is a perfectly over-the-top dessert if desired.
I'm a big fan of edible food gifts that ship well and these will definitely work if you want to send these cookies to chocolate lovers far away. Simply tuck them into plastic bags and remove as much air as possible.
Place cookies on your holiday cookie tray assortment for a lovely option.
Consider using this for your cookie swaps as something a bit different than the standard fare.
This is the perfect cookie to tuck into care packages and tins with a bit of candy or some coffee for valentine's day or birthday gifts.
How to Store
Put cookies in an airtight container where they should stay fresh for up to 5 days at room temperature.
For longer term storage, put cooled cookies into freezer bags and freeze for up to 6 months. They do freeze delightfully so don't be afraid to make a double batch, if you're so inclined.
Let frozen cookies thaw on the counter prior to serving.
Yield: 3 Dozen
Chocolate Cherry Cookies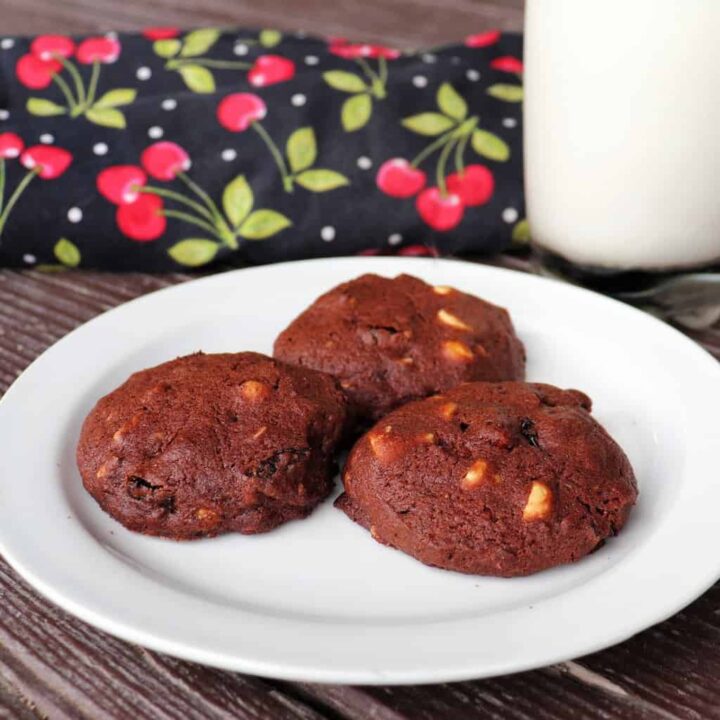 This great recipe is like chocolate covered cherries in cookie form and a great addition to cookie trays, lunch boxes, and everything in between!
Ingredients
2 Cup Unbleached, All-Purpose Flour
1/2/ Cup Cocoa Powder
1 teaspoon Baking Powder
1 Cup Salted Butter, softened
1 Cup Sugar
3 Large Eggs
1 teaspoon Almond Extract
1 Cup Dried Cherries, chopped
1/2 Cup Almonds, chopped
Instructions
Preheat oven to 350 degrees Fahrenheit.
Grease or line cookie sheets with parchment paper or silicone baking sheets.
In a medium bowl, whisk together the flour, cocoa powder, and baking powder. Set aside
In a large mixing bowl, cream together the butter and sugar until light and fluffy.
Add the eggs and almond extract, beating thoroughly.
Slowly add the dry ingredients to the wet ingredients and mix until almost completely combined.
Fold in the chopped cherries and almonds, mix completely.
Drop cookie dough by tablespoons full (or use a small cookie scoop) onto prepared baking sheet.
Bake in the preheated oven for 10-12 minutes or until the tops are set and the edges have just begun to brown.
Remove from the cookie sheet to cool completely on wire rack.
Nutrition Information:
Yield:
36
Serving Size:
1
Amount Per Serving:
Calories:

128
Total Fat:

7g
Saturated Fat:

3g
Trans Fat:

0g
Unsaturated Fat:

3g
Cholesterol:

29mg
Sodium:

69mg
Carbohydrates:

16g
Fiber:

1g
Sugar:

9g
Protein:

2g
We try our best but cannot guarantee that nutrition information is 100% accurate.