Thanksgiving fast approaches and we are big fans of the leftovers around here. So many meals come from that one bird. There's obviously the feast, but there's also bits frozen for soup later, the carcass is turned into broth, and of course there are sandwiches for a few days after. Those leftover sandwiches deserve a special spread in my opinion. A spread like homemade cranberry honey mustard.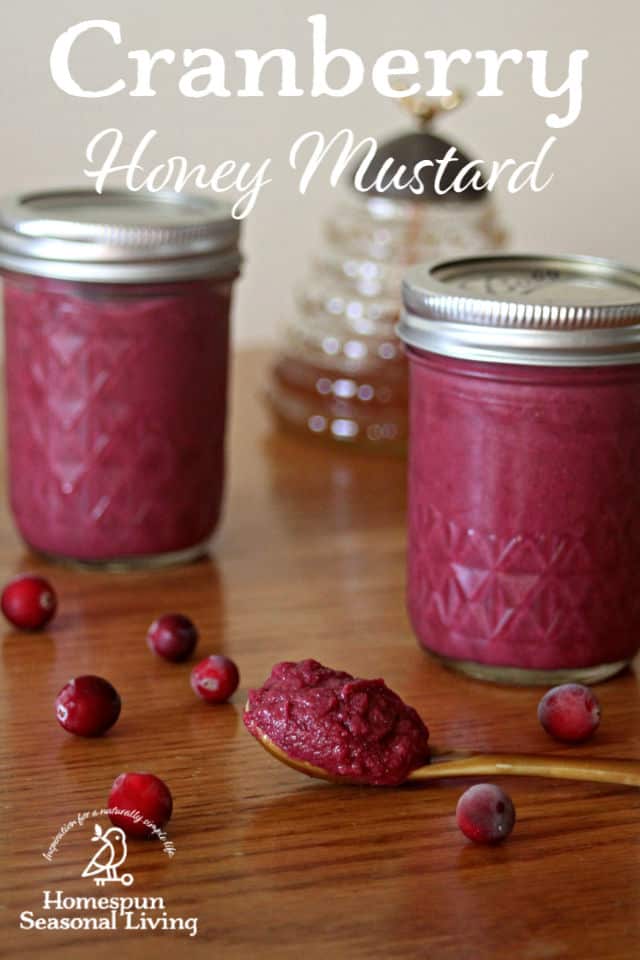 I know, leftover cranberry sauce makes a delicious spread for turkey sandwiches. I'm not knocking that practice at all but it's nice to have a bit of change and for the mustard lovers, this recipe combines the best of all worlds.
Customize the Cranberry Honey Mustard
Years ago I saw a recipe for cranberry mustard in the Ball Complete Book of Home Preserving. That basic recipe has been tweaked and combined with some other ideas I found in cookbooks or on blogs to become what is now our favorite spread.
If you want to switch a bit for yourself, consider these options:
Use a different vinegar. Red wine vinegar is good and while I haven't tried it (yet) balsamic might be quite nice.
Use different spices – don't like coriander, skip it. Use more allspice or skip the spices all together.
A touch of black pepper is tasty.
Make the mustard as grainy or smooth as preferred.
If you like it sweeter add a little more honey (another Tablespoon or two).
You could easily use sugar instead of honey if you'd prefer.

Preserving & Storing the Cranberry Honey Mustard
This is pretty easy and makes a small batch. Canning instructions are included in the recipe. However, if canning isn't your thing, this small batch will keep in the fridge for at least 2 months possibly longer. I can it in half-pint jars but those four ounces are great options here as well if you're unlikely to use much at once and they make great gifts
Double or trip if a larger batch is needed.
Yield: 2 Half Pints
Cranberry Honey Mustard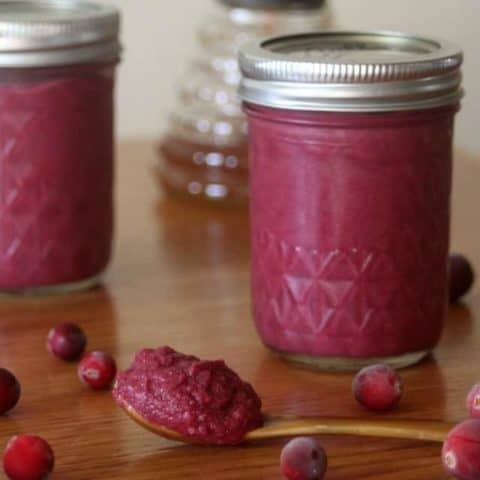 Spread those leftover turkey sandwiches with some homemade cranberry honey mustard for a delicious and savory twist on the standard.
Ingredients
2 Tablespoons Yellow Mustard Seeds
½ Cup Apple Cider Vinegar
1 ½ Cups Cranberries
½ Cup Apple Juice
¼ Cup Honey
3 Tablespoons Dry Mustard
1 teaspoon Ground Coriander
½ teaspoon Ground Allspice
Instructions
Bring the apple cider vinegar to a boil. Remove from heat add the mustard seeds and cover. Let sit about 2 hours. The seeds will soften and absorb some the liquid.
Put the seeds and vinegar in a blender. Pulse until the seeds are chopped, leave it a bit grainy. Add the cranberries and apple juice. Pulse again until the cranberries are chopped finely.
Put the cranberry mixture into a saucepan and bring to a boil over medium heat. Stir frequently. Whisk in the dry mustard, coriander, and allspice. Add the honey and cook until mixture is as thick as desired.
Put into jars leaving 1/4 headspace. Process in a boiling water bath canner for 10 minutes (adjusting for elevation).