Soothe lips and dry skin alike with this easy to make red clover salve recipe that is made with simple and natural ingredients!
Create you own red clover salve from fresh blossoms or dried herbs and be ready to treat a number of different skin conditions later.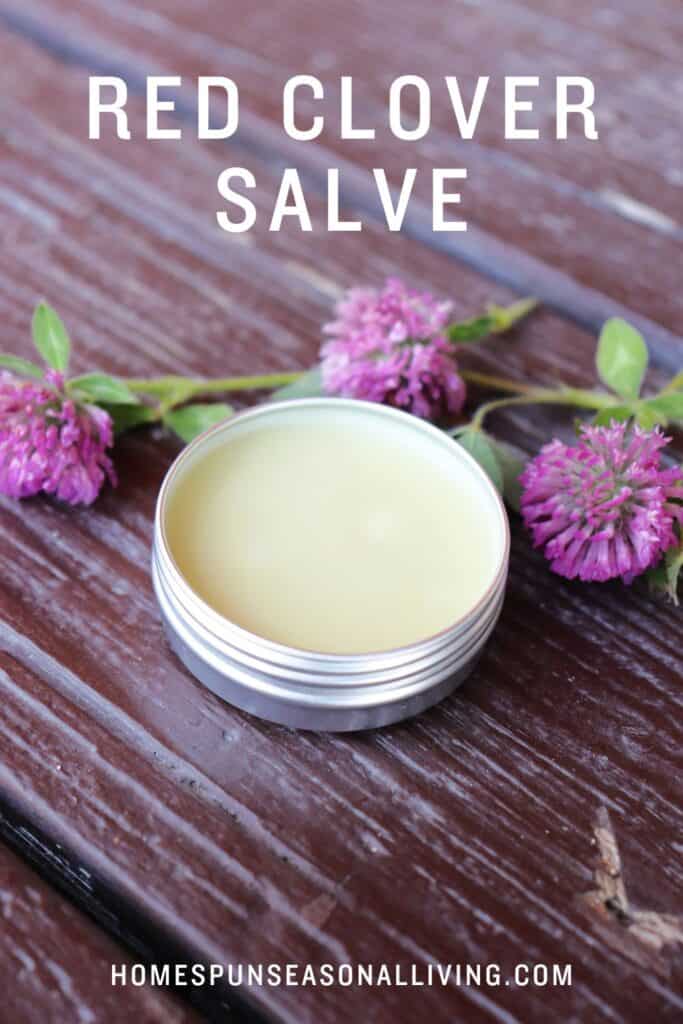 The Main Ingredient
Red clover blossoms (trifolium pratense) are an edible flower have a variety of medicinal uses, including some anti-inflammatory properties and are the main herb used here. You can likely gather this wild plant yourself from untreated lawns and park areas.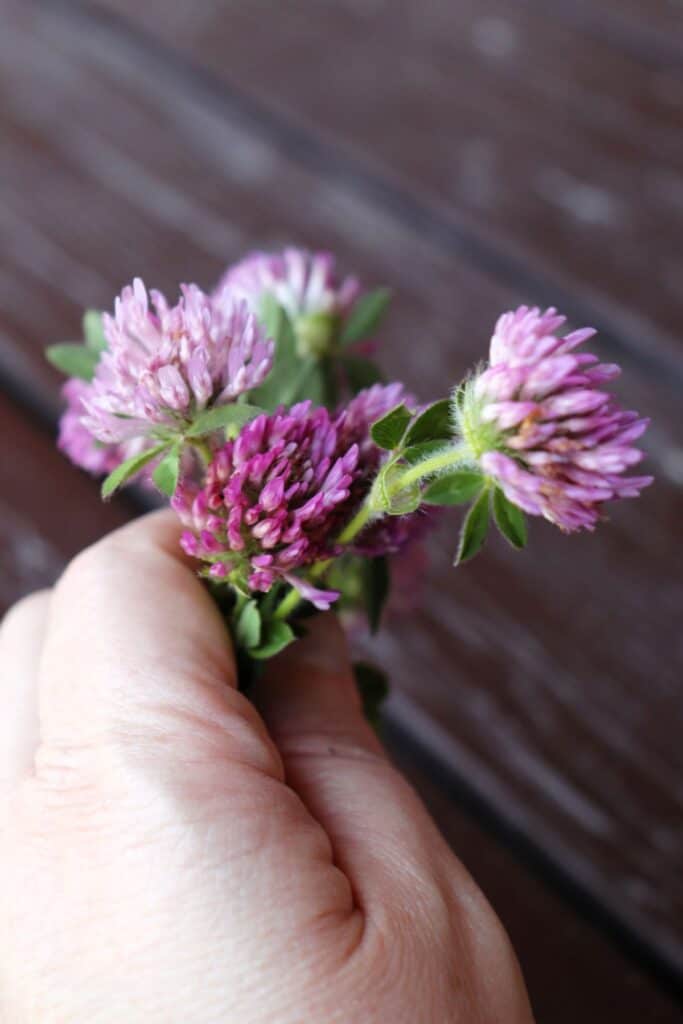 The red clover plant has small oval shaped leaves, three to a stem, each leaf usually has a pale V in the center of each. Despite being called 'red clover' the flowers are actually large bulb shaped flowers with pink-purple color. It is generally in bloom from late spring through early fall, depending on location.
For the purposes of making this salve, the red clover flowers are needed. Look for flowers that are still vibrant in color, avoid the ones that have started to brown.
As always be 100% certain of identification!
The good news is that if you can't find the wild herb growing or aren't sure of your identification, you can buy it dried. Your local health food store likely has some and you can buy it online.
How to Dry
It is much easier to make salves from dry herbs. it can be done with wilted or fresh herbs but the chances for mold are much, much higher that way. Plus it's easier to harvest in small bits, let dry for red clover tea or salve making later.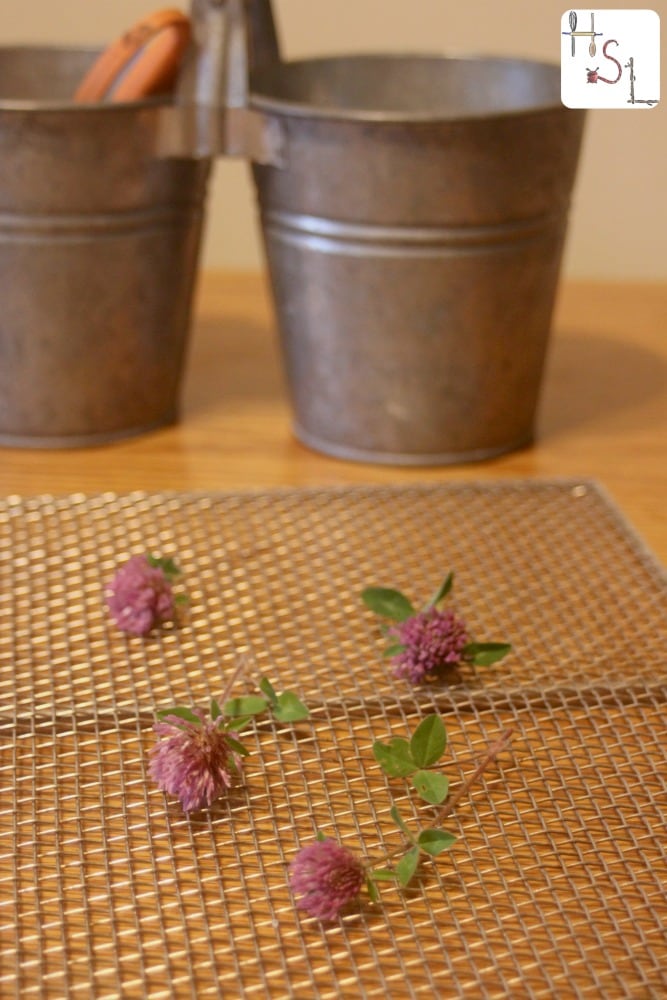 Simply harvest stems of red clover and tie into bunches to hang and dry. Alternatively, snip the stems close to the base of the flower and lay the flower out on trays to dry completely.
Once the flowers are crispy dry, remove them completely from the stem and store in labeled containers – a glass mason jar works great. Keep this jar out of direct sunlight and away from too much moisture.
Carrier Oil
This recipe like most herbal salves starts with an infused oil. You will need a liquid carrier oil to infuse the flowers into. You can use whatever you have on hand. Plain old olive oil works great. Grapeseed tends to be quite frugal and again works. Feel free to use avocado or jojoba or truly most anything you want and know that the salve will turn out well.
Beeswax
Beeswax is what hardens our oil into a salve or balm consistency. It also has some skin soothing benefits.
It is likely you could use some kind of vegan alternative, but I have not tested it.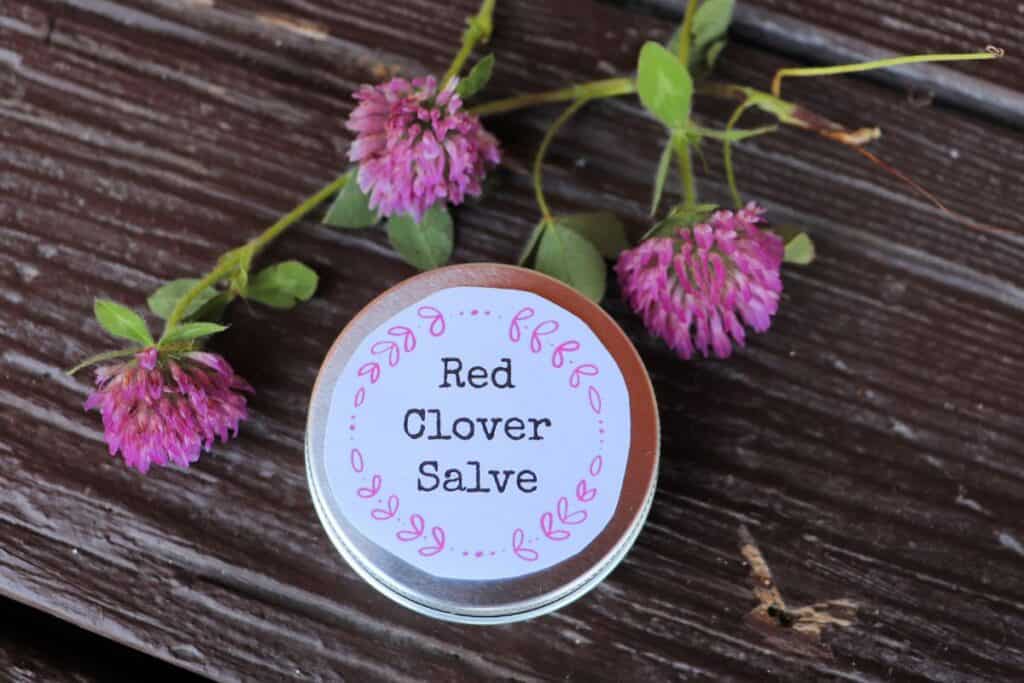 Shea Butter
This fat comes from a nut from the Shea tree. It's rich and creamy and full of nourishing vitamins and minerals. it is also incredibly moisturizing making it a great addition to any salve used to treat chapped lips or other dry skin irritations.
There is also some evidence shea butter can reduce skin swelling, making it idea for things like eczema.
Optional Essential Oils
If you'd like to give your salve some scent or additional benefits from essential oils you can feel free to add some. Lavender and chamomile essential oils are know to have some skin-soothing properties if you'd like to add a little extra oomph and aroma to your salve.
You are not required too, however; I rarely add essential oils to any of my healing salve recipes.
Making the Salve
The great thing about this recipe is that it's super easy and hands-on time is very short.
You will need to infuse the flowers into oil for about a month but this takes less than 5 mintues to put together and then time does its thing without any involvement from you.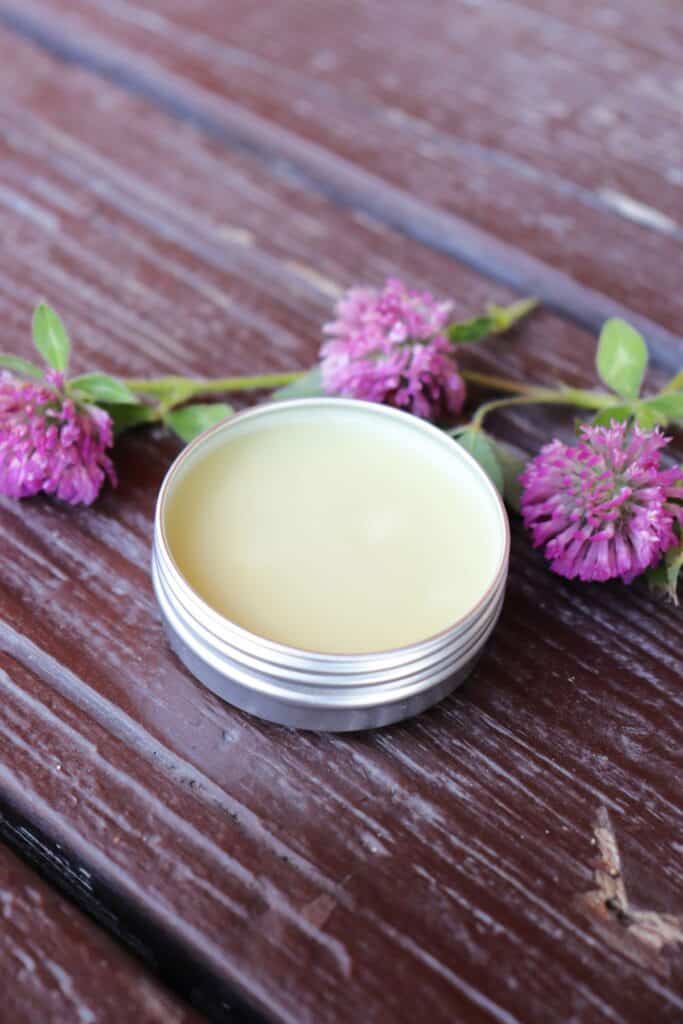 After the oil has been infused you just need to add the other ingredients, melt and pour into your containers. It's really that easy.
How to Store
Before making your own salves, you'll need to decide on containers. There are no limits to what you can purchase in terms of glass, plastic, or metal containers. If you do a lot of herbal medicine or salve making, it might be worth buying containers bulk. For other folks, however; remember options abound. You just want something with a firm-fitting lid.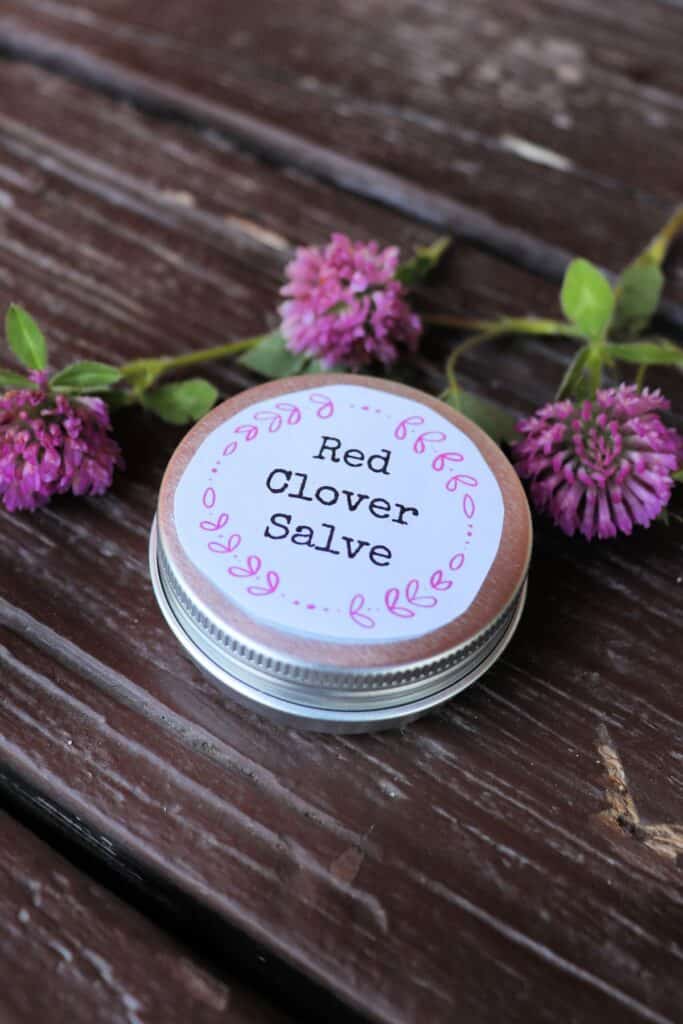 The 4-ounce jars for canning are excellent and large containers.
Empty Altoid or similar tin containers work well and keep it frugal.
If you're giving it for a gift, you might want to use a fancier container and add a simple but decorative label.
How to Use
Once the salve is hardened, feel free to slather it onto any minor skin irritation or bit of dryness.
You can use it as a red clover lip balm for winter use to help soothe and potentially prevent chapped lips.
Harness the simple power of seasonal herbs in your kitchen and home with confidence – from recipes to remedies and beyond with A Year of Seasonal Herbs.
Words of Caution
This salve should be well tolerated for external use. However, it is always a good idea to check with your healthcare provider to make sure it won't interact with any medications.
Obviously don't use if you are allergic to red clover in any form or have any medical conditions in which the ingredients here could cause side effects or other issues.
Yield: 1 Tin
Red Clover Salve Recipe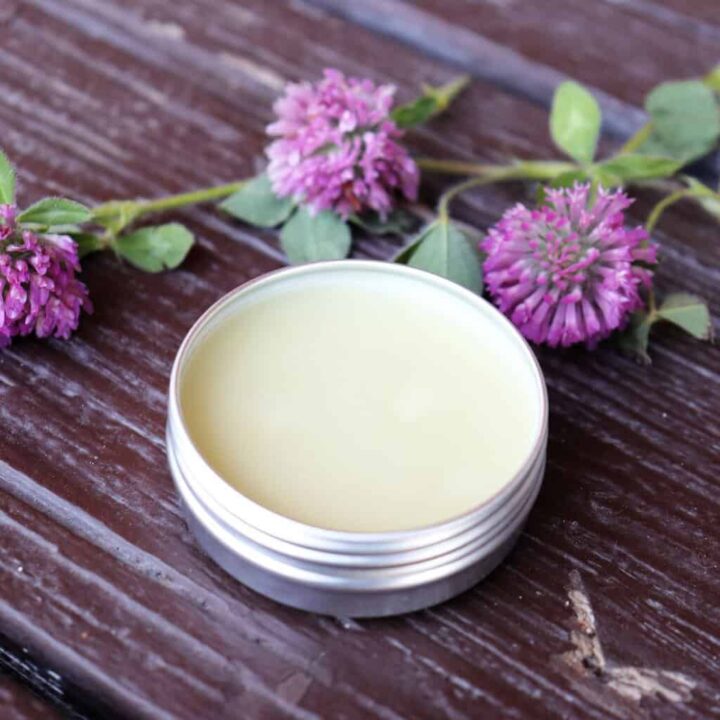 Make this simple recipe to harvest red clover benefits for using on minor wounds, dry skin, and chapped lips.
Total Time
28 days
35 minutes
Materials
Red Clover Oil Ingredients
1/4 Cup Dried Red Clover Blossoms, crumbled / crushed
1/2 Cup Carrier Oil of Choice
Red Clover Salve Ingredients
2 ounces (by weight) Red Clover Infused Oil
1 ounce (by weight) Shea Butter
3/4 ounce (by weight) Beeswax
5 Drops Essential Oil (optional for scent)
Tools
Glass Jar
Strainer / Sieve
Double Boiler
Instructions
To Make the oil
Combine the crumbled flowers and oil in a clear glass jar. Make sure the flowers are submerged beneath the oil. Cover with a lid and place in a cabinet for 4-6 weeks to infuse. If you remember, give the jar a little shake now and then.
After the oil has been infused strain well through a cloth lined sieve, squeezing out as much oil as possible.
Place the infused oil into a clean container and label.
Store this infused oil in a dark cabinet at room temperature. It should last for about a year (all oil goes rancid so be careful of that).
To Make the Salve
Place the infused oil, shea butter, and beeswax in the top of a double boiler.
Heat 1 inch of water in the bottom of the double boiler and bring to a simmer over medium-low heat.
Melt the beeswax and shea butter into the oil on top of the double boiler. Stir occasionally, just make sure everything is melted.
Remove from heat and let cool just slightly before adding the essential oils, if using.
Whisk slightly just to get the oils mixed well and pour into a clean container.
Let cool and harden completely before sealing.
Notes
If you want to use fresh instead of dried blossoms use 1/3 cup of fresh and watch very closely for mold in your oil

Use up within 1 year.