My husband has talked fondly of his mom's orange cookies for as long as we've together. I never tried to make any for him in the almost 17 years that we've been together. I'm not exactly sure why. All that changed this past weekend when I finally made him these frosted orange cookies.
I never knew Jeff's mom but we are blessed to have a few of her cookbooks in our collection. I was thumbing through her 1953 edition of The Joy of Cooking when I saw an orange cookie recipe. I decided to give the recipe a try on the off chance these might be the cookies from his childhood. And friends, they are indeed!
Changes to the Tradition
The original recipe called for 1/3 teaspoon of baking powder and 2/3 teaspoon baking soda. I don't have a 1/3 teaspoon measuring spoon. While I could have eyeballed it I decided to change the measurements so I could repeat the results later. It's important in baking to get those measurements right. Otherwise, I mostly followed the original recipe.
Citrus Options
I used mandarin orange zest and juice in these cookies. Mandarin oranges were simply what we had on hand. Navel oranges would, of course, be incredible. I haven't tested it yet but I do believe any citrus fruit would be good here. Lemons, limes, grapefruit, etc. would all have different tartness levels but would still be tasty in my opinion.
The Frosting
I'm personally often tempted to skip the frosting on drop cookies. There's usually enough sugar that I don't think the frosting necessary. Plus it seems like an extra, unnecessary step to my occasionally lazy self. All that to say, Don't skip the frosting. The frosting does add sweetness but it also adds more orange flavor. Part of this cookie's charm is the combination of the smooth frosting and fluffy cookie.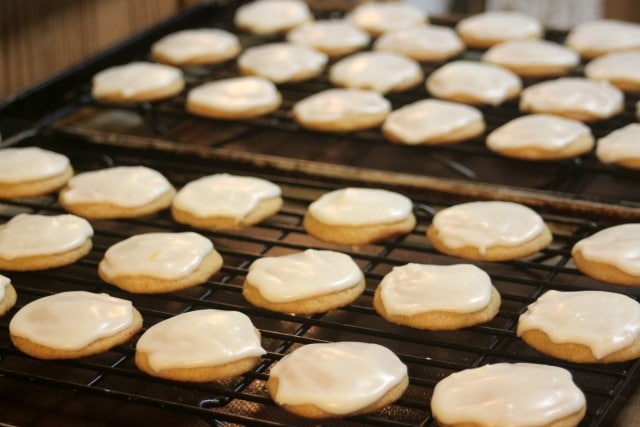 Frosted Orange Cookies
Ingredients
Cookies
6 Tablespoons Butter, softened
2/3 Cup Brown Sugar, lightly packed
1 Egg
1/4 Cup Orange Juice
Grated Zest of 1 Orange
1 1/3 Cup Flour
1/4 teaspoon Baking Soda
3/4 teaspoon Baking Powder
Frosting
2 Cups Powdered Sugar
1 Tablespoon Butter, melted
1/4 Cup Orange Juice
Grazted Zest of 1 Orange
Instructions
Make the Cookies
Preheat oven to 350 degrees. Line cookie sheets with parchment paper or silicone baking sheet.
Whisk together the flour, baking powder, and baking soda. Set aside.
Cream together the butter, orange zest, and sugar until light in fluffy. Beat in the egg until thoroughly combined.
Add half of the orange juice and half of the flour mixture. Mix well and add the remaining juice and flour mixture. Stir until thoroughly combined.
Drop by Tablespoonsful onto prepared baking sheets.
Bake in preheated oven for 10 minutes, until edges are golden brown.
Remove cookies to wire rack to cool completely.
Make the Frosting
Mix all the ingredients together until smooth and creamy. Let sit for 10 minutes to thicken slightly. Spread on cooled cookies.
Notes
I'm normally a fan of big cookies but these should be kept small.

Disclaimer: I may receive compensation for products mentioned in this post. All opinions expressed are my own. I am not a doctor, always seek trained medical advice. No statements should be considered approved by the FDA or as a diagnosis or treatment for any illness. See my Full Disclaimer Here.