Help your body flush out toxins and boost your immune system with a ginger detox salt bath.
These simple to make bath salts are a great option for natural and simple relaxation that also helps fight cold symptoms all in the daily ritual of bathing.
Now, let's remember that nourishing food and drink is the best way to keep our bodies running at their best but we can all use a little extra help now and then especially when flu season rolls around and a homemade ginger detox bath soak is a great way to do just that!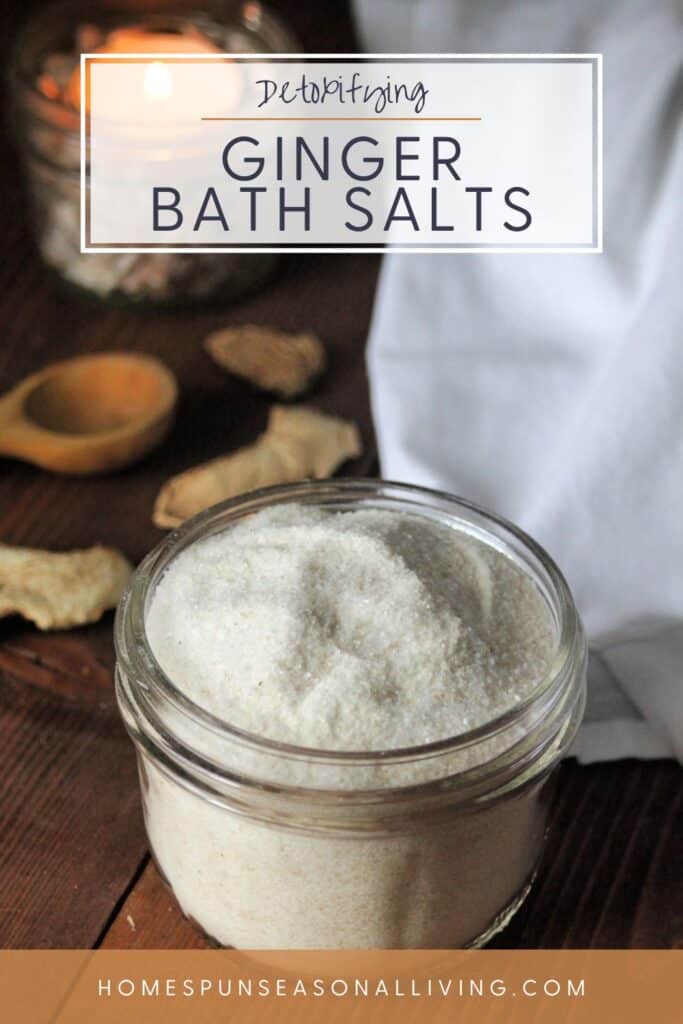 Sweat it Out
To be clear detoxifying the body mainly happens in the liver and kidneys. There is no scientific evidence that toxins leave the body through the skin.
However, a good sweat now and then can help the body. Sweating can also help get rid of certain colds because the bacteria can't survive the higher body temperature.
A nice hot bath with the addition of ginger can induce sweating. In fact, a ginger bath can sometimes make a person sweat for an up to an hour after. Keep that in mind when getting dressed (maybe stay in a robe).
Pull Out Impurities
Epsom salts (magnesium sulfate) have long been revered for their ability to pull impurities from the body. They also happen to be an excellent remedy for soothing joint pain, sore muscles, and body aches. The magnesium contained in Epsom salts can be absorbed through the skin and has numerous benefits to our body and mind including helping us sleep.
Healing Relief
Baking soda has long been a standby for a healing, relaxing bath.
It makes the water feel softer on our skin. This pantry staple can help relieve itchy skin, kill bacteria that causes foot odor, and even help with urinary tract and yeast infections.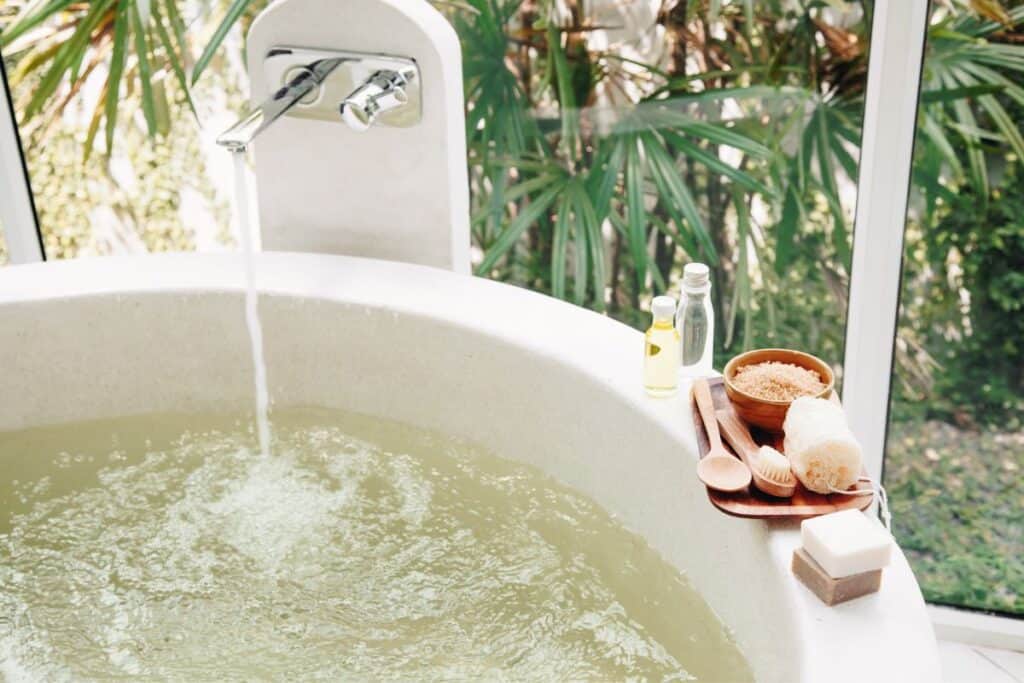 The heat of a warm bath can often provide so much more than can easily be quantified – it can often calm the nervous system, ease flu symptoms, and so much more. A warm bath in any form can be easily become one of our favorite ways to practice self-care.
Ground Ginger Powder vs. Essential Oils
When I first started researching detox bath recipes, I turned to my favorite herbalists and trusted books. Every single one of them used dried ground ginger in their formulations. I stuck by this wisdom and didn't even try an essential oil instead.
Essentials oils can be expensive but also have a stronger sensation which might not feel good at all to some folks. Ground dried ginger is generally fairly frugal and likely in the pantry for most folks.
Fresh ginger can also have a bit of burning sensation when in direct contact with the skin and it is for this reason, that I don't suggest using it in this great bath salt recipe. The fresh ginger would also likely shorten the shelf life of the finished product.
Stay Hydrated
Be sure to stay hydrated as part of this detox bath process. Drink plenty of water before and after the detox bath to prevent dehydration and help the body flush internal toxins. Don't skip this important step, you'll be glad for those large glasses of water.
Cautions
As with anything, either homemade or store bought, it is a good idea to test this product and all salt baths carefully on your body.
Folks with allergies to any of the ingredients should most definitely avoid using this.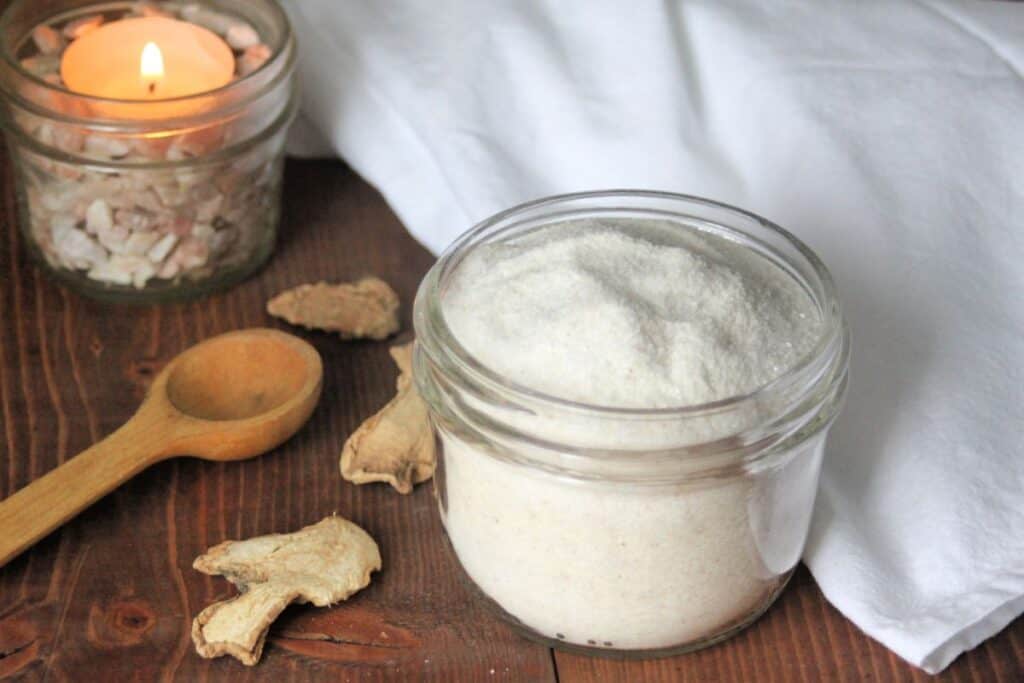 For folks with extremely sensitive skin, the ginger might prove to be irritating. Test a small bit in a bath first before adding an entire 1/2 cup.
If you have specific medical conditions, make sure the baking soda or epsom salts won't cause any issues for you, double check with your doctor or medical professional if you are unsure. Baking soda baths are not recommended for people with high blood pressure or diabetes. It is always best to be overly cautious.
If you have any concerns or worries about the result of its use, start with a small amount before soaking too long in the detoxifying bath.
Avoid soaking in this if you have open wounds. Let those heal before immersing yourself into the natural salt and ginger here.
How to Store
Once you make your bath salts, simply store them in an airtight container like a glass jar. They'll keep for up to 6 months as long there isn't any moisture in the container.
If you feel like you might use it often, make a big batch to keep it on hand.
Other Ways to Use
Obviously, the main idea with these is to use them in a bath of hot water for a long soak.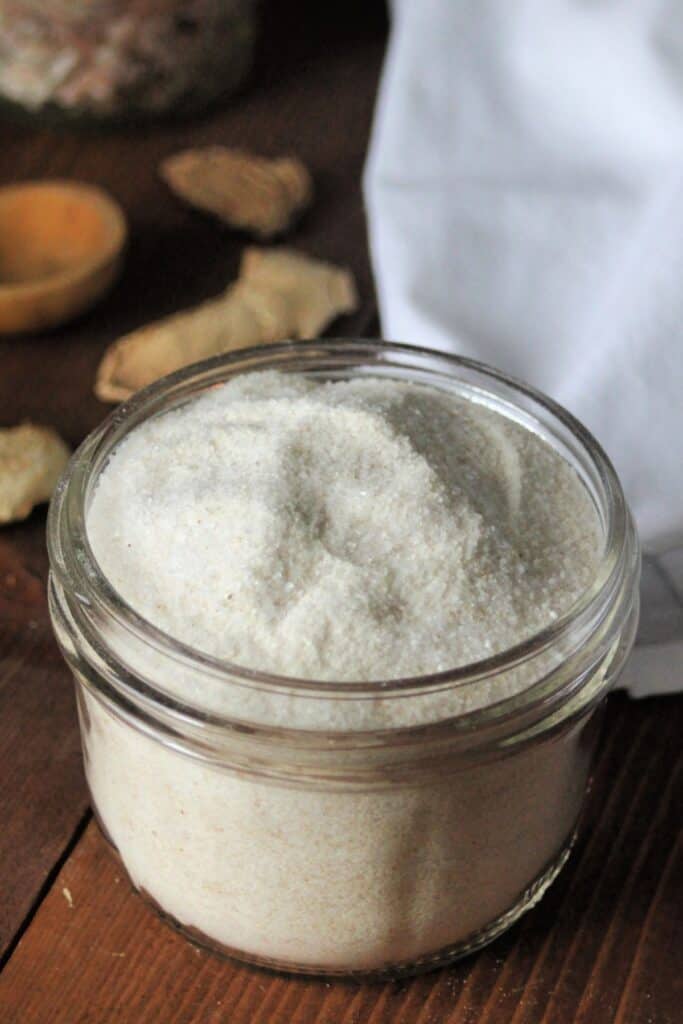 However, they could also be as a foot soak. Simply put a small amount of water in a basin and add just a 2-3 Tablespoons of the salt and agitate before placing your feet in the water to soak for a while.
Give as a Gift
A warm ginger bath would make a lovely gift for someone getting over an illness or just having a tough time and need a little relaxing love.
Consider putting a jar of the bath salts into a gift basket with some ginger tea and a good book for an easy but loving gift.
Harness the simple power of seasonal herbs in your kitchen and home with confidence – from recipes to remedies and beyond with A Year of Seasonal Herbs.
Mail the bath salts by putting them in a plastic bag to make them lighter and less likely to break in the shipping process.
Yield: Enough for about 6 baths
Ginger Detox Bath Salts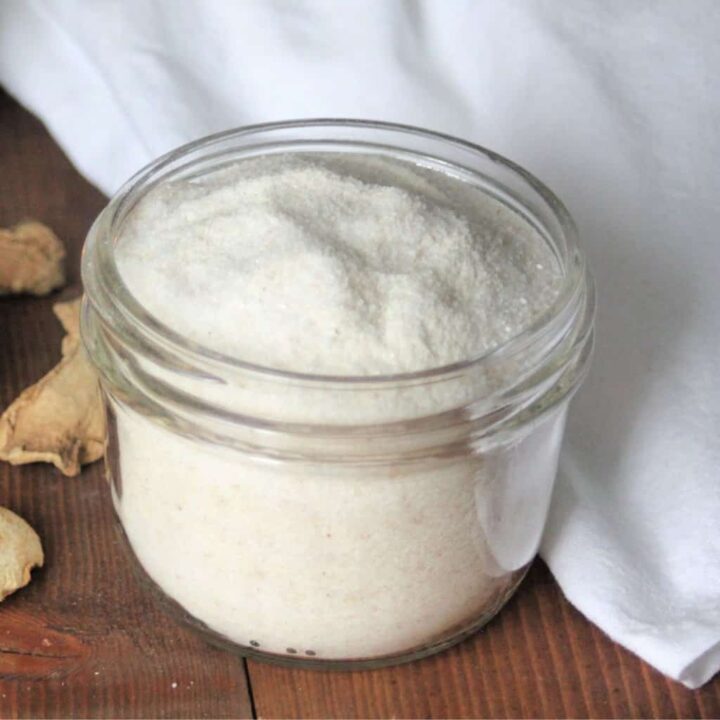 Make ginger bath salts for a super simple and oh-so-soothing bath experience.
Materials
2 Cups Epsom Salts
2/3 Cup Baking Soda
2 Tablespoons Ground Ginger
Tools
Mixing Bowl
Measuring Cups
Whisk
Storage Container
Instructions
Mix all of the ingredients together, using a whisk to remove any lumps.
Alternatively place all the dry ingredients a jar or other lidded container and simply shake well to combine.
Store in an airtight container.
Notes
Add 1/2 Cup of bath salts to warm bath water and agitate to dissolve completely.