There comes a time when we all need to detoxify the body a bit. Nourishing food and drink is always the best but every now and then we need a little extra help. Help like a nice hot bath full of detoxifying bath salts. Create your own ginger detox bath salts with ingredients you likely already have at home.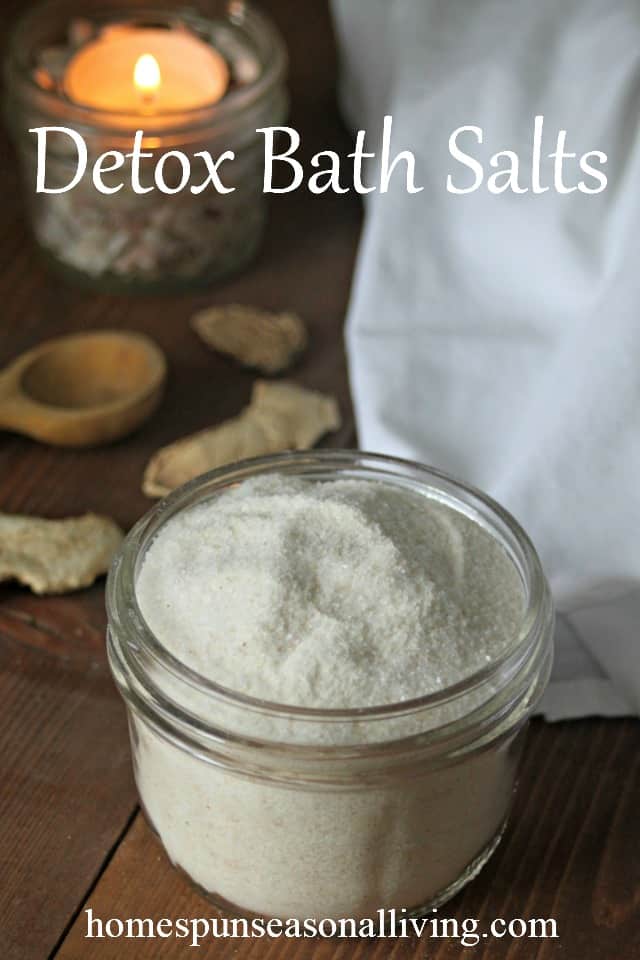 Sweat it Out
Let's be clear that detoxifying the body mainly happens in the liver and kidneys. However, a good sweat can help release an overload of toxins stored in the body. Sweating can also help get rid of certain colds because the bacteria can't survive the higher body temperature.
A nice hot bath with the addition of ginger can induce sweating. In fact, a ginger bath can sometimes make a person sweat for an up to an hour after. Keep that in mind when getting dressed (maybe stay in a robe) after using these detoxifying bath salts.
Pull Out Impurities
Epsom salts have long been revered for their ability to pull impurities from the body. They also happen to be soothing to sore muscles and body aches. The magnesium contained in epsom salts can be absorbed through the skin and has numerous benefits to our body and mind.
Healing Relief
Baking soda is such a standby for a healing, relaxing bath. This pantry staple can help relieve itchy skin, kill bacteria that causes foot odor, and even help with urinary tract and yeast infections. It's even been studied for it's anti-fungal properties.
Detoxifying Bath Salts & Sensitive Skin
For folks with extremely sensitive skin, the ginger might prove to be irritating. Test a small bit in a bath first before adding an entire 1/2 cup.
Ground Ginger vs. Essential Oil
I have never tested this recipe with ginger essential oil. I suppose it could be done but to be honest every reference I've seen about ginger detox baths, from trusted herbalists and sources, uses the ground ginger not the essential oil. Also ground ginger is extremely frugal and likely already in your pantry whereas the essential oil might not.
Stay Hydrated
Be sure to stay hydrated as part of this detox bath process. Drink some water before and after the detox bath to prevent dehydration and help the body flush internal toxins. Don't skip this important step, you'll be glad for those large glasses of water.
Make Ginger Detox Bath Salts
Whisk everything together to remove any lumps. Store in an airtight container.
Note: Add 1/2 Cup of bath salts to warm bath water and agitate to dissolve completely.