While the freezer is the food storage solution for many foods, like cabbage rolls, it can also become a half-way house for many food preservation projects when time is crunched or when waiting small bits to add up to something worth preserving in another way. If you find yourself overwhelmed at various points of your busy season, here are some food storage secrets from the freezer to help you make the most of your food and long-term food storage plans: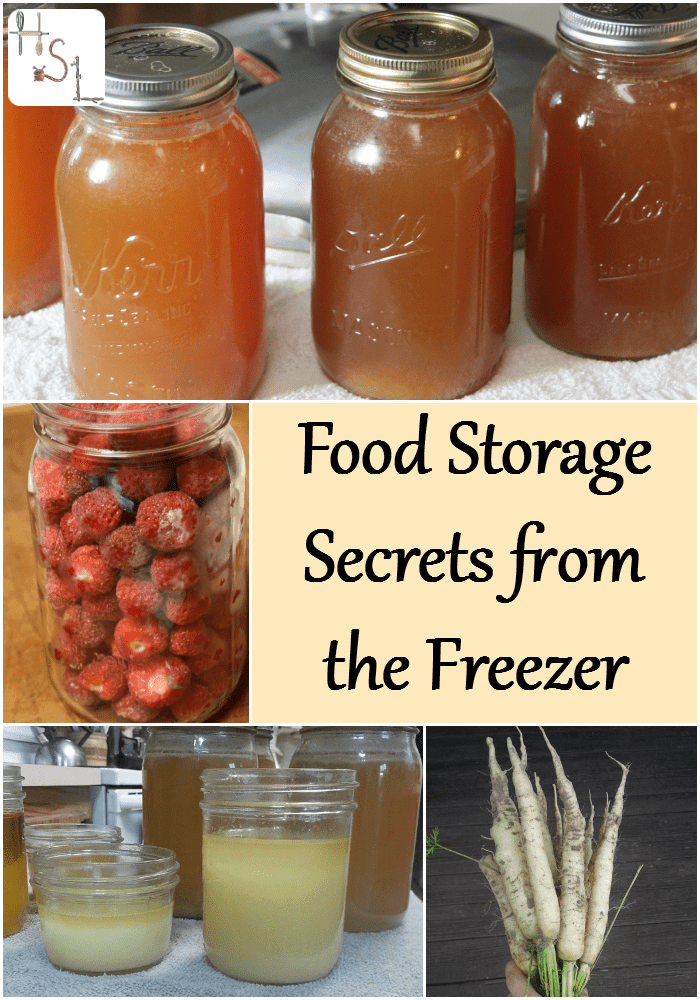 Secret 1. Animal Bones:
It doesn't matter if it's the chicken carcass, steak bones (yes, even the ones that were gnawed on), ham bones, or chicken feet. Save them in a large bag or container. When you get a big pot full, make broth. You can then freeze or can (which is what I do) the broth for your soup making needs later.
Secret 2. Tomatoes:
When your tomatoes are coming in slowly or perhaps too fast too handle, core and freeze. You could, of course, just use them as needed straight from the freezer. Just run them under a little warm water and the skins will slip right off. I froze bunches of tomatoes this past summer but rather than have them taking up valuable freezer space all winter, I cooked them down into sauce and then canned that sauce for my winter cooking needs.
Secret 3. Carrots & Parsnips:
All those skinny little parsnip tails or tiny carrots can be tossed in freezer bags or containers and then easily mixed with those animal bones to make stock or simply used to make vegetable broth with onions, garlic, etc. if you happen to be a vegetarian. Celery also freezes for broth needs but in my experience becomes too much of a watery mess for any other cooking needs.
Secret 4. Fat:
Store any trimmed fat or fat received when buying portions of meat in airtight containers. When you have a goodly amount render that down into tallow, lard, schmaltz, etc. Store that rendered fat in the fridge or freezer for use as needed. Rendering of pork fat into lard gives you cracklins' too which is a nice little snack, though I don't suggest eating too much of that.
Secret 5. Fruit:
Freeze pitted cherries or slices of other fruits when the dehydrator is already running constantly or the weather just isn't right to dry outside. Of course, we can use frozen fruit in smoothies or baked goods but we can also turn it into jam once it's defrosted. I often keep a jar or two in the freezer in which I toss wild berries I pick on walks in the woods. I later turn this into a mixed wild-berry jam. For drying: thaw frozen fruit in a colander, letting all the water drain away then put on dehydrator trays. This will speed up dehydration time because a good amount of the water is already gone.
Do you use your freezer as a half-way house? Any other sanity & time saving tips for the overwhelmed among us?
[sc:Useadsenselarge ]