Make your holiday prep even easier with this make ahead frozen sweet potato side dish recipe.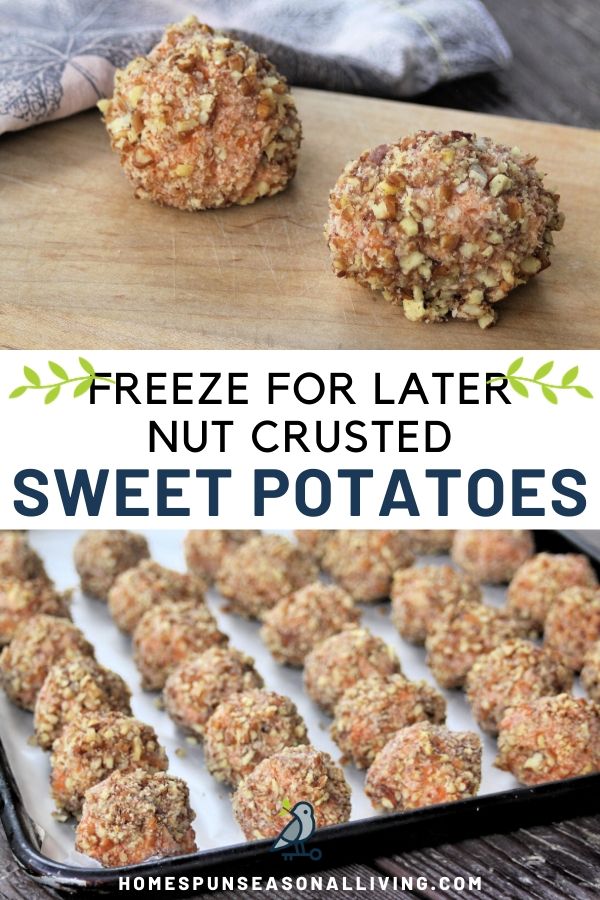 Freezing sweet potatoes that have already been mashed, seasoned, and coated with nuts make for an oh-so-simple and delicious bite later.
Cookbook Inspiration
This recipe came from The Ultimate Guide to Preserving Vegetables by Angi Schneider.
The book is an amazing resource for any person interested in food preservation.
Whether you have a large garden, are simply looking to make the most of your CSA subscription, or simply want to save money by purchasing and preserving in-season produce this book is a guide you'll turn to repeatedly.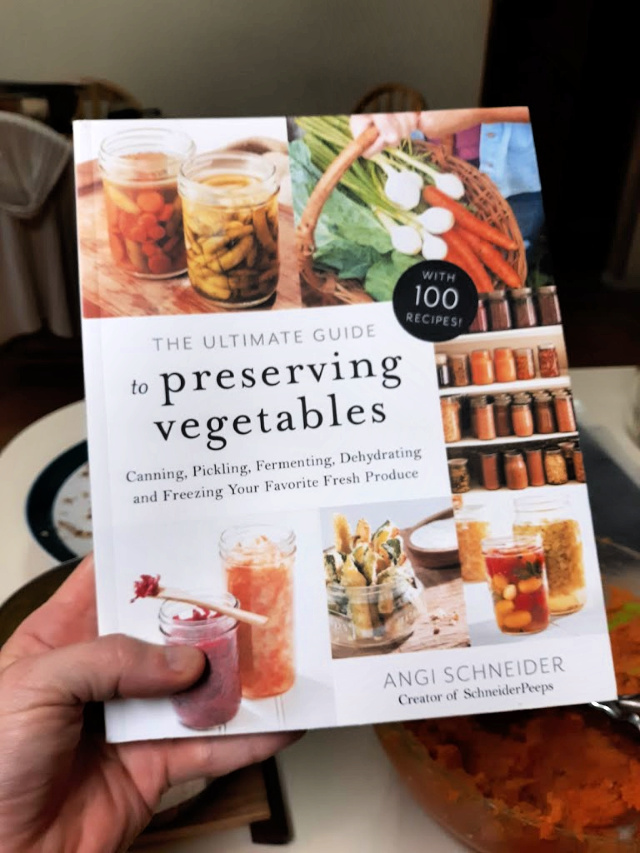 The book is divided by vegetable, comes with complete instructions for basic preserving through, canning, fermenting, freezing, and dehydrating. And if the basics aren't enough each vegetable comes with inspired, unique, and delicious recipes to help you break out of ruts and create tasty meals with ease.
You will not regret having this book on your shelves come harvest season.
Make Ahead Side Dish
This recipe will give you an entirely new way to look at how to freeze sweet potatoes and it makes cooking and preparing for big feast meals a snap.
When it's time to cook, you simply plop the frozen balls onto baking sheets and bake no muss, no fuss.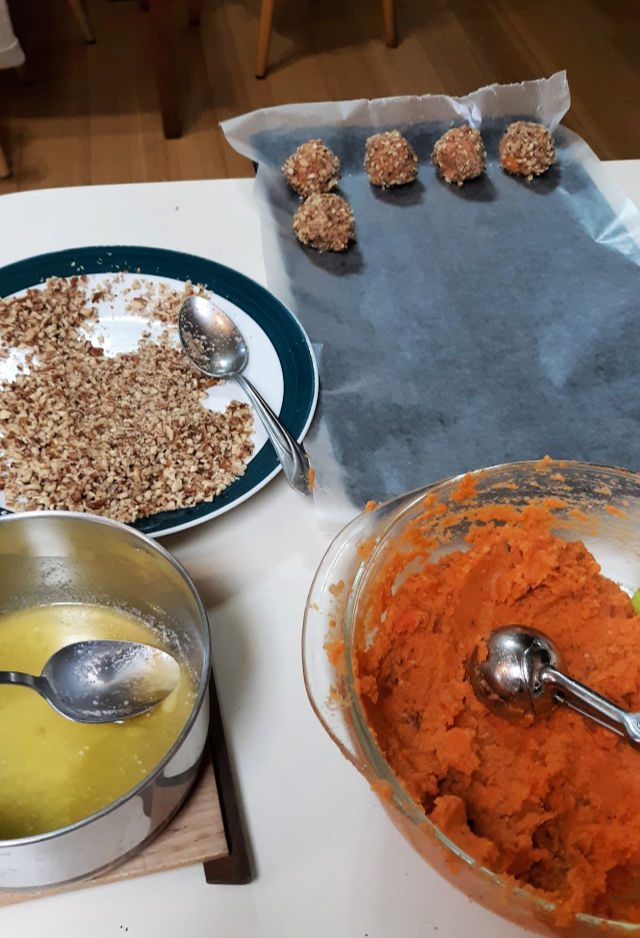 To make the prep work of making the actual balls even easier, it too can be broken up over several days. Cook and mash the potatoes one day, place them in a container in the fridge for a day or two and then proceed with the rest of the recipe.
Changes & Options
The original recipe has orange juice or lemon juice instead of milk. I knew that bit of fruit juice wouldn't go over well with some folks in my family, so I substituted milk and it worked just fine.
Vegans can feel free to skip the bacon and use melted coconut oil or vegan margarine instead of the butter.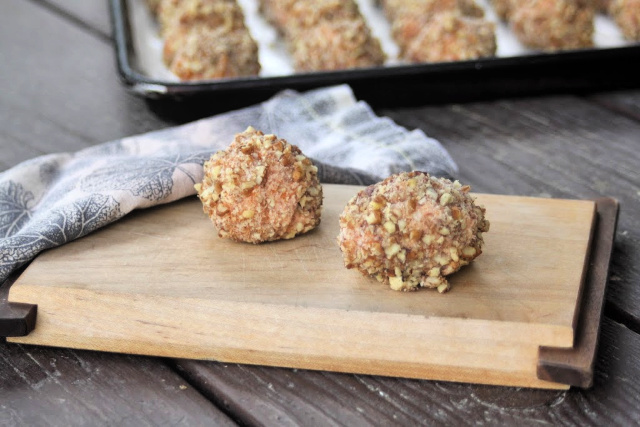 The instructions in the recipe called for making much smaller balls than I did. I opted for making large balls and using a cookie scoop to keep them evenly sized. Feel free to go larger or smaller as desired.
I didn't try it but I don't see why patty shaped instead of round wouldn't work just as well if that is something you'd prefer.
Yield: 2 Dozen Large Balls
Frozen Sweet Potato Balls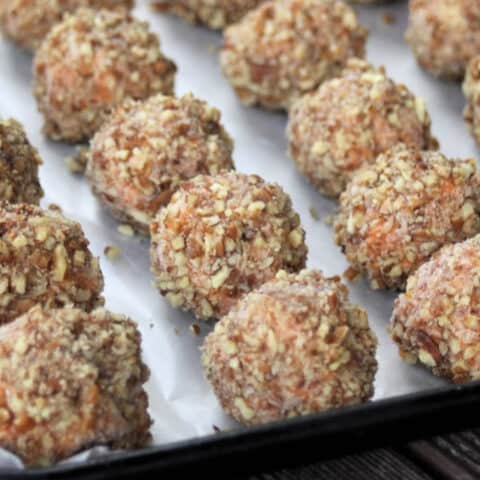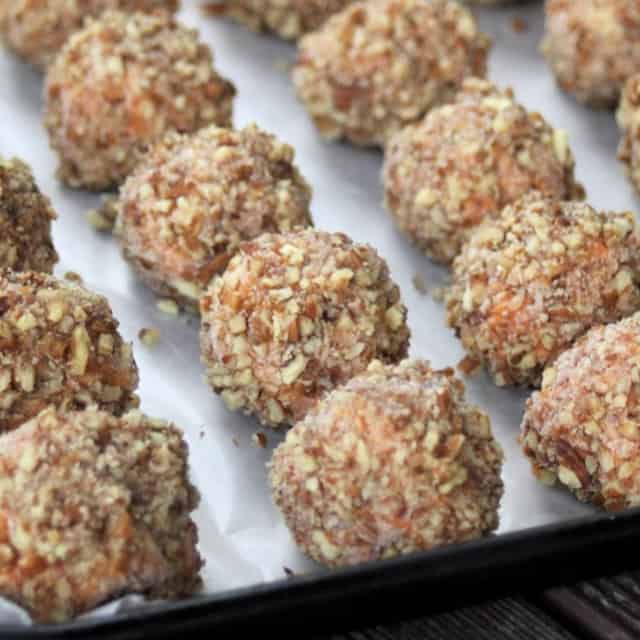 Fluffy and crunchy sweet potato balls are the perfect prep ahead side dish. Make them now, freeze, and easily heat for serving later.
Total Time
8 hours
40 minutes
Ingredients
8 Ounces Pecans, finely chopped
3 1/2 Cups Cooked & Mashed Sweet Potatoes
1/4 Cup Cooked & Crumbled Bacon
2 Tablespoons Milk
1/4 teaspoon Ground Pepper
1 teaspoon Salt
2/3 Cup Bread Crumbs
1/2 Cup Butter, Melted
Instructions
Line a cookie sheet with parchment or wax paper.
Have the melted butter ready in the pot or in a bowl.
Spread the chopped pecans onto a plate.
Mix together the mashed sweet potatoes, bacon, milk, pepper, salt, and half of the bread crumbs. Mix until thoroughly combined.
Try forming a ball with the mixture. If it doesn't hold it's shape, mix in the remaining bread crumbs.
Roll walnut size balls of the sweet potato mixture between your palms.
Dip the ball into the melted butter, coating completely.
Roll the ball in the chopped pecans to cover completely.
Place the ball onto the prepared baking sheet.
Repeat until all the sweet potato mixture is used.
Place the baking sheet into the freezer and freeze for at least 8 hours.
Remove the frozen balls from the cookie sheet and store in airtight containers. Keep frozen until ready to use.
To Cook & Serve
Preheat the oven to 400 degrees Fahrenheit.
Place the frozen balls onto a baking sheet lined with parchment paper or a silicone baking mat.
Cook for 20-30 minutes or until heated through.
Recommended Products
As an Amazon Associate and member of other affiliate programs, I earn from qualifying purchases.
Nutrition Information:
Yield:
24
Serving Size:
1 Ball
Amount Per Serving:
Calories:

181
Total Fat:

14g
Saturated Fat:

5g
Trans Fat:

0g
Unsaturated Fat:

9g
Cholesterol:

20mg
Sodium:

224mg
Carbohydrates:

12g
Fiber:

2g
Sugar:

5g
Protein:

3g
We try our best but cannot guarantee that nutrition information is 100% accurate.