One of my fondest childhood memories is of making Christmas cutout cookies with my grandma. She would set out bowls of brightly colored sugars, raisins, candied cherries, raisins and more and just let us decorate tray after tray of cookies. When we first came up with the idea of cookie month, I knew I would want to do a cutout cookie. I came up with these Hazelnut Cutout Cookies because hazelnuts happen to be a favorite of mine and I wanted to do something to complement the Dark Chocolate Decoratifs that cookie month sponsor India Tree sent me. These are a relatively simple cookie to make and because the dough needs to be refrigerated it can easily be split up over a couple of days to maximize time during the busy holiday season ahead.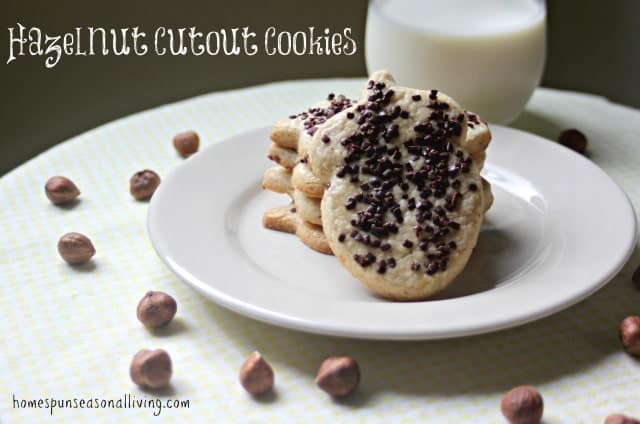 The one extra step with these cookies is roasting, skinning, and grinding the hazelnuts. It's still easy just takes a few minutes. I always grind the nuts with my KitchenAid grinder attachment but a food processor will work just fine. I explain the toasting and skinning process in the recipe below. Use a good quality butter for these cookies too, the flavor comes through so use the real deal. Kerrygold provided me with some of their Irish Butter and it did make an outstanding cookie both in terms of flavor and crunch.
Decorating Cutout Cookies
You can, of course, frost cookies after they've baked and cooled. How my grandma always did it and how I do it still is by brushing the raw dough shapes with an egg wash and then sprinkling with colored sugars or sprinkles. It's not super fancy but does add a nice touch in an easy fashion. It's also a super easy and fun way to get the kids involved.
Make Ahead
You can make the dough and refrigerate it for up to a week before cutting and baking. You can also bake the cookies and seal in airtight bags to keep frozen for 6 weeks before sharing or eating them.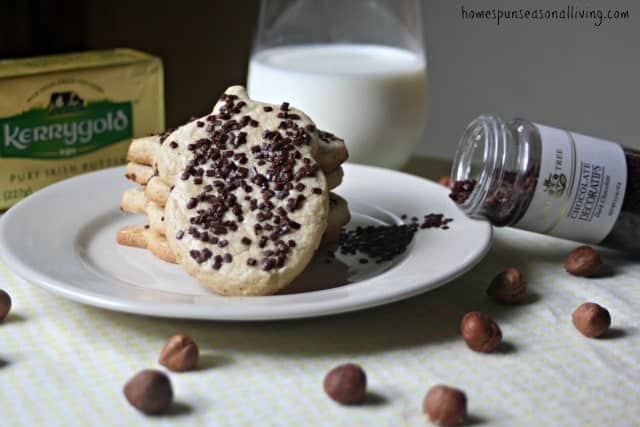 Hazelnut Cutout Cookies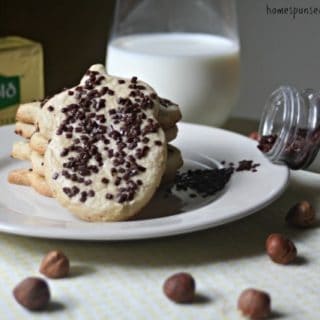 A twist on the traditional sugar cookie, Hazelnut Cutout Cookies give all the fun of shapes with a nutty flavor perfect for coffee snacking.
Ingredients
¾ Cup Butter, softened
½ Cup Sugar
1 Egg
2 teaspoons Vanilla Extract
1 ¼ Cups Flour
1 Cup Hazelnuts (toasted and ground)
Egg Wash
1 Egg White
1 teaspoon Water
Instructions
Toasting, Skinning, Grinding Hazelnuts
Preheat oven to 350 degrees. Spread the nuts onto a baking sheet. Bake in preheated oven for 10 minutes, giving the pan a shake occasionally.
Remove from the oven and cover the pan with a damp tea towel, place a larger baking sheet over top to steam the nuts for 5 minutes. Remove the baking sheet and towel. Place the nuts onto a clean towel and rub with another clean towel. The skins will peel off. There's always a few stubborn ones, don't worry, just get the most of it off easily. Allow to cool to room temperature.
Grind the nuts finely with a grinder or food processor.
Make the Dough
Combine the flour and ground hazelnuts, set aside.
Cream together the butter and sugar until light and fluffy. Add the egg and vanilla extract beating until incorporated.
Fold in the flour mixture and stir until thoroughly combined.
Divide the dough in half and wrap each half in wax paper or plastic wrap. Chill for at least 2 hours or up to 1 week.
Make the Cookies
Preheat oven to 350 degrees. Grease cookie sheets or line with parchment paper.
To decorate raw dough, whisk together the egg white and water until foamy.
Roll the dough out to 1/4" thickness. Cut into shapes and place on prepared sheets.
Using a pastry brush, brush the tops of the shapes with the egg wash and sprinkle with colored sugar or chocolate sprinkles.
Bake in the preheated oven for 13 to 15 minutes until the edges are golden brown.
Allow to cool on wire racks.