Most of us are familiar with cookie swaps, invite a few friends, everyone brings cookies and goes home with a large assortment. It can be a very fun thing, I wanted to repeat the idea in a healthy fashion with some friends who also happen to be amazing cooks. Instead of a cookie swap, I decided to host a soup swap. This is a great way to get together with friends and get some tasty meals at the same time.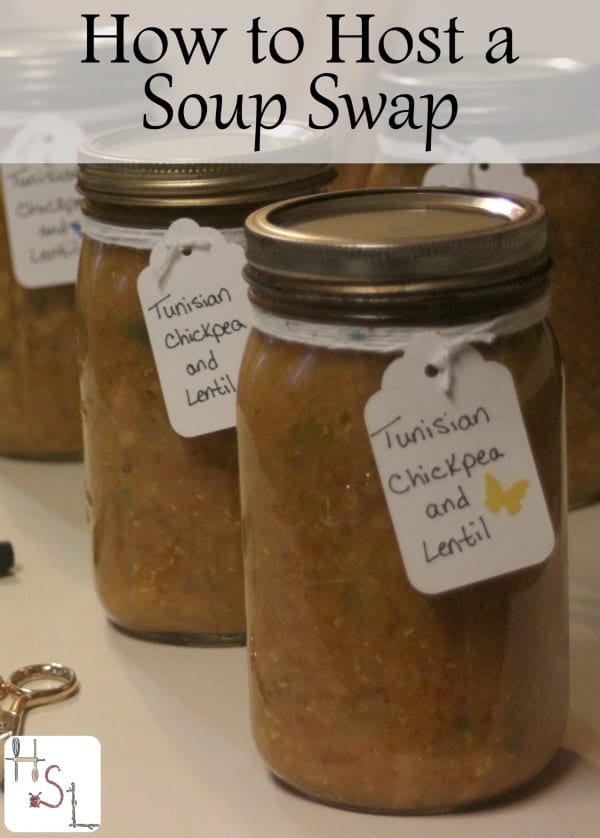 Decide on Soup Swap Format
You can choose to swap soups in a couple of different ways:
A Small Gathering: Invite 4 people. Each person brings 4 quarts of soup. A the end of the swap everyone goes home with 4 quarts of soup (1 from each of the other swappers). Obviously, this method could be applied to larger groups but keep it reasonable, very few folks want to make 10 or more quarts of soup.
A Large Gathering: Invite as many folks as desired and have each person bring 5 quarts of soup. At the end of the swap, people can choose which of the soups they most prefer, each person leaves with 5 quarts.
Set Guidelines
Obviously, set a date and time and invite your friends. Let them know the type of format chosen. Try to invite friends with similar eating habits or make sure everyone has a clear understanding of the types of soup to swap. Essentially, don't invite 1 vegan to a swap with mostly meat eaters without setting some guidelines. If someone is allergic to peanuts, just let everyone know to avoid that ingredient. This doesn't have to be complicated but a few guidelines will help everyone.
Ask folks to bring recipes too, but that doesn't have to be a hard and fast rule.
Make the Swap an Event
Make it a fun and casual event. Have some snacks and drinks and plenty of seating. Have a separate table or counter for folks to put out their soup offerings. Allow folks to mingle and talk, however you would normally host gathering. Most importantly have fun and connect with each other. As folks leave, have them take their soups home with them.
While we don't need a reason to gather our tribes, a soup swap is a fun excuse to have everyone over. Afterwards, you have the beginnings of a few tasty meals too. This winter warm up the body and soul by hosting a soup swap.
Have you ever hosted a soup swap? How did it go? Would you add anything to my list of how to host one? If you haven't hosted one, will you think about it now?