There comes a time in most every person's life when a little energy boost is needed. Maybe it was late night with a sick child, disturbed sleep because of a spouse's snoring, or just a unusually hectic day leaving the body and mind in search of a boost to last until bedtime. These boosts can be found in many places, some of them healthy others not so much. This energizing herbal tea blend will provide the necessary boost in a refreshing and nourishing cup.
Caffeine is often the choice when a quick boost of energy is needed. Caffeine can have some unwanted side effects, like anxiety, headaches, or energy crashes. Sugar the other choice isn't healthy in large doses and is often accompanied by a giant crash when it wears off. The great thing about this herbal tea is that it doesn't have side effects nor will there be a crash.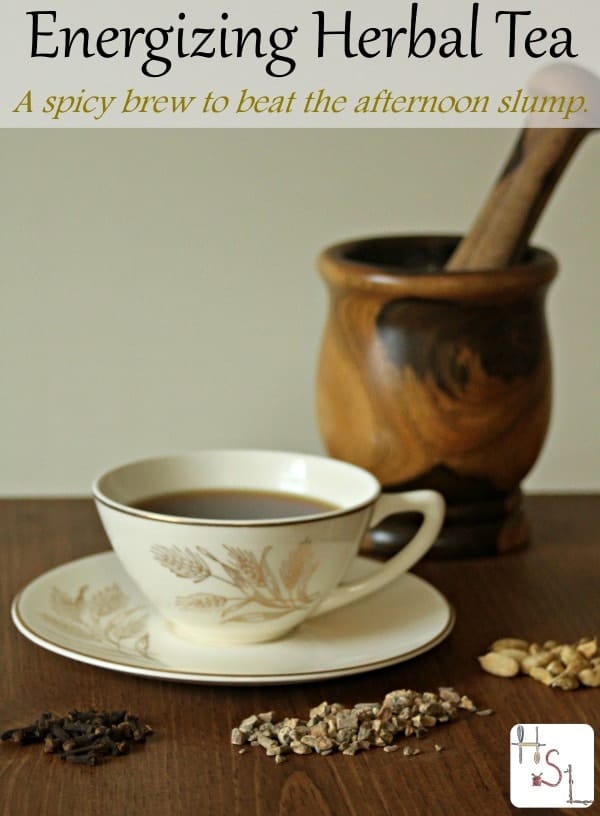 Dandelion Root
This very common weed is full of beneficial and flavorful properties. For folks that enjoy the flavor of coffee, dandelion root can be a similar flavor. It is not exact but it is good and slightly bitter while also providing a level of richness that is often associated with coffee drinks.
Beyond the flavor which is reason enough, dandelion root can give the body and mind a much needed energy boost. It can help detoxify the liver and remove mucus from the body, all things that can lead to fatigue. It can also act as a mild stimulant.
A Word of Caution: Dandelion root should be avoided by folks with gallbladder or kidney stones. Also be sure to check with a doctor or pharmacist if taking any prescription medications for possible interactions.
Cardamom Pods
This amazing, fragrant spice, often used in chai blends, provides a great flavor but is so much more than that in this particular blend. Cardamom can stimulate the brain while arousing the senses helping to restore energy to a tired body.
Whole Cloves
This warming spice often associated with baked goods plays a number of roles in this energizing blend. The scent alone can bring about feelings of satisfaction, which we can all use when feeling tired or fatigued. Cloves are considered uplifting and stimulating while also encouraging mental clarity which makes it the perfect addition to any energy boost.
Brewing Energizing Herbal Tea
Dandelion roots are tough bits from which to extract flavor and medicinal properties. A quick brew or steep isn't possible for maximum benefit, so a decoction is necessary. A decoction is a just a fancy word for a longer simmering. Put the dandelion roots, cardamom pods, and whole cloves in a mortar and use the pestle to grind or crush slightly. There's no need to grind to a fine powder, just crush it up a bit.
Put the crushed ingredients into a pot with cold water (see exact measurements below) and boil for 10 minutes. Strain and enjoy sweetened or with milk if desired.
Energizing Herbal Tea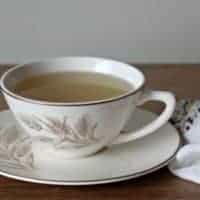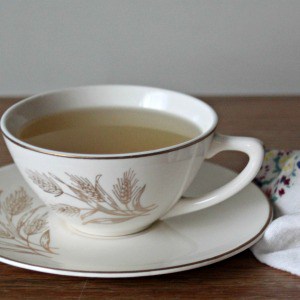 Beat that afternoon slump or the occasional bout of fatigue with this tasty and natural energizing herbal tea blend.
Ingredients
2 Tablespoons Dried Dandelion Root
4 Whole Cardamom Pods
2 Whole Cloves
2 Cups Cold Water
Instructions
Crush the dandelion root, cardamom pods, and cloves slightly. Place into a small saucepan. Add the 2 cups of cold water.
Bring the mixture to a boil over medium high heat. Cover and reduce heat to simmering. Keep simmering for 10 minutes.
Remove from heat and strain. Enjoy.
Notes
For iced tea: reduce the water to 1 cup, for a stronger brew that is then diluted when served over ice.
Make a Large Batch
Double or even triple the amounts in the recipe and keep the tea refrigerated. It will last at least a week in the fridge. When a cup is needed simply gently reheat on the stove and enjoy or serve over ice. This is a great way to have it on hand for a quick pick-up and to be able to put into a travel mug for a long day of errands.
In the end, energy comes from things like getting enough rest, eating right, and exercising but in our modern lives there are times when we all could use a little help. This energizing herbal tea blend is not a cure all for those tired or fatigued feelings but it can provide a needed boost now and then all in one tasty and comforting cup.
January is National Hot Tea Month, I've teamed up with a number of other bloggers to bring you a collection of tasty, medicinal teas, ideas for using tea in daily life, recipes, and much more. You can follow along and participate with us by using the hashtag #MonthofTea on your favorite social media.